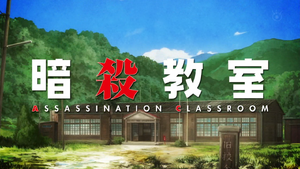 Series Overview
| Color | Season | Episodes | Toonami Premiere | Toonami Finale |
| --- | --- | --- | --- | --- |
| | 1 | 22 | August 29, 2020 | February 20, 2021 |
| | 2 | 25 | January 8, 2022 | June 11, 2022 |
Season 1 (2015)
No. in Series
No. in Season
Episode Title
Japanese Airdate
Toonami Airdate
01
01
"Assassination Time"
January 9, 2015
August 29, 2020
A creature who blasted the moon into a crescent shows up at Kunugigaoka Junior High School--and he's giving the students a year to assassinate him!
02
02
"Baseball Time"
January 16, 2015
September 5, 2020
The reasoning behind the E Class's segregation is revealed. Nagisa tracks Koro Sensei's weak points in the hopes of using them to take him down.
03
03
"Karma Time"
January 30, 2015
September 12, 2020
The brilliant, belligerent Karma Akabane, Nagisa's former classmate, joins 3-E and immediately jumps into the assassination mission with both feet.
04
04
"Grown-Up Time"
February 6, 2015
September 19, 2020
A new foreign-language teacher comes to 3-E with some major ulterior motives... among other things. Will she get any closer to killing Koro Sensei?
05
05
"Assembly Time"
February 13, 2015
September 26, 2020
Before the torturous school assembly begins, Okuda attempts to poison Koro Sensei in an unexpected way... with unexpected results.
06
06
"Test Time"
February 20, 2015
October 3, 2020
Time for midterms! Koro Sensei gives his aspiring assassins an ultimatum as they battle a grueling test and the disdain of the rest of the school.
07
07
"School Trip Time/1st Period"
February 27, 2015
October 10, 2020
The students go on a school trip to Kyoto, where they must still keep assassination foremost in their minds. Kanzaki faces trouble from her past.
08
08
"School Trip Time/2nd Period"
March 6, 2015
October 17, 2020
The E Class gives a pro sniper plenty of chances to take down Koro Sensei, then try to make the most of what's left of their school trip to Kyoto.
09
09
"Transfer Student Time"
March 13, 2015
October 24, 2020
A new student joins the E Class with a singleminded focus on assassination that drives her classmates to distraction. Koro Sensei to the rescue!
10
10
"L and R Time"
March 20, 2015
November 7, 2020
Prof. Jelavich is forced to prove her assassin chops when her mentor pays a visit. Koro Sensei takes Nagisa and Karma on a trip they'll never forget.
11
11
"Transfer Student Time/2nd Period"
March 27, 2015
November 14, 2020
Another new student throws everyone for a loop. His raw power is one thing, but what's with these mysterious ties he claims to have with Koro Sensei?
12
12
"Ball Game Tournament Time"
April 10, 2015
November 21, 2020
The E Class boys must play the Baseball Club in an exhibition game meant to humiliate them. Can Koro Sensei's unique coaching style make a difference?
13
13
"Talent Time"
April 17, 2015
December 5, 2020
Jolly Mr. Takaoka comes to assist Mr. Karasuma with training, but his unconventional methods have everyone upset. Nagisa reveals a hidden talent.
14
14
"Vision Time"
April 24, 2015
December 12, 2020
Koro Sensei exposes a major weakness, and Terasaka interrupts a fun summer day out with an assassination attempt that goes a little too far.
15
15
"End-of-Term Time"
May 1, 2015
January 2, 2021
For finals, Koro Sensei gives his class a new goal--with an irresistible reward. The E Class makes its own deal with the top-tier A Class's Big Five.
16
16
"School's Out/1st Term"
May 8, 2015
January 9, 2021
After two days of exams, the results are in. Both the ace A Class and the end E Class must come to terms with the outcome--and so must Koro Sensei.
17
17
"Island Time"
May 15, 2015
January 16, 2021
The E Class trains intently under a pro killer to prepare for their island assassination. Once there, they must make sure everything falls into place.
18
18
"Action Time"
May 22, 2015
January 23, 2021
The summer assassination attempt is followed by a crisis affecting nearly half the E Class. Can the rest think and move fast enough to save them?
19
19
"Pandemonium Time"
May 29, 2015
January 30, 2021
The E Class must put their lessons into practice as they tackle an intimidating hotel brimming with baddies--and all without Koro Sensei's help.
20
20
"Karma Time/2nd Period"
June 5, 2015
February 6, 2021
Karma must use his head to get past a formidable foe. Nagisa goes undercover as the E Class continues to sneak its way to the hotel's top floor.
21
21
"XX Time"
June 12, 2015
February 13, 2021
The students take on one last assassin opponent before meeting the shadowy figure who's holding the virus remedy hostage in exhange for Koro Sensei.
22
22
"Nagisa Time"
June 19, 2015
February 20, 2021
It's a showdown on the roof of the Fukuma Denjo Hotel with the lives of half the E Class in the balance. Can Nagisa find a way to come out on top?
Season 2 (2016)
No. in Series
No. in Season
Episode Title
Japanese Airdate
Toonami Airdate
23
01
"Summer Festival Time"
January 7, 2016
January 8, 2022
Koro Sensei and his students try some matchmaking at the end of their island trip. Class 3-E's eventful summer ends with a taste of pure festival fun.
24
02
"Kaede Time"
January 14, 2016
January 8, 2022
E class plays a game of Cops and Robbers and Koro Sensei is accused of a crime; Kaede makes a plan.
25
03
"Itona Horibe Time"
January 21, 2016
January 15, 2022
Koro Sensei goes into combat against his powerful master, Shiro, revealing more of his teaching philosophy along the way.
26
04
"Spinning Time"
January 28, 2016
January 15, 2022
E Class find themselves warming to Itona, after he shows them his wonderful creation which may just help them complete their mission. Meanwhile, the students give one another code names.
27
05
"Leader Time"
February 4, 2016
January 22, 2022
Class president, Isogai, risks losing his job, if class E does not defeat class A at the sports festival.
28
06
"Before & After Time"
February 11, 2016
January 29, 2022
The members of E Class are forced to make amends and study for their midterm exams off campus, after an accident occurs.
29
07
"Reaper Time, Part 1"
February 18, 2016
February 5, 2022
A powerful enemy creeps up on class E and they are forced to fight him alone, after falling out with their professor.
30
08
"Reaper Time, Part 2"
February 25, 2016
February 12, 2022
Koro Sensei and Mr Karasuma arrive at the Reaper's fortress, sooner than anticipated. The Reaper's plans are upset, but he still holds the students hostage.
31
09
"Round Two Time"
March 3, 2016
February 19, 2022
E class begin planning for their future careers and Nagisa tries to accept his special talent, but his mother has other ideas.
32
10
"School Festival Time"
March 10, 2016
February 26, 2022
E Class use their unique location to their advantage, as they compete against the rest of school to make the most money at the school's festival.
33
11
"End-of-Term Time, 2nd Period"
March 17, 2016
March 5, 2022
As exam time draws near, A Class once again become a sizeable threat. Meanwhile, Gakushu is witness to Asano's unsavoury tactics.
34
12
"Think Outside the Box Time"
March 24, 2016
March 12, 2022
Asano makes a bet with Koro Sensei and the last problem of the exam proves extremely difficult to solve. The students worryingly await the final results.
35
13
"Let Live Time"
March 31, 2016
March 19, 2022
E Class perform a play, full of twists, at the drama festival and Asano looks back on his teaching career, as he remembers his first job in education.
36
14
"Secret Identity Time"
April 7, 2016
March 26, 2022
A classmate holds a secret, linked to Koro Sensei's past and another teacher. Meanwhile, E Class clean up after the festival and Kaede and Koro Sensei argue with one another.
37
15
"Confession Time"
April 21, 2016
April 2, 2022
After a dangerous encounter with a student, Koro Sensei decides to reveal his past and true identity to E Class, leaving them shocked.
38
16
"Past Time"
April 28, 2016
April 9, 2022
After learning about Koro Sensei's past, E Class finally understand why they should kill their teacher. However, the students are troubled over the recent revelations and sudden turn of events.
39
17
"Discord Time"
May 5, 2016
April 16, 2022
The class are divided over whether or not kill Koro Sensei. Sensei makes a suggestion, a game of paintball could be played to help them with their decision.
40
18
"Outcome Time"
May 12, 2016
April 23, 2022
Koro Sensei's fate is decided by a paintball match and a battle between old friends, Karma and Nagisa. An unforeseen obstacle upsets E class's plans.
41
19
"Outer Space Time"
May 19, 2016
April 30, 2022
Class E go in search of information that may just help them keep Koro Sensei alive. Their quest for the truth taking them all the way to outer space.
42
20
"Valentine's Day Time"
May 26, 2016
May 7, 2022
As the all-important high school entrance exams draw near, Nagisa still struggles to decide what his future career path should be.
43
21
"Trust Time"
June 2, 2016
May 14, 2022
Koro has one final project planned for E Class, as they look toward their high school careers, but the government's plans prove disruptive.
44
22
"Happy Birthday Time"
June 9, 2016
May 21, 2022
E Class are determined to see their teacher, one last time and his birthday gives them a reason to celebrate. A figure from Sensei's past turns up unexpectedly.
45
23
"Final Boss Time"
June 16, 2016
May 28, 2022
Koro Sensei's struggle against Yanagisawa and the Reaper puts the students in danger. Sensei fights to protect their lives and his own.
46
24
"Graduation Time"
June 23, 2016
June 4, 2022
E Class must finally make a decision, as to whether or not they should kill the teacher who has changed their lives over the course of the year.
47
25
"Future Time"
June 30, 2016
June 11, 2022
Graduation day arrives and the students of E Class go their separate ways, forging their own paths in the world.
Toonami Episode Guides
Cartoon Network (1997-2008)
Adult Swim (2012-Present)