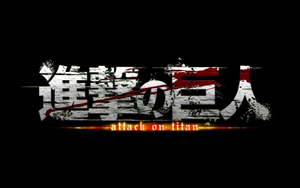 Series Overview
Color
Season
Episodes
Toonami Premiere
Toonami Finale
1
25.5
May 3, 2014
November 1, 2014
2
12
April 22, 2017
July 22, 2017
3
22
August 18, 2018
July 27, 2019
4
TBA
January 9, 2021
TBA
Bonus
07
Unaired
Season 1 (2013)
#

Episode Title

Japanese
Airdate

Toonami
Airdate

01
"To You, After 2,000 Years: The Fall of Shiganshina,
Part 1"
April 6, 2013
May 3, 2014
After 100 years of peace, humanity is suddenly reminded of the terror of being at the Titans' mercy.
02
"That Day: The Fall of Shiganshina, Part 2"
April 13, 2013
May 10, 2014
After the Titans break through the wall, the citizens of Shiganshina must run for their lives. Those that do make it to safety find a harsh life waiting for them, however.
03
"A Dim Light in the Darkness of Despair: Humanity
Rises Again, Part 1"
April 20, 2013
May 17, 2014
Eren begins his training with the Cadet Corps, but questions about his painful past overwhelm him. When he struggles with a maneuvering exercise, Berholt and Reiner offer kindly advice.
04
"Night of the Graduation Ceremony: Humanity Rises
Again, Part 2"
April 27, 2013
May 24, 2014
Annie proves her skill in a sparring session, Jan dreams of serving alongside the King, and graduation day brings shocking revelations - along with a sudden outbreak of violence!
05
"First Battle: Battle of Trost District, Part 1"
May 4, 2013
May 31, 2014
Eren faces off against the Colossal Titan after it appears out of nowhere and knocks a strategic hole in the Rose Wall gate. As Titans swarm the city, the newly graduated Cadets are called in to fight in brutal battle that won't be without casualties.
06
"The World She Saw: Battle of Trost District, Part 2"
May 11, 2013
June 7, 2014
Armin tries to cope with the loss of his friends and allies after Titans massacre his squad. Elsewhere in the city, Mikasa manages to take out several of the monsters, which brings back tragic memories of her past and the first time she met Eren.
07
"The Small Blade: Battle of Trost District, Part 3"
May 18, 2013
June 14, 2014
After the retreat bell sounds, many cadets find themselves without enough fuel to scale the wall back to safety. Mikasa begins to lose hope once she hears of the deaths in Armin's squad, but the appearance of a new type of Titan stokes her will to fight.
08
"Hearing the Heartbeat: Battle of Trost District, Part 4"
May 25, 2013
June 21, 2014
Armin comes up with a risky plan that pits Titan against Titan as the abandoned Cadets attempt to take back their headquarters. Getting into the building might be possible, but getting out alive and refueled will mean facing more of the giants.
09
"Where the Left Arm Went: Battle of Trost District,
Part 5"
June 1, 2013
June 28, 2014
A miraculous return is met with anger and fear. Cannons are fixed on Eren as he struggles to remember what happened to him inside the belly of a monster and how he ended up humankind's enemy. One question is all that matters: is Eren human or Titan?
10
"Answer: Battle of Trost District, Part 6"
June 8, 2013
July 12, 2014
Cadets respond to Eren's terrifying transformation with doubt and fear as he struggles to understand it himself. If Armin can't talk the commander into using Eren's newfound powers for the good of humankind, all hope of stopping the Titans might be lost.
11
"Icon: Battle of Trost District, Part 7"
June 15, 2013
July 19, 2014
Plans are created to use Eren's Titan powers to seal the hole in the wall in an attempt reclaim Trost. But with the government's bloodstained history and vocal dissenters in the military ranks, the biggest threat to humankind may not be the Titans.
12
"Wound: Battle of Trost District, Part 8"
June 22, 2013
July 26, 2014
The plan to reclaim Trost falls apart when Eren's newfound powers turn him into a mindless giant. As Titans continue to swarm the city, it's up to Armin and Mikasa to make sure the cadets massacred during the mission haven't died in vain.
13
"Primal Desires: Battle of Trost District, Part 9"
June 29, 2013
August 2, 2014
Jean takes desperate measures to replace his broken maneuvering device. Meanwhile, Eren is able to plug the hole in the wall thanks to the help of his fellow cadets, but the cost of humanity's first victory against the Titans will be gigantic.
13.5
"Since That Day"
July 6, 2013
Unaired
A recap episode over the first thirteen episodes. In the wake of the mission to take back Trost, Eren recollects the events that led to humanity's current state—starting with the day the Colossal Titan first appeared in Shiganshina.
14
"Still Can't See: Prelude to the Counterattack, Part 1"
July 13, 2013
August 9, 2014
A special military tribunal will decide Eren's fate. The Military Police calls for his execution while the Scout Regiment argues that he is a powerful resource for humankind, and Mikasa is put on the spot when asked about the events of the Trost mission.
15
"Special Operations Squad: Prelude to the
Counterattack, Part 2"
July 20, 2013
August 16, 2014
The Scout Regiment moves Eren to an old abandoned castle where he will continue his training. Hanzi visits and reveals that she's been putting two captured Titans through a series of tests and trials—experiments that she wants Eren's help with.
16
"What Should be Done: Prelude to the
Counterattack, Part 3"
July 27, 2013
August 23, 2014
Everyone is a suspect in the investigation to find out who killed the two test-subject Titans. Meanwhile, the Cadets pick which corps they'll be joining, but after the harrowing events in the Trost attack, many are uncertain which branch to choose.
17
"Female Titan: 57th Expedition Beyond the Walls,
Part 1"
August 3, 2013
September 6, 2014
As the Scout Regiment begins its push toward Shiganshina, they encounter an intelligent Female Titan unlike any they've seen before. When Armin hypothesizes that it's really a human that's been turned into a Titan, he, Jean, and Reiner attempt to stop it.
18
"Forest of Giant Trees: 57th Expedition Beyond the
Walls Part 2"
August 10, 2013
September 13, 2014
As the Female Titan continues to tear its way through the Scout Regiment, Levi makes a bold decision to split the ranks and send Eren and the supply wagons through a huge forest. Is his strategy genius, or does is spell certain death for the scouts?
19
"Bite: 57th Expedition Beyond the Walls, Part 3"
August 17, 2013
September 20, 2014
A memory of Eren testing out his Titan powers sheds new light on how his abilities work. As the Female Titan continues to slaughter members of the Scout Regiment, Eren is faced with a difficult decisions: does he trust his teammates or act out on his own?
20
"Erwin Smith: 57th Expedition Beyond the Walls,
Part 4"
August 24, 2013
September 27, 2014
The Female Titan has been captured, and it's Erwin's goal to find out who the human is lurking inside it. Meanwhile, the Scouts realize that the reason Levi told no one about their true mission outside the wall is because there is a spy among their ranks.
21
"Crushing Blow: 57th Expedition Beyond the
Walls, Part 5"
August 31, 2013
October 4, 2014
A traitor has infiltrated the Scout Regiment, destroying their ranks from within. When cornered, she once again takes the form of the Female Titan—but this time, Eren's not going to let her get away without one insanely brutal fight.
22
"The Defeated: 57th Expedition Beyond the Walls,
Part 6"
September 7, 2013
October 11, 2014
After watching Eren get swallowed by the Female Titan, Mikasa and Levi follow the brutal monster in the hopes that he's still alive inside her. As the Scout Regiment tries to recover from the devastating losses of the operation, emotions run high.
23
"Smile: Raid on Stohess District, Part 1"
September 14, 2013
October 18, 2014
After the failed scouting expedition, Eren and his superiors are summoned to the capital. Annie witnesses just how deep corruption runs in the Military Police, and agrees to join Armin in a plot to defy the government—but nothing is really as it seems.
24
"Mercy: Raid on Stohess District, Part 2"
September 21, 2013
October 25, 2014
When the identity of the Female Titan is finally revealed, she goes on a rampage within Wall Sina. Eren is hesitant to fight her, but Armin and Mikasa throw themselves into of the battle in a desperate attempt to stop the towering monster.
25
"Wall: Raid on Stohess District, Part 3"
September 28, 2013
November 1, 2014
Eren goes head-to-head with the Female Titan in a fight that demolishes the Stohess District inside Wall Sina. As the number of casualties skyrockets and Annie tries to escape over the wall, Erwin must deal with the consequences of his plan.
Season 2 (2017)
No. in
Series

No. in
Season

Episode Title

Japanese
Airdate

Toonami
Airdate

26
01
"Beast Titan"
April 1, 2017
April 22, 2017
Coupled with the military's cover-up of a previous incident, the shocking discovery inside the wall causes a stir. Elsewhere, while the new Scout recruits are held for observation, a surprising threat appears.
27
02
"I'm Home"
April 8, 2017
April 29, 2017
With the appearance of Titans within Wall Rose, Sasha and Conny ride as messengers to warn their villages of the impending threat.
28
03
"Southwestward"
April 15, 2017
May 6, 2017
The Scouts search for a hole in the wall while Eren and the others learn that someone close may be hiding all the answers.
29
04
"Soldier"
April 22, 2017
May 13, 2017
Unarmed and overwhelmed by the Titan assault on the castle, the only hope for the Scouts may lie in a promise and a secret.
30
05
"Historia"
April 29, 2017
May 20, 2017
Utgard Castle comes crumbling down as Ymir desperately battles the Titans. Now, Christa must fulfill the promise they made long ago during winter training.
31
06
"Warrior"
May 6, 2017
June 3, 2017
Following the battle, the Scouts regroup atop the wall only to find more questions than answers. Before they leave for Trost to get medical attention, Reiner must fulfill what he came to do.
32
07
"Close Combat"
May 13, 2017
June 10, 2017
As the Armored Titan and Eren's Titan Form engage in battle, Mikasa regrets not having succeeded at killing Bertholdt and Reiner before they shifted into Titans. Meanwhile, Hange orders the Scouts to attack the slow-moving Colossal Titan after it "eats" Ymir and another Scout
33
08
"The Hunters"
May 20, 2017
June 17, 2017
Lacking a way to pursue the Titans, Mikasa, Armin, and Hannes reflect on Eren's tenacity and determination as they recover from battle and wait for reinforcements.
34
09
"Opening"
May 27, 2017
June 24, 2017
As the Scouts rally and charge in pursuit, Reiner loses sight of his real personality while him and the others are trapped in the giant forest until nightfall.
35
10
"Children"
June 3, 2017
July 8, 2017
When their group finally flees, Ymir must ask herself whether to lie or stay true to herself, even if it means ruining the lives and future of those she cares about.
36
11
"Charge"
June 10, 2017
July 15, 2017
While the recruits attempt to reason with Bertholdt, Commander Erwin charges forth in a desperate strategy to topple the Armored Titan.
37
12
"Scream"
June 17, 2017
July 22, 2017
Eren's confrontation with a smiling Titan raises questions about his powers, but any answers will come at a cost.
Season 3 (2018-2019)
No. in
Series

No. in
Season

Episode Title

Japanese
Airdate

Toonami
Airdate

38
01
"Smoke Signal"
July 22, 2018
August 18, 2018
After barely surviving Eren's recovery, a rising threat from the shadows puts everyone's lives in danger again.
39
02
"Pain"
July 29, 2018
August 25, 2018
The Scouts take a stand against a new enemy, but it's not just Titans they'll be fighting anymore.
40
03
"Old Story"
August 5, 2018
September 8, 2018
Historia and Erwin look back on their past, revealing a shady government with a hidden agenda and inspiration for an uprising.
41
04
"Trust"
August 12, 2018
September 15, 2018
On the run and running out of time, the Scouts must entrust their lives to others if they plan on surviving.
42
05
"Reply"
August 19, 2018
September 22, 2018
Erwin pleads his case for the Scouts to be spared, but an unforeseen announcement puts the fate of humanity at risk.
43
06
"Sin"
August 26, 2018
September 29, 2018
While sins of the past reveal new truths, both sides prepare for the upcoming showdown before they run out of time.
44
07
"Wish"
September 2, 2018
October 6, 2018
As battle breaks out to prevent the ritual, Historia makes a shocking decision which leads to catastrophe.
45
08
"Outside the Walls of Orvud District"
September 9, 2018
October 13, 2018
When everything falls apart, Eren must believe in himself to save his friends. But Eren alone may not be enough to stop the impending doom.
46
09
"Ruler of the Walls"
September 16, 2018
October 20, 2018
Desperate to stop the approaching monstrosity, the Scouts resort to unconventional tactics before it destroys everything in its path.
47
10
"Friends"
September 23, 2018
October 27, 2018
Kenny recalls the life which has brought him to death's door, but he gets to decide whether to live on or not.
48
11
"Bystander"
October 7, 2018
November 3, 2018
Having seen a glimpse of his father's memories, Eren attempts to track down a man hoping they might shed some light on his father's secrets.
49
12
"Night of the Battle to Retake the Wall"
October 14, 2018
November 10, 2018
The Scouts gather for a feisty feast before leaving to retake Wall Maria to uncover what's hidden in the basement once and for all.
50
13
"The Town Where Everything Began"
April 28, 2019
May 25, 2019[1]
The operation to retake Wall Maria commences in Shiganshina, the town where everything began. But when the Scouts arrive, something seems very wrong.
51
14
"Thunder Spears"
May 5, 2019
June 1, 2019
Against a rush of enemies, the Scouts scramble to defend their horses. But despite falling into a trap, they have their own surprise for the Armored Titan.
52
15
"Descent"
May 12, 2019
June 8, 2019
Though their Thunder Spears prove effective, the Scouts' celebration is short-lived as disaster descends upon Shiganshina.
53
16
"Perfect Game"
May 19, 2019
June 15, 2019
While one front in the battle is rained on by flames, the other is battered by boulders. With no way out, the Scouts are forced to fight or die trying.
54
17
"Hero"
May 26, 2019
June 22, 2019
As Erwin's heroic charge buys Levi time to confront the Beast Titan, Armin comes up with a plan of his own that lays it all on the line.
55
18
"Midnight Sun"
June 2, 2019
June 29, 2019
While picking up the pieces from the costly battle, tensions rise when deciding which of the wounded Scouts to use the single syringe on.
56
19
"The Basement"
June 9, 2019
July 6, 2019
The Scouts reflect on all they have gained and lost in their mission. With their enemies gone, Eren and the Scouts finally enter the basement to uncover the truth that will change everything.
57
20
"That Day"
June 16, 2019
July 13, 2019
A look into Grisha's memories shows Eren the many secrets his father was hiding, including one which led to his mother's demise.
58
21
"Attack Titan"
June 23, 2019
July 20, 2019
Eren learns how all paths connect in the story that his father began. If Grisha is to pay for his sins, he must fight for freedom and take a stand.
59
22
"The Other Side of the Wall"
June 30, 2019
July 27, 2019
Though it's met with hope and despair, the truth is made public. The Scouts then venture beyond the walls to see if it's everything they dreamed of.
Attack on Titan: The Final Season (2020-2021)
No. in
Series

No. in
Season

Episode Title

Japanese
Airdate

Toonami
Airdate

60
01
"The Other Side of the Sea"
December 6, 2020
January 9, 2021
As Marley battles the Mid-East Alliance to end a four-year war, a group of Warrior candidates on the front lines compete to be the successor of the Armored Titan.
61
02
"Midnight Train"
December 13, 2020
January 16, 2021
Though glad the war is over, both the Eldian Warriors and Marley brass realize that neither have a future unless they finish the job of retaking the Founding Titan.
62
03
"The Door of Hope"
December 20, 2020
January 23, 2021
Reiner reflects on his past, remembering what pushed him to become a Warrior and keep moving forward when all hope was lost.
63
04
"From One Hand to Another"
December 27, 2020[2]
January 30, 2021
A sudden visit from the Tybur family shakes up the Marleyan military. Meanwhile, Falco smuggles letters for a friend and  helps two old comrades reunite.
64
05
"Declaration of War"
January 10, 2021[2]
February 6, 2021
While Willy Tybur reveals the truth in a shocking speech to the world, tensions rise behind the stage as Eren and Reiner meet face to face.
65
06
"The War Hammer Titan"
January 17, 2021
February 13, 2021
Eren's rampage is thwarted by the War Hammer Titan whose tenacity leaves him stumped. With Marley's military joining the fight, he'll be hard-pressed to survive on his own.
66
07
"Assault"
January 24, 2021
February 20, 2021
The forces of Paradis begin their assault, but the Warriors stand their ground. As Marley troops close in around them, Eren struggles to break the War Hammer's defenses.
67
08
"Assassain's Bullet"
January 31, 2021
February 27, 2021
With no Titans left to threaten their escape, the Scouts retreat on the airship. Determined to make them pay for trampling on her home, Gabi chases after with gun in hand.
68
09
"Brave Volunteers"
February 7, 2021
March 13, 2021[3]
As Paradis deals with the aftermath of the raid on Liberio, Armin looks back in the past to meeting the volunteer soldiers who reshaped their world.
69
10
"A Sound Argument"
February 14, 2021
March 20, 2021
In a flashback to the year 852, the arranged visit from the Azumabito clan creates a turmoil within the officials of the Eldian Empire. In the present, the Scouts are losing their faith in Eren and questioning his motives.
70
11
"Deceiver"
February 21, 2021
March 27, 2021
Trapped on the world's most dangerous island, Falco and Gabi will do anything to survive. Elsewhere, the public demands answers when they learn the savior of Paradis has been detained
71
12
"Guides"
February 28, 2021
April 3, 2021
While Hange and Pyxis piece together Zeke's true intentions, tension builds outside HQ where Armin and Mikasa plead for permission to speak with Eren.
72
13
"Children of the Forest"
March 7, 2021
April 10, 2021
Gabi and Falco seek out a fellow Marleyan who's surprised to see Warrior candidates. The truth of what happened at Ragako may shed some light on Zeke's secret plans.
73
14
"Savagery"
March 21, 2021
April 17, 2021
Armin and Mikasa speak with Eren, but are astounded by what he says. In the forest, Levi considers feeding the Beast Titan to someone new, but Zeke has other plans in mind.
74
15
"Sole Salvation"
March 21, 2021
April 24, 2021
A look into Zeke's past shows his struggle to become a Warrior. His plans to end the suffering of all Eldians stems from a chance friendship made in his youth.
75
16
"Above and Below"
March 28, 2021
May 1, 2021
With the Jaegerists now in charge, Zeke's master plan is revealed. But before it is put in motion, Eren recruits help to flush out any invaders in their midst.
76
17
"Judgement"
January 9, 2022
TBA
Monster Character Theater - Fly! Trainee Corps
Monster Character Theater - Fly! Trainee Corps is a series of Flash animated gag shorts included with the Blu-ray Disc/DVD releases, featuring the characters in chibi form.
#

Episode Title

Original Airdate

01
"Day 01 / Day 02"
July 17, 2013
Eren has trouble getting to school on time, before he and Armin find themselves in the nurse's office.
02
"Day 03 / Day 04"
August 21, 2013
Eren tries to make a strong impression before his instructor, whilst Jean becomes jealous of Eren's closeness with Mikasa.
03
"Day 05 / Day 06 / Day 07"
September 18, 2013
Sasha is accused of a crime she didn't commit, whilst Armin finds a rather dubious book. Later, Eren and Mikasa try to learn about the Titan's weakness.
04
"Day 08 / Day 09 / Day 10"
October 16, 2013
Eren accidentally stumbles into the classroom as the girls were taking off their clothes, Mikasa competes against Ymir for Eren's pudding, Krista and Ymir discuss who they should spend the day with.
05
"Day 11 / Day 12 / Day 13"
November 20, 2013
Eren attempts to improve his body by following Reiner's every move, Bertolt tries to improve his confidence, Mikasa and Annie compete to see who can inflict more pain on Eren.
06
"Day 14 / Day 15 / Day 16"
December 18, 2013
Connie and Sasha attempt to prank Shadis, Eren decides to shave his hair, Armin tutors Eren, Sasha, and Connie when they failed their test.
07
"Day 17 / Day 18 / Day 19"
January 15, 2014
Eren struggles to balance himself on the Three Dimensional Maneuver Gear, Jean gets lost during training, Marco sneaks into the Girl's Dormitory to return a lost pink bag.
08
"Day 20 / Day 21 / Day 22"
February 19, 2014
Franz and Hannah try to help Eren reconcile with Mikasa after an argument, Mikasa tries to act on her feelings with Eren, and Hanji tries to communicate with a Titan.
09
"Day 23 / Day 24 / Day 25"
March 19, 2014
Erwin tries to change his appearance to appeal to cadets, Levi analyzes himself from another's point of view, and the graduation ceremony of the 104th Trainee Corps takes place.
References
Toonami Episode Guides
Cartoon Network (1997-2008)
Adult Swim (2012-Present)