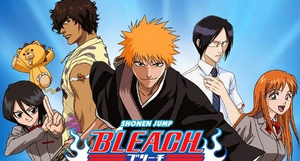 Series Overview
| Color | Story Arc | Episodes | U.S. Season Premiere | U.S. Season Finale |
| --- | --- | --- | --- | --- |
| | The Substitute | 20 | September 8, 2006 | January 26, 2007 |
| | Soul Society: The Entry | 21 | February 2, 2007 | July 15, 2007 |
| | Soul Society: The Rescue | 22 | July 21, 2007 | May 11, 2008 |
| | The Bount | 28 | May 18, 2008 | December 6, 2008 |
| | The Assault | 18 | December 13, 2008 | April 11, 2009 |
| | The Arrancar | 22 | April 18, 2009 | July 11, 2009 |
| | Arrancar Pt. 2: The Hueco Mundo Sneak Entry | 20 | July 11, 2009 | September 26, 2009 |
| | Arrancar Pt. 3: The Fierce Fight | 16 | September 26, 2009 | November 21, 2009 |
| | The New Captain Shūsuke Amagai | 22 | August 28, 2010 | January 29, 2011 |
| | Arrancar Pt. 4: Arrancar vs Shinigami | 16 | February 5, 2011 | May 21, 2011 |
| | The Past | 07 | May 28, 2011 | July 9, 2011 |
| | Arrancar Pt. 5: Battle in Karakura | 17 | July 16, 2011 | November 5, 2011 |
| | Zanpakutō: The Alternate Tale | 36 | November 12, 2011 | August 4, 2012 |
| | Arrancar Pt. 6: Fall of the Arrancar | 51 | August 12, 2012 | September 28, 2013 |
| | Gotei 13 Invading Army | 26 | October 5, 2013 | April 26, 2014 |
| | The Lost Agent | 24 | May 3, 2014 | November 1, 2014 |
| | Films | 04 | | |
The Substitute (2004-2005)
No. in Series

No. in Saga

Episode Title

Japanese Airdate

English Airdate

01
01
"The Day I Became a Shinigami"
October 5, 2004
September 8, 2006
Meet Ichigo Kurosaki, age 15. He's a high-school student who possesses the uncanny ability to see ghosts. But when he meets Rukia Kuchiki, a Soul Reaper from the Soul Society who helps lost souls find peace, his not-so-normal life becomes even more abnormal. In order to save his family from the grips of a Hollow, an evil spirit that preys on humans, Rukia lends some of her powers to Ichigo. Much to her surprise, he absorbs most of her powers and in turn, he too becomes a Soul Reaper.
02
02
"The Shinigami's Work"
October 12, 2004
September 15, 2006
It's the morning after Ichigo's transformation into a Soul Reaper, and no one in his family has any recollection of the events. Even the memory of him slaying a hollow is forgotten. He heads off to school, where he finds Rukia in the awkward guise of a transfer student. Now that Ichigo has taken most of her Soul Reaper powers, she orders him to take her place until she is at full strength. Ichigo dismisses her request, just as a mysterious shadow begins to follow Orihime Inoue, a jovial classmate of Ichigo with a sad past.
03
03
"The Older Brother's Wish, the Younger Sister's Wish"
October 19, 2004
September 22, 2006
Not all souls pass on properly into the Soul Society. Sadly, they are abandoned and become Hollows. In the midst of this transformation, they lose their hearts and seek out those they loved most while they were alive. Therefore, it is only natural that Orihime's brother Sora, who has become a Hollow, seeks her soul. Ichigo rushes to Orihime's house and finds the Hollow has forced Orihime's soul out of her body. Will Ichigo be able to save Orihime from her own brother?
04
04
"Cursed Parakeet"
October 26, 2004
September 29, 2006
Chad, Ichigo's classmate and friend, is given a cursed cockatiel. He brings the bird to school, along with a plethora of injuries to his large body. Sensing spirit energy in the bird, Rukia feels they need to perform a Konso on the cockatiel and help its soul pass on. That evening, an injured Chad is brought to Kurosaki Clinic. Ichigo and Rukia sense the presence of a dangerous Hollow emanating from Chad's wound. The following morning, Chad bolts from his hospital bed and is nowhere to be found.
05
05
"Beat the Invisible Enemy!"
November 2, 2004
October 6, 2006
Rukia and Chad battle the Hollow Shrieker which has haunted the "Cursed Cockatiel." They fight even though Rukia's powers still have not completely returned, and Chad is unable to see Hollows. But this Shrieker has beaten many Soul Reapers and committed countless sins. Meanwhile, Ichigo is taking Natsuki home after she collapses from the shock of seeing the tragic memories of a boy spirit inside the parakeet. And he has no idea of the danger that Rukia and Chad are in.
06
06
"Fight to the Death! Ichigo vs. Ichigo"
November 9, 2004
October 13, 2006
Rukia heads out to Urahara Store to purchase supplies which a Soul Reaper needs. The owner, Kisuke Urahara, is aloof and a bit of a mystery, but he stocks strange products which he buys from the Soul Society. The Soul Candy (gikongan) which Rukia had ordered previously has just come in. Its purpose is to provide a substitute soul for Ichigo's body when he transforms into a Soul Reaper, and Ichigo can't wait to try it out.
07
07
"Greetings from a Stuffed Lion"
November 16, 2004
October 20, 2006
Ichigo and Rukia set out in search of Ichigo's body which has been taken over by a mod soul. Ichigo finds it at an elementary school, but the Other Ichigo has become too strong and gets away. In the midst of battle, Rukia receives word through her Soul Cell Phone of a Hollow sighting, but the battery dies and she is unable to confirm its location. Meanwhile, the Other Ichigo, who has run away, senses a Hollow stalking a grade school student.
08
08
"June 17, Memories in the Rain"
November 23, 2004
October 27, 2006
IThe Kurosaki family drops everything to visit the grave of Ichigo's mother. Ichigo intended to take a day off from Soul Reaper duties, but finds Rukia waiting for him at the cemetery. When she learns how Ichigo's mother died, Rukia suggests that perhaps the Hollow who came after him was the one who killed his mother. Ichigo refuses to listen and runs off. Then a Soul Reaper named Saidoh appears to take Rukia away from the temporal world.
09
09
"Unbeatable Enemy"
November 30, 2004
November 3, 2006
The Grand Fisher, a Hollow who uses a lure to seek out humans with strong spiritual energy, appears before Ichigo and his friends. Ichigo is shocked when he sees the lure, it has the shape of the young girl he saw six years ago when his mother died. Filled with rage and disbelief, he attacks the Grand Fisher. But losing his calm makes Ichigo easy prey... and even Rukia who comes to Ichigo's rescue is thrown aside.
10
10
"Assault on Trip at Sacred Ground!"
December 7, 2004
November 10, 2006
The charismatic medium, Don Kanonji, exterminates evil spirits on his hit television program, "Journey to a Haunted Place", and the series comes on location to the town of Karakura. Ichigo hates ghost programs and refuses to go with Orihime and Keigo to see the live show, but is dragged along anyway by his father and Yuzu. Ichigo is disgusted by the crowd which has gathered, but suddenly sees a Demi-Hollow. To make things worse, Kanonji's actions end up aggravating the Demi-Hollow, forcing Ichigo to step in.
11
11
"The Legendary Quincy"
December 14, 2004
November 17, 2006
While on another hollow fighting mission, Ichigo encounters Uryū Ishida, a classmate belonging to a clan known as the Quincy, humans that can use spiritual power to manifest a bow to fight hollows. Uryū declares himself an enemy of all Soul Reapers and challenges Ichigo to a competition of hunting hollows.
12
12
"A Gentle Right Arm"
December 21, 2004
November 24, 2006
The contest between Ichigo and Uryū has lured hundreds of hollows into Karakura Town, endangering many of Ichigo's friends. Chad is forced to fight a hollow in order to save Karin. During the battle he is finally able to see the hollow clearly, and develops a new ability, an armored right arm capable of firing energy blasts.
13
13
"Flower and Hollow"
December 28, 2004
December 1, 2006
The situation worsens as more hollows appear in the human world, attacking the school where Orihime and her friends are. While defending them, Orihime develops her own power, the Shun Shun Rikka, a group of fairy-like creatures coming from the hairpins given to her by her brother, and defeats the hollow. Afterward, Urahara takes in Orihime and Chad to help them with their new powers while Rukia and Ichigo confront Uryū.
14
14
"Back to Back, a Fight to the Death!"
January 11, 2005
December 8, 2006
The legion of hollows force Ichigo and Uryū to team up in combat while the others watch. A giant hollow called a Menos Grande arrives on the scene, and is driven away after Ichigo inflicts a wound assisted by power from Uryū. However, he releases too much spiritual power in the process. The strain of his powers causes Ichigo to lose consciousness, and Uryū saves him by releasing the excess energy through his bow.
15
15
"Kon's Great Plan"
January 18, 2005
December 15, 2006
Tired of mistreatment from Ichigo, Kon runs away to find a better owner. But he finds his abuse continuing from girls due to his freaky nature. Ichigo makes an effort to befriend Uryū but is rebuffed. Rukia becomes conflicted with her attachment with humans. Rather than endanger Ichigo, she runs away to face the newly-arrived hunters from the Soul Society. Ichigo chases after Rukia only to encounter the two soul reapers pursuing her.
16
16
"Encounter, Renji Abarai!"
January 25, 2005
December 22, 2006
The two soul reapers are revealed to be 6th Company Asst. Captain Renji Abarai and Captain Byakuya Kuchiki, Rukia's older brother. Ichigo faces off against Renji Abarai, who triggers his initial release, gaining the advantage by releasing his zanpakutō, and Ichigo finds himself overwhelmed fighting a fully trained Soul Reaper.
17
17
"Ichigo Dies!"
February 1, 2005
January 5, 2007
Ichigo makes a comeback against Renji, overwhelming him. Just when Renji is about to fall, Byakuya Kuchiki, Rukia's brother, steps in and defeats Ichigo with overwhelming pace. Rukia returns to the Soul Society so that Ichigo can be spared death, and Ichigo is left dying, with his power stripped from him.
18
18
"Reclaim! The Power of the Shinigami!"
February 8, 2005
January 12, 2007
As his last day of school ends, Ichigo is upset to discover that no one except for Orihime, Chad and Uryū seems to remember Rukia, due to a mind wipe imposed by the Soul Society. He begins his training at the Urahara Shop. Meanwhile, Yoruichi Shihōin, a talking cat, offers to train Chad and Orihime to control and enhance their powers so they can join Ichigo to go to the Soul Society and rescue Rukia.
19
19
"Ichigo Becomes a Hollow!"
February 15, 2005
January 19, 2007
In the Soul Society, Rukia's sentence is moved up and she only has twenty five days left. In the pit, Ichigo battles through the agony of the process of becoming a hollow.
20
20
"Gin Ichimaru's Shadow"
February 22, 2005
January 26, 2007
While fighting Urahara, Ichigo learns that Zangetsu is the name of his zanpakutō. Upon learning the name, the sword transforms into a much more powerful version and he unleashes an energy blast which knocks off Urahara's hat, completing the third stage in his training. Orihime and Chad, meanwhile, finish their training with Yoruichi. The entire group, including Uryū, who has been training alone, set out for the Soul Society using a gate Yoruichi and Urahara made.
Soul Society: The Entry (2005)
No. in Series

No. in Saga

Episode Title

Japanese Airdate

English Airdate

21
01
"Enter! The World of the Shinigami"
March 1, 2005
February 2, 2007
Ichigo Kurosaki, Uryū Ishida, Orihime Inoue, Yasutora "Chad" Sado, and Yoruichi Shihōin cross over into Soul Society using the gate. They arrive in the Rukongai, where normal spirits reside. Ichigo quickly finds himself in a battle with the gate watcher Jidanbō when he carelessly tries to enter the Seireitei, where the Soul Reapers reside. Thanks to Urahara's training, Ichigo easily defeats Jidanbō, but when Jidanbō opens the gate, Ichigo encounters the third division captain Gin Ichimaru.
22
02
"The Man Who Hates Shinigami"
March 8, 2005
February 9, 2007
Ichimaru uses his shikai and pushes Ichigo back through the gate. After being "shot" out of the Seireitei by Ichimaru, Ichigo and his friends must find another way in. While searching for a friend of Yoruichi's, Ichigo meets Ganju Shiba, a man who claims to be the number one hater of Soul Reapers of the West Rukongai. The two hate each other immediately and begin to fight, but their battle ends abruptly when the clock on the back of one of Ganju's friends goes off.
23
03
"14 Days Before Rukia's Execution"
March 15, 2005
February 16, 2007
Yoruichi solicits the help of Ganju's sister, Kūkaku Shiba, who agrees to send them into the Seireitei using her fireworks cannon. Meanwhile, Rukia's sentence has been moved to fourteen days, and she is transferred into a cell called the Shrine of Penitence. An emergency meeting is called among all the captains of the Thirteen Court Guard Squads.
24
04
"Assemble! The 13 Divisions"
March 22, 2005
February 23, 2007
In order to use the cannon to enter the Seireitei, Ichigo and his friends must first learn how to focus their spiritual energies in order to use an item called a Spirit Orb, a task Ichigo finds especially difficult. He finally succeeds with the help of Ganju and creates the shell he will need to ride the cannon. Within the Seireitei a meeting of all the captains in the Thirteen Court Guard Squads is held to discuss how to deal with the invaders. The meeting is interrupted by an alarm, indicating that someone has infiltrated the Seireitei.
25
05
"Penetrate the Center with an Enormous Bombshell?"
March 29, 2005
March 2, 2007
Before the group launches into the Seireitei, Ganju reveals that the reason he hates Soul Reapers is because his brother was killed by one. In the Seireitei, the eleventh division captain, Kenpachi Zaraki, sets out to hunt Ichigo, believing him to be a worthy opponent. Captain Sōsuke Aizen confronts Ichimaru in front of the tenth division captain Tōshirō Hitsugaya about his flimsy excuse for allowing the invaders to escape. As the crew passes through the shield surrounding the Sereitei, Ichigo's inability to control his spiritual energy results in the shell exploding, separating the group.
26
06
"Formation! The Worst Tag"
April 5, 2005
March 9, 2007
Ichigo lands with Ganju, and Uryū with Orihime, while Chad and Yoruichi are alone. Ichigo and Ganju encounter and fight two eleventh division members, Ikkaku Madarame and Yumichika Ayasegawa respectively. Ikkaku gains an advantage by using the shikai of his zanpakutō. While Ganju attempts to escape from Yumichika using a series of tricks.
27
07
"Release the Death Blow!"
April 12, 2005
March 25, 2007
Ichigo eventually overpowers Ikkaku, although he is injured in the process. Ganju and Yumichika continue their fight, with Yumichika pursuing Ganju throughout the Seireitei. Kenpachi Zaraki continues to search for Ichigo, but is lost, thanks to the poor directions of his lieutenant, Yachiru Kusajishi.
28
08
"Orihime Targeted"
April 19, 2005
April 8, 2007
Ganju manages to defeat Yumichika by exploding fireworks on his face. Uryū and Orihime are confronted by Jirōbō Ikkanzaka, the fourth seat of the seventh division. Uryū is easily able to destroy the projectiles he sends at them, and destroys his ability to be a Soul Reaper when he threatens Orihime. Meanwhile, the twelfth division captain, Mayuri Kurotsuchi, dispatches squads to locate the intruders.
29
09
"Breakthrough! The Shinigami's Encompassing Net"
April 26, 2005
April 15, 2007
Ichigo and Ganju attempt to escape the Soul Reapers following them by using Hanatarō Yamada, a fourth division officer, as a distraction. They fail, but the Soul Reapers are distracted by Sado's energy blasts elsewhere, enabling them to escape. Hanatarō promises to take Ichigo and Ganju to Rukia. Kenpachi is still attempting to find Ichigo, but Yachiru's directions are leading him in the opposite direction. He then heads to Ikkaku, and stops Mayuri from attacking Ikkaku when the latter refuses to answer any questions.
30
10
"Renji's Confrontation"
May 3, 2005
April 22, 2007
With Hanatarō's help, Ichigo and Ganju begin to move towards Rukia's location. However, Renji Abarai, the lieutenant of the sixth division, confronts them. Ichigo begins to fight him, and Renji reveals that he is five times more powerful than when they fought previously.
31
11
"The Resolution to Kill"
May 10, 2005
April 29, 2007
Ichigo and Renji fight viciously, with Renji initially gaining the advantage. However, Ichigo reflects on his training with Urahara, and uses his "resolve" to fire a blast of spiritual energy at Renji, defeating him.
32
12
"Stars and the Stray"
May 17, 2005
May 6, 2007
Renji reflects on his past with Rukia, remembering how they were childhood friends, and how they joined the Soul Reaper Academy together. However, they steadily grew more separated, and he stopped interfering with her after she was adopted by the Kuchiki clan. After reminiscing, he begs Ichigo to save her.
33
13
"Miracle! The Mysterious New Hero"
May 26, 2005
May 13, 2007
Back in the world of the living, Karin and Yuzu find themselves entrusted with a mysterious cat that falls from the sky which draws the attention of a number of deadly Hollows. Along with Jinta and Ururu, they are recruited by television personality Don Kanonji to learn how to fight bad spirits and protect their town. Although they are skeptical about working under Don Kanonji's leadership, they are excited about becoming television stars, known as "Karakura Superheroes."
34
14
"Tragedy of Dawn"
June 1, 2005
May 20, 2007
Hanatarō and Ganju carry Ichigo away as the Soul Reapers arrive. Hanatarō begins to heal Ichigo in the underground tunnels. Renji, despite being heavily injured, is incarcerated on the orders of his captain, Byakuya Kuchiki. Meanwhile, the Soul Reaper high command orders all-out war against the intruders. As fifth division lieutenant Momo Hinamori travels to a meeting of lieutenants the following day, she finds the corpse of her captain, Sōsuke Aizen, hanging from a tower.
35
15
"Aizen Assassinated! The Darkness Which Approaches"
June 7, 2005
May 27, 2007
Believing that Ichimaru murdered Aizen, Hinamori attacks him, but is stopped by Kira. Hitsugaya stops their fight, and orders both to be incarcerated. He then promises to kill Ichimaru if he harms Hinamori in any way. Chad continues through the Seireitei, but the eighth division captain, Shunsui Kyōraku, decides to stop him. Ichigo, Ganju, and Hanatarō travel towards Rukia's prison, but are immobilized by Kenpachi's immense spiritual force.
36
16
"Kenpachi Zaraki Approaches!"
June 14, 2005
June 9, 2007
The tenth division lieutenant, Rangiku Matsumoto, gives Hinamori a letter from Aizen, which discloses the true identity of his murderer. Meanwhile, Ichigo begins to fight Kenpachi. However, Kenpachi's spiritual energy is so great that Ichigo cannot even attack him.
37
17
"Motive of the Fist"
June 21, 2005
June 17, 2007
As Chad continues through Soul Society, he encounters members of the eighth division. He manages to defeat them all until the eighth division captain, Shunsui Kyōraku, confronts him. Although Chad is determined to win to uphold his promise to Ichigo, Shunsui easily, albeit regretfully, defeats him.
38
18
"Desperation! The Broken Zangetsu"
June 28, 2005
June 24, 2007
Rather than kill him, Shunsui orders Chad to be incarcerated. Elsewhere, Ichigo is fleeing Kenpachi, terrified of Kenpachi's overwhelming power. After realizing the importance of his mission, however, Ichigo finds the resolve to face him. He manages to cut Kenpachi, but becomes overconfident after learning that Kenpachi has not mastered his zanpakutō. Kenpachi then stabs him in the chest, breaking Ichigo's zanpakutō in the process.
39
19
"The Immortal Man"
July 5, 2005
July 1, 2007
Zangetsu, the spirit of Ichigo's zanpakutō, brings Ichigo into his world. Through fighting a hollow version of himself, Ichigo realizes that zanpakutō are more than mere tools, and that simply knowing the name of his zanpakutō does not make him more powerful. Ichigo is then able to fight Kenpachi on equal footing, and as the two clash in a massive strike, Ichigo collapses.
40
20
"The Shinigami whom Ganju Met"
July 12, 2005
July 8, 2007
Kenpachi falls down beside Ichigo in defeat, and Yachiru takes him away for medical treatment. Yoruichi also retrieves Ichigo. Ganju and Hanatarō arrive at Rukia's cell, but Ganju becomes infuriated because he believes Rukia was the killer of his brother, Kaien Shiba. Byakuya arrives, and Ganju decides to fight him.
41
21
"Reunion, Ichigo and Rukia"
July 19, 2005
July 15, 2007
As Ichigo awakens, Yoruichi reveals that she is actually a woman. Afterwards, Yoruichi shows Ichigo a device that allowed her to fly, and Ichigo uses it to go save Ganju and Hanatarō. Meanwhile, Byakuya easily defeats Ganju with his shikai, but is then stopped by the thirteenth division captain, Jūshirō Ukitake. Ichigo arrives and fights Byakuya. Before Byakuya can activate his shikai, Yoruichi stops him.
Soul Society: The Rescue (2005)
No. in Series

No. in Saga

Episode Title

Japanese Airdate

English Airdate

42
01
"Yoruichi, Goddess of Flash, Dances!"
July 26, 2005
July 21, 2007
As Renji Abarai recovers in his cell, the spirit of his zanpakutō, Zabimaru, says that he wishes to face Ichigo Kurosaki's zanpakutō, Zangetsu, again, but Renji tells him that Ichigo is no longer his enemy. Elsewhere, Yoruichi Shihōin manages to evade Byakuya Kuchiki and escape with Ichigo. After Ichigo regains consciousness, she begins to instruct him in the use of his bankai, the final stage of his zanpakutō that would vastly increase his power. Uryū Ishida and Orihime Inoue are attempting to travel to Rukia Kuchiki's cell by using Soul Reaper clothes, but they are closely watched by the twelfth division Soul Reaper captain, Mayuri Kurotsuchi.
43
02
"The Despicable Shinigami"
August 2, 2005
July 28, 2007
Orihime and Uryū, dressed as Soul Reapers, are met by members of Squad 12 who offer to help them, but Uryū quickly realizes that it is a trap. Squad 12's Captain Kurotsuchi presents himself to Orihime and Uryū, criticizing Uryū as a Quincy who has no chance of winning this fight. Uryū orders one of the remaining members of Squad 11 in the area to take Orihime and run away, acknowledging the fact that Kurotusuchi is more interested in her than a mere Quincy.
44
03
"Ishida Ultimate Power!"
August 9, 2005
August 4, 2007
Uryū uses the Quincy technique ransōtengai to overcome the paralysis of Captain Kurotsuchi's zanpakutō. However, he is outclassed by Kurotsuchi, and is forced to take off his sanrei glove, an act that releases the limits on his powers.
45
04
"Overcome Your Limits!"
August 16, 2005
August 11, 2007
Tōsen disables Uryū instantly with his zanpakutō, and has him incarcerated. Yoruichi summons Zangetsu using a tenshintai, one of Kisuke Urahara's inventions. Zangetsu states that if Ichigo defeats him, he will be able to perform his bankai, and will be slain if he fails. Elsewhere, Uryu, Ganju, and Chad are reunited in a shared prison cell, where they wonder why they haven't been killed, and eleventh division captain Kenpachi Zaraki agrees to help Orihime find Ichigo in order to fight him again.
46
05
"Authentic Records! School of Shinigami"
August 23, 2005
August 18, 2007
While incarcerated, fifth division lieutenant Momo Hinamori recalls her experiences at the Soul Reaper Academy, where she befriended Renji and Izuru. On a field trip to hunt hollows, she and her comrades were saved by captain Sōsuke Aizen and then-lieutenant Gin Ichimaru when powerful hollows attacked. Back in the present, Hinamori knocks her guard unconscious and escapes from her cell, planning to confront the person who killed Aizen.
47
06
"The Avengers"
August 30, 2005
September 1, 2007
Yoruichi notes that Ichigo's training for his bankai is going well and stops the training for the day. She reveals in their subsequent conversation that Kisuke Urahara used to be the twelfth division captain. Elsewhere, Tōshirō Hitsugaya confronts Ichimaru and Kira over Aizen's murder, but is interrupted by Hinamori, who believes that Hitsugaya killed Aizen. Hitsugaya knocks Hinamori unconscious and prepares to kill Ichimaru.
48
07
"Hitsugaya Roars!"
September 6, 2005
September 8, 2007
Hitsugaya and Ichimaru begin to fight, and Ichimaru initially takes the upper hand with his swordplay. Hitsugaya turns the tables by using the shikai of his zanpakutō to immobilize Ichimaru by freezing his arm, but this advantage is countered when Ichimaru uses his own shikai to threaten the unconscious Hinamori. Lieutenant Rangiku Matsumoto arrives to aid Hinamori and Hitsugaya, and Ichimaru withdraws rather than go against her. Meanwhile, Renji arrives at Ichigo's training spot, and reveals that Rukia's execution date has been moved to the next day.
49
08
"Rukia's Nightmare"
September 13, 2005
September 15, 2007
Rukia reminisces about her past as a member of the thirteenth division. As she was able to get into the Thirteen Court Guard Squads due to being part of the Kuchiki clan, she was disliked by the other members of her division, but she was able to construct a deep friendship with lieutenant Kaien Shiba. One night, however, a hollow merged with Kaien and attempted to kill Rukia. Kaien regained control of his body, and impaled himself on Rukia's zanpakutō. Rukia, believing that she is a coward who killed Kaien, is convinced that she should be executed.
50
09
"The Reviving Lion"
September 20, 2005
September 22, 2007
In the world of the living, Don Kanonji searches for a way to save his television show, as its ratings continue to plummet. He discovers Kon- the mod-spirit trapped inside the body of a stuffed animal- and decides to make Kon the mascot of his show. After naming Kon, "Karakura King", he is able to attract Yuzu, Jinta, and Ururu back to his cause, and they become Karakura Pink, Yellow, and Red: superheroes of Don Kanonji's television show.
51
10
"Morning of the Sentence"
September 27, 2005
October 6, 2007
Kenpachi, along with Orihime and his subordinates, begins to travel to the execution grounds, but are confronted by captains Sajin Komamura and Kaname Tōsen and their lieutenants, Tetsuzaemon Iba and Shūhei Hisagi. Ikkaku Madarame and Yumichika Ayasegawa, Kenpachi's subordinates, begin fights with Iba and Hisagi respectively, and Komamura and Tōsen attack Kenpachi. Elsewhere, Renji has acquired his bankai, and Yoruichi is confident that Ichigo will do the same.
52
11
"Renji, Oath of the Soul! Death Match with Byakuya"
October 4, 2005
October 13, 2007
Renji travels to Rukia's execution area, and meets his captain, Byakuya Kuchiki, along the way. Renji ends up using his bankai to fight Byakuya, but his lack of experience with his bankai stymies his efforts. Byakuya uses his shikai to try and counterattack but fails and Renji reveals that his bankai is held together by his spiritual pressure. Byakuya uses his own bankai and attacks again, wounding Renji and causing his bankai to fade away. Finally Renji makes a last try and actually reaches his captain with his zanpakto, but it breaks and Renji's wounds cause him to fall as the captain congratulates him.
53
12
"Gin Ichimaru's Temptation, Resolution Shattered"
October 4, 2005
March 2, 2008
As Rukia travels to the execution area, Ichimaru shatters her resolve by offering to help her, but subsequently claims that his offer was insincere to begin with. Kenpachi is easily battling both Komamura and Tōsen, forcing Tōsen to use his bankai, which removes all of Kenpachi's senses with the exception of his sense of touch. Despite being unable to see Tōsen, Kenpachi manages to locate and injure him, but is stopped from killing him by Komamura. Komamura activates his bankai and engages Kenpachi. Meanwhile, Rukia arrives at the execution grounds.
54
13
"An Accomplished Oath! Get Back Rukia!"
October 18, 2005
March 9, 2008
Rukia has accepted her execution, and gives a request to first division captain Genryūsai Shigekuni Yamamoto, to send Ichigo and his friends home after her execution. The sōkyoku, a massive halberd that transforms into a phoenix, is the execution method. However, Ichigo steps forward and stops the sōkyoku with his sword, and sympathetic captains Shunsui Kyōraku and Jūshirō Ukitake destroy the sōkyoku. As Renji arrives to take away Rukia, Ichigo defeats three pursuing lieutenants with his bare hands, and turns to face Byakuya.
55
14
"The Strongest Shinigami! Ultimate Confrontation Between Teacher and Students"
October 25, 2005
March 16, 2008
Byakuya begins to fight Ichigo, and promises to execute Rukia himself. Fourth division captain Retsu Unohana personally heals all of the injured present, then leaves to investigate another location. Shunsui and Ukitake also sprint from the execution grounds, and the pair confront Yamamoto in a secluded area. In an overwhelming display, Yamamoto activates his shikai and incinerates the surrounding area.
56
15
"Supersonic Battle! Determine the Goddess of Battle"
November 1, 2005
March 23, 2008
Yumichika returns to his captain after defeating Hisagi, and Kenpachi remarks that Komamura fled after Yamamoto began fighting. Shunsui and Ukitake decide to fight their teacher, and both use the shikai of their zanpakutō. Meanwhile, captain Suì-Fēng begins to fight Yoruichi, her former commander and teacher, and gains the advantage after she begins using her shikai. Believing she has the advantage, Suì-Fēng activates a nameless technique she recently discovered which greatly increases her power. However, Yoruichi activates the same technique, calling it "shunko".
57
16
"Senbonzakura, Crushed! Zangetsu Thrusts Through the Sky"
November 8, 2005
March 30, 2008
Suì-Fēng recalls her past with Yoruichi. She was Yoruichi's personal guard, and highly faithful to her. However, when Yoruichi left Soul Society, she felt betrayed, and carried a grudge against her mentor from that point forward. As Suì-Fēng attacks, Yoruichi uses her shunko to block all of Suì-Fēng's attacks. Suì-Fēng breaks down in tears, asking Yoruichi why she did not take her along when she left Soul Society. Ikkaku and Iba are fighting, albeit casually for sakē. Near the execution site, Ichigo uses his newly learned getsuga tenshō technique to defeat Byakuya's shikai, and requests that Byakuya use his bankai.
58
17
"Unseal! The Black Blade, the Miraculous Power"
November 15, 2005
April 6, 2008
Byakuya uses his bankai and overwhelms Ichigo with millions of tiny blades. In response, Ichigo uses his own bankai, which makes him incredibly fast. Ichigo evades Byakuya's bankai and stabs him with his sword. Meanwhile, Tōshirō Hitsugaya and Rangiku Matsumoto head to the Central 46 Chambers, the highest authority in Soul Society.
59
18
"Conclusion of the Death Match! White Pride and Black Desire"
November 22, 2005
April 13, 2008
Byakuya uses the second form of his bankai, summoning several rows of swords. As he and Ichigo continue to fight, Ichigo becomes progressively weaker as the strain from his bankai increases. His inner hollow takes over his body after Byakuya wounds him, and he starts to overwhelm Byakuya. However, Ichigo manages to suppress his inner hollow, and regains control over his body. Both Ichigo and Byakuya focus the remainder of their powers and clash in a final strike, with Ichigo the victor. Byakuya reveals that he would allow Rukia to be executed because he values the law above her life. Elsewhere, Hitsugaya and Matsumoto enter the Central 46 Chambers.
60
19
"Reality of the Despair, the Assassin's Dagger is Swung"
December 6, 2005
April 20, 2008
Hitsugaya and Matsumoto enter the Central 46 Chambers to find all of its occupants slain. Kira arrives, and Hitsugaya and Matsumoto pursue him. Hitsugaya returns when Kira tells him that Hinamori has entered the Central 46 Chambers. Ichimaru meets Hinamori and takes her further into the chambers, where she is reunited with Sōsuke Aizen.
61
20
"Aizen Stands! Horrible Ambitions"
December 13, 2005
April 27, 2008
After defeating Hitsugaya, Captain Aizen heads for the Execution Grounds. Renji is dumbfounded as he finds himself facing Captains Aizen, Ichimaru, and Tossen at Sokyoku hill, the very same place that he was carrying Rukia away from. Captain Aizen demands Renji to put Rukia down and disappear, but there is no way Renji is going to abandon his childhood friend.
62
21
"Gather Together! Group of the Strongest Shinigami"
December 20, 2005
May 4, 2008
Furious after hearing the news of the defection of three captains, Sajin Komamura arrives at the Sokyoku ready to beat the treachery out of Aizen and his lackeys. Captain Komamura quickly realizes that deception is even a part of Sosuke Aizen's fighting technique, and the rogue captain proves to be more of a challenge than he expected. Ichigo, battered after his clash with Byakuya Kuchiki, lies helplessly on the sidelines, watching this battle between captains.
63
22
"Rukia's Resolution, Ichigo's Feelings"
January 10, 2006
May 11, 2008
Peace returns as the Soul Society recuperates from the deep wounds left by the treachery of Captain Aizen and his partners in crime. Captain Komamura and Lieutenant Hisagi visit the graves of fallen comrades, while Hitsugaya visits Hinamori and hopes for her quick recovery from the wounds she received from Captain Aizen. Ichigo has recovered from his own injuries, and in the district of Squad Eleven he meets up with Orihime, who informs him that Rukia has gone missing.
The Bount (2006)
No. in Series

No. in Saga

Episode Title

Japanese Airdate

English Airdate

64
01
"New School Term, Renji Has Come to the Material World?!"
January 17, 2006
May 18, 2008
Ichigo and his friends have returned from the Soul Society and are finally able to get back to their "normal" lives. On the first day back at school, Renji shows up unannounced, dressed in out-dated seventies' fashion. Since things have settled down in the Soul Society, Renji has been sent to Karakura Town to oversee the eradication of Hollows, and Ichigo has no choice but to work with him. Later that night, Orihime Inoue has a dream about her brother Sora, and is drawn into a large gate while three mysterious people observe.
65
02
"Creeping Terror, the Second Victim"
January 24, 2006
May 25, 2008
After Orihime disappears, Ichigo, Renji, Uryū, and Chad try to find her. A mysterious girl contacts Renji on his cellphone, and reveals that Orihime will return to her house at eight o'clock. They find Orihime at that time, but she is an imposter. Chad is then taken by the three figures.
66
03
"Breakthrough! The Trap Hidden in the Labyrinth"
January 31, 2006
June 1, 2008
After the loss of Chad, the caller instructs Ichigo, Renji, and Uryū to appear at the local museum for a continuation of her game. Once there, the museum turns into a looping maze with illusions and traps. Along the way, the group starts to splinter apart due to their irritation and desire to find their own way in the maze. As Ichigo and Renji start to walk off, Uryū notices a limitation of the illusion and plots a way out.
67
04
"Death Game! The Missing Classmate"
February 7, 2006
June 8, 2008
After leaving the museum, the group is confronted by the modified souls, who tell them that one of their core group has been replaced by an imposter, and they must find out who before noon, or everyone in their school will be killed. As the group attempts to find the imposter, Tatsuki Arisawa, one of Ichigo's classmates, disappears.
68
05
"True Identity of the Devil, the Secret which Is Revealed"
February 14, 2006
June 15, 2008
As Ichigo and the others begin the final game against the modified souls, the modified souls conjure a massive gate that consumes the group. After putting Chad into a giant hourglass, the modified soul Lirin tells Ichigo and the others that they have five minutes to defeat the modified souls and save Chad. Meanwhile, Soul Reapers, Yoruichi Shihōin and Suì-Fēng, have been investigating the Bount, a group of humans that consume souls for sustenance.
69
06
"Bounts! The Soul Hunters!"
February 14, 2006
June 22, 2008
At Urahara's shop, Kisuke discusses the Bount with Ichigo and his friends, and orders the modified souls, Lirin, Noba, and Kurōdo, to accompany them. The group subsequently locates a pair of Bount, Yoshino Sōma and Ryō Udagawa. As Udagawa retreats, Ichigo begins to battle Yoshino, who summons her "doll" Goethe, a Familiar unique to every Bount.
70
07
"Rukia's Return! Revival of the Substitute Team!"
February 21, 2006
June 29, 2008
Goethe overwhelms Ichigo with his fire attacks, and Ichigo is saved by Rukia Kuchiki. Goethe continues to attack, but is restrained by Udagawa, who takes Yoshino and Goethe away from the battle. After the battle, Ichigo and his friends celebrate Rukia's return, and discuss the Bount threat in Ichigo's house. Elsewhere, Yoshino escapes from the Bount headquarters, and is watched by the Bount leader Jin Kariya.
71
08
"The Moment of Collision! An Evil Hand Draws Near to the Quincy"
March 7, 2006
July 6, 2008
Udagawa manages to capture Uryū, but Yoshino takes Uryū away from him. Udagawa uses his doll to summon a wave of snakes, but retreats after Ururu Tsumugiya begins attacking him with her bazooka. In the Soul Society, Soul Reaper captain Shunsui Kyōraku asks twelfth division captain Mayuri Kurotsuchi about the Bount; however, Mayuri refuses to show him the data and later discovers that it has been erased. Uryū awakens in an apartment, where Yoshino tells him that Kariya seeks a Quincy in order to open a gateway to the "world of the dead".
72
09
"Water Attack! Escape from the Shutdown Hospital"
March 14, 2006
July 13, 2008
Ichigo and the others receive a message from Uryū and find him at the hospital. The hospital room then floods with water, which the group realizes are the dolls of unidentified Bount members. The dolls attempt to drown Uryū, but Uryū is rescued when Ichigo cuts the water dolls. The group attempts to flee and they encounter the two Bount members, Hō and Ban. As the rest of the group retreats with Uryū, Ichigo and Renji fight Hō and Ban.
73
10
"Gathering Bounts! The Man Who Makes His Move"
March 28, 2006
July 20, 2008
Ichigo's and Renji's fight with Hō and Ban takes them outside the hospital. Hō and Ban transform their dolls into massive pillars of water that swallow up Ichigo, Renji and Rukia as Chad and Orihime try to get Uryū to safety. Giving up on drowning Ichigo and the others, the twins decide to go after Uryū. Chad starts to fight the twins and separates them, causing their dolls to collapse. In response, Hō and Ban force Ichigo and company to drink their dolls, allowing the twins to rip their bodies apart from the inside. Ganju Shiba and Hanatarō Yamada arrive, and Ganju uses his fireworks to destroy the dolls, killing Hō and Ban. As the group surveys the aftermath, however, Uryū is missing.
74
11
"Memories of an Eternally Living Clan"
March 28, 2006
July 26, 2008
As Uryū wanders aimlessly away from his friends, he encounters Yoshino again, who tells him how the Bount's longevity leads to the deterioration of their mental state. Meanwhile, Kariya informs the Bounts that he has found a Quincy, and that he will lead them into a new shining era. In the Soul Society, eleventh division captain Kenpachi Zaraki learns that Maki Ichinose, a former member of his division he believed to be dead, is alive. Ichinose, unknown to Kenpachi, has joined Kariya's Bounts.
75
12
"Earth-Shattering Event at 11th Squad! The Shinigami Who Rises Again"
April 4, 2006
August 2, 2008
Yoshino and Uryū are attacked by the Bount, Gō Koga, who summons his doll, Dalk, a collection of metal balls that manifests as a humanoid spider creature. Following a short battle, Koga captures both of them, and takes them to Kariya's mansion. Using the modified souls' sensing abilities, Ichigo is able to track the Bounts, and travels to their location. In the Soul Society, Mayuri Kurotsuchi has called a meeting of all the Soul Reaper captains, and informs them that there is a traitor in their midst that erased items from his database.
76
13
"Crashing Force! Fried vs. Zangetsu"
April 4, 2006
August 10, 2008
Ichigo, Rukia, and the modified souls enter Kariya's mansion, and confront Kariya, demanding that Uryū be released. While Ichigo begins to fight Udagawa, Rukia and the modified souls try to find Uryū, but are stopped by Ichinose, who tells Rukia how he became disillusioned with the 13 Court Guard Squads when Kenpachi became the captain of the eleventh division by killing the previous captain. Ichinose leaves to protect Kariya when he notices that Udagawa has stopped fighting Ichigo and attempted to betray Kariya.
77
14
"Unfading Grudge! The Shinigami whom Kenpachi Killed"
April 11, 2006
August 24, 2008
As Ichinose and Ichigo fight, Ichinose relates his past as a Soul Reaper. As a member of the eleventh division, he was horrified when Kenpachi slew the previous captain, and attempted to avenge his captain by killing Kenpachi, who easily defeats Ichinose. Disillusioned, Ichinose left the Soul Society and encountered Kariya, to whom he swore his loyalty. Following this revelation, Kariya begins to fight Ichigo, and begins to overwhelm him as Ururu begins to attack the mansion with her bazooka. Yoruichi carries Ichigo to safety, and the rest of the group retreats.
78
15
"Shocking Revelations for the 13 Divisions!! The Truth Buried in History"
May 2, 2006
August 31, 2008
In the Soul Society, Mayuri Kurotsuchi explains the Bount's history to the other captains. In the past, the Quincy and Bount had a battle that the Bount lost. Following this incident, the Bount began to consume living souls to increase their power; as such, Mayuri concludes that the number of living souls attacked will escalate as the Bounts become more active. In Karakura, Ichigo is depressed by his defeat by Kariya. Ganju and Renji both fight Ichigo, and after Renji lectures him, Ichigo realizes how unfocused he has become.
79
16
"Yoshino's Decision of Death"
May 9, 2006
September 7, 2008
Ichigo and Renji spend the entire night training under Urahara's shop. Elsewhere, Yoshino fuses with Goethe in order to increase her strength. She attempts to kill Kariya, and he easily defeats her. Following her death, he uses her body to create the bitto, insects able to consume souls.
80
17
"Assault from a Formidable Enemy! A Tiny Final Line of Defense?!"
May 16, 2006
September 13, 2008
Due to the lack of Bount sightings, Urahara decides that he and Renji should go and investigate the Bount mansion, and sends Ichigo home with the modified souls to devise Bount countermeasures. Lirin and Kurōdo wear special suits to trick Ichigo into thinking they are Bounts, to get back at him, but things go bad when Rukia falls for the trick and continuously attacks them across town. Lirin, Kurōdo, and Noba present a variety of ideas, but at the day's end, none of them are able to produce an actual anti-Bount device.
81
18
"Hitsugaya Moves! The Attacked City"
May 23, 2006
September 20, 2008
In Karakura Town, humans are being attacked by the bitto, which suck out their souls and reduce their bodies into dust. They then return to the Bounts and provide them with purified souls to drink in order to increase their power. Members of Suì-Fēng's second division attack the bitto, but they cannot damage them. Tenth division captain Tōshirō Hitsugaya orders more Soul Reapers to enter the human world, noting that they cannot rely on Ichigo alone. Meanwhile, Renji defends a human boy against a bitto assault.
82
19
"Ichigo vs. Dalk! Appearance of the Faded Darkness"
May 30, 2006
October 4, 2008
After the Bounts consume the power of the bitto, Kariya tells the Bounts to test their new powers while he retires to his room. The Bount Yoshi attacks Rukia, Orihime and Kurōdo while they are on their way to help Renji. Meanwhile, Ichigo is attacked by Koga and his doll Dalk, which ensnares Ichigo in a metal net, and Ichigo's inner hollow takes over his body, allowing him to defeat the doll easily. However before dealing the final blow, Ichigo manages to regain control of his body, and subsequently collapses from exhaustion.
83
20
"Grey Shadow, the Secret of the Dolls"
June 6, 2006
October 11, 2008
As Koga tells Dalk to finish Ichigo off, he is reminded of Cain, a young Bount he once mentored. In a flashback, Koga remembers when he first met Cain, and taught him how to summon his doll and live with another Bount. However, the doll Cain created was too powerful for him to control and destroyed him, an incident Koga continues to regret.
84
21
"Dissension in the Substitute Team? Rukia's Betrayal"
June 13, 2006
October 18, 2008
As Dalk prepares to deal the final blow to Ichigo, third division lieutenant Izuru Kira arrives and fights with Dalk. Using the shikai of his zanpakutō, Kira attacks Dalk, increasing her weight with every strike. Eventually, Dalk is rendered unable to move, and Kira begins to battle Koga. Meanwhile, Yoshi is overpowering Orihime and Rukia, but her lack of cooperation with her doll causes her to miss a fatal attack to Rukia. The Bount Mabashi arrives, and uses his doll Ritz to enter Rukia's soul and take over her body.
85
22
"Deadly Battle of Tears! Rukia vs. Orihime"
June 13, 2006
October 25, 2008
Using Ritz to control Rukia, Mabashi forces Rukia to fight Orihime, who is unwilling to fight against Rukia, as she had traveled with Ichigo to the Soul Society for the purpose of saving her. Ninth division lieutenant Shūhei Hisagi arrives and after learning of the situation from Orihime, intends to kill Rukia. However, Orihime manages to separate Ritz from Rukia with her abilities, and Hisagi defeats Ritz. Before Hisagi can attack Mabashi, Ichinose arrives and retreats with Mabashi.
86
23
"Rangiku Dances! Slice the Invisible Enemy!"
June 20, 2006
November 1, 2008
Tenth division lieutenant Rangiku Matsumoto encounters Chad, Ururu, and Noba battling with the Bount Sawatari. Sawatari summons his doll, Baura, a giant rock-like fish that is able to travel through solid surfaces by phasing into a different dimension. Due to this ability, Chad and Rangiku find it difficult to attack Baura, and Baura manages to swallow Ururu. Rangiku uses herself as bait to lure Baura out of the ground, and he is attacked by Chad, who sends him into Noba. Noba uses his powers to send Sawatari and Baura to another dimension, but the pair manage to escape, injuring Noba.
87
24
"Byakuya Is Summoned! The Gotei 13 Start to Move"
July 4, 2006
November 8, 2008
Despite his injuries, Noba teleports Rangiku and Chad to a distant location to plan an attack on Sawatari. By linking Noba's ability to sense the Bount with her kidō spell, Rangiku locates Sawatari and Chad punches Baura, forcing him to release Ururu. In the Soul Society, Mayuri has found the lost data on the Bount, and instructs his lieutenant, Nemu Kurotsuchi, to give an item to Uryū. Elsewhere in the Soul Society, an intruder manages to enter the Seireitei, the Soul Reaper fortress.
88
25
"Annihilation of the Lieutenants!? Trap in the Underground Cave"
July 11, 2006
November 15, 2008
After defeating the Bount in their respective battles, Ichigo and his friends regroup at Urahara's shop while the Soul Reapers that came to the human world head towards the Bount hideout. The Soul Reapers are accosted by the Bount Ugaki, who uses his doll Gesell to separate the Soul Reapers and begins to defeat them individually. In the Soul Society, Yamamoto informs Byakuya that Mayuri is suspected of treason, and requests that Byakuya give him any records the Kuchiki clan has of the Bount.
89
26
"Rematch?! Ishida vs. Nemu"
July 18, 2006
November 22, 2008
Ichigo and Renji arrive at the mouth of the cave, and are quickly surrounded by Gesell, which takes the form of a large group of small, one-eyed flying creatures. They meet Rangiku, who tells them to destroy anything that can cast a shadow, and they manage to defeat the creatures. However, they forget that their own bodies can also create shadows, which is what Ugaki uses to bring forth two sword arms. Luckily for them, Hisagi and Kira come to help. Meanwhile, Uryū is visited by Nemu, who proceeds to attack Uryū to confirm that he has lost his powers. Nemu then gives Uryū a Quincy battle accessory to allow him to use his powers.
90
27
"Renji Abarai, Bankai of the Soul!"
July 25, 2006
November 29, 2008
As Ichigo and Renji travel deeper into the cave, they find Yumichika. Ugaki summons the true form of Gesell, a large black, humanoid creature. Gesell throws Yumichika's body at Ichigo and Renji, but Renji manages to catch Yumichika, who is still alive. Renji uses his bankai to battle Gesell, and Ugaki loses control of his doll. Ugaki asks Kariya to save him, but Kariya refuses, watching as Gesell causes the cave to collapse upon Ugaki. Ichigo manages to escape from the debris and finds Kariya and the other Bounts. Ichigo begins to battle Kariya, who deals with Ichigo effortlessly.
91
28
"Shinigami and Quincy, the Reviving Power"
August 1, 2006
December 6, 2008
As Kariya is about to stab Ichigo with his own zanpakutō, Ichigo grabs it and stabs himself with it, forcing his subconscious into the world of his zanpakutō, Zangetsu. After a discussion with Zangetsu, Ichigo returns to reality and uses his bankai, which enables him to fight evenly with Kariya. Uryū arrives and uses his powers to open the gateway created by the Bount into the Soul Society. When Kariya thanks him, Uryū informs Kariya that he did so to defeat the Bount in the Soul Society.
The Assault (2006-2007)
No. in Series

No. in Saga

Episode Title

Japanese Airdate

English Airdate

92
01
"Invasion of the Shinigami World, Again"
August 8, 2006
December 13, 2008
First division captain Genryūsai Shigekuni Yamamoto calls for a meeting of all the Soul Reaper captains to discuss the Bount threat. Captain Tōshirō Hitsugaya is tasked with defeating the Bount, and Yamamoto gives a standing order to kill all suspected intruders without hesitation. In Rukongai, the area outside the Sereitei, the Bounts, Jin Kariya and Gō Koga, defeat the Soul Reapers sent to capture them. Meanwhile, Ichigo and his friends enter the Soul Society, and Yoruichi Shihōin explains that Maki Ichinose, a Soul Reaper under Kariya's command, manipulated captain Mayuri Kurotsuchi into opening the gate into the Soul Society.
93
02
"The Bount Assault! The Gotei 13 of Destructive Earthquake"
August 15, 2006
December 20, 2008
Ichigo and his friends begin to search different parts of Rukongaki for the Bount. While searching, Rukia Kuchiki is attacked by the Bount Yoshi. Caught without her zanpakutō, Rukia is quickly overpowered by Yoshi. Meanwhile, Yamamoto is explaining the origins of the Bounts to the assembled captains, and a messenger informs him that Rukia is fighting a Bount. As Rukia is about to receive a fatal blow from Yoshi, captain Byakuya Kuchiki arrives and attacks her. Following the fight, several buildings in the Seireitei explode.
94
03
"Hitsugaya's Decision! The Clash Approaches"
August 22, 2006
December 27, 2008
Byakuya sends Rukia to the Kuchiki clan's house to recuperate. In Rukongai, Kariya enters Kusajishi, one of the most crime-ridden parts of Rukongai, and asks the populace to aid him in fighting the Soul Reapers. Ichigo, Uryū, and Chad begin searching for the Bount again, and Ichigo takes the modified soul, Lirin, with him. Elsewhere in a forest in Rukongai, Byakuya encounters Kariya.
95
04
"Byakuya Takes the Field! Dance of the Wind-Splitting Cherry Blossoms"
September 5, 2006
January 3, 2009
Byakuya and Kariya begin their battle, and Kariya reveals his doll, which gives him the ability to control wind. Byakuya uses his shikai, but Kariya uses a barrier of wind to deflect his attack. Ichigo arrives to assist Byakuya, and after using his bankai, begins to fight Kariya. With Kariya focused on fighting Ichigo, Byakuya uses his bankai, and manages to penetrate Kariya's wind barrier. However, Kariya heals himself, revealing that in the Soul Society, the Bounts can consume the spirit particles in the air to restore their bodies. In Kusajishi, Koga and Ichinose convince the inhabitants to join them in their revolt in order to create a "new Soul Society".
96
05
"Ichigo, Byakuya, Kariya, The Battle of the Three Extremes!"
September 12, 2006
January 10, 2009
Byakuya and Ichigo continue to fight Kariya, who continually regenerates all damage by absorbing spirit particles. However, Byakuya and Ichigo begin to inflict larger injuries on Kariya, and do not give him time to recover. Rantao, the Soul Reaper who created the Bounts, arrives and Kariya retreats. As Byakuya leaves, Uryū arrives, and Rantao takes Ichigo and Uryū to her home.
97
06
"Hitsugaya Strikes! Slice the Enemy in the Middle of the Forest"
September 19, 2006
January 17, 2009
When Uryū notes that Rantao is identical to the Bount, Yoshino Sōma, Rantao reveals that Yoshino's soul was a copy of hers, and that the Bounts were the byproducts of an experiment in which the research team she led tried to create immortal souls. In a forest in Rukongai, Hitsugaya confronts Ichinose, and begins to fight him as Renji, Rangiku, Ichigo, and Chad arrive. In Kusajishi, Kariya prepares to invade the Seireitei.
98
07
"Clash! Kenpachi Zaraki vs. Maki Ichinose"
October 4, 2006
January 24, 2009
Hitsugaya and Ichinose continue their battle, and Ichinose uses his shikai, blinding all of those present. As Ichinose is about to attack Chad, his attack is blocked by eleventh division captain Kenpachi Zaraki. Kenpachi instructs Hitsugaya to take the group and stop Kariya from invading Sereitei, and Ichinose, torn between his loyalty to Kariya and desire to avenge his former captain by killing Zaraki, decides to stay and fight Kenpachi. Kenpachi easily blocks all of Ichinose's attacks, forcing him to use his zanpakutō to trap him in a sphere of light. Kenpachi removes his eyepatch and releases his full power to destroy the sphere. Refusing to surrender, Ichinose attacks Kenpachi a final time, and Kenpachi slices him across the chest, leaving him for dead.
99
08
"Shinigami vs. Shinigami! The Uncontrollable Power"
October 11, 2006
January 31, 2009
With the aid of the Kusajishi inhabitants, Kariya and the other Bounts enter Sereitei. As they enter, Kariya kills the Kusajishi inhabitants, claiming that their usefulness has ended. Kariya dispatches the Bount to eliminate the Soul Reaper captains, and heads farther into Sereitei. Second division captain Suì-Fēng orders her men to attack the Bounts, but the Bount Mabashi uses his doll Ritz to take control of them. When Suì-Fēng asks for a status report, one of her men controlled by Ritz attacks her with a bitto.
100
09
"Suì-Fēng Dies? The Last of the Special Forces"
October 18, 2006
February 7, 2009
The bitto incapacitates Suì-Fēng with a poison, and Ritzu uses the controlled Soul Reapers to cause chaos throughout Sereitei by turning them against other Soul Reapers, including seventh division captain Sajin Komamura and ninth division lieutenant Shūhei Hisagi, who manage to knock many of the infected Soul Reapers unconscious. Meanwhile, Suì-Fēng attempts to fight Mabashi, and hits him once with her shikai, leaving a mark on his chest. She collapses from the poison, and Mabashi attempts to use Ritzu to control her. Suì-Fēng then quickly strikes Mabashi in the chest to deal a fatal blow, revealing that her zanpakutō allows her to counteract poisons. Elsewhere, Mayuri confronts the Bount, Sawatari.
101
10
"Mayuri's Bankai!! Sawatari: Clash of the Demon"
November 1, 2006
February 14, 2009
Sawatari attacks Mayuri with his doll, Baura, and manages to rip Mayuri's left arm off. Mayuri regenerates his arm with his medicine, and uses his zanpakutō to paralyze Sawatari's doll, Baura. Mayuri then stabs Sawatari in the right arm, and Baura manages to overcome the paralysis to retreat with Sawatari into another dimension. Sawatari surfaces in another location in Sereitei, and Mayuri appears, revealing that he made a scanner to track the Bount. Sawatari attacks Mayuri with the power of other Soul Reapers that Baura absorbed in previous battles. Mayuri is forced to use his bankai, and kills Sawatari. Elsewhere, Uryū begins to fight the Bount Yoshi.
102
11
"The Last Quincy! The Exploding Power"
November 8, 2006
February 21, 2009
Uryū and Yoshi begin their battle, and Uryū realizes that the Quincy battle accessory he is using does not allow him to properly focus his power. When Uryū is able to properly use the accessory and fire a powerful arrow, Yoshi is able to block it by changing the form of her doll into a fan. She then transforms her doll into a sword and knocks Uryū to the ground. Meanwhile, Kariya breaks into the Department of Research and Development, searching for a Bount crest, the Jōkaishō. Despite the efforts of Chad and Ichigo, Kariya finds the Jōkaishō, and after fusing with it, claims he has enough power to destroy Sereitei.
103
12
"Ishida, Exceeding the Limits to Attack!"
November 15, 2006
February 28, 2009
Uryū and Yoshi continue their battle, and Uryū is able to defeat Yoshi by capitalizing on Yoshi's weakness of not being able to defend and attack at the same time. Meanwhile, Kariya is confronted by Koga, who claims that Kariya is insane for desiring to destroy Sereitei. Kariya injures Koga and leaves. As Koga tries to follow Kariya, he is attacked by several Soul Reapers, and defeats them, which alerts Hitsugaya to Koga's presence.
104
13
"10th Division's Death Struggle! The Release of Hyōrinmaru"
November 22, 2006
March 7, 2009
After defeating several Soul Reapers of the tenth division, Koga meets Hitsugaya. Koga summons his doll, Dalk, who is quickly frozen and shattered by the shikai of Hitsugaya's zanpakutō. Koga fuses the remains of Dalk into an axe, and Hitsugaya uses his bankai in response. Hitsugaya injures Koga repeatably, forcing him to absorb spirit particles to heal himself, but his body begins to reject the spirit particles. Koga makes a final attack on Hitsugaya, who slashes him, and Koga alludes to "a future without war" before collapsing.
105
14
"Kariya! Countdown to the Detonation"
November 29, 2006
March 14, 2009
Hitsugaya orders his subordinates to give Koga a proper burial, and eighth division lieutenant Nanao Ise informs Yamamoto of the Jōkaishō. The following day, Rantao confronts Kariya, and after seeing the Jōkaishō, recalls how she hid the Bount in a cave following their creation. After the Soul Society ordered that the Bounts be destroyed, she saved a Bount child, who she realizes is Kariya. Uryū realizes that Rantao is fighting Kariya, and heads towards her location as Rantao is hit by one of Kariya's attacks.
106
15
"Life and Revenge! Ishida, the Ultimate Choice"
December 6, 2006
March 21, 2009
Kariya recalls the events after the Soul Reaper attack on the Bount. After escaping from the Soul Reapers, he fused with his doll when attacked by a hollow. Desiring to travel to the Soul Society to make peace with their creators, the Bounts attempted to use the Quincy to enter the Soul Society, and were defeated. Kariya organized the remaining Bounts in order to take revenge on the Soul Society. In the present, Uryū arrives and fights Kariya. Rantao uses the Jōkaishō's power to stun Kariya, and asks Uryū to kill Kariya. However, Rantao begins to feel pain from the Jōkaishō, and Uryū uses his remaining power to save her, which destroys his Quincy battle accessory. As Kariya is about to kill Uryū and Rantao, Ichigo arrives.
107
16
"The Swung-Down Edge! The Moment of Ruin"
December 13, 2006
March 28, 2009
Ichigo uses his bankai and begins to fight Kariya. Rantao reveals that there are multiple Jōkaishō scattered throughout the Soul Society that will detonate when Kariya uses his Jōkaishō, and the Soul Reapers of the Thirteen Court Guard Squads begin to seal all of the Jōkaishō. Meanwhile, Ichinose arrives and attacks Ichigo, but turns his sword on Kariya, claiming that he did not join Kariya to watch him destroy the Soul Society. Kariya kills Ichinose, and reveals his doll, Messer, in the form of a sword of wind.
108
17
"The Wailing Bount! The Last Clash"
December 20, 2006
April 4, 2009
Kariya uses the wind from his doll to produce electricity, and attacks Ichigo with it. Ichigo's inner hollow momentarily takes over his body, but Ichigo regains control of his body, surprising Kariya. Ichigo informs Kariya that he cannot absorb spirit particles to heal himself because Rantao sealed his absorption ability. Kariya attempts to detonate a Jōkaisho and Ichigo deals a fatal blow to Kariya, who wonders what will happen to Ichigo and his inner hollow before dying. Ichigo concludes that Kariya intended to travel to the Soul Society in order to end his eternal life.
109
18
"Ichigo and Rukia, Thoughts in the Revolving Around Heaven"
January 4, 2007
April 11, 2009
Ichigo, Renji and Rukia return to the Kuchiki house to discuss Kariya's life. Ichigo remarks on how his life was changed when Rukia gave him her powers, Renji recalls when he was promoted to lieutenant of the sixth division, and Rukia reminisces on the day when she was assigned to the real world. Afterwards, Ichigo and his friends return to the real world. Yoruichi brings Koga, who survived his fight with Hitsugaya, to Rantao's hideout. Hidden from the Soul Reapers, he is able to recover from his injuries. Koga accepts that the destiny of the Bounts is to eventually die out. In the last scene, Ichigo and friends are seen heading to the real world. Then, a mysterious person is seen entering Karakura Town.
The Arrancar (2007)
No. in Series

No. in Saga

Episode Title

Japanese Airdate

English Airdate

110
01
"Reopening of the Substitute Business! The Terrifying Transfer Student"
January 10, 2007
April 18, 2009
In Hueco Mundo, the hollow Grand Fisher transforms into an imperfect arrancar and enters the real world. Meanwhile, Shinji Hirako enrolls at Ichigo Kurosaki's school. During a routine purification of hollows, Ichigo is confronted by Hirako, who shows that he can willingly produce a hollow mask similar to what Ichigo has done unconsciously. He asks Ichigo to join his group, the Vizards. At the same time, Kon, in Ichigo's body, is attacked by Grand Fisher, and Uryū Ishida is attacked by a pair of hollows. Uryū is rescued by his father, Ryūken Ishida, who reveals that he is also a Quincy.
111
02
"Shock! The Father's True Identity"
January 17, 2007
April 18, 2009
After rescuing Ishida from the arrancar attacking him, Ryūken offers to restore his powers on the condition he never associates with Soul Reapers again. Meanwhile, Kon continues to flee from the Grand Fisher. Despite receiving help from Lirin, Kurōdo and Noba, he is still caught. Isshin Kurosaki, Ichigo's father, arrives to save him. Ichigo and Hirako recognize a new presence, and neither can identify that it is Isshin. Before leaving, Ichigo declines Hirako's invitation. The Grand Fisher draws his zanpakutō, transforming into a stronger state, and Isshin, identifying the Grand Fisher as an arrancar, dispatches it in a single attack, avenging his wife.
112
03
"The Commencement of War, Vizards and the Arrancars"
January 24, 2007
May 2, 2009
Kisuke Urahara appears and converses with Isshin about the arrancar under the command of former Soul Reaper captain Sōsuke Aizen, the Vizards, and explains that the Hōgyoku will take a year to be fully awaken. At school, Hirako asks Ichigo again to join the Vizards, explaining that Ichigo's inner hollow will overwhelm him if he does not. Later, Hirako is confronted by Hiyori Sarugaki, another Vizard, who berates him concerning his lack of success in recruiting Ichigo. Orihime and Chad confront Hirakoi and Hiyori, and Hirako takes Hiyori away before she can kill Orihime and Chad. Elsewhere, Uryū agrees to Ryūken's proposal.
113
04
"Prelude to the Apocalypse, The Arrancar's Offensive"
January 31, 2007
May 2, 2009
After his discussion with Hirako, Ichigo realizes that his inner hollow is indeed becoming more than he can control. At home, the voice of his inner hollow taunts him, saying that he will come closer and closer to him until he takes over his body. Meanwhile, two arrancars, Yammy Riyalgo and Ulquiorra Schiffer arrive in Karakura Town, and Yammy begins to consume the souls of all the humans in the area. Orihime and Chad arrive, and both are easily defeated by Yammy. As he attempts a killing blow against Orihime, Ichigo arrives to block the attack.
114
05
"Reunion, Ichigo and Rukia and Soul Reapers"
February 7, 2007
May 9, 2009
Ichigo uses his bankai, and Ulquiorra identifies him as the target Aizen sent them to investigate. Ichigo begins to battle Yammy, blocking his first attack and subsequently cutting off his arm. However, his inner hollow interferes, and Yammy gains the advantage. Urahara and Yoruichi Shihōin arrive, and Yammy is easily beaten by both of them. Ulquiorra rescues him from an attack from Urahara, and the two return to Hueco Mundo. At Ichigo's school, Ichigo meets a team of Soul Reapers, consisting of Renji Abarai, Tōshirō Hitsugaya, Rangiku Matsumoto, Ikkaku Madarame, Yumichika Ayasegawa and Rukia Kuchiki, dispatched to help Ichigo against the arrancar threats.
115
06
"Mission! The Soul Reapers Have Come"
February 14, 2007
May 9, 2009
After greeting the team, Ichigo is taken by Rukia to fight a hollow. While Ichigo fights the hollow, Rukia berates his inability to defend his friends, and encourages him to fight his inner hollow. Inspired, Ichigo easily defeats the hollow, and Rukia takes him to Orihime to apologize for not protecting her against the arrancar. At Ichigo's house, Hitsugaya explains Aizen's plans for the arrancars and the different types of hollows. In Hueco Mundo, Ulquiorra and Yammy report their findings in the real world to Aizen at an assembly of arrancar.
116
07
"The Evil Eye, Aizen Returns"
February 21, 2007
May 16, 2009
Ulquiorra and Yammy are debriefed by Aizen and the other arrancars. Grimmjow Jaegerjaquez questions Ulquiorra's decision to keep Ichigo alive, and Aizen asserts that he trusts Ulquiorra's judgment, angering Grimmjow. Grimmjow takes a group of five arrancars, Shawlong Qufang, Edorad Leones, Ilfort Grantz, Nakim Greendina and D-Roy Linker, to kill any being with spiritual power in Karakura Town.
117
08
"Rukia's Battle Commences! The Freezing White Blade"
February 28, 2007
May 16, 2009
Grimmjow's five arrancars separate to attack their targets. D-Roy encounters Chad and nearly kills him before Ichigo intercepts the fatal blow. Rukia arrives, telling Ichigo to allow her to fight D-Roy. Using the shikai of her zanpakutō, she easily defeats D-Roy. However, Grimmjow arrives to fight them, and Rukia realizes that his power is vastly superior to D-Roy's. Meanwhile, Keigo Asano encounters Ikkaku fighting Edorad.
118
09
"Ikkaku's Bankai! The Power That Breaks Everything"
March 7, 2007
May 23, 2009
Ikkaku fights Edorad, who is forced to release his zanpakutō after failing to counter Ikkaku's unorthodox fighting style. In his released form, Edorad easily overpowers Ikkaku, and Ikkaku uses his bankai. Meanwhile, Grimmjow dispatches Rukia in a single blow, and prepares to fight Ichigo. Ikkaku lands several blows on Edorad, and the two use all their power in a final attack.
119
10
"Zaraki Division's Secret Story! The Lucky Men"
March 21, 2007
May 23, 2009
Ikkaku recalls his first encounter with Kenpachi Zaraki when he was a vagrant in the Rukongai. Kenpachi easily defeated him, and told Ikkaku to consider a respite from death, after a fight, as "luck". After learning that Kenpachi joined the Thirteen Court Guard Squads as a captain, Ikkaku and Yumichika join Kenpachi's division. When Renji was a member of the eleventh division, Ikkaku trained him, and Renji asked Ikkaku to become a captain after discovering that Ikkaku could use his bankai. Ikkaku refused, citing his desire to fight and die under Kenpachi's command. In the present, Ikkaku defeats Edorad, and Yumichika congratulates him on his victory.
120
11
"Hitsugaya Scatters! The Broken Hyōrinmaru"
March 28, 2007
May 30, 2009
Hitsugaya fights Shawlong, who overpowers him even though he is using his bankai. Renji, also using his bankai, is outmatched against Illfort. Elsewhere, Ichigo begins to fight Grimmjow, who encourages Ichigo to use his bankai. Ilfort and Shawlong release their zanpakutō, and Shawlong explains the ranking structure of the arrancars to Hitsugaya. Afterwards, Rangiku receives confirmation from the Soul Society that they have been granted permission to lift their power limits, and Hitsugaya, Rangiku and Renji do so.
121
12
"Clash! The Protector vs. The Bearer"
April 11, 2007
May 30, 2009
With their power limits lifted, Hitsugaya, Rangiku and Renji easily dispatch their opponents. Meanwhile, Ichigo is overpowered by Grimmjow, who is able to fight against Ichigo barehanded. Ichigo uses his Getsuga Tenshō, which slightly damages Grimmjow and awakens his inner hollow. Before Grimmjow can release his zanpakutō, Kaname Tōsen arrives. Tōsen takes Grimmjow back to Hueco Mundo, claiming that he violated Aizen's orders by attacking the real world.
122
13
"Vizard! The Power of the Awakened"
April 18, 2007
June 6, 2009
Grimmjow is taken back to Hueco Mundo by Kaname Tōsen, who asks Aizen for permission to execute Grimmjow. When Aizen denies his request, Tōsen slices off Grimmjow's arm and incinerates it. However, in a later conversation with Gin Ichimaru, it is implied that Aizen had planned for it to happen. In the real world, Ichigo attempts to find the Vizards, realizing that his inner hollow has become too powerful to control. Meanwhile, Ishida trains with his father under the Karakura Hospital and Chad requests that Urahara train him. Ichigo finds the Vizards, and fights Hirako, believing he can force Hirako to tell him how to control his inner hollow. Hiyori stops the battle, and dons her hollow mask to fight Ichigo.
123
14
"Ichigo, Complete Hollowification!?"
April 25, 2007
June 6, 2009
With her hollow mask, Hiyori overpowers Ichigo, who is unwilling to use either his hollow mask or his bankai. Ichigo's inner hollow surfaces, and the other Vizards restrain him before he can harm Hiyori. Hirako gives Ichigo an exercise to assess how much spiritual energy he has. However, after Ichigo proves that he has enough spiritual energy, Hirako explains that he must force his inner hollow into the core of his soul. Hirako renders Ichigo unconscious, and as Ichigo battles his inner hollow in his internal world, his body in the real world begins to transform into a hollow.
124
15
"Collision! Black Bankai and the White Bankai"
May 2, 2007
June 13, 2009
Ichigo battles against his inner hollow for control while the Vizards battle his increasingly berserk body. Ichigo and his inner hollow both use their bankai and commence fighting. Meanwhile, Ichigo is continually assaulted by inner manifestations of previous enemies, Byakuya Kuchiki and Jin Kariya. Ichigo's inner hollow overpowers him and breaks his sword, claiming that he has no desire to serve someone with no instinct for battle.
125
16
"Urgent Report! Aizen's Terrifying Plan!"
May 9, 2007
June 13, 2009
After a conversation with a manifestation of Kenpachi Zaraki, Ichigo is able to steal his sword from his inner hollow and impale him with it, gaining control over his inner hollow. Elsewhere, first division captain Genryūsai Shigekuni Yamamoto speaks with Hitsugaya concerning Aizen's objective. He desires to use 100,000 human souls in Karakura Town to create a key to the dimension that the king of the Soul Society lives in, to overthrow the king. At Urahara's shop, Chad is training by fighting against Renji's bankai, and Uryū is training by fighting his father under Karakura Hospital. Meanwhile, Yamamoto tells Hitsugaya that lieutenant Momo Hinamori wishes to speak with him.
126
17
"Uryū vs. Ryūken! Clash of the Parent-Child Quincys"
May 16, 2007
June 20, 2009
Hinamori appears to still be in a trance, believing that Aizen is innocent and urges Hitsugaya to save him, which angers him. Throughout the town, various training sessions are taking place: Ichigo is training with Hiyori to lengthen the time he can use his hollow mask, Chad is training with Renji to make his arm stronger, and Uryū is training with Ryūken to regain his powers. Meanwhile, Orihime tracks down Ichigo to inform him of Aizen's plans. This comes as a surprise to the other Vizards, as she passes through the barrier with no effort.
127
18
"Urahara's Decision, Orihime's Thoughts"
May 30, 2007
June 20, 2009
With Orihime's attack spirit Tsubaki destroyed by Yammy, Urahara tells Orihime that he does not want her to participate in the upcoming battle against the arrancar. Orihime is saddened by the decision, but understands it. After being taken back to the Vizards by Hiyori, however, the Vizard Hachi Ushōda is able to restore Tsubaki. Meanwhile, Yammy has his arm reattached by an arrancar surgeon, and Ulquiorra explains that Grimmjow lost his rank as an Espada, to Yammy, when he lost his arm.
128
19
"The Nightmare Arrancar! Team Hitsugaya Moves Out"
June 6, 2007
June 27, 2009
This is the first of eight filler episodes. During a hollow attack, Rangiku protects the spirit of a child from an arrancar that sings a strange song. The child, named Shōta Toyokawa, is insisitent that he has something to do before leaving the real world, but will not reveal what it is. Rangiku convinces Hitsugaya to wait a day before sending him to the Soul Society. At night, Shōta attempts to steal Rangiku's zanpakutō, but she catches him. He reveals that he has to find someone, but is evasive about who it is. Before Rangiku can press the issue, the arrancar Ikkaku killed reappears.
129
20
"The Swooping Descent of the Dark Emissary! The Propagation of Malice"
June 13, 2007
June 27, 2009
While tracking the arrancar, Rangiku and Shōta discover that its song can force souls to walk towards it, and that it can multiply itself without limit. A researcher from the twelfth division reveals that another arrancar is creating the copies, explaining their inability to die. The Soul Reapers defeat all of the arrancars, and Shōta finds the person he was searching for, his sister Yui. More clones from the arrancar attack, and Yui runs to the park, where Shōta admits that he abandoned her out of fear.
130
21
"The Invisible Enemy! Hitsugaya's Merciless Decision"
June 20, 2007
July 4, 2009
The arrancar is revealed to be able to disguise itself as the human souls it has devoured. Upon learning of the attack on Yui by the arrancar, Hitsugaya assumes she is one of the copies, and his inability to send her to the Soul Society confirms this. Still unsure, Hitsugaya has the Soul Society track the disguised arrancar, while Yui is sealed within a barrier. The analysis confirms Yui is one of the clones, and that the arrancar acquired its cloning power from her. As Yui's brother, Shōta has similar powers, and Yui uses him to break the barrier.
131
22
"Rangiku's Tears, the Sorrowful Parting of Brother and Sister"
June 27, 2007
July 11, 2009
Although Yui is able to resist the arrancar and keep Shōta safe, the original arrancar devours her. It is overpowered by Hitsugaya and Rangiku, but stalls them by revealing that Yui's trapped soul will be destroyed if they kill him. It creates hundreds of copied arrancar to attack the town while it hides behind a barrier. Hitsugaya uses his bankai in an attempt to find the arrancar by freezing the surroundings. Rangiku and Shōta manage to track the arrancar via the song it sings, and Hitsugaya disables it with his bankai.
The Arrancar Part 2: The Hueco Mundo Sneak Entry (2007)
No. in Series

No. in Saga

Episode Title

Japanese Airdate

English Airdate

132
01
"Hitsugaya, Karin, and Soccer Ball"
July 4, 2007
July 11, 2009
Karin Kurosaki meets Tōshirō Hitsugaya when she is playing soccer in the streets. Karin discovers that older students are using a soccer field for practice during a time slot that her team had booked. After a confrontation, the two teams decide to have a soccer match for control of the field. Karin asks Hitsugaya to join, but he refuses. However, he notes that she can see hollows and goes to the match. In the match, Karin injures her knee, prompting Hitsugaya to enter the game to help her. After the game is over, a hollow enters the area, and Hitsugaya easily defeats it. Realizing that Hitsugaya is a Soul Reaper, Karin questions him about her brother, Ichigo, and Hitsugaya assuages her fears concerning Ichigo's location.
133
02
"Ikkaku: The Hot-Blooded Kendo Tale"
July 11, 2007
July 18, 2009
Keigo Asano's sister Mizuho asks Ikkaku Madarame to help train a group of kendo students at his school. Ikkaku's brutal training causes most of the team to quit, except for a boy named Shinji, who is dedicated to becoming stronger. To recruit more team members, Ikkaku asks his fellow Soul Reapers Hitsugaya and Renji to participate in the kendo tournament. The Soul Reapers easily defeat their opponents. However, a hollow appears nearby, forcing them to leave in order to fight it.
134
03
"The Beautiful Patissier, Yumichika!"
July 18, 2007
July 18, 2009
Twelfth division Soul Reaper Rin Tsubokura is sent to Karakura Town to conduct research, and Hanatarō Yamada accompanies him as an escort. Yumichika Ayasegawa, one of the Soul Reapers based in the real world, is assigned as their guide. While Rin searches for sweets to purchase, they encounter the ghost of a chef who wants the three Soul Reapers to bake a cake for his mother. Upon delivering the cake, however, the chef's mother refuses to eat it because it reminds her of her son, causing the chef to begin transforming into a hollow. Attracted by the chef's transformation, a Menos Grande arrives,
135
04
"Kon is Deceived! Rangiku on the Lookout..."
July 25, 2007
July 25, 2009
After encountering Rangiku Matsumoto, Kon rescues a girl named Miyuki from drowning. In the process, however, Kon is swapped with Shintarō, the girl's stuffed animal. Kon attempts to talk to Miyuki, who requests that Kon play with her, as she has no friends outside her house. Kon asks her to bring him to her old house, where Kon learns that "Shintarō" is the name of her old dog and a two-headed dog hollow attacks them. Rangiku kills the hollow, which is revealed to be Shintarō's soul along with a Doberman Pinscher's soul which combined with it to make the hollow. Afterwards, Kon insists that Miyuki stop relying on him and make friends of her own.
136
05
"Civil War in Hueco Mundo! Ulquiorra's Death"
August 8, 2007
July 25, 2009
In Hueco Mundo, an arrancar named Patros and his two subordinates steal the Orb of Distortion, and kill Espada, Ulquiorra Schiffer, in the process. Unwilling to continue taking orders from former Soul Reaper Sōsuke Aizen, Patros wishes to use the Orb of Distortion to take control of Las Noches. To this end, he heads for the shop of Kisuke Urahara, as he believes someone in the shop knows how to use the orb. Patros begins to fight Renji, who is staying at Urahara's shop. Meanwhile, the other Soul Reapers fight Patros' subordinates. As the two sides battle, Ulquiorra appears in the real world with no signs of his previous injuries.
137
06
"The Malicious Battle, Aizen's Trap"
August 15, 2007
August 1, 2009
In Hueco Mundo, Ulquiorra's staged death and the theft of the Orb of Distortion are revealed to be a ploy by Aizen, engineered using his illusion-casting zanpakutō. In the real world, Patros' subordinates are defeated, and Renji uses his bankai, forcing Patros to release his zanpakutō. Patros begins to overwhelm Renji and reveals the secret of his attacks to the modified soul Lirin. Lirin, Kurōdo and Noba prevent Patros from using his attacks, and Renji defeats him. Meanwhile, Ulquiorra delivers a report to Aizen, noting that Orihime Inoue is currently not in the real world.
138
07
"Hueco Mundo Moves Again! Hitsugaya vs. Yammy"
August 29, 2007
August 1, 2009
In Hueco Mundo, Aizen creates the arrancar Wonderweiss Margera with the Orb of Distortion, and Aizen tasks Ulquiorra with gathering arrancars for a mission. Meanwhile, Ichigo's training with the Vizards has enabled him to use his hollow mask for 11 seconds. In Soul Society, Soul Reapers Jūshirō Ukitake and Shūhei Hisagi observe Orihime and Rukia, who are training for the war with Aizen. In the real world, Yumichika and Rangiku are training in an attempt to achieve bankai when the arrancars Luppi Antenor, Grimmjow, Yammy and Wonderweiss attack. Ichigo encounters Grimmjow and uses his bankai. In the training room beneath the Urahara shop, Urahara prepares to enter the battle.
139
08
"Ichigo vs. Grimmjow, the 11-second battle!"
September 5, 2007
August 8, 2009
Ichigo dons his hollow mask, and overwhelms Grimmjow with his enhanced power. However, Ichigo is unable to defeat Grimmjow in his 11-second limit, and Grimmjow takes the advantage. Meanwhile, Hitsugaya battles Yammy, and Luppi demands that Yammy retreat so he can fight all the Soul Reapers present. Luppi releases his zanpakutō, sprouting eight tentacles from his back, and after knocking Hitsugaya into the ground, captures all of the Soul Reapers. Before he can dispatch Rangiku, Urahara arrives, cutting one of his tentacles, and begins to fight Yammy. In Soul Society, as Orihime crosses into the real world, Ulquiorra attacks her. He severely injures her Soul Reaper guards and demands that she leave with him or he will kill all her friends.
140
09
"Ulquiorra's Scheme, the Moment When the Sun Sets!"
September 12, 2007
August 8, 2009
As the battle with Luppi continues, Hitsugaya uses a sneak attack with his bankai and defeats Luppi. Meanwhile, Urahara dodges Yammy's attacks using one of his inventions, and subsequently nullifies all of them. Grimmjow nearly kills Ichigo, but is saved by Rukia. She is nearly killed, but Shinji Hirako saves her. Grimmjow begins to battle Hirako, and after Hirako dons his hollow mask, he overwhelms Grimmjow. As Grimmjow prepares to release his zanpakutō, Ulquiorra stops him and orders all the arrancars to return to Hueco Mundo, as Orihime agreed to accompany him.
141
10
"Goodbye..., Kurosaki!"
September 19, 2007
August 15, 2009
Ulquiorra gives Orihime twelve hours to say goodbye to one person, and provides her with a bracelet that makes her invisible. Orihime travels through Karakura Town, watching her friends from a distance. She then visits Ichigo, who is recovering from the injuries Grimmjow inflicted on him. She makes a confession of her love to the sleeping Ichigo. She almost kisses him but cannot bring herself to do it. Before leaving the real world, she writes a line in a notebook, "Goodbye, halcyon days".
142
11
"Strict Order! The Forbidden Rescue of Orihime Inoue"
September 26, 2007
August 15, 2009
Tatsuki discovers that Orihime is missing following the attack by the arrancars. Because she had time to heal Ichigo before departing, captain Genryūsai Shigekuni Yamamoto assumes that she is a traitor who left of her own volition, and refuses any attempts to rescue her. Meanwhile, Tatsuki Arisawa questions Ichigo concerning Orihime's disappearance, and Ichigo tells her that it is none of her concern. Ichigo, unwilling to abandon Orihime, turns to Urahara for help, and is joined by Uryū and Chad.
143
12
"Grimmjow Revived"
October 3, 2007
August 22, 2009
After being brought before Aizen, Orihime is asked to demonstrate her power by restoring Grimmjow's arm. After doing so, Grimmjow asks her to restore his tattoo. Following this, he kills Luppi to regain his rank among the Espadas. Although she is worried that her actions will only cause more fighting, Orihime resolves to make herself useful until the Soul Society has prepared for the upcoming war. Meanwhile, Ichigo, Uryū and Chad enter Hueco Mundo with Urahara's aid. In the real world, Isshin Kurosaki meets with Ryūken Ishida in the training chamber underneath the latter's hospital, where they discuss how they raised their respective sons.
144
13
"Ishida and Chad, The Quickening of a New Power"
October 17, 2007
August 22, 2009
After arriving in Hueco Mundo, Ichigo, Uryū and Chad traverse the halls of an unknown structure. After setting off several traps, they are greeted by Demōra and Iceringer, two arrancar under Aizen's command. Uryū and Chad insist that Ichigo watch them fight, and they overpower the arrancars, showing their new abilities in the process.
145
14
"The Espada Gather! Aizen's Royal Assembly"
October 24, 2007
August 29, 2009
With the two arrancars defeated, the room collapses, forcing Ichigo, Uryū and Chad to escape outside. Upon seeing Las Noches, they begin running towards it, impeded by the various natural hazards of the desert. Meanwhile, Aizen gathers the Espadas to inform them of the intrusion, stressing that the intruders are not to be underestimated, but also not to be considered an immediate threat. In the desert, Ichigo, Uryū and Chad encounter 3 hollows chasing a human child, and decide to help the child.
146
15
"The Name's Nel! The Appearance of a Strange Arrancar"
October 31, 2007
August 29, 2009
Ichigo learns that the human child is an arrancar named Nelliel Tu Oderschvanck. The 3 hollows are her brothers Pesche Guatiche and Dondochakka Bilstin, and their pet Bawabawa. Afterwards, a hollow named Lunuganga attacks the group, and they are unable to harm him because his body is made of sand. They are saved by Renji and Rukia, who freezes Lunuganga with her shikai. Nel offers to take the whole group to Las Noches. Before they can reach Las Noches, Lunuganga rises from the sands again.
147
16
"Forest of Menos! Search for the Missing Rukia"
November 7, 2007
September 12, 2009
Lunuganga sinks the group beneath the sands, and Rukia is separated from the group. Nel explains that they are in the Forest of Menos, where most hollows reside. As they begin to fight the hollows around them, Rukia attempts to fight the hollows attacking her. She is rescued by Soul Reaper Ashido Kanō, who attacks her after dispatching all of the hollows. Meanwhile, Nel, Pesche and Dondochakka are kidnapped by a hollow during an attack.
148
17
"Ashido, The Soul Reaper Who Came from the Past"
November 14, 2007
September 12, 2009
Ashido reveals that his attack was a test of her strength, and he decides to take her back to her friends. Along the way, he relates his past to Rukia, explaining that he was part of a unit which hunts hollows that inadvertently came to Hueco Mundo. They are attacked by an Adjuchas. Meanwhile, Nel and her friends are held captive by the other Adjuchas, and Ichigo, Uryū, Chad and Renji are searching the area for them. Rukia and Ashido easily destroy the first Adjuchas, and another adjuchas prepares an ambush, in which Ashido is hit while trying to protect Rukia.
149
18
"Through the Crumbling Forest, a Million Menos"
November 21, 2007
September 19, 2009
Ashido's mask absorbs the brunt of the attack of the Adjuchas, and Rukia kills the Adjuchas. Meanwhile, Ichigo and the others locate Nel and are led into an ambush. However, they defeat all of the hollows present. Elsewhere, Rukia and Ashido defeat another Adjuchas, and everyone is subsequently reunited. As Ashido attempts to lead them out of the forest, an attack by one of the remaining Adjuchas collapses the passage. Ashido leaves to fight the Adjuchas as the rest of the group returns to the surface. As she leaves, Rukia promises to return for him. In Las Noches, Ulquiorra informs Orihime that her friends have mounted a rescue.
150
19
"Oath! Back Here Alive Again"
November 28, 2007
September 19, 2009
After breaking into Las Noches and finding themselves at a five-way fork, Ichigo's group splits up and each takes one path. When Nel chases after Ichigo, Pesche and Dondochakka forget the direction she took and travel down different paths. Meanwhile, Ulquiorra makes Orihime swear her loyalty to Aizen. Afterwards, he explains to Espada, Nnoitra Gilga, the psychological traps Aizen created to ensure that Orihime does not have the will to resist. However, Orihime quietly resolves to destroy the Orb of Distortion by erasing its existence, an act that would derail all of Aizen's plans.
151
20
"The Raging Storm! Encounter with the Dancing Arrancar"
December 5, 2007
September 26, 2009
Ichigo and Nel encounter the Privaron Espada, Dordonii Alessandro Del Socacchio, and Ichigo begins to battle him. Uryū and Chad each encounter an arrancar, and former Soul Reaper captains Gin Ichimaru and Kaname Tōsen observe the battles through the surveillance system in Las Noches. Although Ichigo and Dordonii fight evenly, Dordonii gains the upper hand by releasing his zanpakutō.
The Arrancar Part 3: The Fierce Fight (2007-2008)
No. in Series

No. in Saga

Episode Title

Japanese Airdate

English Airdate

152
01
"Ichigo Strikes Back! This Is My Bankai"
December 12, 2007
September 26, 2009
Ichigo Kurosaki continues his battle with the Privaron Espada, Dordonii Alessandro Del Socacchio, and Dordonii easily overpowers Ichigo, leading him to demand that Ichigo use his bankai. Ichigo refuses and Dordonii uses a cero blast in response. Nelliel Tu Odelschwanck blocks the blast by swallowing it and fires it back at Dordonii. When Dordonii attacks Nel, Ichigo uses his bankai to stop the attack. However, Dordonii requests that Ichigo use his hollow powers to fight him.
153
02
"The Devilish Research! Szayelaporro's Plan"
December 19, 2007
October 3, 2009
Dordonii is struck down by Ichigo once again, and to thank Ichigo for using his full power against him, Dordonii fights Rudbornn Chelute and the Exequias, a group of arrancars specializing in eliminating intruders, to allow Ichigo to retreat. When Sōsuke Aizen learns of this, he asks who ordered the Exequias to attack Ichigo, and the Espada, Szayelaporro Grantz, takes responsibility. Aizen forgives him, noting that Dordonii's body will help Szayelaporro's research. Meanwhile, Uryū is battling the Privaron Espada, Cirucci Sanderwicci, and Rukia encounters the Espada, Aaroniero Arruruerie.
154
03
"Rukia and Kaien, the Sorrowful Reunion"
December 26, 2007
October 3, 2009
Rukia converses with Aaroniero, and realizes that he is the real Kaien, who states that after he was killed, he was resurrected in Hueco Mundo, where he became one of Aizen's Espadas. Kaien offers Rukia a chance to atone for killing him by allowing him to kill her, and Rukia accepts, with the caveat that she will be allowed to rescue Orihime. Kaien reveals that he was joking, and instead, instructs her to kill all of her friends. Realizing that he is an imposter, Rukia begins to fight Kaien, but Kaien quickly gains the upper hand, as he was the one who taught Rukia how to fight.
155
04
"Rukia Retaliates! Release the Desperate Kidō"
January 9, 2008
October 10, 2009
Rukia continues to struggle against Kaien, and he begins to overpower her when he uses the shikai of his zanpakutō. When Kaien disarms her, Rukia attempts to use a kidō spell and, in the process, discovers that Kaien is afraid of the sunlight. Armed with this knowledge, Rukia binds Kaien with kidō and blasts a hole in the wall. In the sunlight, Kaien's face melts away to reveal a glass case with two masks inside. The creature reintroduces himself as Aaroniero, and after moving out of the sunlight, assumes Kaien's appearance again.
156
05
"Ishida & Pesche, the United Attack of Friendship"
January 16, 2008
October 10, 2009
Uryū continues to battle Cirucci, who blocks all of his attacks with her zanpakutō. The arrancar Pesche Guatiche decides to help Uryū, and uses his saliva to cause Cirucci to trip and land awkwardly on the ground. Incensed, Cirucci releases her zanpakutō, transforming into a giant bird with bladed wings. Unable to counter her abilities with his arrows alone, Uryū pulls one of the tubes from his belt, which produces a powerful energy blade that easily slices through her winged blades.
157
06
"Ishida's Trump Card, Seele Schneider"
January 23, 2008
October 17, 2009
With his energy sword, which he calls Seele Schneider, Uryū is easily able to defend himself against Cirucci's attacks. In response, Cirucci sheds her wings and focuses all her power into a single blade on her tail, and Uryū defeats her by shooting his Seele Schneider from his bow into her chest. As Uryū and Pesche leave, Rudbornn and the Exequias arrive to kill Cirucci. Meanwhile, Chad" Sado is at a disadvantage against the Privaron Espada, Gantenbainne Mosqueda. After taking several blows, Chad realizes how to access his full power, transforming his right arm into a giant shield named Brazo Derecho del Gigante.
158
07
"Right Arm of the Giant, Left Arm of the Devil"
January 30, 2008
October 17, 2009
With his full power unleashed, Chad overpowers Gantenbainne, and Gantenbainne releases his zanpakutō in response. However, Chad reveals that his right arm is intended solely for defense, and transforms his left arm, naming it Brazo Izquierdo del Diablo. With his left arm, Chad overpowers Gantenbainne, but allows him to live. However, Chad is confronted by the Espada Nnoitora Gilga.
159
08
"Yasutora Sado Dies! Orihime's Tears"
February 6, 2008
October 24, 2009
Bored with the ease of his victory, Nnoitora leaves to pursue another intruder. Chad's apparent death is felt by everyone in Hueco Mundo, and when Espada, Ulquiorra, brings dinner to Orihime, she refuses to believe that Chad has died. Ulquiorra admonishes her, noting that all her friends are doomed to fail because they rushed into battle without realizing the odds they faced. Orihime slaps him, and bursts into tears after Ulquiorra leaves. Meanwhile, Renji Abarai and Dondochakka Bilstin encounter Szayelaporro. Renji attempts to use his bankai, but it shatters instantly, leading Szayelaporro to remark that he designed the room they are in to negate Renji's bankai.
160
09
"Testament, Your Heart is Right Here..."
February 13, 2008
October 24, 2009
Overwhelmed by Aaroniero's released form, as well as the realization that he possesses Kaien's actual body, Rukia is impaled through the stomach, and her zanpakutō, Sode no Shirayuki, is broken in the process. She recalls her training with Kaien, in which he told her how a person's heart is passed on to those they are close to. Regaining her resolve, she performs the third dance San No Mai Shirafune, reconstructing her zanpakutō with ice.
161
10
"The Cruel Arrancar, Ulquiorra's Provocation"
February 20, 2008
October 31, 2009
When Renji asks Szayelaporro how he negated his bankai, Szayelaporro reveals that he gathered the data using parasites stored in the body of his older brother, Ilfort Grantz, who Renji fought and defeated. With only his shikai, Renji's attacks cannot harm Szayelaporro. Meanwhile, Ulquiorra meets Ichigo to inform him of Rukia's death. Ichigo attempts to leave to save Rukia, but Ulquiorra goads him into fighting by revealing that he was the person who forced Orihime to come to Hueco Mundo. Furious, Ichigo uses his bankai, dons his hollow mask and prepares to fight Ulquiorra in anger.
162
11
"Szayelaporro Laughs, The Net Trapping Renji is Complete"
February 27, 2008
October 31, 2009
Even after using his most powerful attacks, Ichigo is overpowered by Ulquiorra. Ichigo, however, refuses to give up, believing Ulquiorra to be the top-ranked Espada. Ulquiorra reveals his "4" tattoo, indicating that he is the Fourth Espada, and stabs Ichigo in the chest with his hand, telling Ichigo to either escape from Hueco Mundo or die. Meanwhile, Orihime is confronted by Loly Aivirrne and Menoly Mallia, 2 female arrancar, furious because Aizen favors Orihime over them.
163
12
"Shinigami and Quincy, The Battle with Madness"
March 5, 2008
November 7, 2009
Orihime is rescued from Loly and Menoly by Espada, Grimmjow, who claims he is repaying Orihime for restoring his arm and promtly kills Menoly and injures Loly. He tells Orihime that he needs her help, and takes her with him. However, Orihime chose to heal both Loly and Menoly before they leave. Meanwhile, Uryū finds that his arrival was expected by Szayelaporro, and his attacks are useless against both the Espada and his Fracciones. Renji saves Uryū from a fatal blow, and the two prepare to work together to take down Szayelaporro.
164
13
"Ishida's Strategy, 20-Second Offense and Defense"
March 12, 2008
November 7, 2009
With Renji's help, Uryū maneuvers Szayelaporro into a trap, catching him in a massive explosion. Although the trap is damaging, it fails to kill Szayelaporro. By eating one of his Fracciones Lumina, Szayelaporro completely heals himself. However, rather than retaliate, he leaves, wanting to replace his damaged clothing and to allow Renji and Uryū to formulate a new plan. Elsewhere, Grimmjow brings Orihime to Ichigo, and asks Orihime to heal Ichigo so he can fight him again. Before she can finish doing so, Ulquiorra arrives.
165
14
"The Murderous Intent Boils! The Joyful Grimmjow"
March 19, 2008
November 14, 2009
Using a special device, Grimmjow traps Ulquiorra in an alternate dimension, and remarks that it will take two or three hours for Ulquiorra to break free. Orihime finishes healing Ichigo, and Ichigo begins to fight Grimmjow. Even after using his bankai, Ichigo finds himself outmatched against Grimmjow. However, when Grimmjow fires a blast at Orihime and Nel, Ichigo uses his hollow mask to block the attack.
166
15
"Desperate Effort vs. Desperate Effort! Hollowfied Ichigo"
April 9, 2008
November 14, 2009
Grimmjow, pleased that Ichigo is fighting with his full power, releases his zanpakutō. The two continue their fight, and Ichigo is slowly worn down by Grimmjow, despite the fact that he is able to use his hollow mask longer than he previously could. Espada Tia Halibel and her Fracciones, the Tres Bestias (which consists of Emilou Apacci, Franceska Mila Rose and Cyan Sung-Sun), are seen watching the fight and comment during it. Halibel tells them that it is natural that they are afraid of Grimmjow and Ichigo, that it is more like a fight between two Espadas than anything else. Orihime, frightened by Ichigo's appearance due to his hollow mask, is afraid to watch the battle, but after Nel admonishes her, she overcomes her fear and cheers Ichigo on.
167
16
"The Moment of Conclusion, The End of Grimmjow"
April 16, 2008
November 21, 2009
In a flashback, Grimmjow recalls his time as a hollow, and his history with Shawlong Qufang, Edorad Leones, Ilfort Grantz, Nakim Greendina and D-Roy Linker, his former Fracciones. In the present, Grimmjow, despite being wounded, refuses to give up. He uses his strongest attack on Ichigo, but Ichigo overcomes it and deals a final blow. After leaving Grimmjow on the ground, Ichigo prepares to take Orihime away from Las Noches.
The New Captain Shūsuke Amagai (2008)
No. in Series

No. in Saga

Episode Title

Japanese Airdate

English Airdate

168
01
"The New Captain Appears! His Name Is Shūsuke Amagai"
April 23, 2008
August 28, 2010
Shūsuke Amagai is unanimously appointed by the Thirteen Court Guard Squads as the new captain of the third division. He appoints Makoto Kibune as his third seat officer. However, Amagai and Kibune are not well-received by the third division members. On the suggestion of Rangiku Matsumoto, Izuru Kira, the third division lieutenant, holds a welcoming party for Amagai, but Amagai collapses after one drink due to his low tolerance for alcohol. Gillians invade the Dangai, the dimension between the Soul Society and the human world, and the third division is ordered to destroy them. Kira leaves with the third division members. While fighting the hollows, the Kōtotsu, the cleanser of the dimension, somehow gets called in leaving the third division in a race to escape before being "cleansed".
169
02
"New Development, the Dangerous Transfer Student Appears!"
May 7, 2008
September 4, 2010
Lurichiyo Kasumiōji, a young princess of the Soul Society nobility, and her Soul Reaper assistants Ryūsei "Kenryū" Kenzaki and Ruzaburō "Enryū" Enkōgawa travel to Karakura Town to acquire sweets for Lurichiyo. Kenryū and Enryū leave and Lurichiyo starts to wander the town. Meanwhile, Ichigo and Rukia are alerted to an abnormal amount of hollow sightings. As they leave to dispatch them, Ichigo encounters Lurichiyo, who asks him for sweets and is attacked by hollows. As Kenryū and Enryū take Lurichiyo away, Ichigo uses his bankai to defeat the hollows, impressing Kenryū and Enryū. The following day, they move into the house adjacent to Ichigo, becoming students at his school.
170
03
"Desperate Struggle Under the Moonlit Night, the Mysterious Assassin and Zanpakutō"
May 14, 2008
September 11, 2010
Ichigo repeatedly asks Kenryū and Enryū why Lurichiyo is in the real world, and they refuse to answer him. That evening, an assassin arrives at Lurichiyo's home. The assassin uses a weapon with a mirror that reflects the moonlight to stun Ichigo, and nearly kills him. Ichigo uses his sword to reflect the moonlight against the assassin on his second try, and rather than be questioned, the assassin allows himself to be killed when Ichigo uses his Getsuga Tenshō. Afterward, Kenryū reveals that Lurichiyo is the heir to the noble Kasumiōji clan. He further explains that Gyōkaku Kumoi, one of the caretakers serving the Kasumiōji clan, has been attempting to take control of the clan by killing Lurichiyo. Under pressure from Rukia, Ichigo agrees to protect Lurichiyo.
171
04
"Kenryū, the Profusion of Blooming Crimson Flowers"
May 21, 2008
September 18, 2010
Ichigo and Rukia take Lurichiyo through the town, and they later have dinner at Ichigo's house. After Ichigo starts an argument with Lurichiyo over her refusal to eat carrots, he accidentally reveals that Kenryū and Enryū hired him as a bodyguard. Furious, Lurichiyo runs towards the river, where she meets Orihime. They are attacked by an assassin wielding a guan dao, who can fire energy blasts that solidify into rock walls. Ichigo, Rukia, Kenryū and Enryū arrive. Kenryū uses his shikai to immobilize the assassin, allowing Ichigo to defeat him.
172
05
"Kibune Goes to War! The Violent Wind that Rages"
May 28, 2008
September 25, 2010
Amagai orders the third division to perform several menial missions and training exercises to build trust within the division members. However, Kira believes that Amagai wishes to replace him with Kibune due to the attention that division members give to him. One evening, Kira and Kibune investigate an old execution ground with division member Shinta Seko. The three fall into the execution pit, which is filled with caged hollows. Kira and Kibune easily defeat the hollows, but one of the hollows manages to absorb Shinta. When Kibune attempts to kill the hollow, Kira stops his attack, and Kibune states that Shinta's lack of skill is the reason he should die.
173
06
"The Appearance of the Great Evil! The Darkness in the House of Kasumiōji"
June 4, 2008
October 2, 2010
Kumoi discovers that Lurichiyo has entered the household, and orders Hanza to kill her. Ichigo, Rukia, Kenryū and Enryū arrive in the compound and separate in order to find her. Kenryū and Enryū are then locked in a storehouse by Kumoi, while Rukia encounters eleventh division captain Kenpachi Zaraki. He realizes that Ichigo is present and goes to find him, as Ichigo eventually finds Lurichiyo. However, Ichigo is forced to evade the guards, losing track of her. Lurichiyo is attacked by one of her child servants, later revealed as an assassin.
174
07
"Break the Mirror's Boundary! Ichigo's Captivity"
June 11, 2008
October 9, 2010
Kumoi eliminates the remaining clan members that oppose him to consolidate his power. In Karakura Town, Kisuke Urahara finds that there has been a shortage of a type of spirit particles, and theorizes that this is linked to the activities of the Kasumiōji clan. Kumoi sends Hanza and a dozen assassins to kill Ichigo, his friends, and Lurichiyo. Hanza fights Ichigo using the mirror weapon an assassin previously used against Ichigo, and explains that the weapon, known as Saiga, is made stronger by feeding on his spiritual energy.
175
08
"The Revenging Assassin, Ichigo is Targeted"
June 18, 2008
October 16, 2010
Having failed in his previous attempt to kill Lurichiyo, Hanza gathers 3 of his subordinates from the criminal underground and requests that they be given weapons similar to Saiga. Kumoi agrees and the four set out to kill Lurichiyo, Ichigo, and his friends. In Karakura Town, Lurichiyo tells Ichigo that others would frequently be blamed for her reckless actions, including Kenryū and Enryū. Sensing the arrival of Hanza and his subordinates, Ichigo and Rukia stay to protect Lurichiyo, while Uryū and Chad leave to confront their attackers. Hanza fights Ichigo as Rukia, Uryū and Chad each begin to fight one of his subordinates.
176
09
"Mystery! The Sword-Consuming Assassin"
June 25, 2008
October 23, 2010
Rukia's opponent, Jinnai Dōkō, reveals that the unique blades the assassins are using are called bakōtō, swords that consume the user's spiritual energy to increase their strength. Jinnai eats his bakōtō to increase his power and fire blades from his back. Uryū fights Kuzuryū, who uses his bakōtō to transform into mist. Chad fights Genba, who uses the same rock wall-forming bakōtō a previous assassin used. Chad repeatably destroys the walls with his energy blasts, but Genba fuses with the walls to attack Chad from behind.
177
10
"The Reversal of Rukia! The Rampaging Blade"
June 25, 2008
October 30, 2010
Rukia uses kidō to restrain Jinnai, and freezes him with her shikai. He breaks free from the ice, but is consumed by his bakōtō when it draws too much energy from him. Before Rukia can retrieve the bakōtō, several assassins arrive and take it. Uryū realizes that Kuzuryū is using his bakōtō to fuse with the surrounding mist, and uses Sprenger to defeat him. However, Uryū is caught in the blast radius and is injured. Chad destroys the surrounding walls to stop Genba's attacks, and, in a clash between the strongest attacks of the combatants, Chad is victorious. Ichigo fights Hanza, and, using the enhanced speed from his bankai, breaks Saiga's mirror. In response, Hanza uses one of Saiga's abilities to engulf Ichigo in light from the shards of the mirror.
178
11
"The Nightmare Which is Shown, Ichigo's Inside the Mirror"
July 2, 2008
November 6, 2010
Sealed inside a different dimension, Ichigo is forced to relive his childhood and his mother's death. Reflecting Ichigo's guilt for being unable to save his mother, the image of Ichigo's mother tries to kill him. Ichigo manages to break free of the dimension by making peace with his mother. Ichigo dons his hollow mask and overwhelms Hanza, forcing him to allow his bakōtō to absorb more of his energy. However, Hanza is consumed by his bakōtō, ignoring Ichigo's pleas to stop. Meanwhile in the Soul Society, Kira covertly follows Kibune to the Kasumiōji compound, where Kuzuryū returns to report the death of his comrades to Kumoi. In response, Kumoi orders Kibune to kill him.
179
12
"Confrontation!? Amagai vs. Gotei 13"
July 9, 2008
November 13, 2010
Amagai proposes joint training between the squads of the Thirteen Court Guard Squads, citing the attack of the cleaners against his squad, but his request is denied. That night, Kira confronts Kibune for entering the Kasumiōji compound, and Kibune denies he did so. An alarm activates shortly afterwards, revealing that there are hollows in the Seireitei. Despite Kira's orders, the third division members follow Kibune to attack the hollows. The various squads fail to reach the hollows due to the lack of coordination between them. Amagai takes control of the situation and coordinates the squads in destroying the hollows.
180
13
"The Princess's Decision, the Sorrowful Bride"
July 16, 2008
November 20, 2010
Kumoi schedules Lurichiyo's wedding for the following day, and Kenryū and Enryū realize that he will replace her with an imposter if Lurichiyo does not return for the wedding. Ichigo goes to speak with Lurichiyo, who reveals that she knew about the true goal of the assassins and Kumoi's connection to them, feeling guilty that Chad and Uryū were injured. She escapes into the Soul Society, intending to participate in the marriage to keep Kumoi in line; however, when she arrives on the other side, her eyes have gone blank and she expresses no desire to leave.
181
14
"The 2nd Division Sorties! Ichigo is Surrounded"
July 23, 2008
November 27, 2010
Enryū uses his shikai to destroy the building, and in the confusion, Ichigo reaches Lurichiyo. Revealing Kumoi's intention to gain control of the clan to Shū, Ichigo is attacked by Lurichiyo, who is revealed as an imposter. Suì-Fēng begins to fight Ichigo, allowing Lurichiyo and Kumoi to escape. Kenryū and Enryū are captured by the second division members, and Ichigo and Rukia escape with Shū's help.
182
15
"Amagai's True Strength, the Released Zanpakuto!"
July 30, 2008
December 4, 2010
The second and third divisions begin to guard the Kasumiōji compound, and Suì-Fēng returns Kenryū and Enryū to the Kasumiōji clan at Yamamoto's order. Elsewhere, the real Lurichiyo is imprisoned by Kumoi's assassins and visited by Kibune. As Kibune leaves, he is noticed by a drunken third division member, whom Kibune kills. The following morning, sixth division lieutenant Renji Abarai asks his captain, Byakuya Kuchiki, if he is worried that Rukia is being pursued. After Byakuya denies that he is, he gives control of the search party to Renji. Ichigo, Rukia, and Shū decide to rescue Lurichiyo, but are attacked by Amagai.
183
16
"The Darkness Which Moves! Kibune's True Colors"
August 6, 2008
December 11, 2010
For helping Ichigo, Amagai is branded a traitor by Yamamoto, who orders him to be hunted as well. Captains Shunsui Kyōraku and Jūshirō Ukitake ask Yamamoto for permission to investigate the Kasumiōji clan, but Yamamoto refuses. Meanwhile, Renji and Ikkaku Madarame begin to fight lieutenants Tetsuzaemon Iba and Shūhei Hisagi, respectively, over their differences concerning Ichigo and Rukia's actions. Kira enters the Kasumiōji compound and finds Lurichiyo, and is attacked by several assassins.
184
17
"Kira and Kibune, Offense and Defense of the 3rd Division"
August 20, 2008
December 18, 2010
Despite the patrols of the Thirteen Court Guard Squads, Ichigo, Rukia, Amagai and Shū manage to make contact with the third division members, and head towards the training grounds of the third division, which was Lurichiyo's last known location. Kira begins to fight Kibune, and initially gains the advantage by using his shikai to increase the weight of Kibune's zanpakutō. Kibune uses his bakōtō to negate Kira's shikai, as he continues to fight.
185
18
"Ice and Flame! Fierce Fight of Amagai vs. Hitsugaya"
August 27, 2008
January 1, 2011
Kira realizes that Kibune is using his bakōtō to negate his shikai, and he manages to exhaust Kibune, enabling him to use his shikai to increase the weight of Kibune's zanpakutō. Kibune attempts to draw on more power from his bakōtō, but is consumed in the process. Kira collapses soon thereafter. Ichigo and Amagai pursue a pair of assassins with Lurichiyo, and discover that the Lurichiyo they are carrying is a fake. They return to the arena, where Kira reveals Kibune's association with Kumoi. Renji arrives and takes Kibune's bakōtō to Yamamoto. Ichigo, Rukia, Amagai, and Shū head to the Kasumiōji compound, which tenth division captain Tōshirō Hitsugaya is guarding.
186
19
"Sortie Orders! Suppress the House of Kasumiōji"
September 3, 2008
January 8, 2011
Hitsugaya and Rangiku stop fighting after they hear the order to attack the Kasumiōji clan, and the remaining divisions attack the compound. Yamamoto reveals that he suspected the crimes of the Kasumiōji clan, but could not act until Ichigo revealed concrete evidence of their crimes. Kumoi, incensed about the attack, sends all of his assassins against the attacking Soul Reapers. Rukia and Shū find Kumoi, who is using Lurichiyo as a hostage, and reveals that he sought to take control of the nobility of the Soul Society. Amagai arrives, kills Kumoi, and teleports to Yamamoto's location with Lurichiyo.
187
20
"Ichigo Rages! The Assassin's Secret"
September 10, 2008
January 15, 2011
Amagai reveals that he orchestrated the events surrounding the Kasumiōji clan, and desired revenge against Yamamoto for killing his father, Shin'etsu Kisaragi. He further accuses Yamamoto for allowing the Kasumiōji clan to create bakōtō, declaring that he dedicated his life to killing Yamamoto. Yamamoto uses his shikai, but Amagai uses his bakōtō to negate his attack, revealing that it suppresses all powers of the Soul Reapers save his own. Amagai uses his bankai, and Ichigo arrives to fight him.
188
21
"Duel! Amagai vs. Ichigo"
September 17, 2008
January 22, 2011
Ichigo begins to fight Amagai, but due to Amagai's bakōtō, he has difficulty fighting at full strength. Ichigo dons his hollow mask to increase his power, as Amagai's bakōtō cannot negate his hollow powers. Amagai begins to attack Ichigo's mask, and Ichigo manages to hit Amagai with his Getsuga Tenshō. Injured, Amagai declares that he is willing to die for his revenge, and starts to draw more power from his bakōtō.
189
22
"The Fallen Shinigami's Pride"
October 7, 2008
January 29, 2011
Amagai manages to regain control of himself after overusing his bakōtō, and Ichigo defeats him. Undeterred, Amagai stabs Yamamoto, who is unharmed by the attack. Yoruichi and various captains and lieutenants arrive, revealing to Amagai that Yamamoto ordered Amagai's father, Kisaragi, to investigate the Kasumiōji clan's bakōtō. It is explained that Kumoi used a bakōtō to control Kisaragi, and Yamamoto was forced to kill him. Upon learning this, Amagai forgives Yamamoto and to repent for his deeds, uses his zanpakutō to self-immolate.
The Arrancar Part 4: Arrancar vs Shinigami (2008-2009)
No. in Series

No. in Saga

Episode Title

Japanese Airdate

English Airdate

190
01
"Hueco Mundo Chapter, Restart!"
October 14, 2008
February 5, 2011[1]
The fight between Ichigo and Grimmjow concludes when Ichigo breaks through Grimmjow's strongest attack. Grimmjow attempts to continue the fight, but is attacked by Nnoitra Gilga, an Espada. However, Ichigo protects Grimmjow. As Ichigo and Nnoitra begin to fight, Tesla Lindocruz, Nnoitra's subordinate, captures Orihime. Nnoitra reveals that he is the Fifth Espada and is stronger than Grimmjow. Meanwhile, Renji, Uryū, Pesche Guatiche and Dondochakka Bilstin attempt to flee the Espada, Szayelaporro Grantz, but because Szayelaporro controls the building they are in, he redirects the hallways to point back towards their battlefield.
191
02
"The Frightening Banquet, Szayelaporro Theater"
October 21, 2008
February 12, 2011[2]
Nnoitra overpowers the tired Ichigo, and when Orihime attempts to help, Tesla threatens to destroy her hair clips, the source of her power which would allow her to stop Tesla. Szayelaporro releases his zanpakutō and creates clones of Renji, Uryū, Pesche and Dondochakka. Furthermore, he releases the power limiter in the room to allow Renji and Uryū to fight at full power. Meanwhile, Nnoitra encounters Nel and recognizes her. When Ichigo asks how he knows Nel, Nnoitra reveals Nel's true name is Neliel Tu Odelschwanck, indicating that she is a former Espada.
192
03
"Nel's Secret, A Busty Beauty Joins the Battle!?"
October 28, 2008
February 19, 2011[2]
Nnoitra uses Nel as a shield against Ichigo, whom he pins to the ground. As he prepares to break Ichigo's arm, the intensity of Nel's emotions causes her to return to her original adult form, Neliel. Neliel takes Ichigo away from the battlefield, and as she prepares to fight Nnoitra, she reveals that she was the former Third Espada. She overpowers Nnoitra, and in desperation, Nnoitra uses a cero blast. Neliel uses her Cero Doble technique to absorb Nnoitra's cero and redirect it at him with doubled force. However, Nnoitra is relatively unharmed, and reveals that the Espada have grown stronger in her absence.
193
04
"Irresistible, Puppet Show of Terror"
November 4, 2008
February 26, 2011[2]
Uryū and Renji struggle to fight their clones as they copy their attacks. Renji uses his bankai, and the clones copy him, destroying the building. In response, Szayelaporro destroys the clones, and uses another ability of his released form to create voodoo dolls of his opponents. Using the dolls, he causes pain to his targets, and damages their internal organs. Meanwhile, Nnoitra and Neliel fight each other to a stalemate, and Nnoitra states that he despised Neliel even during her time as an Espada.
194
05
"Neliel's Past"
November 11, 2008
March 5, 2011[3]
Nnoitra recalls his past encounters with Neliel, in which Neliel sparred with Nnoitra and easily defeated him. In one session, Nnoitra demanded that she continue the fight until one of them died, and Neliel refused. As a result, Nnoitra attacked Neliel's subordinates, Pesche and Dondochakka, and with Szayelaporro's aid, paralyzed Neliel long enough for him to land an attack on her. He left her outside Aizen's palace, where she transformed into an amnesiac child, with Pesche and Dondochakka vowing to protect her. In the present, Nnoitra taunts Neliel about their past and prepares to release her zanpakutō.
195
06
"The Ultimate Union! Pesche's Seriousness"
November 18, 2008
March 12, 2011[4]
Neliel finishes her release, transforming into a white centaur, and overwhelms Nnoitra. Meanwhile, Pesche and Dondochakka begin to fight Szayelaporro, and use cero sincrético, a combination attack fusing their cero blasts, to attack Szayelaporro. However, Szayelaporro nullifies the attack, and reveals that he had already analyzed their spiritual energy. When Neliel attempts to finish off Nnoitra, she transforms back into her child form. Ichigo tries to help Nel, and Nnoitra allows Tesla to fight him.
196
07
"Joining the Battle! The Strongest Soul Reaper Army Appears"
November 25, 2008
March 19, 2011[4]
Kenpachi defeats Tesla in one blow and tells Ichigo to stay out of his fight with Nnoitra. He informs Ichigo that Kisuke Urahara was tasked with making the garganta gateways into Hueco Mundo stable enough for Soul Reaper captains to enter, and that 3 other captains came with him. Captain Retsu Unohana arrives with her lieutenant, Isane Kotetsu, and they stop Rudbornn Chelute and the Exequias from killing Chad and Gantenbainne Mosqueda. Captain Mayuri Kurotsuchi and his lieutenant, Nemu Kurotsuchi, arrive and Mayuri is confident that he can win against Szayelaporro, even after Szayelaporro creates a voodoo doll of him.
197
08
"Byakuya's Bankai, The Quiet Anger"
December 2, 2008
March 26, 2011[4]
After realizing that Byakuya refuses to treat him as an equal opponent, Zommari releases his zanpakutō, and grows eyes on his body that can control the objects they are looking at. Zommari takes control of Byakuya's arm and leg, and Byakuya cuts his own tendons to stop them from moving. Meanwhile, Byakuya orders Hanatarō Yamada to take Rukia to safety. Zommari uses one of his eyes to control Rukia, and has her slice Hanatarō with her sword. Before Byakuya can interfere, he threatens to force her to commit suicide. Byakuya immobilizes Rukia with kidō, and uses his bankai. Surrounded by thousands of tiny blades, Zommari is overwhelmed by the attack.
198
09
"The Two Scientists, Mayuri's Trap"
December 9, 2008
April 2, 2011[4]
Zommari survives Byakuya's attack, but Byakuya uses kidō to block Zommari's control ability, and quickly dispatches him. Mayuri initially seems unable to fight back against Szayelaporro, who uses his voodoo doll ability to destroy all of Mayuri's organs. However, he reveals that he has made himself immune to Szayelaporro's attack by replacing the organs in his body with dummies, after learning about the ability from bacteria he implanted in Uryū.
199
10
"Holy Birth, The Resurrected Szayel Aporro"
December 16, 2008
April 9, 2011[4]
Rukia regains consciousness, and Byakuya tells her to rest and regain her strength for the impending battles. Kenpachi battles Nnoitra, and Orihime heals Nel at Ichigo's request. While swallowing Szayelaporro with his bankai, Mayuri inadvertently poisons Uryū and Renji, and Szayelaporro seizes the opportunity to resurrect himself by absorbing Nemu's spiritual particles through his Gabriel technique. However, in the process, he ingests a "superhuman" drug from inside Nemu that increases all of his senses to the point where his body cannot respond to the flood of sensory information, immobilizing him with Mayuri stating that one second would feel like a century.
200
11
"The Hardest Body!? Cut Down Nnoitra"
December 23, 2008
April 16, 2011[4]
Szayelaporro, whose senses are heightened by the drug, feels Mayuri's zanpakutō piercing through his hand and heart for what he feels are centuries before he dies. After restoring Nemu to full health, Mayuri orders her to clear away the rubble that concealed Szayelaporro's laboratory. Afterwards, Mayuri heals Uryū's injuries. Meanwhile, Kenpachi has difficulty cutting through Nnoitra's skin, which Nnoitra claims is the toughest of any of the Espada, but believes that Nnoitra can be injured.
201
12
"Nnoitra Released! Multiplying Arms"
January 6, 2009
April 23, 2011[4]
Kenpachi slashes at Nnoitra, wounding him, and uses the correct amount of force he needed to cut Nnoitra's skin. He continues to attack Nnoitra, and after Nnoitra accidentally tears off Kenpachi's eyepatch while trying to attack him, the limits on his power are removed. Kenpachi delivers a slash through Nnoitra's torso. Nnoitra releases his zanpakutō, and gains an additional pair of arms. Nnoitra attacks Kenpachi and severely wounds him, while Kenpachi manages to cut off one of his arms. Nnoitra regenerates the arm and continues on the assault, growing another pair of arms and stabbing Kenpachi with one of his hands.
202
13
"Fierce Fighting Conclusion! Who's the Strongest?"
January 13, 2009
April 30, 2011[4]
Kenpachi continues fighting Nnoitra, and although he is able to keep up with his attacks, he realizes that he is in danger of dying. He then resorts to using kendo, and severely injures Nnoitra with a two-handed strike. Kenpachi attempts to leave, but Nnoitra insists that he finish their battle. Nnoitra recalls his time with Neliel, in which Neliel frequently saved him from his attempts to die in battle, and claims that he is angered by any display of pity from his opponent.
203
14
"Karakura Town Gathers! Aizen Versus the Soul Reapers"
January 20, 2009
May 7, 2011[5]
After Kenpachi defeats Nnoitra, the Espadas, Coyote Stark and Lilinette Gingerbuck, arrive and carry Orihime away to a tower, where Aizen greets her. He informs her that he, Gin Ichimaru and Kaname Tōsen are preparing to destroy Karakura Town. Aizen orders Tōsen to contact the Soul Reaper captains, Ichigo, and his friends with kidō, and reveals that he brought Orihime to Hueco Mundo to lure and trap them.
204
15
"Ichigo's Seppuku Persuasion Strategy ☆"
January 27, 2009
May 14, 2011[5]
In the real world, Ichigo is in school when he sees Lurichiyo Kasumiōji, who has come back to the real world because she is angered that Ryūsei "Kenryū" Kenzaki, her retainer, would not allow her to play kemari when she has other important duties. This leads to an outburst between Lurichiyo and Kenryū, and Kenryū intends to kill himself to make Lurichiyo "happy". After Ichigo and his friends persuade Kenryū, they put on an act to fool Lurichiyo into forgiving him, but she sees through the trick. This leads to another argument and culminates in Lurichiyo challenging Kenryū to a kemari game to see who is right.
205
16
"Thump! A Kemari Tournament Filled with Hollows"
February 3, 2009
May 21, 2011[5]
The kemari game officially starts. The referees are the proprietors from the Urahara Shop, Jinta Hanakari and Ururu Tsumugiya. Kisuke Urahara himself oversees the proceedings, and sets up a gigantic barrier around the play field to indicate the assigned area. The two teams, each with varying characters attempt to keep the ball away from each other in different, comical ways.
The Past (2009)
No. in Series

No. in Saga

Episode Title

Japanese Airdate

English Airdate

206
01
"The Past Chapter Begins! The Truth from 110 Years Ago"
February 10, 2009
May 28, 2011[5]
110 years before the start of the series, Shinji Hirako is approached, as the fifth division captain by, the fifth division lieutenant Sōsuke Aizen who hears about preparations for the new twelfth division captain. Yoruichi Shihōin tells Kisuke Urahara that she has recommended him for the position as the new twelfth division captain, while they are sparring in their private training area. Suì-Fēng, immediately distrusting Urahara because of what she has seen of his persona and his dwelling, follows him around town to prove to Yoruichi that he is not worthy of the responsibility required for the new position.
207
02
"12th Division's New Captain, Kisuke Urahara"
February 17, 2009
June 4, 2011[5]
Urahara is appointed the twelfth division captain at the ceremony attended by the other captains and introduces himself to his squad. Lieutenant Hiyori Sarugaki is the only one who does not become friendly with him. She made a scene while trying to load his things into his new room, and challenged him to a match to see if he really can hold up to his promise of not letting danger befall the twelfth division.
208
03
"Aizen and the Genius Boy"
February 24, 2009
June 11, 2011[6]
Urahara takes Hiyori to the Maggots Nest, explaining on the way that its purpose is to hold people deemed potentially dangerous by the Soul Society. While they are walking through the penitentiary, a large prisoner attacks Hiyori, but Urahara easily subdues the man with his bare hand. Deep inside, Urahara approaches a young Mayuri Kurotsuchi and discusses him becoming his second in command of a new division of their own making, the Technological Research Bureau.
209
04
"Muguruma 9th Division, Moves Out"
March 3, 2009
June 18, 2011[6]
9 years later, 3 shadowed figures watch as citizens of the Rukongai are devoured and killed by a strange white substance. Later, Hirako, Aizen, Mayuri, Hiyori and Urahara meet to discuss the recent disappearances of the Rukongai citizens. Kensei Muguruma and his ninth division are deployed to assess the situation, and find a gigantic hollow, which attacks three boys. Kensei Muguruma saves one of the boys, a young Shūhei Hisagi, from certain death. Later, in Mayuri and Urahara's lab, Hiyori is chosen to investigate the recent disappearances of the citizens.
210
05
"Hiyori Dies? The Beginning of Tragedy"
March 10, 2009
June 25, 2011[6]
The spiritual energies of Kensei and his squad vanish, sparking a serious situation in the Soul Society. An emergency captain's meeting is held to determine who will oversee the situation. Urahara appears late and pleads his case to go, but captain Yamamoto does not grant his request. Instead, Hirako, Love Aikawa, Rōjūrō "Rose" Otoribashi, Yadomaru Lisa and Hachigen Ushōda, from the Kidō Corps, are dispatched. In the woods, Hiyori is attacked by a grotesque and powerful hollow revealed to be Kensei. Hirako arrives to save her, along with the rest of the captains, but soon Mashiro Kuna appears and also transforms into a hollow and attacks the group.
211
06
"Betrayal! Aizen's Secret Maneuvers"
March 17, 2009
July 2, 2011[6]
The eighth division captain Shunsui Kyōraku is out late when he happens upon Nanao Ise, his future lieutenant, who wonders if Lisa will be all right. Kensei's new abilities overpower most of the group, until Hachigen finally binds him with a powerful spell. Hirako is then brutally attacked by Hiyori, who is now a hollow. Tōsen incapacitates the group, with the exception of Hirako. Aizen appears and reveals his own betrayal, explaining to Hirako that his illusion-casting zanpakutō made it seem like Aizen was following Hirako all the time, when it was actually a different person.
212
07
"Rescue Hirako! Aizen vs. Urahara"
March 24, 2009
July 9, 2011[7]
Urahara and Tessai try to attack Aizen, but he is expecting their arrival. While Urahara reveals he has been testing hollowification in the Soul Society, Aizen flees. In the twelfth division research facilities, Urahara shows Tessai the object that may be useful in saving those undergoing the hollowfication process, an item known as the Orb of Distortion. The next morning, Urahara and Tessai are arrested and brought before Central Room Forty-Six, where they are falsely accused as the ones responsible for Aizen's acts.
The Arrancar Part 5: Battle in Karakura (2009)
No. in Series

No. in Saga

Episode Title

Japanese Airdate

English Airdate

213
01
"The Konso Cop Karakuraizer is Born"
March 31, 2009
July 16, 2011[7]
214
02
"Karakuraizer's Last Day"
April 7, 2009
July 23, 2011[7]
215
03
"Defend Karakura Town! Entire Appearance of the Shinigami"
April 14, 2009
July 30, 2011[7]
216
04
"Elite! The Four Shinigami"
April 21, 2009
August 6, 2011[8]
217
05
"Beautiful Little Devil Charlotte"
April 28, 2009
August 13, 2011[8]
218
06
"Kira, The Battle Within Despair"
May 5, 2009
August 20, 2011[8]
219
07
"Hisagi's Shikai! The Name is..."
May 12, 2009
August 27, 2011[8]
220
08
"Ikkaku Falls! The Shinigami's Crisis"
May 19, 2009
September 3, 2011[8]
221
09
"The Full Showdown! Soul Reapers vs. Espada"
May 26, 2009
September 10, 2011[8]
222
10
"The Most Evil Tag!? Suì-Fēng & Ōmaeda"
June 2, 2009
September 17, 2011[8]
223
11
"A Miraculous Body! Ggio Releases"
June 9, 2009
September 24, 2011[8]
224
10
"3 vs. 1 Battle! Rangiku's Crisis"
June 16, 2009
October 1, 2011[8]
225
11
"Vice-Captains Annihilated! The Terrifying Demonic Beast"
June 23, 2009
October 8, 2011[9]
226
12
"Fierce Fighting Concludes? Towards a New Battle!"
June 30, 2009
October 15, 2011[9]
227
13
"Wonderful Error"
July 7, 2009
October 22, 2011[9]
228
14
"Summer! Sea! Swimsuit Festival!!"
July 14, 2009
October 29, 2011[9]
229
15
"Cry of the Soul? The Rug Shinigami is Born!"
July 21, 2009
November 5, 2011[9]
Zanpakutō: The Alternate Tale (2009-2010)
No. in Series

No. in Saga

Episode Title

Japanese Airdate

English Airdate

230
01
"A New Enemy! The Materialization of Zanpakutō"
July 28, 2009
November 12, 2011[10]
231
02
"Byakuya, Disappearing with the Cherry Blossoms"
August 4, 2009
November 19, 2011[10]
232
03
"Sode no Shirayuki vs. Rukia! Confused Heart"
August 11, 2009
November 26, 2011[10]
233
04
"Zangetsu Becomes an Enemy"
August 18, 2009
December 3, 2011[10]
234
05
"Renji Surprised?! The Two Zabimarus"
August 25, 2009
December 10, 2011[11]
235
06
"Clash! Hisagi vs. Kazeshini"
September 1, 2009
December 17, 2011[11]
236
07
"Release! The New Getsuga Tenshō"
September 8, 2009
January 7, 2012[12]
237
08
"Suì-Fēng, Surrounding the Zanpakutō"
September 15, 2009
January 14, 2012[12]
238
09
"Friendship? Hatred? Haineko & Tobiume"
September 22, 2009
January 21, 2012[12]
239
10
"The Awakening Hyōrinmaru! Hitsugaya's Fierce Fight"
September 29, 2009
January 28, 2012[12]
240
11
"Byakuya's Betrayal"
October 6, 2009
February 11, 2012[13]
241
12
"For the Sake of Pride! Byakuya vs. Renji"
October 13, 2009
February 18, 2012[13]
242
13
"Shinigami and Zanpakutō, Total Sortie"
October 20, 2009
February 25, 2012[13]
243
14
"One-to-One Fight! Ichigo vs. Senbonzakura"
October 27, 2009
March 3, 2012[13]
244
15
"The Long Awaited... Kenpachi Appears!"
November 3, 2009
March 10, 2012
245
16
"Pursue Byakuya! The Confused Gotei Divisions"
November 10, 2009
March 17, 2012
246
17
"Special Mission! Rescue Captain Commander Yamamoto!"
November 17, 2009
March 24, 2012
247
18
"Deceived Shinigami! The World Collapse Crisis"
November 24, 2009
March 31, 2012
248
19
"Dragon of Ice and Dragon of Flame! The Strongest Showdown!"
December 1, 2009
April 7, 2012
249
20
"Senbonzakura's Bankai! Offense and Defense of the Living World"
December 8, 2009
April 14, 2012
250
21
"That Man, for the Sake of the Kuchiki"
December 15, 2009
April 21, 2012
251
22
"Dark History! The Worst Shinigami Is Born"
December 22, 2009
April 28, 2012
252
23
"Byakuya, the Truth Behind His Betrayal"
January 5, 2010
May 5, 2012
253
24
"Muramasa's True Identity Revealed"
January 12, 2010
May 12, 2012
254
25
"Byakuya and Renji, the 6th Division Returns"
January 19, 2010
May 19, 2012
255
26
"Final Chapter - Zanpakutō The Alternate Tale"
January 26, 2010
May 26, 2012
256
27
"The Angered Byakuya! The Collapse of the Kuchiki House"
February 2, 2010
June 2, 2012
257
28
"A New Enemy! The True Nature of the Sword Beasts"
February 9, 2010
June 9, 2012
258
29
"Stray Snake, Tortured Monkey"
February 16, 2010
June 16, 2012
259
30
"Terror! The Monster That Lurks Underground"
February 23, 2010
June 23, 2012
260
31
"Conclusion!? Hisagi vs. Kazeshini"
March 2, 2010
June 30, 2012
261
32
"The Person with the Unknown Ability! Orihime Is Targeted"
March 9, 2010
July 7, 2012
262
33
"Haineko Cries! The Tragic Sword Beast!"
March 16, 2010
July 14, 2012
263
34
"Imprisonment?! Senbonzakura & Zabimaru"
March 23, 2010
July 21, 2012
264
35
"Battle of the Females? Katen Kyōkotsu vs. Nanao!"
March 30, 2010
July 28, 2012
265
36
"Evolution?! The Menace of the Final Sword Beast"
April 6, 2010
August 4, 2012
References
↑ "Revised 12/14/2010 ". adultswim.com. December 27, 2010. http://www.webcitation.org/5vHyDYcHQ

. Retrieved on July 12, 2018

.

 

↑ 2.0 2.1 2.2 "Revised 1/24/2011 ". adultswim.com. January 26, 2011. http://www.webcitation.org/5w0rvisT4

. Retrieved on July 12, 2018

.

 

↑ "Adult Swim Air Schedule ". adultswim.com. March 4, 2010. http://www.webcitation.org/5ww3IUkK5

. Retrieved on July 12, 2018

.

 

↑ 4.0 4.1 4.2 4.3 4.4 4.5 4.6 4.7 "Revised 3/28/2011 ". adultswim.com. April 2, 2011. http://www.webcitation.org/5xe6b3c5N

. Retrieved on July 12, 2018

.

 

↑ 5.0 5.1 5.2 5.3 5.4 "Revised 4/25/2011 ". adultswim.com. May 8, 2011. http://www.webcitation.org/5yWPi6ZX7

. Retrieved on July 12, 2018

.

 

↑ 6.0 6.1 6.2 6.3 "Revised 6/8/2011 ". adultswim.com. May 14, 2011. http://www.webcitation.org/5zRELu2B1

. Retrieved on July 12, 2018

.

 

↑ 7.0 7.1 7.2 7.3 "Revised 6/22/2011 ". adultswim.com. June 27, 2011. http://www.webcitation.org/5zlln6LVz

. Retrieved on July 12, 2018

.

 

↑ 8.0 8.1 8.2 8.3 8.4 8.5 8.6 8.7 8.8 "Revised 8/23/2011 ". adultswim.com. August 23, 2011. https://www.webcitation.org/query?id=1315827719130573&date=%400&fromform=1

. Retrieved on January 18, 2020

.

 

↑ 9.0 9.1 9.2 9.3 9.4 "Revised 9/23/2011 ". adultswim.com. September 23, 2011. https://www.webcitation.org/query?id=1317756219402928&date=%400&fromform=1

. Retrieved on January 18, 2020

.

 

↑ 10.0 10.1 10.2 10.3 "Revised 10/20/2011 ". adultswim.com. October 20, 2011. https://www.webcitation.org/query?id=1320111008469751&date=%400&fromform=1

. Retrieved on January 18, 2020

.

 

↑ 11.0 11.1 "Revised 11/30/2011 ". adultswim.com. November 30, 2011. https://www.webcitation.org/query?id=1323558708840912&date=%400&fromform=1

. Retrieved on January 18, 2020

.

 

↑ 12.0 12.1 12.2 12.3 "Revised 12/13/2011 ". adultswim.com. December 13, 2011. https://www.webcitation.org/query?id=1325105674985313&date=%400&fromform=1

. Retrieved on January 18, 2020

.

 

↑ 13.0 13.1 13.2 13.3 "Revised 1/22/2012 ". adultswim.com. January 22, 2012. https://www.webcitation.org/query?id=1328933371719187&date=%400&fromform=1

. Retrieved on January 18, 2020

.

 
Toonami Episode Guides
Cartoon Network (1997-2008)
Adult Swim (2012-Present)