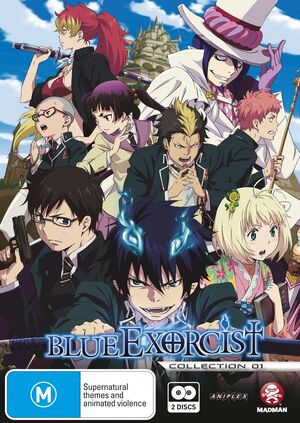 Series Overview
| Color | Season | Episodes | U.S. Season Premiere | U.S. Season Finale |
| --- | --- | --- | --- | --- |
| | 1 | 25 | February 22, 2014 | August 9, 2014 |
| | OVA | 1 | Unaired | Unaired |
| | Movie | 1 | Unaired | Unaired |
Season 1 (2011)
#

Episode Title

Japanese Airdate

English Airdate

01
"The Devil Resides in Human Souls"
April 17, 2011
February 22, 2014
Rin Okumura, a 15 year-old boy living in a monastery, begins to worry about his future when his twin brother, Yukio, leaves to start his academic career at the prestigious True Cross Academy. Sent to an interview for a part-time job by his foster father, Shiro, Rin ends up wreaking havoc in the store when he encounters a demon-like creature.
02
"Gehenna Gate"
April 24, 2011
March 1, 2014
Rin is thrown into turmoil when Shiro tells him that he's the son of Satan! But this doesn't stop the demons from unleashing a brutal attack. Warning him that he must never draw it, Shiro gives Rin the Koma Sword, and hides him in the monastery basement. Outside, a fierce battle begins.
03
"Brothers"
May 1, 2011
March 8, 2014
Vowing to become an exorcist, Rin is taken to True Cross Academy by the mysterious Mephisto Pheles, a friend of their late father. The colossal, fortress-like school; Yukio at the top of the class - it's all so mind-boggling for Rin! Later, Rin heads to the Exorcist Cram School, as Mephisto strictly warns: "You must keep that you're the son of Satan confidential."
04
"The Garden of Amahara"
May 8, 2011
March 15, 2014
When Yukio takes on a case, Rin tags along with him to the Exorcism Supply Shop. There he meets Shiemi, a girl with ailing legs, tending to her garden. Shiemi seems devoted to this garden, as it was left to her by her late grandmother. Just then, Yukio shows up to examine Shiemi's legs. Finding demonic traces, he speculates that the garden is the cause.
05
"A Boy from the Cursed Temple"
May 15, 2011
March 22, 2014
Rin is always snoozing in class, much to star pupil Suguro's irritation. Suguro's striving to become an exorcist so he can restore his family's temple in Kyoto, and being classmates with such a slacker is more than he can bear. Both are hot-tempered and quick to fight, so it's not surprising when they finally clash one day!
06
"The Phantom Chef"
May 22, 2011
March 29, 2014
The biggest headache of Rin's school life is his daily meals. Mephisto has only given him a 2,000-yen bill to live on, putting the swanky school cafeteria out of his reach! On Yukio's advice, Rin starts cooking in the dorm kitchen, preparing lunch the night before. But in the morning, all the food has vanished!
07
"A Flock of Plovers"
May 29, 2011
April 5, 2014
To overcome her shyness, Shiemi secretly vows to "Make friends!" But her attempts to approach Izumo are foiled by her klutziness. After displaying her Tamer skills in class, she finally asks Izumo, also an aspiring Tamer, to be her friend! But Izumo looks down on Shiemi, using her as an errand girl. Soon after, the Exorcist Cram School holds a boot camp in Rin's dorm.
08
"Now a Certain Man Was Sick…"
June 5, 2011
April 12, 2014
Crushed by her failure to save her best friend, Paku, Izumo turns on Suguro in a burst of rage! Their bickering escalates until the whole cram school is involved, and they're all sent to detention together. Rin and the others are forced to endure long hours of holding low-level demons on their laps. Just then, the lights go out, and the students are attacked by the ghoul that Rin thought he'd repulsed the day before!
09
"Memories"
June 12, 2011
April 19, 2014
Fighting together for the first time, Rin and the others just barely survive a harrowing attack. The next thing they know, Mephisto and the cram school teachers are before them! This unexpected visit really unnerves the students. Meanwhile, sensing something odd in Noihaus's behavior, Yukio decides to confront the teacher.
10
"Black Cat"
June 19, 2011
April 26, 2014
After the excitement of being promoted to ExWire along with his classmates, Rin is soon disgusted with the heavy load of homework they've been given. Just then, Yukio is summoned for an urgent exorcism mission! The familiar of the Knights of the True Cross has gone berserk, and Yukio has been ordered to deal with the crisis.
11
"Demon of the Deep Seas"
June 26, 2011
May 3, 2014
Rin, Shima and Izumo have been sent on a mission at the shore, only to find themselves working at Ocean House… There, they meet a boy named Yohei, and learn of a monster known as the "Demon of the Sea." Yohei has lost his father to this demon, and is planning for revenge. Worried that he'll take on the demon, Rin and the others vow to keep an eye on him. Just then, the sea undergoes a bizarre change!
12
"A Game of Tag"
July 3, 2011
May 10, 2014
This time, the mission is to investigate a ghost that was reported at an amusement park. Rin becomes uneasy being partners with Shiemi, since it's a lot like being on a date. Eventually, they discover the ghost of a child. He taunts them and runs away, turning things into a game of tag! After Rin and Shiemi become separated, Amaimon, King of Earth, appears in front of Rin. He steals the Koma sword, causing Rin to lose control of his demon powers.
13
"Proof"
July 10, 2011
May 17, 2014
Senior Exorcist First Class Shura Kirigakure stops the battle between Rin and Amaimon. She is an undercover Inspector from the Vatican Headquarters, posing as a cram school student to spy on the Knights of the True Cross. Dragged off to the underground base, Rin learns that Shura was once a disciple of Shiro's - and that Shura has targeted him for elimination - "the job that my mentor failed to do!"
14
"A Fun Camping Trip"
July 17, 2011
May 24, 2014
The first semester has ended, signaling the start of summer vacation for True Cross Academy students. But there's no rest in sight for Rin and the other ExWires: first they must take part in a 3-day drill to prepare them for actual combat, under the guise of a camping trip out in the forest.
15
"Act of Kindness"
July 24, 2011
May 31, 2014
Rin and his classmates succeed at the task gave to them by their teachers, but the camp is attacked by Amaimon, who holds Shiemi hostage to force Rin to fight. Having no option but to go full force against Amaimon, Rin is forced to reveal his secret by exposing his true form in front of his friends.
16
"The Wager"
July 31, 2011
June 7, 2014
Consumed by the power of the flames during his battle with Amaimon, Rin goes berserk! He regains control of himself once his power is exhausted...only to be captured then and there by the current Paladin, Angel!
17
"Temptation"
August 7, 2011
June 14, 2014
Easily breaking through all defenses, Amaimon reaches the room where Rin is being held and Mephisto convinces the Grigori to agree with his plan. Using the reforged Demon-Slaying Blade brought by his classmates, Rin defeats Amaimon and the Grigori decides that he has six months to pass the Exorcist authorization exam, thus he begins a special training to learn to control his flames.
18
"Gufu"
August 14, 2011
June 21, 2014
Rin is undergoing training so that he can learn to master his demonic flames. Just then, a giant bird-like demon called Gufu swoops in on him! With Yukio's help, he drives it away, but all of the Cram School members are sent to investigate how the demon infiltrated the academy... Suguro and the others are still investigating when Konekomaru appears, begging for help, with Rin in pursuit. According to Rin, Konekomaru's been possessed by a demon, but no one else can see it. Suguro, mistakenly believing that Rin is attacking Konekomaru, turns on him with hostility!
19
"An Ordinary Day"
August 21, 2011
June 28, 2014
The Exorcism Cram School students are having a ball with Shima's birthday-based fortune-telling. When they discover that Izumo's birthday is coming up, they hit upon the idea of throwing her a surprise party!
20
"Mask"
August 28, 2011
July 5, 2014
Rin and Yukio find that their friends from the monastery where they were raised were attacked by a masked individual who covered their entire bodies with a seemingly indestructible spider web. Leaving behind these cryptic words: "I will never forgive anyone related to Satan."
21
"The Secret Garden"
September 4, 2011
July 12, 2014
The assailant has escaped, but the monastery attack case is winding down. Just then, an elderly man calling himself Ernst appears before Yukio. He reveals the secret of Yukio and Rin's birth, as well as what the Vatican did to their mother. Shocked, Yukio also begins to harbor doubts about the Knights of the True Cross. Meanwhile, the injured assailant has stumbled into Shiemi's garden at the Supply Shop.
22
"Demon Hunting"
September 11, 2011
July 19, 2014
Ernst takes over as the True Cross' newest leader and appoints Yukio as the new Paladin. Armed with special weapons that drain the blood of the demons killed with them, the exorcists take part in a widespread crusade to erase all demons from Assiah. Rin and his friends start questioning why the order decided to take such extreme measures, but Yukio is determined to accomplish his task as Ernst claims that it is all part of their plan to destroy Gehenna, and with the Demon world vanquished, both he and his brother would become completely human again.
23
"Truth"
September 18, 2011
July 26, 2014
Ernst is scheming to invoke the Gehenna Gate by using the blood of Rin, son of Satan. In order to protect his wounded older brother, Yukio offers to take his place.
24
"Satan's Spawn"
September 25, 2011
August 2, 2014
Hordes of demons are spilling out of Gehenna Gate! And these intruders from the "Empty World" are now indiscriminately attacking the people of True Cross Academy Town! Meanwhile, on the roof of the school building, Rin has been rescued by Suguro and Shiemi and is starting to come to.
25
"Stop, Time"
October 2, 2011
August 9, 2014
Satan has transformed himself into a gigantic Gehenna Gate, and is attempting to absorb all of Assiah by expanding a rip in the dimension. Rin and Yukio, joined by Shura and Angel, attack the gate, but it's an uphill battle against Satan's overwhelming power.

Meanwhile, at the school, the exorcists are in a desperate situation, as a myriad of demons attack. Just then, Suguro proposes a strategy for a comeback! But will it work? Rousing themselves into action one last time, Rin and Yukio head toward the gate. To protect their beloved friends, and this world!
Blue Exorcist: Kuro no Iede
#

Episode Title

Japanese Release Date

01
"Kuro no Iede"
November 5, 2011
Feeling slighted by Rin, Kuro goes on the hunt for a new master, but can he find anyone who can truly replace Rin?
Blue Exorcist: The Movie
#

Episode Title

Japanese Release Date

01
"Blue Exorcist: The Movie"
December 28, 2012
When his adoptive father, Shiro Fujimoto is killed by his biological father, Satan, Rin Okumura swears to become an Exorcist to avenge Shiro's death by essentially declaring war on Gehenna. Much later, whilst the preparations for a festival which is celebrated once every 11 years in True Cross Academy Town are being performed, a "Phantom Train" goes berserk—the barriers protecting the town from Demon intrusions are under repair. Rin, Yukio, and Shiemi are sent to exorcise the Phantom Train, but Rin manages to complicate the situation. Amongst the chaos, Rin meets a Demon in the form of a young boy. Meanwhile, Cheng-Long Liu, an Upper First Class Exorcist from the Taiwan Branch, joins Shura in the repair operation; as their paths all cross, fate takes its course.
Toonami Episode Guides
Cartoon Network (1997-2008)
Adult Swim (2012-Present)