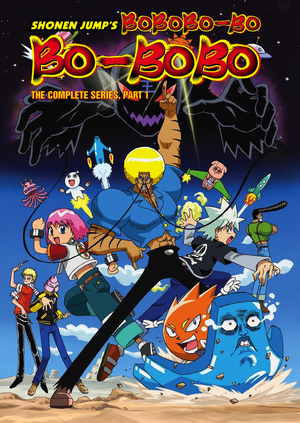 Series Overview
| Color | Season | Episodes | U.S. Season Premiere | U.S. Season Finale |
| --- | --- | --- | --- | --- |
| | 1 | 76 | September 30, 2005 | October 13, 2007 |
Bobobo-bo Bo-bobo (2003-2005)
#

Episode Title

Japanese Airdate

English Airdate

1
"The Bo-nafide Soulful Bo-tector of Hair"
November 8, 2003
September 30, 2005
In the year 300X, the diabolical Czar Baldy-Bald IV proclaims a hair hunt throughout his Chrome Dome Empire, forcing everyone under his rule to be as bald as him. But in the midst of the chaos emerges a rebel with a golden afro and an insane way of doing things. That man is Bobobo-bo Bo-bobo!
2
"Let's Get Wiggy With It"
November 15, 2003
October 8, 2005
BoBoBo-Bo Bo-BoBo faces off against Don Patch, the leader of a rebel group who have mistaken him for a wig-wearer due to his wig-like hairstyle. After Don Patch explains about his past, he is now ready to fight BoBoBo-Bo Bo-BoBo. However, before they can start, Beauty is kidnapped by a leader of the Hair Hunters. Now, they both have to put their differences aside and join together to save her.
3
"Wacky Quacker Cooks His Own Goose"
November 22, 2003
October 15, 2005
Leaving behind Don Patch for the moment, Bo-bobo and Beauty first head to a Wig-Out Festival, where we discover the value of giant burger costumes and why dynamite should never play the stock market. Then, the duo encounter a hair hunter with a weird taste in underwear.
4
"Bababa-ba Ba-baba! The Honorable King Nosehair"
November 29, 2003
October 22, 2005
Don Patch is ready to go out on his own and join with Bo-bobo and Beauty, but first he has to finish "Wiggin' School", but Bo-bobo isn't making his last day any easier. Then, as the trio continue their journey (and drive each other crazy), they face off against a water-logged Hair Hunter that can read minds and are forced to witness the revival (and quick abandonment) of the legendary king of the nosehairs.
5
"To Be or Snot to Be"
December 6, 2003
October 29, 2005
Bo-bobo and Don Patch decide to throw a play in the middle of the woods where the plot becomes more bizarre with each scene. But without notice, they find themselves under siege from a strange green tentacle alien in search for a familiar boy (familiar to Beauty, anyway) and a power that leads to a very unstoppable craving for rice soup!?
6
"Pasta...the Perfect Food!"
December 13, 2003
November 12, 2005
Continuing their journey to another city, Bo-bobo tries to master a new technique from a famed pasta maker and witnesses wooden spoons making...wooden spoons. But when Beauty is attacked with a "hair-loss beam" from a Hair Hunter from C-Block, our heroes must begin a new journey to save the heroine, save the day...and figure out why Don Patch's weapons are all green onions.
7
"Queen Chicken Level and the Video Store of Dumb"
December 20, 2003
November 19, 2005
Crash landing inside C-Block Tower, Bo-bobo and Don Patch begin an upwards battle against the local hair hunters, while learning along the way about dental hygiene, poultry pageants, and the importance of having two video stores on top of each other. But that's before they find out their next mysterious opponent...well, has an interesting taste in head gear.
8
"We All Scream for Ice Cream!"
January 10, 2004
November 26, 2005
Bo-bobo finally faces off against Softon, the fourth-floor guardian who claims he's strawberry soft serve. While he does claim to have Beauty's welfare at heart, Softon also has an unstoppable arsenal of techniques and the abilities of the goddess Blabs-a-Lot! But that's before Bo-bobo unleashed on him the enigma that is "Bo-bobo World".
9
"Gasser Up! I'm Ready to Drive!"
January 17, 2004
December 3, 2005
Finally reaching the top of C-Block Tower, our heroes face off against the windy Geha the Gale (even though Beauty has already been saved). But when Bo-bobo and Don Patch are blown away by the competition, a new challenger finally makes his presence known: Gasser, master of the "Fist of the Backwind" and the boy that has been watching Beauty all this time!
10
"Protect the Environment...Something Stinks in Here!"
January 24, 2004
December 10, 2005
A giant wall monster emerges from out of nowhere in C-Block Tower, with the objective of capturing Gasser and stealing his "Fist of the Backwind". But Bo-bobo sees a bigger problem: Gasser's ultimate technique is powerful enough to destroy life on Earth as we know it!
11
"A Bird in the Hand Can Play Chicken But Still Smell Fowl!"
January 31, 2004
December 17, 2005
With Gasser now a part of his team, Bo-bobo decides to teach him a few things about fighting. The first lesson: how to defeat an opponent without using his own special technique. But when that fails after a battle with a Hair Hunter, his education moves to the "Nosehair Dojo", where beating up fish and fighting old women are on the curriculum.
12
"The Weally Wobbly World of Bo-bobo's Foe: General Jelly Jiggler!"
February 7, 2004
January 7, 2006
Gasser's education continues while Bo-bobo and Don Patch fend chopsticks from a thieving pencil case. But no one could expect what comes next: the mysterious appearance of a new amusement park controlled by the leader of A-Block, Jelly Jiggler. And with a friend of Bo-bobo being held captive and forced to eat spaghetti against his will, its up to the heroes to fight—and have fun while they're at it.
13
"Bo-bobo's Rappin' Roller Coaster Ride"
February 14, 2004
January 14, 2006
With Jelly Jiggler somewhere in the park, the team searches A-Block while getting into all sorts of mischief: Bo-bobo rides a monkey train almost taken over by rabbits, Don Patch reunites with an old boyfriend that's now by-the-numbers, Gasser beats up more fish and Beauty watches a cat eat with utensils. And that's all before a roller coaster rap about...turtles!?
14
"Haunted HollowBo-bobo"
February 21, 2004
January 21, 2006
While searching inside a haunted house, Gasser finds out he's getting married...to Bo-bobo!? And if that's not enough, he is also stuck fighting A-Block vice leader Katsu, who can counter abilities with smiley-face absorption! But with the hair-hunter's accessories collection incomplete and Bo-bobo fending off his own nose-hair fist, things take a turn for the strange.
15
"General Jelly Jiggler: Supreme Hair Enemy or Dastardly Dessert?"
February 28, 2004
January 28, 2006
Gasser's true power (and mental side effect) are finally revealed against Katsu, while the search for Jelly Jiggler comes to a weird climax as Bo-bobo finally faces off against the blue jelly man and his "Fist of the Wobble-Wobble". But when Bo-bobo should be fighting his greatest enemy, all he can do is eat him!
16
"Snot in My Neighborhood!"
March 6, 2004
February 4, 2006
Bo-bobo and Don Patch come together (literally) for a final assault on Jelly Jiggler! But after that...they decide to join the Hair Hunters!? While both are in the competition for the position, Bo-bobo's abilities in front of fans may put him at an advantage over bad seed Don Patch's ability to play a stick of butter. But what the two of them don't know is that there are a couple of enemies keeping a close eye on them.
17
"The Ducktail Versus Afro Showdown"
March 13, 2004
February 11, 2006
Bo-bobo encounters his greatest rival: Captain Battleship, the ducktailed master of his own personal "Fist of the Nosehair" style! But there's more to him than meets the eye: how does Gasser know who he is? Why is he fighting against other Hair Hunters if he himself is a Hair Hunter elite?
18
"Beauty is in the Eye of her Holder"
April 3, 2004
February 18, 2006
Our heroes finally reach Puppu City, Gasser's hometown and the current ruined home of Battleship's Pomade Ring headquarters. But now they face an entire legion of problems, such as the Pomade Ring's army, a fish-loving second-in-command, floating heads, disgruntled businessmen, masked warriors who can't count, and of course...Serviceman. But take heart: if you have big sparkly eyes, you can fly away free from these problems!
19
"The Entangled Nose Hair of Destiny: Who Will Pass the Test?"
April 3, 2004
February 25, 2006
With saving Beauty still on their mind, Bo-bobo and team prepare for one-on-one fights with The Battleship Five Quartet (whose actual number is six). Gasser fights first, having to go through a masked school filled with friends, enemies and sumo wrestlers until encountering an old ally turned rival. Then, Bo-bobo takes on a calendar who's afraid of losing all its pages...but it may not be the enemy he should be worried about!
20
"World of Blabs-a-Lot: The Sappiest Place on Earth"
May 1, 2004
March 4, 2006
Bo-bobo, Don Patch and King Nosehair confuse the heck out of the second member of the Battleship Five Quartet, but after the results of that battle (and following battles by Don Patch and Jelly Jiggler), Softon sends Bo-bobo off to the mysterious World of Blabs-a-Lot to receive special training and get rid of his weakness. But even though he ends up running around with a bunch of chicken-headed tour guides and expelling fruit from yogurt, he ends up facing the mysterious last member of Battleship's masked warriors..and has just the attack to take care of him.
21
"Good-bye Bo-bobo! The Final Showdown?"
May 8, 2004
March 11, 2006
Back from his training trip (and after helping out in a carpentry lesson), Bo-bobo finally has his ultimate showdown with Captain Battleship, upon which the ducktailed warrior's sordid past and the truth of his hatred towards Bo-bobo is finally revealed! With bones flying, robots destroying and ultimate attacks from nosehairs, armadas, and orange boxes showing up left and right, the two Fist of the Nosehair masters fight until one is finally standing at the end.
22
"Hatenko the Hunk Has the Key to Your Heart"
May 15, 2004
March 18, 2006
Hatenko, a mysterious former ally of Bo-bobo from the Hair Kingdom, finally catches up with him to criticize his current status and stop anyone in his way. But that's before everyone learns of his obsessive devotion to his great "sun", Don Patch! And to make matters worse, along comes Kitty-Poo, the second of the Baldy-Bald Big Four to finish what Battleship started.
23
"Weddings, Wiggins and Water Torture"
May 29, 2004
March 25, 2006
Hatenko leads the group towards the Evil House of Blood, as if they were invited to a reception for Czar Baldy Bald's wedding. But instead, they're forced to go through several obstacles such as a returning Hair Hunt villain, allies turned into mind slaves, exploding cell phone assassins, brainwashed Bo-bobo soup, and the importance of wearing a fashionable raincoat.
24
"The Terrifying Z-Block Is Here!"
June 5, 2004
April 8, 2006
Bo-bobo and team finally arrives at Z-Block Base, from where the cute leader Dengaku Man has been taunting them for a while now. But to get to it, they must first get through a beachfront entrance with a powerful robot team who's just as good with beach volleyball as they are with asking for forgiveness! And once they make it inside the main headquarters, then they must go through a game show where the questions and contests get weirder by the second!
25
"The New Bo-bobo with the Old Bo-bobody"
June 12, 2004
April 15, 2006
As their Z-Block trials continue, Bo-bobo and Don Patch decide to go into broadcasting...even if it means going inside a giant TV and facing off against a villain who can shine a light on them! But in the midst of all this, the horrific secret of Z-Block is revealed, Gasser and Beauty get stuck within a crowd of chefs and Bo-bobo dies after revealing himself to be a vampire! But that's before a strange black-haired Bo-bobo arrives with the power of fishcake and the ability to turn into a dragon...not to mention unleash yet another Z-Block warrior!
26
"Dengaku Man, Pixie or Pit Bull--He'll Love You or Hate You!"
June 19, 2004
April 29, 2006
The little Z-Block leader Dengaku Man finally emerges to take on Bo-bobo and Don Patch, showing off just as much wiggin abilities as our heroes! But amidst the honey butter, flag waving, and aeronautical potstickers, the enemy may just be a lonely little puppy who just wants someone to be his friend.
27
"Luck Let a Wiggin See...How Nice a Hanky Can Be!"
July 10, 2004
May 6, 2006
With Bo-bobo defeating him at every turn, Czar Baldy-Bald authorizes the re-opening of Wiggin Block, where some of the most powerful (and insane) warriors reside. Now in order to take it down, Bo-bobo and the team must go through a base onslaught of ice-cream loving assassins, dolphin shows, strange space travelers, tea ceremonies and transforming birds...not to mention the return of a certain jiggly ally and a brand "nu" lucky hanky!
28
"Mortal Match! Fist of Nose Hair vs. Fist of Rice!"
July 17, 2004
May 13, 2006
Continuing through Wiggin Block, Bo-bobo and our ragtag group are forced into a cat-and-mouse chase against an honorable mouse samurai who has issues with toilet seats. Then, they encounter Rice, a so-called "King of Wiggin Specialists" with a grudge against Don Patch and a bowl of full-grain attacks! Now with Beauty captured and facing a bizarre fate, Bo-bobo, Don Patch and Jelly Jiggler are forced to face down the "Fist of Rice" master.
29
"Instant Rice - Ready in Half an Hour?"
July 24, 2004
May 20, 2006
You are cordially invited to a thirty-minute dinnertime Wiggin spectacular, as we witness Rice unleashing his full power as the King of Wiggin Specialists, complete with back rubs, ballerina tutus, poison apples, a king outfit and carbo-loaded fury! Co-starring Bo-bobo, Don Patch, Jelly Jiggler, and Beauty as...a panda!?
30
"Revenge is a Dish Best Served Cold with Shiitake Mushroom Sauce"
August 7, 2004
May 27, 2006
Just when the fight for King of Wiggin Specialist was finished, a big-mouth ninja assassin arrives to challenge Bo-bobo to take on his master, the horrific OVER of the Baldy-Bald Big Four! After Bo-bobo and the others can get past his bone-headed ninja tricks, he sends them to a flying duck-loving warrior. And beyond that is a force of The Ultimate Five Assassins to get past along the way, the first of which is...a playful little girl!?
31
"The Ultimate Five Assassins vs. Bo-bobo All-Stars!"
September 4, 2004
June 3, 2006
Continuing through OVER's Castle, our heroes next face the only soccer-themed villain who has no connection to soccer whatsoever! That doesn't stop Gasser from causing a complete stink over his fight. Then, they face off against an incompetent trap master who almost succeeds in victory! (prior to the return of a cute little Wiggin) But all this leads up to a showdown against the last three assassins...on top of a giant toilet where those trapped inside get a very swell fate!
32
"Enter BoboPatchiggler! Is That How It's Spelled?"
September 4, 2004
June 10, 2006
Facing off against a team of ancient cultures that know how to work together, Bo-bobo shows how little he, Don Patch and Jelly Jiggler really work together outside beating each other up! But with time running out and facing the elite teamwork of the ninja assassins, the trio come together to form the triple fusion Bobopatchiggler, which unleashes the power that is Majide Time.
Special
"Thanks for Waiting! Remodelled Grand Opening!! It's Finally Come, the Patchmi Era ♥"
October 23, 2004
Unaired
In a special recap episode, the cast members of the series (as well as a female fan that looks just like our main protagonist) come together to figure out who the new main character of the series is going to be. But Don Patch keeps seeing strange visions on his crystal ball of an enemy they're about to take on once this discussion is....OVER! Luckily, after everything is straightened out, BoboPatchiggler reverts everything back to the cliffhanger of the previous episode.
33
"It Ain't OVER 'Til the Fat Lady Sings"
October 30, 2004
June 17, 2006
Finally at the top of the castle, our heroes face the tyrannical OVER, who challenges Bo-bobo, Don Patch and Jelly Jiggler to an all out cannon-flying showdown where the losers get chowed by metallic bear traps. But while being thrown through the sky, knawed by metal teeth and being trashed by giant scissors, the trio just can't stop making the bad guy angry at their shenanigans!
34
"Torpedo Girl: Man or Myth? Or Mythes?"
November 6, 2004
June 24, 2006
Unexpectedly, OVER's true form is revealed to be Torpedo Girl, a legendary "Joke Killer" who smashes into anyone who cracks an extremely lame excuse for humor! And with Bo-bobo, Don Patch and Jelly Jiggler getting bashed around every other line, the trio come together for an all out attack to put a stop to this ultimate enemy!
35
"King Nose Hair Presents: The Follicle Follies of the Future"
November 13, 2004
July 1, 2006
Torpedo Girl takes a quick trip to Bo-bobo World, but not even the insanity there is able to stop her stubborn joke-hating ways. But then, Bo-bobo unleashes his most powerful attack: the judgement of the nine planets of the Solar System, unleashing the greatest powers of the universe! But while this may be enough to stop a torpedo, it takes a little more nosehair thrust to finally put a stop to OVER! But while all seems happy, Captain Battleship's assistant Suzu is about to lead them on a new path.
36
"Next Stop...Holy Guacamole Land!"
November 20, 2004
July 8, 2006
Bo-bobo and company take a train to Holy Guacamole Land, the theme park base of the greedy Halekulani. Though with six tickets and seven potential passengers, Jelly discovers traveling al fresco. However, an official assassin attacks him and Bo-bobo on the boxcars, leading to an all night spear-swinging, jelly slicing, Don Patch angering battle!
37
"Holy Guacamole Land Isn't Just For Breakfast Anymore"
November 27, 2004
July 22, 2006
While Bo-bobo and the others have safely arrived in Holy Guacamole Land, they soon realize the danger of a park where attractions can blow up on you! At least everyone can find refuge in the "Kids Area", where they can relive their childhood...and Bo-bobo, Don Patch and Jelly can create their own rock band. No one told them about the adult villain in the park that can make them relive their worst nightmares, but the kid fighters can still have fun, kick butt, and even fuse into...a badly drawn warrior!
38
"Money Castle! Cash Only Please. Credit Cards Not Accepted"
December 4, 2004
July 29, 2006
Though Bo-bobo and the others should be making their way to Money Castle and Halekulani, they end up splitting up in the middle of the park. But A Few Dangerous Thugs lurk around the attractions...while Bo-bobo and Jelly face off against a long-nailed freak, Don Patch fights in a show where he's the hero and a villainous cyborg can't predict any of his insane moves!
39
"The Terrible Triplets Versus the Wiggin' Trio!"
December 11, 2004
August 5, 2006
Bo-bobo's team takes on the Terrible Triplets (who despite their claims, look nothing alike) for the sake of Beauty and Suzu, who are stuck under the stench of fatal gum! From unleashing goddesses upon them, to slapping them around with seaweed, to unleashing powerful whirlwinds, the Bo-bobo team appears to show just as much teamwork as their laser firing, gum-chewing, cuteness revealing competition!
40
"The Fall of Halekulani! And the Winter of Discontent!"
January 8, 2005
August 12, 2006
Now that the brother Haou has become more powerful, Bo-bobo unleashes a special attack to bring him and his brothers down: a madcap roulette where any of them (or his allies) can be smashed, struck by ninjas, or...turned into shōjo characters! And when they're finally out of the way, there's still the matter of Halekulani, who shows off an impenetrable money field that can transform anyone struck into currency!
41
"The Magical Battle Against Halekulani!"
January 15, 2005
August 19, 2006
Halekulani finally faces off against Bo-bobo's team, and reveals the power of his rich "Fist of Gorgeousness", where bills can become phoenixes, knights can come out of coins, and teammates can become coins! But as Bo-bobo, Don Patch and Jelly break through his attacks (and embrace the finer things in life), the powerful villain takes them to a board game where his asset growth leads to a jewel-encrusted torture!
42
"Bo-bobo Braves the Board Game that's Berry, Berry Bothersome"
January 22, 2005
August 26, 2006
Bo-bobo decides to take over Halekulani's board game, creating an extremely crazy game where aliens exist in haunted houses, fish are used for massaging and he controls all movement! But while the enemy seems down for the count, Halekulani reveals the true power of money, unleashing his ultimate power and an arsenal of trillions! But as Bo-bobo continues his onslaught, he may know the key of something more powerful than money.
43
"Ha-le Oo-pu Ah-ah!"
January 29, 2005
September 2, 2006
Bo-bobo reveals the secret behind what's more important than money: boring everyday life, as revealed through a bizarre seven-day schedule where he eats crab, conquers Japan, blows up planets and runs around with ghosts...oh and stops Halekulani once and for all! But with one enemy down, no one foresaw Gasser getting abducted by the forces of Cyber City, where the powerful Giga awaits his new prize.
44
"The Seriously Circular Skirmish in Cyber City"
February 6, 2005
September 9, 2006
With a little assistance from Torpedo Girl, Bo-bobo's team makes their way to Cyber City, where they immediately find themselves on the broadcast of an insane, wheel-headed assassin who slices, dices, and makes them very, very dizzy! But with Gasser missing and Jelly turned into a sausage, Bo-bobo will go through anything to take him down, particularly if it involves pirouettes, driving, or horrible piano lessons!
45
"Begin the Bungie Battle! Last One Down is a Rotten Egg!"
February 13, 2005
September 16, 2006
Preparing to encounter the remainder of the Cyber Knights, Bo-bobo's team is seized by a warrior who fights in a rebounding bungee fight with the two most pathetic sidekicks ever: a karate-using rabbit with bad spelling and a bagface depressed man who loves cookies! But when our heroes realize all their efforts just lead to a bottomless pit, Bo-bobo covers it with a "Mystery Box" and no one knows what they'll fall into.
46
"Libraries and Driving Tests!"
February 20, 2005
September 23, 2006
Bo-bobo watches in anger as Gasser is turned into Giga's latest masterpiece, but ends up thrown for a loop when Torpedo Girl splits the team up towards two separate Cyber Knights. But when she, Don Patch and Jelly take on a writer who controls language, it takes a bit of protective torpedo power to make him eat his words! Meanwhile, Bo-bobo and Softon take a crash course in driver's ed with a car-headed teacher and Dengaku Man behind the wheel!
47
"A Battle of Skills and Wills with One Green Onion. Or Is It Garlic?"
February 27, 2005
September 30, 2006
An attempt by one enemy to wipe everyone's memories falls flat when he realizes Don Patch has no mind, and makes him feel the same empty-headed power, while Bo-bobo finishes up his fight while showing off further rage at Giga. But the team (minus Dengaku Man) is reunited by J, a mysterious onion/garlic headed warrior who controls Cyber City with the mysterious power of the Black Sun!
48
"Silly Singing Saves the Show from a Sinister Scoundrel"
March 6, 2005
October 7, 2006
While J continues to throw out action poses, Softon tips Bo-bobo on how to defeat him (even after supposedly being dead and buried). But a fusion attempt to put an end to him is thrown for a loop, as Bo-bobo and Dengaku Man become the beautiful (female) singing idol Denbo!
49
"The Battle of Brains Begins!"
March 13, 2005
November 4, 2006
With the fall of all of his minions, Giga finally invites Bo-bobo's team to take him on in a battle where art appreciation involves getting smashed around by his works. But after wheeling around his defenses (and seeing them consistently hitting on his female minions), he ups the ante in a brain battle, proving his genius and predicting all of the Wiggin warriors moves!
50
"Giga Goes Gaga! Alarming Attacks with Impressive Art"
March 20, 2005
November 25, 2006
After experiencing more of the art of Giga firsthand, the Cyber City leader unleashes the full brunt of his Obujé de Art, throwing Bo-bobo against a wall of sound, then forcing them up a flight of deadly steps with masterpieces being thrown after them at every turn!
51
"The Art of Art and the Fist of All Fists!"
March 27, 2005
February 17, 2007
In his super form, Giga resists all of Bo-bobo's attacks by literally becoming the art that he has fused with. But Bo-bobo's squad finds their way around it by showing him the power of the art of the everyday! Yet with Giga preparing for his greatest accomplishment of destroying Gasser, Bo-bobo is forced to release the seal of his Nosehair Soul, gathering the power of dragons and using Don Patch and Jelly to help in revealing the manliness and burning desire to finally bring down Giga!
52
"Gasser's Back! A Whole New Season, Same Old Stench!"
April 9, 2005
February 24, 2007
As Gasser and Softon return to the team and Torpedo Girl goes her own way, Bo-bobo's team returns on their journey. But when the team ends up crashing into a platoon of Hair Hunters from one-hundred years ago, they end up in a massive bridge-top melee filled with crazy teamwork attacks, changing weather conditions and a battleground that can easily be opened!
53
"Dancin' and Trainin' for Quickly Obtainin' the Enemy's Painin'"
April 16, 2005
March 10, 2007
After throwing aside the remaining Hair Hunters (and giving them a nice jelly gift pack), Bo-bobo's team heads to a legendary training ground (a shopping mall) to prepare for the threat of more old Hair Hunters. But they soon meet their match in a flower-throwing general who's as ruthless as he is dead set at taking out the powered-up warriors!
54
"The War of the Roses...or Lilacs...or Daffodils"
April 23, 2005
March 24, 2007
Bo-bobo desperately fights against the floral Wild Wister, but none of his tricks appear to work on the plant master. But when he remembers his recent training, the true Super power of his new jacket is released, bringing out the heavy artilary, defending against the flower menace and planting the seeds of annoyance before planting Wister where he can never return...yet the true threat of the former empire prepares for its awakening!
55
"The Gang's All Here! And Boy, Are They Weird!"
April 30, 2005
April 14, 2007
With Hatenko returning to lead the way, Bo-bobo's team pummels through an army of Hair Hunters to find the base of the Former block leaders: an amusement park planted right on the ruins of Jelly Jiggler's old base! Furthermore, their first challenge at this park is a living bowl of ice cream who forces them to fight his team while running away from a robot on an ever-changing path.
56
"The Ultimate SF Battle! Supreme Fisticuffs or Certain Free-for-All!"
May 7, 2005
April 21, 2007
Changing to a more team-intensive strategy, Not Nice Cream's group fight with the power of SF by their side, but a renewed effort on teamwork lets Bo-bobo's team regain control. One act of selfishness by the former Block Leader inspired Bo-bobo and Jelly to unleash their enemies on a chaotic world tour where nothing is fair, not even their defeat!
57
"The Water Slide That's Bona Fide to Leave You Terrified!"
May 14, 2005
May 5, 2007
At the next park attraction, Bo-bobo suddenly finds himself trying to save Beauty and Don Patch from a tough (but incompetent) soldier in a water slide where he keeps throwing out traps while being comforted by his female assistants. But the leader's attempt at summoning the ultimate weapon to finish off his opponent ends up forcing him to face a very angry Torpedo Girl whom Bo-bobo uses to his advantage to turn against her summoner, even if she's a torpedo who can't swim.
58
"Face the Cold Hard Facts! It's Freezing in Here!"
May 21, 2005
May 12, 2007
Chilling along to the ice skating rink, the Wiggin Trio face off in a massive mech showdown where their choice in battle gear is extremely unconventional, robotic nosehairs rule, and where Jelly is nearly killed by his own vehicle. But when the wind-sickle carrying Master Jeda ups the ante by blowing away the allies and forcing the wobbly warrior into refrigeration, Bo-bobo and Don Patch are forced to fuse once again but after Don Patch is through with Bo-bobo's insides, the result isn't what they expected!
59
"Enemy Crusin' for a Brusin? Then Just Try Fusion"
May 28, 2005
May 19, 2007
In their new fusion form, Patchbobo shows off a few bizarre combinations of his own, beating down Jeda and his minions with a stinky yo-yo, a sugarcane sword and even the frozen Jelly Jiggler himself before lashing a special cameo to defeat the enemies. Meanwhile, Torpedo Girl's troubles at the merry go round draw her, Softon and Hatenko to the attention of a tough former leader (and his two incompetent underlings).
60
"Blowing Your Savings on Bubbles, Is It Worth It?"
June 4, 2005
May 26, 2007
Bo-bobo's squad are dragged into a giant coin machine arena by the bubble-blowing Bubbleuba, who forces them into a six-on-six battle. But with Beauty sent away, Jelly being tormented by a weird beast and Dengaku Man defeated by bubble minions, Bo-bobo is forced to summon two more allies to assist him inside the new battleground before even more enemies emerge. Luckily for them, Rice answers the call and assists in an all out triple Wiggin takedown of the bubble blower, yet their troubles have only begun.
61
"United We Stand, Divided We Also Stand, Just Further Apart!"
June 11, 2005
June 9, 2007
Still within the coin machine, Bo-bobo is forced to listen to Beauty facing the complaints of the narcoleptic Rem while Serviceman's attempts to show himself off are ignored by her closed eyes. Desperate, he throws down Don Patch to save her only to have him face a samurai whose monsters are cuter and more ignorant of his orders than he realized!
62
"Good Night! Sleep Tight! And Don't Let the Bedbugs Bug Ya!"
June 18, 2005
June 16, 2007
Using the power of her Fist style, Rem puts all of her captives to sleep, where they are forced into a dream world where she's the most powerful and where anyone gets penalized for slumbering. Yet with the combination of Bo-bobo and Jelly's Wiggin attacks, the duo last long enough for the power of Bo-bobo's anger (and a well-placed alarm clock) to wake them out of their slumber! Now awake and with Don Patch back, a lively turnaround begins.
63
"Our Dream Team Turns Bad Dreams to Bad Guys' Screams!"
June 25, 2005
June 23, 2007
Hoping to open up Rem's heart, Bo-bobo releases his own nightmarish Bo-bobo World, filled with so many dramatic and touching scenes that it finally frees the darkness within for him to smash up. But before things become over-emotional, Lambada crashes the party and releases the power of his polygon aura to change the shape of his opponents! Luckily Softon (by way of inheriting J's Black Sun abilities) helps against the warrior of shapes, as he finds himself temporarily stopped by the judgement of Blabs-a-lot!
64
"Geometry 101: Painful, Perplexing and Pungent Polygons"
July 2, 2005
June 30, 2007
Still at the mercy of Lambada's polygons, the Wiggin Trio find themselves time changed again by the power of their enemy's aura, even if some changes looked less menacing than others. After temporarily taking him down with a paper-mache machine, Bo-bobo releases his ultimate defense against Lambada: an old style video game world where polygons become pixelated, putting him at the mercy of retro-style action, puzzles, racing and dating sims!
65
"The Unreal Meal That's a Major Ordeal For Real"
July 9, 2005
July 14, 2007
Bo-bobo's team finally confront their final obstacle before the Third's reawakening: General Lee Fishcake, the powerful former A-Block leader who throws our heroes into their soupiest battleground yet! Forced to fight on top of fishcakes and bouillabaisse, Bo-bobo, Don Patch and Hatenko must fight against the fishcake, a priest, and a sneezing churro while splashing around, feeding their opponent eggs, getting smashed by giant squares, listening to the whining of Jelly Jiggler's food fight challenge, and uncovering the mystery of "fishamel".
66
"The Fishcake Frenzy: Freezed Dried, French Fried, Freaked Out Fracas"
July 16, 2005
July 21, 2007
As the bouillabaisse showdown continues, Bo-bobo's team continue to try to knock some damage into General Lee Fishcake, attempting to break through his fishcake shields, lock him with self-made keys, and turn him into a (literal) shooting star. But as the fishcake-head finally powers up to his limit, Jelly finally turns it into a personal battle, which falls apart instantly. But his sacrifice and Bo-bobo's concern brings them together to a new fusion: the violently-peaceful Mr. Bojiggler.
67
"The Pacifist That Packs a Punch Like a Pugilist"
July 30, 2005
July 28, 2007
With the power of peace by his side, Mr. Bojiggler despairs through his great power to finally stop General Lee Fishcake! But as one battle ends, the horrible realization of the revival of former leader Czar Baldy-Bald the Third finally comes into fruition.
68
"The Battle of Baldy Bald: Buckle Up and Brace Yourself"
August 6, 2005
August 4, 2007
Using the power of a magical-fueled Fist, Baldy-Bald the Third takes his awakened power out on everyone, particularly the survivor of the Hair Kingdom in possession of the powerful, yet elusive Hair Ball. But after surviving a rank-driven dart attack and watching allies disappear, things get even worse for everyone when Torpedo Girl suddenly turns back into OVER!
69
"Yummy, Yummy, Yummy! Bo-bobo's in My Tummy!"
August 20, 2005
August 11, 2007
With the power of a massive handkerchief, Baldy-Bald the Third teleports Bo-bobo's team to a special universe where he starts removing the brains of the allies with his alternate "Fist of Blue Magic", but even a brainless Bo-bobo is able to release an army from his own afro and get everyone out of there. But the desperate Baldy-Bald decides to go after the Hair Ball the easy way: by eating Bo-bobo. But while more powerful, the former leader has to now put up with a bizarre appearance and the worst case of indigestion of his life!
70
"Baldy Bald Bottoms Out! Best of Luck, Be Well and Bye-Bye!"
August 27, 2005
August 25, 2007
Attempting to pacify Baldy-Bald the Third's hatred of humans, Bo-bobo forces him to live through an abridged human life cycle, from kung-fu babies to space school and blowing up the office, all leading up to stopping the former emperor with the power of humanity. But as their team flies off elsewhere, an attack by a strange parachute-manipulating Hair Hunter leads to them learning of the Chrome Dome Playoff, where many old rivals (as well as mysterious new ones) prepare to fight to become the new emperor!
71
"Funneled into a Tunnel and Bamboozled By Noodles"
September 17, 2005
September 1, 2007
Arriving at the entrance to the Bald Bowl, Bo-bobo and his allies get separated into different entrance trials. For Beauty, this means trying to stand on her own two feet against a chain-wielding guard while Don Patch and Not Nice Cream ignore her or try to prove themselves as the main heroine! On the other hand, Bo-bobo and Gasser team with the Three Civilizations against a ramen-creating temptress forcing them to create the most delicious meal.
72
"Si Señor, It's No Bore! It's Hair Hunters Galore!"
September 24, 2005
September 15, 2007
With Bo-bobo's team reunited and facing Baldy-Bald the Fourth (and an army of Hair Hunters), Bo-bobo chooses to enter the New Czar Playoff the easy way: by defeating the duct-tape-using leader of the Chrome Dome assassin corp and taking his medal! But although he and the other Wiggins are nearly stopped and almost get stuck as metamorphing goo, Bo-bobo finally finds the means to stop the stopper and join the tourney: a non-stop TV channel with his own bizarre programming and horrible ratings!
73
"Take a Stance Against the Dance, Mr. Smarty Pants!"
October 1, 2005
September 22, 2007
Now officially in the tournament, Bo-bobo's team heads inside the first battleground on a mountain of arenas: a bottle stage where their opponent is an extremely powerful warrior who uses the abilities of skulls to fight and transform into "a powerful old lady". But with Bo-bobo, Don Patch and Jelly smashing his skull abilities with the power of Mother Nature, he is forced to turn into his true form: a samba-loving goofball who attempts to force the Wiggins to follow the power of the beat until they beat the beat out of him!
74
"The Bigger the Gasser --- The Smellier the Gas!"
October 8, 2005
September 29, 2007
Without warning, a sword-manipulating member of the Shadow Big Four destroys Bo-bobo's next battle arena and decides to make his own by turning Gasser into a giant! Yet even with the strange manipulation of Gasser's body and turning him into his unpredictable baby mode, a sacrifice by unexpected ally General Lee Fishcake forces Don Patch to take this battle "seriously" by transforming into Professional Patch, a seriously powerful upgrade that makes easy work out of his enemy!
75
"Finally! The Final Fight of Finality! Except the Final One!"
October 22, 2005
October 6, 2007
Suddenly with enough medals to enter Chrome Dome Castle, team Bo-bobo rushes ahead to finish the empire. But unexpectedly, three more of the Shadow Big Four pop up, with Bo-bobo forced to take on three super-powerful bags who can destroy the world, Don Patch letting the other two go in to destroy the rest of the competition, and Lee Fishcake dressing up as Rem. But just when Bo-bobo seems too weak to take on the force of the Shadow Chrome Dome, his "super" power force them to prepare for their final stand!
76
"Finally! The Final Fight of Finality! This Time We Mean It!"
October 29, 2005
October 13, 2007
As Triple Bag upgrades his Shadow power, Bo-bobo and Dengaku Man fuse into an upgraded Denbo, and force the enemy through a picture activity book before punishing him. But even with his defeat, the summon clock is still completed allowing for Hydrate and his floating castle to emerge and take over the empire! Now with the Shadow Chrome Dome forces in control, Bo-bobo and his allies ally with friend and enemy alike as they race upwards towards their enemy and their ultimate destiny only to realize that this is the last episode!
Toonami Episode Guides
Cartoon Network (1997-2008)
Adult Swim (2012-Present)