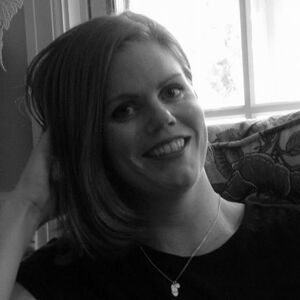 Chris Hartley is a producer that worked on Toonami from 2012-2021.
Career
Hartley was born in Tacoma, WA and grew up in Decatur, GA before attending The University Georgia's Terry College of Business from 1993 to 1996, where she earned her BBA in management.
In 2007 she was hired as a freelance producer by Cartoon Network and became a full time producer in May 2008, managing show launches including Star Wars: The Clone Wars, as well as program production.[1] She was promoted to Sr. Producer and Production Manager of Williams Street in July 2010. She was promoted again in May 2012 to Director of Production at Williams Street for the Adult Swim Sponsorship Group and Cartoon Network Creative Group. It was at this time she became a member of the Toonami staff as she helped oversee and facilitate the Toonami April Fools Joke on Adult Swim and continued to work on the block thereafter.
She became Director of Production for Adult Swim On-Air and the Sponsorship Group in May 2013 and remained in that roll until August 2016, when she was promoted to Vice President of On-Air Production at Adult Swim. As vice president, on-air production, Hartley was responsible for show launches, overseeing the on-air operating budget, planning, and supervising the production staff. She also managed the production of over 100 custom sponsorship promotions created each year, the Toonami programming block and weekly Toonami: Pre-Flight streaming show.[1] Hartley left Adult Swim/Warner Media in December 2021.
References