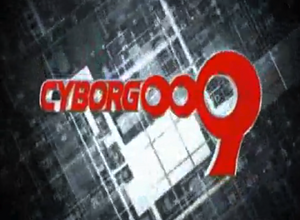 Series Overview
| Color | Season | Episodes | U.S. Season Premiere | U.S. Season Finale |
| --- | --- | --- | --- | --- |
| | 1 | 49 | June 30, 2003 | November 6, 2004 |
| | Special | 03 | Unaired | Unaired |
Season 1 (2001-2002)
#

Episode Title

Japanese Airdate

English Airdate

1
"The Birth"
October 14, 2001
June 30, 2003[1]
A teenager named Joe Shimamura awakens in a strange room to discover that he is dressed in a red suit and yellow scarf, and is being called "009". Soon, a strange voice telepathically guides a confused and scared Joe to safety. However, someone breaks in and starts to shoot at him. Joe is amazed with his ability to beat enemies so easily. The voice guides his escape so he can join a cyborg rebellion group consisting of eight other cyborgs led by Dr. Issac Gilmore, a former Black Ghost scientist.
2
"The Escape"
October 21, 2001
July 1, 2003[1]
Joe begins to recover his memory but it's still very vague. Why he was at "Black Ghost" and why he has such power is still a mystery. Meanwhile, the nine Cyborgs including Joe escape from the base of "Black Ghost".
3
"Assassin of Flash"
October 28, 2001
July 2, 2003[1]
With nowhere to go, the Cyborgs decide to stay at the home of Dr. Koizumi, who is a friend of Dr. Gilmore. They feel relaxed, believing that it's safe there. However, a new enemy breaks in on them with a flash of lightning, literary. It's an assassin from Black Ghost, and he is also a 00 number Cyborg just like the team. The only difference is, 0010 is pure evil…
4
"At the End of the Battle"
November 4, 2001
July 3, 2003[1]
As the rain pours down outside, the Cyborgs get a chance to rest. Then the rain clears and 0010 comes back. 001 is sleeping and Joe is exhausted from overusing his accelerating system during the last battle. The seven remaining Cyborgs fight against 0010. They succeed in bringing him into the sea, where it would be safer for them. But then another enemy appears. It is yet another 0010!
5
"Tears of Steel"
November 11, 2001
July 4, 2003[1]
A new assassin, 0011, appears. He is a Cyborg but looks like a robot with the form of a giant spider.
6
"Search for the Professor"
November 18, 2001
July 7, 2003[2]
Dr. Koizumi, both a close friend of Dr. Gilmore and a weapons specialist, is kidnapped. Now it is up to the cyborgs to track him down and bring him back! 009, 007 and 004 go to a strange mansion in search of him, but what they find is another mechanized assassin sent by Black Ghost!
7
"Defeat the Invisible Opponent"
November 25, 2001
July 8, 2003[2]
The search for Dr. Koizumi leads the Cyborgs to Tokyo, Japan, the hometown of Joe. Joe goes off on his own after feeling nostalgia, and stumbles upon a mysterious man who seems lonely. Who is the man? Is he friend or foe? And, will the cyborgs ever find Koizumi?
8
"Friend"
December 2, 2001
July 9, 2003[2]
009 continue to battle his once-friend, 0013. 009 tries to tell 0013 that they are friends, but it's no use! With 0013's immense power and strength, and with Black Ghost controlling him from the shadows, does 009 stand a chance?
9
"Satan of the Deep Sea"
December 9, 2001
July 10, 2003[2]
The race is on! The Cyborgs hurry to beat Black Ghost to the submarine that may hold a lot of answers and the Black Ghost weapon experiment called "Dragone Trigone". Will the cyborgs be able to make it in time?
10
"Operation Auroras"
December 16, 2001
July 11, 2003[2]
The Cyborg team highjack a Black Ghost airplane over the South Pole and it turns out that the pilots are holding a young woman hostage. Her name is Cynthia and her father is a scientist. He has left her alone for several years to complete an evil weapon that the Black Ghost has tricked him into constructing.
11
"Christmas Eve Mirage"
December 23, 2001
July 14, 2003[3]
It's Christmas time and the Dolphin is just outside of Paris where the Cyborgs are celebrating under the deck. But 003 has decided to visit her home city alone. She visits places that bring back old memories. She is followed and stuck with a needle that makes her enter a dream world where she's forced to confront her very own wishes and nightmares.
12
"Mystical Island"
January 6, 2002
July 15, 2003[3]
005, 006 and 007 are tracking an electronic signal when they suddenly have problems with their aircraft and have a crash landing on an unmanned island. In their hunt for food they find a deserted BG base, which is guarded by a friendly robot that was left alone.
13
"London Fogs"
January 13, 2002
July 16, 2003[3]
While the heroes are visiting London, strong memories are hitting 007 who hasn't been in his hometown for 17 years. Soaked in sad memories he walks past a little theater where they practice a play in which Great Britain once performed with his girlfriend a long time ago. He visits the theater and it turns out that the young lead actress in the play is his old girlfriend's daughter, Louise.
14
"The Land of Reunions"
January 20, 2002
July 17, 2003[3]
In the Republic of Muanba there is an evil dictator controlling the people. A little rebel group gets a strange offer by a man whom ends up saving them from the dictator's tanks with an incredible war machine. The weapon is theirs if they fight against the president. 008, 009 and 002 set off for Pyunma's homeland to investigate this machine.
15
"Goodbye, My Friend"
January 27, 2002
July 18, 2003[3]
Continued from the last episode, the fleeing party is attacked by numerous enemies in which the heroes must fight back. The mystic man appears and he is so powerful that the heroes must flee again. 008 thinks he knows the person behind the mask, can it be his long lost friend who disappeared when they fled from the prison?
16
"Breaking In"
February 3, 2002
July 21, 2003[4]
Black Ghost orders one of their generals to capture the heroes dead or alive. A huge battle is fought and the Cyborgs stand as losers because their enemies sent out an electronic wave making them feel extreme pain. Captured in the Dolphin, they are transported to the Black Ghost general's huge battleship.
17
"The Final Battle"
February 10, 2002
July 22, 2003[4]
The final showdown commences between the cyborgs and Black Ghost... but is it really the end of all the fighting?
18
"The Story of a Struggling Restaurant"
February 17, 2002
July 23, 2003[4]
This episode follows each of the heroes separately helping others. The main act is concentrated toward 006 and some friends as they attempt to please the inspector, who is going to visit his restaurant. All the other heroes are somewhere in this episode using their skills to make food, skills which they in some way have learned from Chang. Everyone except 002, who never listened to him thinking that making food was ridiculous.
19
"The Hero"
March 10, 2002
July 24, 2003[4]
Cyborg 002 visits his old hometown of New York City and thinks back on the good ol' days. He meets a little boy whom he tells stories of the Cyborgs and they become very good friends. However, Jet's lessons in boxing aren't very impressive to Jimmy's mother.
20
"A Phantom Dog"
March 3, 2002
Unaired[5]
When a series of mysterious and deadly fires ignite throughout central Tokyo, suspicions arise that 009's new pet dog Kubikuro may be to blame.
21
"The Fossils of Evil"
February 24, 2002
July 28, 2003[6]
Dr Gilmore receives a letter from his very good friend Dr Ross, who writes that since the death of the BG, he has been set free and is now interested in nature and animals. He has discovered a valley where he says that he has found living dinosaurs. He asks for 009 and the others to come visit him and help him to catch the beasts. The team takes off to visit the Doctor, but has he really been freed from the BG?
22
"Attack of the Gods"
March 17, 2002
July 29, 2003[6]
Very strange and deadly phenomena are showing up all over the globe. It's total chaos and people are starting to ask the question, is God responsible for all of it? The heroes collect the names from every place where a phenomenon has occurred on the map and begin to assemble them. It turns out that the locations form the word "God".
23
"Mythology Arises"
March 24, 2002
July 30, 2003[6]
The team heads to the island and enters a huge battle against the Gods. It is revealed that the Gods are also cyborgs and they begin to fight between themselves while also fighting the cyborgs. they split into two sides: Apollo, Hera, Achilles, Miniatauros, and a strange man on one side and Artemis, Pan and Atlas on the other.
24
"Artemis"
March 31, 2002
July 31, 2003[6]
As the war between the cyborgs and the gods continues, 007's reconnaissance mission reveals the truth about their belligerent enemies, while Artemis risks the wrath of Apollo to save 009's life.
25
"Mythos, the Final Chapter"
April 7, 2002
August 1, 2003[6]
The battle between the gods and cyborgs come to a violent end when Apollo turns on Dr. Gaya and makes the ultimate sacrifice.
26
"Gilmore's Notes"
April 21, 2002
August 4, 2003
A recap episode that follows the notes Dr. Gilmore is writing on each 00 cyborg about their pasts and personalities. Also Gilmore, 001 and 009 talk about the BG and how they have realized that they can never wipe out the organization completely.
27
"Little Visitors"
April 28, 2002
May 3, 2004
Three alien children arrive on earth to escape from the invaders that are destroying their race. The 00 cyborgs discover them and decide to save them from their enemy that has followed them to Earth.
28
"The Awakening"
May 5, 2002
May 4, 2004
The fight to save the alien children moves to their home planet, while 002 encourages them to use their psychic powers and fight for themselves.
29
"The Blue Earth"
May 12, 2002
May 5, 2004
A powerful blue beast is attacking construction sites and factories, causing death and destruction. So 005 sets out for his homeland in the desert to stop its rampage.
30
"Computopia"
May 19, 2002
July 10, 2004
The 00 Cyborgs visit Computopia, a futuristic city run by a super computer named Sphinx. The machine falls in love with 003 and tries to eliminate whoever it perceives as an obstacle to their love.
31
"Monster Island"
May 26, 2002
July 17, 2004
An unconscious hiker leads 006 and 007 to a mysterious island where massive monsters roam the land.
32
"Man or Machine?"
June 2, 2002
July 24, 2004
Dr. Gilmore asks 004 to investigate strange activities in an abandoned castle, but when he arrives he finds a replica of himself that knows his every move.
33
"Frozen Time"
June 9, 2002
July 31, 2004
When 009 get an upgrade to his speed-enhancement powers, time literally begins to speed up for him. So much that he essentially becomes the last man on earth. Will he find a way to stop it while also averting a major crisis?
34
"The Pharaoh's Curse"
June 16, 2002
August 7, 2004
Dr. Gilmore, 003 and 009 visit Egypt to meet Dr. Gilmore's old friend Dr. Herschl, when the scientists, including Dr. Herschl, exploring Tutankhamen's tomb fell ill with a virus. They wonder if the Pharoah's curse really is true.
35
"The City of Wind"
June 23, 2002
August 14, 2004
007 and the gang travel to Egypt in search for Sir Van Allen, 007's old friend only to find him on the brink of death. Could it be related to the strong wind that reveals a golden pyramid and a singing maiden named Ishukik?
36
"The Frozen Land"
June 30, 2002
August 21, 2004
009, 006 and Dr. Gilmore discover a mysterious giant cobra in the frozen mountains of Japan when the country suffers bizarre weather conditions.
37
"The Night of the Star Festival"
July 7, 2002
August 28, 2004
009 goes soul-searching and meets a little girl named Alice, who claims to have known him as a child. She reveals to Joe that she can jump time and takes him to the person he wishes to see the most.
38
"Black Ghost Lives"
July 14, 2002
September 4, 2004
We see the birth of the cyborg project and Dr. Gilmore's involvement in the operations that created all the 00 cyborgs.
39
"The New Assassins"
July 21, 2002
September 11, 2004
Dr. Gamo sends his brand new cyborgs: Phil, Kane, Lina, and Mai, who all possess psychic powers similar to 001, against the 00 cyborgs.
40
"Gamo's Revenge"
July 28, 2002
September 18, 2004
Dr. Gamo, who is revealed to be 001's biological father and creator, wishes to prove the value of his research to Black Ghost by destroying the 00 series.
41
"Future Fury"
August 4, 2002
September 25, 2004
A mishap occurs during a fight resulting in 009 and one of the psychic cyborgs, Lina, being transported to a future war-torn wasteland where Black Ghost still exists. Now the other cyborgs must find a way to bring Joe back.
42
"To Tomorrow"
August 11, 2002
October 2, 2004
The 00 team work to save 009 by teleporting themselves forward in time, where they face the final battle with the rogue psychic cyborg Cain.
43
"Old Friends"
August 18, 2002
October 9, 2004
Enormous pterodactyls emitting subsonar waves begin to destroy human settlements all over the world. 009 finds his old friends from the orphanage mysteriously alive and well, but are they really what they seem?
44
"Nightmare of Van Bogoot"
August 25, 2002
October 16, 2004
009 rescues an amnesiac woman from the ruins of his old friend's house, but what secret does she hold and how is she connected to Van Bogoot, the CEO of a powerful subsonar-weapons manufacturing company?
45
"Good-Bye, My Dolphin"
September 1, 2002
October 23, 2004
The cyborgs sacrifice more than they could have imagined when they go underground to pursue the claims of the amnesiac woman and her mysterious sister.
46
"Go Underground!"
September 8, 2002
October 30, 2004
Having been split up by various disasters, the team struggles to defeat Black Ghost and 004 bonds with the mysterious sister.
47
"Rise of the Demon"
September 15, 2002
November 6, 2004
As Yomi crumbles, 004 faces his largest test yet against a bloodstained Von Bogoot. When all hope seems lost, 009 seems to be the only thing standing against Black Ghost's resurrection…
48
"Yomi Group"
September 22, 2002
N/A
A recap episode
49
"When You Wish Upon a Shooting Star…
September 29, 2002
N/A
Black Ghost threatens the world with his deadliest weapon yet and it's up to 009 to finish the fight, once and for all, even if it comes at the price of him and his best friend's lives.
Conclusion GOD'S WAR: Prologue Arc
The "GOD'S WAR: Prologue" bonus arc is not intended to be in continuity with the other episodes, as it was instead produced as a teaser at adapting the unwritten final chapter of the Cyborg 009 manga. It does however, share the same staff and voice actors, but may present confusion to new viewers for its jarring differences and lack of reference to the events of "When You Wish Upon a Shooting Star..."
The first episode aired a week after the wrap-up of the main continuity of the series, while due to the situation of "The Yomi Group" being created as filler between "Rise of the Demon" and "When You Wish Upon a Shooting Star" (due to them being behind on deadlines), TV Tokyo could not air more than 51 episodes and "The Fluttering Light" and "The Birth of a New Universe" were cut and merged together into one episode.
On the DVD releases, the episodes are presented in the way they were meant to be seen, and they were aired this way in foreign dubs that sourced from the home video release.
#

Episode Title

Release Date

1
"The Goddess Scheme"
October 6, 2002
In the peace in the years after the 00 cyborgs escaped Black Ghost and defeated their enemies, they have gone their separate ways while 001 has fallen into a deep sleep. The author Shotaro Ishinomori is approached by Dr. Gilmore, who reveals to him that his "Cyborg 009" story is actually reality. Meanwhile, 009 visits a well-respected scientist and his priestess daughter as they excavate an ominous Moai from the ruins of an island.
2
"The Fluttering Light"
October 13, 2002
Possessed by the Moai statue, the priestess begins to brainwash the population of Japan into worshiping her and the entire 00 cyborg team finds themselves succumbing to overwhelming feelings of anger and temptation.
3
"The Birth of A New Universe"
N/A, DVD-only (portions merged into previous episode for first TV airing)
The 00 cyborgs fight against the godlike powers of the priestess and her Moai army, aided by an unlikely ally.
References
Toonami Episode Guides
Cartoon Network (1997-2008)
Adult Swim (2012-Present)