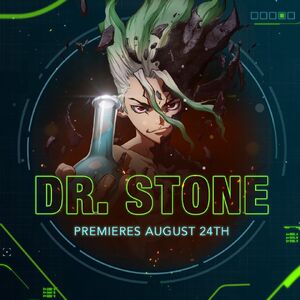 Series Overview
| Color | Season | Episodes | Toonami Premiere | Toonami Finale |
| --- | --- | --- | --- | --- |
| | 1 | 24 | August 24, 2019 | February 22, 2020 |
| | 2 | 11 | May 15, 2021 | July 24, 2021 |
Season 1 (2019)
No. in Series
No. in Season
Episode Title
Japanese Airdate
Toonami Airdate
01
"Stone World"
July 5, 2019
August 24, 2019
Senku and Taiju emerge from their petrification several thousand years after everyone in the world had turned to stone. It's up to them to rescue everyone else and restore civilization.
02
"King of the Stone World"
July 12, 2019
August 31, 2019
Taiju and Senku are about to revive Yuzuriha, when they get attacked by lions.
03
"Weapons of Science"
July 19, 2019
September 7, 2019
Tsukasa has learned about the cave where the nitric acid is collected. The race is on between Senku and Tsukasa to restore humanity in their respective visions.
04
"Fire the Smoke Signal"
July 26, 2019
September 14, 2019
Senku, Taiju and Yuzuriha head to Hakone to collect sulfur for gunpowder, which they'll need to fight Tsukasa. They accidentally set off an explosion, which attracts some unexpected attention.
05
"Stone World The Beginning"
August 2, 2019
September 21, 2019
Tsukasa demands that Senku abandons science, but there's no way he can do that. Tsukasa is left with no choice but to kill him.
06
"Two Nations of the Stone World"
August 9, 2019
October 5, 2019
Taiju and Yuzuriha figure out Senku's secret to reviving him. But now that he's back, they need to deal with Tsukasa.
07
"Where Two Million Years Have Gone"
August 16, 2019
October 5, 2019
Kohaku shows Senku to her village, but it's going to take some convincing before they let him in. In the meantime, he makes friends with a like-minded, promising "sorcerer."
08
"Stone Road"
August 23, 2019
October 12, 2019
Kohaku's sister, village priestess Ruri, is gravely ill. Senku, Chrome and Kohaku begin their quest to make antibiotics to save her life.
09
"Let There Be the Light of Science"
August 30, 2019
October 19, 2019
Senku starts a ramen stand in hopes of winning over support for his kingdom of science, but some people are too principled to take such a bribe. Mentalist Asagiri Gen is not one of them.
10
"A Flimsy Alliance"
September 6, 2019
October 26, 2019
Senku and his kingdom of science successfully test the first lightbulb since the collapse. Meanwhile, Asagiri Gen, a spy from Tsukasa's empire, is killed by an unknown attacker.
11
"Clear World"
September 13, 2019
November 2, 2019
The development of glassworks, an important step for making sulfa drugs and for chemistry as a whole, turns out to have a surprising benefit for Suika.
12
"Buddies Back to Back"
September 20, 2019
November 9, 2019
To make antibiotics, Senku and his kingdom need to obtain sulfuric acid from a fountain of the stuff. The team goes prepared, but there's no guarantee that they'll make it back alive.
13
"Masked Warrior"
September 27, 2019
November 16, 2019
All that's needed to make antibiotics is alcohol. The best way to get some is to win the Grand Bout, which the Senku and his kingdom will also need to do in order to keep Magma away from Ruri and give her the drug.
14
"Master of Flame"
October 4, 2019
November 23, 2019
The Grand Bout is on. The kingdom of science must defeat Magma and take the seat of the village chief in order to give Ruru the antibiotic and win over the village.
15
"The Culmination of Two Million Years"
October 11, 2019
December 7, 2019
With Magma defeated, it's down to Senku and Ginro to take the throne. Although both are on the same team, one is driven by personal greed and opportunism. The fight is on!
16
"The Tale for the Ages"
October 18, 2019
December 14, 2019
Having won the Grand Bout fair and square, and having cured village priestess Ruri of her pneumonia, Senku has won the hearts and minds of the village. Ruri delivers Senku a message from someone dear.
17
"A Hundred Nights and a Thousand Skys"
October 25, 2019
January 4, 2020
Through Byakuya's message to Senku, we learn of the events that started Ishigami Village.
18
"Stone Wars"
November 1, 2019
January 11, 2020
Tsukasa's army attacks the village, potentially leaving them with no choice but to cut down the bridge and lose Kinro.
19
"To Modernity"
November 8, 2019
January 18, 2020
Hyoga reveals that his attack was merely a distraction so his ally, Homura, could sneak in and set fire to the village, forcing the villagers out into the open. Aiming to attack Tsukasa's army before it grows too big, Senku sets his sights on reinventing the cellular phone. Meanwhile, Hyoga reports to Tsukasa that Senku is still alive.
20
"The Age of Energy"
November 15, 2019
January 25, 2020
Senku and Ishigami Village begin work on the cell phone, planning to complete its construction by spring. In order to manufacture gold filaments for wiring, Senku creates a cotton candy machine. After running into imperfections making filaments, Senku develops a gear train for the cotton candy machine, inspiring Chrome to construct a waterwheel with Kaseki.
21
"Spartan Crafts Club"
November 22, 2019
February 1, 2020
Using the new waterwheel, Senku mechanizes the ironmaking process, freeing up the villagers to prepare for winter. Meanwhile, Senku, Chrome, and Kaseki begin developing light bulbs, allowing them to celebrate Christmas by decorating a tree.
22
"The Treasure"
November 29, 2019
February 8, 2020
In the search for tungsten, Senku, Chrome, and Magma search a nearby cave. After encountering a mica vein, Magma tries to save Senku from falling into a sinkhole, but both eventually are trapped.
23
"Wave of Science"
December 6, 2019
February 15, 2020
The tungsten filament is created so everyone splits into groups to complete the remaining tasks; Suika and her friends finish twining the gold wire, Senku and Chrome create the necessary plastic, Kinro, Ginro, and Kohaku burn coal for its ash and make a microphone, and Gen and Ruri create zinc-carbon batteries.
24
"Voices over Infinite Distance"
December 13, 2019
February 22, 2020
Senku and the kingdom learn of a mysterious disc left behind by his father and the other astronauts. They use their newfound technology to bring it to life.
Season 2: Stone Wars (2021)
No. in Series
No. in Season
Episode Title
Japanese Airdate
Toonami Airdate
24.5
0
"Eve of the Battle Special Feature"
October 11, 2020
Unaired
A recap episode that covers the events of the first season. It also includes a bonus original animation that leads-in to the second season.
25
01
"Stone Wars Beginning"
January 14, 2021
May 15, 2021
Senku and the kingdom are going to need rations to eat during their attack on Tsukasa's empire. There's a science for that.
26
02
"Hot Line"
January 21, 2021
May 22, 2021
The kingdom of science moves to Tsukasa's scout, Homura, so that they can deploy their newly built cell phone in their base.
27
03
"Call from the Dead"
January 28, 2021
May 29, 2021
With Homura captured, the kingdom of science finally succeeds in setting up a hotline with their spies in Tsukasa's empire. Meanwhile, Chrome runs into some trouble.
28
04
"Full Assault"
February 4, 2021
June 5, 2021
Nikki becomes the first member of the Tsukasa Empire to convert to the kingdom of science. Meanwhile, with Chrome in mortal danger, Senku and the kingdom begin plotting a way to bring him back to safety.
29
05
"Steam Gorilla"
February 11, 2021
June 12, 2021
The kingdom of science builds a steam engine. They use it to set up base closer to Tsukasa's empire.
30
06
"Prison Break"
February 18, 2021
June 19, 2021
Chrome tries to use his knowledge of science to escape from his prison, but he just doesn't have the tools. Yo, a former cop who had been revived into Tsukasa's army, tries to work up the ranks.
31
07
"Secret Mission"
February 25, 2021
June 26, 2021
Chrome makes it back to the kingdom of science's base, where he bears witness to the Steam Gorilla for the first time. Meanwhile, with the help of the others and with his fake Lilian voice, Gen manages to convert even more people away from the Tsukasa Empire.
32
08
"Final Battle"
March 4, 2021
July 3, 2021
The kingdom of science begins its siege on Tsukasa's empire. They'll have less than twenty seconds from the beginning of the war to scare the empire into submission, or risk casualties.
33
09
"To Destroy and to Save"
March 11, 2021
July 10, 2021
Several of the kingdom's strongest fighters are locked in battle with Hyoga and Tsukasa. Meanwhile, Senku, Gen and Chrome make it to the miracle cave. They'll have very little time to put together a weapon to end the war.
34
10
"Humanity's Strongest Tag Team"
March 18, 2021
July 17, 2021
A truce is called between the kingdom of science and Tsukasa Empire. All appears to be well, but some of the kingdom's dynamite is missing.
35
11
"Prologue of Dr. Stone"
March 25, 2021
July 24, 2021
Tsukasa and Senku defeat Hyoga, but Tsukasa is mortally wounded. The options for treating sepsis and a punctured lung are limited, painful and uncertain.
Toonami Episode Guides
Cartoon Network (1997-2008)
Adult Swim (2012-Present)