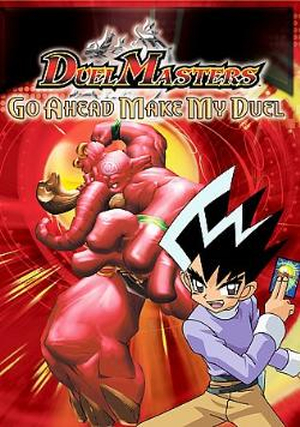 Series Overview
| Color | Season | Episodes | U.S. Season Premiere | U.S. Season Finale |
| --- | --- | --- | --- | --- |
| | 1 | 26 | March 13, 2004 | September 4, 2004 |
| | 2 | 26 | March 26, 2005 | January 28, 2006 |
| | 3 | 13 | February 4, 2006 | June 17, 2006 |
Season 1
#

Episode Title

English Airdate

1
"Playing with a Full Deck"
March 13, 2004
Shobu gets into a tournament against a player who has cheated and changed decks before their match. But Shobu still wins. The mysterious Knight follows Shobu and invites him to duel.
2
"It's Not Easy Being Green"
March 20, 2004
Shobu and friends meet Mimi, a new student who claims she knows nothing about dueling. Shobu is challenged to a duel by Jimirah, a challenger from the Temple.
3
"Toru, Toru, Toru, Part 1"
March 27, 2004
Knight argues with the Temple Master over the tactics being used to encourage Shobu. While at the store hoping to get Mimi some new cards, Shobu encounters Toru, another duelist from the temple. But before Toru can duel with him, Kokujo interferes.
4
"Toru, Toru, Toru, Part 2"
April 3, 2004
Shobu is in denial that he didn't win against Kokujo and vows a rematch, but his constant playing in class threatens to make it that he has detention instead of a duel. Shobu only regains his confidence after hearing about his father's own dueling feats.
5
"I'll Be a Monkey's Brother"
April 10, 2004
Shobu falls asleep in his teacher's class and ends up in detention, which threatens to ruin Shobu's chances in the invitaional junior tournament. Shobu soundly defeats his first opponent, but the man's older brother proves to be a lot more difficult to beat.
6
"Wok on the Wildside"
April 17, 2004
Hakuoh and To-Ban-Jan battle it out before the tournament even begins.
7
"White Boys Can't Charm"
April 24, 2004
Shobu continues unchallenged in the new tournament until he faces an opponent that has been spying on him to get strategy.
8
"Duels of Futures Past"
May 1, 2004
Shobu battles Toru in the final round of the Duel Master championship. One of Shobu's enemies does his best to sabotage him, by spiking his soda and then tying him up, hoping that the judges will disqualify him.
9
"A Goblin Shall Lead Them"
May 8, 2004
Shobu is admitted to a duelist training school, where Knight tries to convince him to be patient with his training. He meets a stranger who invites him to visit the temple for training, but Knight thinks he isn't ready.
10
"Shobu Gets Decked"
May 15, 2004
Shobu finds out he is only a few tokens away from being able to challenge Hakouh. But suddenly his notebook is found by Mimi and her cohorts. Mimi mixes and matches some of Shobu's cards, which actually work to Shobu's advantage in a contest.
11
"Ballad of Kintaro, Part One"
May 22, 2004
Shobu thinks his going to face Hakuoh, but it is really a disguised Kintaro. Knight tries to head Shobu off before the match will begin, but Mimi distracts him. Shobu faces Kintaro and appears to be losing.
12
"Ballad of Kintaro, Part Two"
May 29, 2004
Knight tries to prevent Shobu from dueling with the strange Kitaro, but can't. Luckily, when it appears that Shobu will be defeated, he manages to uses a trump card that can turn back the game against his opponent.
13
"Looney Mikuni, Part One"
June 5, 2004
Shobu and friends come face to face with three of the four guardians, who challenge him to a duel if he wants to face their champion. Mimi, the missing guardian, runs late in defending the temple. The first guardian is Mikuni, who quickly defeats him. So Shobu decides to become a sports star instead.
14
"Looney Mikuni, Part Two"
June 12, 2004
Shobu plans a rematch with Mikuni, but is without a pass to return to the temple. Mimi mails him a key, which allows him to beat Mikuni by playing the temple guardian's own game against him.
15
"A Strange Twist of Fate"
June 19, 2004
Shobu hesitates before entering the Chamber of the Second Guardian and as time goes by Mimi is revealed to be the guardian.
16
"Yes, Master"
June 26, 2004
Before their duel, Shobu mentions that Mimi has been betraying the Master all along to help Shobu. The Master overhears and takes control of Mimi's mind during the duel to ensure that Shobu loses.
17
"Oh Brother, What Art Thou"
July 3, 2004
When the third guardian smashes through a wall to block Shobu's exit, Mimi reveals this guardian is her twin brother. Shobu must defeat him as well if he ever wishes to exit the temple.
18
"Cable Guy"
July 10, 2004
Shobu continues his duel with Benihaha, while the Master and his cohorts try to figure out how to stop Shobu. But Shobu may forfeit after Benihaha tells him a lie about Mimi's health.
19
"The Sound of Dueling"
July 17, 2004
In order to duel Hakuoh at the temple, Shobu and Kokujo are required to create a theme song as a montage. Before the 2 of them battle one another they have an hour to prepare their decks.
20
"Episode V: Kokujo Fights Back"
July 24, 2004
Kokujo creates beings that seem to almost be completely real and could threaten to bring the creatures into their dimension forever. Meanwhile, Knight confronts the Master about Hakuoh's arrogance.
21
"The One Where Shobu Duels Hakuoh"
July 31, 2004
Shobu finally gets the opportunity to battle Hakuoh in front of sellout crowds. Hakuoh is willing to let the crowds perish during the duel, but the former temple guardians vow to protect everyone in the stadium. Knight is imprisoned by the Master and feels intense guilt for not preparing Shobu adequately for his duel.
22
"Just Duel It"
August 7, 2004
Shobu's battle with Hakuoh continues. During the contest, Shobu reminds Hakuoh the purpose of the game: fun and friendship. Shobu wins without harming Hakuoh, but the Master is not so kind after the betrayal.
23
"The Crying Game"
August 14, 2004
Shobu tries to deal with the sudden fame that comes with being a Duel Master. At a tournament, a man in a baby outfit quickly unseats all of his opponents.
24
"Do You Really Want to Hurt Me?"
August 21, 2004
The tiny pink man named Boy George kidnaps Shobu during their match to finish the game in private. Shobu's friends search for the duelists in an attempt to rescue Shobu.
25
"Something Wacky This Way Comes"
August 28, 2004
Shobu must duel with Dr. Root, who has the power to use a group of monsters that get stronger as the player uses them. Knight and Iron Maddie search for Shobu throughout the city.
26
"What's A Mana You?"
September 4, 2004
Shobu worries about the loss of his mojo and starts to hear strange voice from the monster cards.
Season 2
#

Episode Title

English Airdate

27
"Atta Boy, George"
March 26, 2005
Shobu's mojo has not yet returned and while Hakuoh wants to face him, Shobu is still unable to duel. Boy George decides to challenge Hakuoh instead and Hakuoh accepts his challenge.
28
"Shobu Kirafuda is Back!"
April 2, 2005
As Shobu tries to regain his mojo by dueling Hakuoh, everyone else looks on with a worried look. After a brief conversation with his Mojo. He got up to finish the duel. Though he lost the Duel in the end, Shobu regained his confidence and is now ready to tackle the Creature World!
29
"The Fellowship of the Duel"
April 9, 2005
Shobu, his mojo returned, begins practicing for the Duel Masters Battle Arena, the biggest Duel Masters event of the year. Dr. Root provides special battle armor so that Shobu and Boy George can Kaijudo duel without fear of injury but something goes wrong and Shobu looses control of the creatures he's summoned. Shobu later reads that a similar event happened to his father and that his father went out on a quest to gain better control and become a true Kaijudo Master, and so Shobu prepares for his own quest.
30
"Enemy, Mine"
April 16, 2005
While lost, Shobu helps a girl who is being bullied and ends up becoming her new friend.
31
"Win, Lose, or Draw"
April 23, 2005
Shobu and Rekuta arrive at Light City Adjacent where they quickly meet a young duelist named Betty. Shobu challenges a stranger to a duel and then finds out he must duel all the town's residents or be trapped there forever.
32
"Go Towards the Light"
April 30, 2005
Shobu and friends journey to the land of the Light Civilization, where strange things are happening. Shobu challenges the mysterious Photon to a duel.
33
"The Lights Are on But Nobody's Home"
May 7, 2005
A gate keeper of the Light Civilization reveals how to get to the creature world and how creatures visit this world during a kaijudo match. Shobu decides to enter the gate to become a better kaijudo master.
34
"If Ever A Quiz There Was"
May 21, 2005
Shobu argues with his friend Rekuta on the train over fried shrimp and sea food. They both take seperate paths to find the water civilization. Eventually they both end up in a quiz duel master tournament.
35
"Wanted: Duel or Alive"
May 28, 2005
Shobu is thrown in jail for crimes against the water civilization, having been mistaken for an evil duelist. Meanwhile Rekuta is mistaken for a brilliant duelist and uses his new influence to help rescue Shobu.
36
"Water You Waiting For?"
June 4, 2005
Shobu duels with an old master who fought a duel against Shobu's father.
37
"Nature Calls, Part 1"
June 11, 2005
Shobu and Rekuta find themselves lost in a forest and almost killed by a monster until they are rescued by Flora. Flora leads the young men to her father, an old opponent of Shobu's father.
38
"Nature Calls, Part 2"
June 18, 2005
Shobu arrives in Logville to discover more about the Nature Civilization to learn who is manipulating the various monsters.
39
"All Natural"
August 11, 2005
After Shobu was defeated by Prince Wilbur in the previous episode, Mimi and Boy George have arrived to help him.
40
"The Anti Duelist"
August 12, 2005
Mimi and Boy George saved our heroes from Princess Pollyana, but Shobu still doesn't realize what he's doing wrong. Since he can't win as he is now, Shobu is left behind as everyone else enters Nature Civilization Land.
41
"Tournament Is Fair Play"
September 24, 2005[1]
It's time to rescue Flora's father from the evil grasp of Princess Pollyana, and Shobu and his friends are the only ones who can do it. But Pollyana has some powerful allies in the form of a pig-man, a radioactive killer in a Hawaiian T-shirt, a beauty-consicous terrorist with a talking computer, and some random rich dude Pollyana picked up off the street.
42
"The Overlook Hotel"
October 8, 2005
Shobu and Rekuta went to the Darkness Civilization land, but once again the P.L.O.O.P. Princes are waiting for them. What will they try to destroy our heroes with this time, and just what are Jamira and Kokujo doing in the darkness civilization land?
43
"Quit Cloning Around"
October 15, 2005
Shobu and Rekuta journey to the gate of the darkness civilization land and learn that every person there has a clone, including the gate way, but they also discover The PLOOPs are there and waiting for them. Can Shobu learn who to trust before he is defeated?
44
"Fear Itself"
October 29, 2005
Shobu learns that not one, but both Dark Guardian gate twins are trying to become members of the P.L.O.O.P.'s, and they've been told if they beat Shobu, they'll gain their wish.
45
"Creatures Of The Night"
November 5, 2005
Shobu and Kokujo take on the guardians of darkness in a double duel. If the brothers win, then they will become the newest recruits of the P.L.O.O.P.'s, but if Shobu wins he gains back his fathers disk and heads back into the Land of Darkness.
46
"Quest for Fire"
November 12, 2005
Shobu, king of Fire Civilization Decks, has finally entered the home world of his brethren. Unfortunately, there's more evil bad guys who are causing trouble! Will Bolshack Dragon, Armored Blaster Valdios, and Bolmeteus Steel Dragon be enough?
47
"Deck Me Baby, One More Time"
December 3, 2005
Shobu and company try to free the Fire Civilization land from the P.L.O.O.P.'s, but fire civilization creatures have begun appearing all over Earth prompting all the gates to be sealed.
48
"One For The Mana, Duel For The Show"
December 10, 2005
Shobu can't summon Kaijudo creatures anymore, leaving him to think that his mojo has disappeared again! While Knight faces off against an endless supply of P.L.O.O.P. cronies, Hakuoh takes it upon himself to make Shobu realize that hate equals evil.
49
"Do That Duel You Duel So Well"
December 17, 2005
Shobu challenges the P.L.O.O.P's leader, but strangely not to a game of Duel Masters! Instead Shobu challenges him to a strange game that kinda-sorta seems to be a cross between Chinese checkers and chess.
50
"Boy Meets Duel"
January 7, 2006
It's the end of the line for the P.L.O.O.P.'s, for now anyway, but Shobu still has work to do. The Dark Bolshack's are still throwing their power into the volcano, and it's becoming full! Shobu has to save the world, but to do this, he'll have to defeat a new opponent, who can use "shadow instruments", before he can pass!
51
"Man In The Mirror"
January 14, 2006
Thanks to Rekuta's failure to activate his Amulet Deck Case, our heroes are out of luck. That is, until Kokujo arrives! Well, actually, it isn't Ko, but Jamira in disguise.
52
"Who Turned Out All The Lights"
January 21, 2006
Shobu, Kokojo, Eugene, and Mimi continue their duel against the P.L.O.O.P's. With the world at stake and the creatures breaking into the different gates, how will this story end?
Season 3
#

Episode Title

English Airdate

53
"Showdown!"
February 4, 2006
To train for the upcoming tournament, Shobu travels to a distant world full of random events and all sorts of wacky stuff.
54
"Babytalk"
February 11, 2006
Shobu and Mimi haven't found their opponents yet, while George has already defeated 21 opponents. When it comes to Black Soldiers Akikan and Multi-Card Monty attacking Boy George and Mimi, will they defeat their opponents?
55
"Fourscore"
February 18, 2006
Mimi, Shobu, and Hakuoh attempt to advance to the semi-final round of the newest world tournament and join Boy George, but Robbie Rotten and the other Black Knights stand in there way with some other unknown forces.
56
"Frotime"
February 25, 2006
The finals of the tournament have begun and the passes for Shobu, Mimi, Boy George, and Hakuoh are missing as Dr. Root has left clues to where they are hidden. Mimi's pass ends up in the clutches of Red Afro, the head of an afro-themed dojo. While Boy George's ends up in the clutches of Master Yuki, the teacher of baby duelists.
57
"Duelusional"
March 4, 2006
Shobu duels a dragon-masked duelist (who happens to be Knight in disguise) for the fate of his tournament pass. When Shobu is defeated by a card that can automatically win a duel, he's determined for a rematch.
58
"Duel-ercise"
March 11, 2006
The tournament resumes with Aizen and Hakuoh facing off. Aizen is determined to use his duel-ercise to defeat Hakuoh, but will he prevail? Afterwards, Shobu and Lily Tampopo face-off followed by Jamira and Benny Haha.
59
"Triple-Threat"
April 29, 2006
The duels continue as Boy George confronts the mysterious woman who defeated Yuki. She goes by the name Yumama. Meanwhile Kintaro must face off against the mysterious Extreme Bucketman, and Kokujoh duels against Mimi.
60
"Surprise!"
May 6, 2006
Benny Haha begins studying Hakuoh's deck in an attempt to figure out how he can defeat him. He comes to the conclusion that he will have to cheat harder than usual to do so, but what does that involve?
61
"Cheatery"
May 13, 2006
After kidnapping Johnny Coolburns (formerly Mikuni) and Aizen, Benny Haha has forced Hakuoh into a duel being observed by Yumama. There is one condition attached...if Benny Haha breaks even one shield, then Hakuoh loses the duel and watches his friends get injured.
62
"Makeover"
May 20, 2006
Shobu and Benny Haha's duel continues as Benny Haha turns the crowd against him until Hakuoh's spirit encourages him to continue.
63
"Switcharoo"
May 27, 2006
Shobu, who has just received an Awakening Card from Bucketman not exactly knowing why but he decided to use that card to build a new deck as the contestants are allowed to change their deck only once through out the whole tournament.
64
"Creeptastic"
June 10, 2006
Yumama with the new evil power of an armor which makes her a duelist hunter, wont stop until all the other duelists have been defeated. She uses her new vortex evolution cards which have the awakening power, which could make the cards affect the real world.
65
"Finalitousness"
June 17, 2006
Before the duel starts, Bucketman and Shobu agree to construct new decks so the duel will be more fair. Shobu with his friends builds up his new deck to duel Bucketman.
Toonami Episode Guides
Cartoon Network (1997-2008)
Adult Swim (2012-Present)