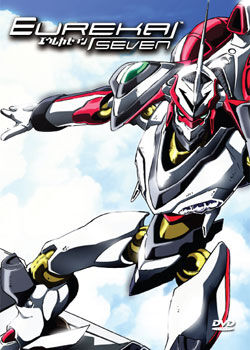 Series Overview
Color
Season
Episodes
Toonami Premiere
Toonami Finale
1
50
August 18, 2012
August 10, 2013
Special
01
Unaired
Film
01
Unaired
Season 1 (2005-2006)
#

Episode Title

Japanese Airdate

English Airdate

Toonami Airdate

1
"Blue Monday"
April 17, 2005
April 15, 2006
August 18, 2012
Renton Thurston, son of the legendary hero Adroc, lives a boring, monotonous life in the village of Bellforest. This life is suddenly interrupted when the mysterious LFO known as the Nirvash Type Zero and its pilot, Eureka, crash-land into his room, followed by Gekkostate – and the United Federation military.
2
"Blue Sky Fish"
April 24, 2005
April 22, 2006
August 25, 2012
As Gekkostate engages the military in the sky over Bellforest, Renton attempts to deliver the Amita Drive, a memento of his father, to Eureka and the Nirvash. In doing so, he releases the typeZERO's hidden power – the Seven Swell.
3
"Motion Blue"
May 1, 2005
April 29, 2006
September 1, 2012
The members of Gekkostate rush back to the Gekko after defeating the Izumo's KLF platoon, with Renton in tow. When they arrive to find a military blockade, the Nirvash must conduct a daring decoy operation in order to draw attention away from the Gekko.
4
"Watermelon"
May 8, 2005
May 6, 2006
September 8, 2012
Renton has joined Gekkostate in order to be with Eureka, but what he discovers is that life on the Gekko is not much different from his previous life in Bellforest – until Gekkostate takes a certain job in order to earn some desperately needed money. Meanwhile, the Council of Sages decides to reinstate Dewey Novak, a former military officer who has ties to Adroc Thurston and something known only as the "Ageha Plan".
5
"Vivid Bit"
May 15, 2005
May 13, 2006
September 15, 2012
Renton goes with Talho and Hilda on a routine shopping errand, but when Talho gets drunk and into trouble, it's up to Renton to protect her by piloting a combat LFO for the first time.
6
"Childhood"
May 22, 2005
May 20, 2006
September 22, 2012
Renton's relationship with the kids that call Eureka "Mama" worsens as he becomes the victim of multiple pranks. However, when the kids' latest anti-Renton adventure compromises the Gekko's stealth capabilities, Renton takes to the skies with them to disable a military outpost in the Gekko's path.
7
"Absolute Defeat"
May 29, 2005
May 27, 2006
September 29, 2012
Gekkostate's hazing of Renton continues; he is sent on a "mission of utmost importance", which is a front for a drawn-out prank that eventually involves Moondoggie as well. Meanwhile, KLF squads are being destroyed and Dewey begins formulating a plan to deal with the enemy, known as Coralians.
8
"Glorious Brilliance"
June 5, 2005
June 3, 2006
October 6, 2012
Renton, Eureka and the kids go on a shopping trip, where they meet Tiptory, a member of the Vodarac religion. Meanwhile, Gekkostate takes a job to capture a suspected terrorist – who turns out to be none other than Tiptory.
9
"Paper Moon Shine"
June 12, 2005
June 10, 2006
October 13, 2012
After landing at Ciudades del Cielo, an altercation between Renton and Holland leads to Renton running off into the city, where he discovers the truth of what happened there and the origins of Gekkostate.
10
"Higher Than the Sun"
June 19, 2005
June 17, 2006
October 20, 2012
Holland hears news of a big wave arriving on the other side of the planet, so he has the Gekko take off in an outer-atmospheric flight mode to get there in time. However, Talho, irritated at what she perceives as the selfishness of the rest of Gekkostate, redirects the Gekko to the ruins of a military base that holds special meaning for her and Holland.
11
"Into the Nature"
June 26, 2005
June 24, 2006
October 27, 2012
A Coralian appears over the town of South Ailess, and Gekkostate decides to investigate. Meanwhile, Dewey's new unit, the Nirvash typeTheEND, and its pilot, Anemone, also head towards South Ailess with the Izumo. As the two ships reach the Coralian and attempt to break through, the two Nirvashes meet in battle.
12
"Acperience 1"
July 3, 2005
July 1, 2006
November 3, 2012
As the two Nirvashes, typeTheEND and typeZERO, unleash their power, they are drawn into the body of the aerial Coralian, known as the Zone. Inside, Renton, Eureka, and Anemone are connected by what appears to be a dream, and yet not. Renton was trapped in a dreamworld being controlled by Anemone while Eureka followed Renton in order to get him back. Meanwhile, the Gekko and the Izumo engage in a desperate game of chicken.
13
"The Beginning"
July 10, 2005
July 8, 2006
November 10, 2012
In the wake of the Coralian's disappearance, Eureka and Anemone are left injured. Renton and Dominic, who showed up to pick up Anemone, travel to the nearest town to get some medicine for the two. Later, when they return, they find themselves in the middle of a skirmish between the Gekkostate's LFOs and the Izumo's KLFs.
14
"Memory Band"
July 17, 2005
July 15, 2006
November 17, 2012
Renton, Stoner, and Dominic mull over previous and recent events – the appearance and disappearance of the Coralian and the mutiny of the SOF members who would become Gekkostate.
15
"Human Behavior"
July 24, 2005
July 22, 2006
November 24, 2012
Gekkostate is on a health craze and send Renton, Eureka, and Matthieu to visit Controlad on a mission to gather a certain fruit. All over town, they find the prices are too high... so they decide to pick some up "in the wild". This gets them into trouble with a local farmer, who turns out to be Renton's uncle, Yucatan Iglasias. When Renton lies to him about being in the military, things quickly spin out of control.
16
"Opposite View"
July 31, 2005
July 29, 2006
December 1, 2012
The Gekko lands at FAC-51, an abandoned mine, to undergo repairs in the aftermath of the battle at South Ailess. Eureka has been silent and aloof ever since Renton piloted the Nirvash to rescue her and Matthieu from the military. While trying to find a way to interact with her, Renton is called on an expeditionary trip into the mine with Hap, Matthieu, Moondoggie, Gidget, and Stoner. Renton wanders off and finds a mysterious house.
17
"Sky Lock Gate"
August 7, 2005
August 19, 2006
December 8, 2012
The Gekko needs a large amount of reflection film to fix the damage from South Ailess, so Ken-Goh, Moondoggie, Hap, Matthieu, Stoner, and Renton visit a local workshop to get some made. When they arrive, they find the shop in disuse and its current owner, Neil, drunk. After Ken-Goh gets Neil to agree to make them some film, they head out to catch the raw materials – skyfish. Meanwhile, Dewey announces his plan for the world to his new unit.
18
"Ill Communication"
August 21, 2005
August 26, 2006
December 15, 2012
While the Gekko's repairs are moving along at a steady pace, Renton meets a miner who hasn't given up on FAC-51. He begins to make friends with him when they discover a common interest. However, the miner is desperate for a big score, and when he sees the Nirvash typeZERO, he sees the biggest score of all – even if it means taking it from its current owners. Meanwhile, Eureka begins to show signs of stress from being around the mine.
19
"Acperience 2"
August 28, 2005
September 2, 2006
December 22, 2012
Eureka's condition worsens, and Renton is lost in thought. In the midst of depression, Eureka climbs into the Nirvash and removes the Compac Drive; however, this leads to the Nirvash activating by itself. When Renton finds out, he chases the Nirvash deep into the mines. Meanwhile, the military launches an all-out attack on FAC-51, hoping to smoke Gekkostate out – or bury them under the rubble of the collapsing mine.
20
"Substance Abuse"
September 4, 2005
September 9, 2006
December 29, 2012
Eureka is brought to the medical bay in the wake of nearly merging with the Scub Coral. Tensions between Renton and Holland continue to rise, and when Holland decides to go on a rescue mission for the Vodarac over Renton's insisting that he take Eureka to a "proper" hospital, a violent argument breaks out. When the rescue mission goes sour, though, Renton still goes out to help–after getting some sense slapped into him by Talho. Renton, although helping Holland, goes too far after not knowing about what was between Eureka and Holland.
21
"Runaway"
September 11, 2005
September 16, 2006
January 5, 2013
The Vodarac priest that Holland saved conducts the ritual to remove the remnants of the Scub from Eureka's body. Renton tries to come to grips with the fact that he's been killing people in the Nirvash the whole time he's been with Gekkostate. When the members don't give him the answers he wants to hear, he decides to jump ship and run away from everything. Meanwhile, Dewey contracts a pair of mercenaries to deal with Gekkostate once and for all.
22
"Crackpot"
September 18, 2005
September 23, 2006
January 12, 2013
Renton wanders aimlessly after having left the Gekko, while the members of Gekkostate discuss his departure and how to tell Eureka. Eventually, Renton winds up in the city, where he meets Charles and Ray Beams. They take him aboard their ship, the Swan; after seeing how they live, compared to his former life on the Gekko, he decides to stay.
23
"Differentia"
September 25, 2005
September 30, 2006
January 19, 2013
Renton joins Charles and Ray on a job to deliver a believer in Vodarac to a holy ground, but when Renton tries instead to get the girl treatment, contradicting the family's wishes, he learns more about how the world around him works. Meanwhile, Holland tries to deal with the fact that he has to tell Eureka that Renton left the Gekko.
24
"Paradise Lost"
October 2, 2005
October 7, 2006
January 26, 2013
Eureka, lonely without Renton, begins to take on his responsibilities. Holland finally admits the real reason he's been so hard on Renton. Renton, aboard the Swan, begins to feel like a family with Charles and Ray. On a test run that turns into an encounter with the military, Renton and Charles lay bare their respective secrets – that Renton was with Gekkostate, and Charles and Ray were hired to destroy Gekkostate.
25
"World's End Garden"
October 9, 2005
October 14, 2006
February 2, 2013
After leaving the Swan, Renton once again wanders around, unable to find a way to return to the Gekko. He collapses in a forest of pile bunkers and is found by William B. Baxter, a hermit living with his wife, Martha, who suffers from Despair Sickness. As he recovers from his weariness, he learns more about nature and about love. Meanwhile, Holland searches for Renton amidst military blockades – until he realizes the Gekko is nearly surrounded.
26
"Morning Glory"
October 16, 2005
October 21, 2006
February 9, 2013
The military prepares their assault on the Gekko, while Holland rushes back to try and extricate Gekkostate from impending disaster. However, when he shows up without Renton, Eureka takes matters into her own hands and goes out to search for him... just as Renton returns to the Gekko, looking for Eureka.
27
"Helter Skelter"
October 23, 2005
October 28, 2006
February 16, 2013
During a lull after the failed ambush on Gekkostate, Renton and Eureka are "locked" in the brig while Holland and Talho prepare for an inevitable attack by Charles and Ray. When the attack finally happens, the plans laid by the two ex-SOF aces are played out, leading to confrontations between Renton, Talho and Ray, and Holland and Charles.
28
"Memento Mori"
October 30, 2005
November 4, 2006
February 23, 2013
Renton tries to deal with the shock of Charles' death. Meanwhile, depressed beyond the point of sanity, Ray attempts one final kamikaze attack on the Gekko with the Spearheads and the Swan.
29
"Keep On Movin"
November 6, 2005
November 11, 2006
March 2, 2013
Dominic visits Bellforest in order to try to get information on the Thurston family. Meanwhile, Renton is still trying to cope with the Beams' deaths – and a startling revelation about Eureka.
30
"Change of Life"
November 13, 2005
November 18, 2006
March 23, 2013
In order to repair and upgrade the Nirvash, which lost armor plates during the military ambush led by Charles and Ray, Gekkostate prepares to land at Tresor, a military research and development facility. While there, Renton learns a bit about Eureka and the typeZERO's pasts, and Talho decides to change, on the inside and outside, along with Holland.
31
"Animal Attack"
November 20, 2005
November 25, 2006
March 30, 2013
Coda, one of the Sages, descends to the planet to meet with Dewey concerning his Ageha Squad. Meanwhile, the typeZERO rejects its current repairs; in order to design a new outer shell for it, Gekkostate must meet with the eccentric researcher, Dr. Greg Egan. When the Ageha Squad tests their new weapon outside Tresor, though, Gekkostate scrambles to finish their business there.
32
"Start It Up"
November 27, 2005
December 2, 2006
April 6, 2013
Axel Thurston is tasked with the construction of the Nirvash's new ref board. At the same time, following the devastation left behind by the Coralian attack, the military sends TheEND to observe the Coralians, only to get sidetracked by the Gekko.
33
"Pacific State"
December 4, 2005
December 9, 2006
April 13, 2013
Gekkostate takes a short break at a popular lifting spot after the destruction caused by the Coralian attack. Renton searches for memorabilia in order to try and cheer up Eureka, while Holland and Talho learn the location of Master Norb and make plans to assault the capital to rescue him. Meanwhile Holland and Talho confront the feelings they have for one another.
34
"Inner Flight"
December 11, 2005
December 16, 2006
April 20, 2013
As the Gekko prepares to make a trajectory flight to the capital, Holland takes Renton aside with Eureka and tells him about his past with Eureka in the SOF (Special Operations Force) and his meeting with Master Norb in Ciudades del Cielo. Meanwhile, Norb meets with Dewey in the capital and the two debate the future of the planet, and Talho has a secret to reveal to Holland.
35
"Astral Apache"
December 18, 2005
January 6, 2007
April 27, 2013
Gekkostate launches a full assault on the capital in order to rescue Master Norb. Dewey dismisses the attack as fruitless, confident that Holland would never find a partner for Eureka. In the midst of the battle, Eureka breaks off with the Nirvash and hides with Renton, unwilling to take more lives. After Talho gets the information on Norb's current position, Holland heads out to retrieve the monk and confronts Dewey in the process.
36
"Fantasia"
December 25, 2005
January 13, 2007
May 4, 2013
Following Norb's rescue, the monk advises Holland to hurry and take him to the Vodarac homeland if Renton and Eureka are attracted by their true feelings. Eureka sees Renton repaint over a scratch on the Nirvash and realizes how badly her own face is scarred. In a meeting with Gidget, Eureka becomes determined to try and use makeup to "look pretty for Renton". Meanwhile, Holland takes Renton aside to tell the boy yet another story from his past; the story of his relationship with his first love, Renton's sister, Diane Thurston.
37
"Raise Your Hand"
January 8, 2006
January 20, 2007
May 11, 2013
As Gekkostate records an interview with Norb and Dr. Bear in which they discuss the military's plans and the "Limit of Questions" theory, Dewey stages a show of his own for the media and accuses the Sage Council of standing idly by while the Coralians assault human civilization. Dewey promises the public hope in the form of the Ageha Squad, using Adroc Thurston's name to sway the world.
38
"Date of Birth"
January 15, 2006
January 27, 2007
May 18, 2013
When Renton learns that Eureka knew his father before he died, he becomes upset and the two fail to communicate their feelings properly. The tension between them is misunderstood by the rest of the Gekko's crew, some of whom believe Renton wants to or tried to have sex with Eureka. Meanwhile, at the capital, Dewey finally makes his move against the Sage Council.
39
"Join the Future"
January 22, 2006
February 3, 2007
May 25, 2013
While the Gekko is refueling for the final leg of its journey to the Great Wall, Norb orders Gekkostate to play a game of futsal. Tensions are high on the soccer field as many of the crew question Norb's motives. At the capital, Dewey blames the death of the two sages on the Coralians, and prepares an attack on the Great Wall in retaliation.
40
"Cosmic Trigger"
January 29, 2006
February 10, 2007
June 1, 2013
Gekkostate finally arrives at the Vodarac shrine, very near the Great Wall. However, in order to pass through the Great Wall, Norb explains that Renton and Eureka must first infiltrate the shrine and meet with Sakuya. Dewey orders the deployment of military forces to the Great Wall, including his new flagship, the Ginga.
41
"Acperience 3"
February 5, 2006
February 17, 2007
June 8, 2013
Eureka enters the strange lotus bud they find at the core of the Vodarac shrine, and inside finds a library much like the one she found when she nearly merged with the Scub Coral. Inside this library, she meets Sakuya. Norb tells Renton (and Sakuya tells Eureka) the story of how the two fell in love and attempted to pass the Great Wall. Outside, Holland's group defends the shrine against Vodarac soldiers, with the UF military approaching fast.
42
"Star Dancer"
February 12, 2006
February 24, 2007
June 15, 2013
Dewey launches an attack on the Vodarac shrine and uses Orange to summon a Kute-class Coralian. Renton, Eureka, and the kids race towards the Great Wall in the Nirvash, with the Gekko and its LFOs covering them. Amidst the antibody Coralians and Federation ships, Anemone and TheEND launch to pursue typeZERO into the Zone.
43
"The Sunshine Underground"
February 19, 2006
March 3, 2007
June 22, 2013
Renton, Eureka, and the children find themselves stranded on humanity's former home, Earth, with no idea where to go or what to do. As Holland boards a new LFO and fights alongside an upgraded Gekko against the military's AFX ships, Dominic kisses Anemone. Afterwards Dewey takes Anemone to a New Year's ball and tells her the story of his childhood. Meanwhile, Dominic is given a new order: to head to Warsaw with Jurgens and the Izumo in order to select the next pilot of TheEND.
44
"It's All in the Mind"
February 26, 2006
March 10, 2007
June 29, 2013
Dominic arrives at Warsaw with his orders from the last episode, and finds a facility that performs experiments on young girls with desperation disease. However, the experiment ends in the death of all three specimens, and Dominic is forced to inform Dewey that there was no replacement for Anemone. Meanwhile, stress continues to take its toll on Renton's group as they explore Earth, and Eureka's condition grows more dire.
45
"Don't You Want Me?"
March 5, 2006
March 17, 2007
July 6, 2013
Dominic and Jurgens arrive at Tresor under their orders to capture Gekkostate, but rather than carry them out they demand a talk with Dr. Bear in order to ascertain the truth of Dewey's plan. Meanwhile, Renton chases down Eureka and confronts her about her transformation, with the kids right in the middle.
46
"Planet Rock"
March 12, 2006
March 24, 2007
July 13, 2013
Dewey at last discovers the location of the Scub Control Cluster. As the military launches all over the world, ref boarders and DJs relay information on their activities to Tresor. Holland and Jurgens quickly ready their crews for battle. On Earth, Eureka and the kids tend to Renton's fever, and Eureka undergoes yet another transformation.
47
"Acperience 4"
March 19, 2006
April 7, 2007
July 20, 2013
Renton reunites with his sister Diane shortly after he, Eureka, and the kids discover the Control Cluster. She tells him the history of Earth and the Scub Corals, leaving him and Eureka to make a very important decision about humanity's future.
48
"Ballet Mechanique"
March 26, 2006
April 14, 2007
July 27, 2013
Dewey's plans come to fruition as he creates a hole in the Scub Corals, sending Anemone to the Control Cluster to target it for destruction. With the opening closing fast, Dominic tries to find Anemone before she completes her suicidal mission.
49
"Shout to the Top!"
April 2, 2006
April 21, 2007
August 3, 2013
The Control Cluster has been destroyed along with TheEND, and the typeZERO is badly damaged. Debris from the destruction of the Oratorio #8 are carried on trapar to towers around the globe, while Dewey enters the Scub Coral to destroy the last hope the world has: Renton, Eureka, and the Nirvash. Holland confronts his brother on the Ginga, but Dewey has one last trick, and it may cost Eureka her life.
50
"Wish Upon a Star"
April 2, 2006
April 28, 2007
August 10, 2013
Eureka is becoming the next Control Cluster and all hope seems lost. The Nirvash can't be operated and surrounding Eureka are millions of antibody Coralians. The Gekko prepares for one last mission, but can Renton summon the strength to save the one he loves?
Special (2012)
#

Episode Title

Japanese Airdate

01
"New Order"
April 5, 2012
A special episode that is a non-canonical alternate ending to the show. The script for this special was first performed in 2006 at a Sony Music Festival by the original Japanese voice actors. In March of 2012, Studio BONES decided to put existing footage of the TV series to this audio and air it for the first time on television. Episode 51's alternate ending entails that Eureka must go on a journey to scatter seven pieces of her memories across the land in order to calm it. In the end, Eureka and Renton must part ways, but Renton vows that they will meet again someday, no matter what. "New Order" has absolutely no relation to Eureka seven's sequel known as, Eureka seven: Astral Ocean as this was an ending that was not used for the original TV run of the series, and Astral Ocean continues from the events that happened in Episode 50: Wish Upon a Star.
Eureka Seven: Good Night, Sleep Tight, Young Lovers (2009)
A film titled Eureka Seven: Good Night, Sleep Tight, Young Lovers was theatrically released in Japan on April 25, 2009. The film was animated by Kinema Citrus and was set in an alternate timeline within the Eureka Seven universe. Good Night, Sleep Tight, Young Lovers screened at select theaters nationwide in America for a one night only special event on September 24, 2009. Bandai released the film on Blu Ray and DVD on March 2, 2010, while FUNimation licensed and rereleased the film on Blu Ray and DVD on April 22, 2014.
#

Episode Title

Japanese Release

01
"Good Night, Sleep Tight, Young Lovers"
April 25, 2009
In the year 2054, humanity is on the brink of destruction thanks to a half-century war with the strange beings known as the EIZO. In the middle of an important mission, mecha pilot Renton is reunited with his childhood friend Eureka who was kidnapped by government forces years before. But their heartfelt reunion might not last for long: Eureka's life will soon come to an end, and the crew that Renton serves alongside on the GEKKO have their own ideas about what to do with the blue-haired girl. As mankind prepares to fire a doomsday weapon that will end the war once and for all, the fate of the world rests in the hearts of two young lovers.
Toonami Episode Guides
Cartoon Network (1997-2008)
Adult Swim (2012-Present)