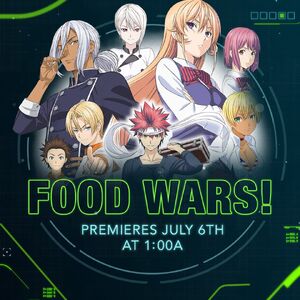 Series Overview
| Color | Season | Episodes | Toonami Premiere | Toonami Finale |
| --- | --- | --- | --- | --- |
| | 1 | 24 | July 6, 2019 | January 11, 2020 |
| | 2 | 13 | January 18, 2020 | April 18, 2020 |
| | 3 | 24 | February 27, 2021 | July 31, 2021 |
| | 4 | 12 | August 21, 2021 | November 27, 2021 |
| | 5 | 13 | TBA | TBA |
Food Wars!
No. in Series
No. in Season
Episode Title
Japanese Airdate
Toonami Airdate
01
01
"The Vast Wasteland"
April 3, 2015
July 6, 2019
Yukihira is a popular neighborhood restaurant where Yukihira Soma helps out in the hopes of surpassing his father as a chef one day. But land sharks are after their restaurant, and one day Soma tells them that the restaurant will close if they couldn't serve satisfactory food to their customers. The land sharks are only too happy to sabotage the restaurant's fridge and gleefully orders Soma to serve them a meat dish.
02
02
"God Tongue"
April 10, 2015
July 13, 2019
Under his father's orders, Soma attempts to transfer into one of Japan's top culinary schools, Totsuki Academy. His entrance examiner, Nakiri Erina, is a student said to possess humanity's best palate: the God Tongue.
03
03
"That Chef Never Smiles"
April 17, 2015
July 20, 2019
Just barely squeaking past the academy's entrance exam, Soma causes and uproar at the opening ceremony by making a brash speech in front of the entire class. In his very first class, he's paired with Tadokoro Megumi, a girl who is at risk of expulsion and is intent on keeping a low profile in order to survive.
04
04
"The Madonna of the Polar Star"
April 24, 2015
July 27, 2019
Soma arrives at Polar Star Dormitory with high expectations, only to find it a creepy, run-down place. He is then informed by the dorm warden, Daimido Fumio, that he can only live at the dorm after he impresses her with his cooking.
05
05
"The Ice Queen and the Spring Storm"
May 1, 2015
August 3, 2019
Isshiki Satoshi is the only second-year from the high school division in Polar Star Dormitory. Full of ambition to join the Elite Ten, Soma challenges Isshiki right away, but he learns there are many rules that must be met in order for a formal challenge to occur.
06
06
"The Meat Invader"
May 8, 2015
August 10, 2019
Soma is drawn to the Don Research Society, one of the academy's many cooking clubs, and takes Megumi with him to check it out. But they only find the club leader, Konishi, who's distraught over his club's imminent demise at the hands of Erina.
07
07
"The Quiet Don the Eloquent Don"
May 15, 2015
August 17, 2019
The Shokugeki between Mito Ikumi and Yukihira Soma has begun! Everyone, including Erina, is convinced that Ikumi, the Meat Master, will win. Soma, on the other hand, is greeted by jeers the moment he enters the arena. Will Soma be able to save Don RS?
08
08
"The Concerto of Inspiration and Imagination"
May 22, 2015
August 24, 2019
The training camp is considered the first trial by fire for students in Totsuki's high school division. Dozens of students are said to be expelled and sent away every day, and the number of students is said to be reduced below half by the camp's end. Intent on survival, Soma and his friends embark on their journey to the hellish camp in one of Totsuki Resorts' hotels.
09
09
"The Breading to Adorn the Mountains"
May 29, 2015
August 31, 2019
Inui Hinako, a Totsuki alumna, has tasked Soma's group with making a Japanese dish using available ingredients in the area. Anything other than condiments and spices must be procured from the surrounding environment. Soma, provoked by Takumi Aldini's challenge, has a flash of inspiration and dashes out with Megumi to find ingredients for their dish!
10
10
"The Heavenly Recette"
June 5, 2015
September 7, 2019
The Polar Star members have managed to survive the first day of camp. Megumi starts to build some confidence by successfully supporting Soma. But now, she and Soma have to face the second day with a genius of French cuisine, Shinomiya, who'd already expelled more than 30 students the day prior.
11
11
"The Magician from the East"
June 12, 2015
September 14, 2019
Soma recklessly challenges Shinomiya to a Shokugeki in order to have him retract his decision to expel Megumi. Shinomiya refuses, but Dojima half forces him to accept. However, Dojima also imposes a condition on Soma and Megumi--Megumi must be the main chef! If they lose, Soma will also be expelled.
12
12
"The Memory of a Dish"
June 19, 2015
September 21, 2019
The unofficial Shokugeki between Shinomiya and the Megumi-Soma pair has begun. With expulsion on the line, the judging is underway. Megumi's first dish as the main chef is her own take on the nine-vegetable terrine Shinomiya assigned--the Rainbow Terrine, made from seven types of vegetables!
13
13
"Eggs Before Dawn"
June 26, 2015
October 5, 2019
It's now the third night of camp and Soma and the others have managed to make it through their arduous trials. But now they're given a new trial for the next morning: to come up with a menu item that uses eggs.
14
14
"Metamorphosis"
July 3, 2015
October 12, 2019
The students have been tasked with creating an egg-based breakfast menu item for a buffet, and they must persuade guests to consume 200 servings before two hours' time. Soma's souffle omelets keep deflating before the guests have a chance to take the dish. With only 30 minutes remaining, Soma has served less than 10 guests. With defeat imminent, Soma recalls Joichiro's advice and decides to make a last-ditch effort to make a comeback!
15
15
"The Man Called the Demon"
July 17, 2015
October 19, 2019
With the camp over, surviving students return to Totsuki Academy. Soma manages to miss his bus, but so does Erina, so they end up going back on the same car. As awkward conversation ensues, Soma learns from Erina that the Autumn Elections are coming.
16
16
"The Chef Who's Crossed a Thousand Leagues"
July 24, 2015
October 26, 2019
When Soma's father, Joichiro, suddenly shows up on Polar Star Dormitory's doorstep, Soma finds out that his father was an alum of Totsuki Academy and Polar Star Dormitory. Joichiro challenges Soma to a cooking duel to find out how far his son has come. How will the family duel end?
17
17
"The Seductive Karaage"
July 31, 2015
November 2, 2019
Soma goes back home for the first time in a long while over an extended break. Stormed by people who were waiting for Yukihira to reopen, Soma decides to serve his customers. But among them are the leaders of the shopping district, who tell Soma that the shopping district is on its last breath as a new shopping complex at the train station steals all of their customers.
18
18
"The Karaage of Youth"
August 7, 2015
November 9, 2019
Home to Diner Yukihira, Sumire Avenue Shopping District is on its last legs after the karaage specialty store, Mozuya, has taken all their customers. Soma recruits Kurase and Nikumi to help devise a plan to recoup customers: the Walk-n-Eat Karaage. The summer karaage campaign is about to begin!
19
19
"The Chosen One"
August 14, 2015
November 16, 2019
As the first semester draws to a close, the names of students who'll participate in the Autumn Elections are posted in Totsuki Academy. The assigned topic is a curry dish, leading Soma to seek out a certain alumna Joichiro told him about.
20
20
"The Dragon Lies Down and Ascends the Skies"
August 21, 2015
November 23, 2019
Fully aware of how deep curry can go through their encounter with Hayama, Soma and Megumi join the other first-years in preparing for the Autumn Elections over the rest of the summer. Now, the time has finally come for the preliminaries.
21
21
"The Unknown Known"
August 28, 2015
December 7, 2019
The Autumn Elections preliminaries have finally begun! Only four students from each group can advance to the main tournament. In Soma's Group A, the favored candidates get all the attention while Soma toils on. Meanwhile in Group B, Megumi is passed over by everyone as being uninteresting, but then she suddenly pulls out a unique ingredient.
22
22
"The One Who Surpasses the Ordinary"
September 4, 2015
December 14, 2019
The preliminaries for the Autumn Elections have entered the judging phase for each group! Excitement's in the air in Group B's arena as Hisako, Takumi, Alice, and others score big with the judges. The final dish to be judged belongs to Megumi, whom no one has high hopes for. What will her dish be like?
23
23
"The Competition of the Blossoming Individuals"
September 11, 2015
January 4, 2020
The battle continues in the Autumn Elections preliminaries. From Group B, Alice, Hisako, Takumi and Megumi all make it through. Meanwhile, in Group A, Sendawara Natsume keeps giving contestants 0's and no one has scored a high overall score. Next, Alice's aide, Kurokiba Ryo is up. The mysterious chef finally reveals his true colors!
24
24
"The Banquet of Warriors"
September 25, 2015
January 11, 2020
In Group A, where the dark horse Kurokiba has taken top spot, the judging reaches its climactic stage.
Food Wars! The Second Plate
No. in Series
No. in Season
Episode Title
Japanese Airdate
Toonami Airdate
25
01
"What Fills the Box"
July 2, 2016
January 18, 2020
Soma is first up in the Fall Elections' main tournament. The theme is bento, and his opponent is Nakiri Alice, who specializes in molecular gastronomy. How will each draw on their expertise to craft the ultimate bento?
26
02
"The Interplay of Light and Shadow"
July 9, 2016
January 25, 2020
Now it's Megumi's turn to rise to the occasion. The theme is ramen, and her opponent is Kurokiba Ryo. What will these complete opposites in personalities and cooking styles choose for their ramen broth?
27
03
"The Generation of Prodigies"
July 16, 2016
February 1, 2020
Round 2 has finally concluded and round 3 has begun, pitting the favored candidate, Hayama Akira, against Nakiri Erina's aide, Arato Hisako!
28
04
"The Pursuer"
July 23, 2016
February 8, 2020
The fourth round between Takumi Aldini and Mimasaka Subaru unexpectedly becomes a shokugeki. Takumi's bruised pride ignites his desire to beat Mimasaka, but Mimasaka starts making the exact same dish as Takumi.
29
05
"The Secret in the First Bite"
July 30, 2016
February 15, 2020
Not only will Yukihira face Mimasaka in the semi-finals, but the match will also be a shokugeki! Yukihira even tells Mimasaka what he'll prepare for the match. How does he plan to defeat Mimasaka's perfect profiling?
30
06
"Dawn Will Come Again"
August 6, 2016
February 22, 2020
Soma and Mimasaka's beef stew shokugeki has finally begun! Not only has Mimasaka copied Soma's use of oxtail as an ingredient, but his added twists also begin to sway the audience and the judges. But Soma still has a few tricks up his sleeve.
31
07
"Beasts Devouring Each Other"
August 13, 2016
February 29, 2020
Following Soma's victory in the first round of the semi-finals, the second round between Kurokiba Ryo and Hayama Akira begins! Which one of them will advance to the finals?
32
08
"Battle of Seasonality"
August 20, 2016
March 7, 2020
Soma is optimistic about the finals because of his family diner's longstanding history with pacific saury as a menu item. However, his confidence is soon crushed when he realizes that Hayama and Kurokiba are far more skilled at selecting the best pacific saury the fish market has to offer. Can Soma overcome this major disadvantage?
33
09
"A Sword That Signals Autumn"
August 27, 2016
March 14, 2020
The Fall Elections Finals are finally here, with a historic face-off between three finalists at once. While Hayama and Kurokiba produce fresh pacific saury glinting like swords, Soma's pacific saury is a bit different.
34
10
"A New Genius"
September 3, 2016
March 21, 2020
Though presumed inferior to Kurokiba's cartoccio and Hayama's carpaccio, Soma's pacific saury dish had been hiding a secret. Will Soma's strategy work to sway the judges?
35
11
"The Stagiaire"
September 10, 2016
March 28, 2020
After a brief respite following the Fall Elections, Soma's class is sent off to the Stagiare, a training program out in the real world where students must succeed in leaving visible results at their training location. Soma ends up at a Western restaurant with Arato. He draws on his experience and readily steps up to the challenge, but will that be enough to pass the Stagiare?
36
12
"The Magician Once More"
September 17, 2016
April 4, 2020
Clearing his first Stagiare with ease, Soma heads off to his next training location to find it is a new restaurant to be opened by Shinomiya Kojiro, his former shokugeki opponent. What awaits Soma in Shinomiya's French restaurant kitchen?
37
13
"Pomp and Circumstance"
September 24, 2016
April 18, 2020
With only one more day of being a Stagiaire at Shinomiya Kojiro's new restaurant, SHINO's Tokyo, Soma continues to learn various things about French cuisine and is able to participate in the employee competition. Will Soma be able to impress Shinomiya with his dish and will he pass his Stagiaire course?
Food Wars! The Third Plate
No. in Series
No. in Season
Episode Title
Japanese Airdate
Toonami Airdate
38
01
"The Elite Ten"
October 3, 2017
February 27, 2021
Soma finds out that Totsuki has a school festival that happens at the end of autumn called the Moon Festival. Soma is told by the 8th seat of the Elite Ten, Kuga, that if he's able to beat him in any dish there, he'll accept a Shokugeki from him.
39
02
"Má and Là"
October 10, 2017
March 6, 2021
After seeing the Chinese cuisine RS, Soma decides to put out a Chinese cuisine food stall at the Moon Festival to challenge Kuga. Meanwhile, Alice pairs up with Kurokiba and Hayama, and the others also start to prepare for the Moon Festival.
40
03
"Moon Festival"
October 17, 2017
March 13, 2021
The Moon Festival finally begins! Soma decides to make black pepper buns for his stand. However, the crowd keeps going over to the more luxorious Chinese cuisine RS's stand instead. With Soma's stall already in the red, and his expulsion from the academy on the line, Soma must figure out how to attract more customers.
41
04
"Pride of Young Lions"
October 24, 2017
March 20, 2021
It is now the third day of the Moon Festival! While the addition of the Sorta Danzi Noodles dish to their lineup has helped Soma improve their sales, they are nowhere near Chinese Cuisine RS, who continues to dominate the sales rankings. Soma decides to get help and start serving yet another new dish: Mapo Tofu, the same as Chinese Cuisine RS! However, his version has a surprising secret. What is Soma's strategy?
42
05
"The Darkening Dinner Table"
October 31, 2017
March 27, 2021
The final day of the Moon Festival is here. Soma and Kuga's battle finally draws to a close. Who will emerge the victor? After closing up shop in the Central Area, Soma and Megumi accept Rindo's invitation to go to Tsukasa Eishi's booth in the Yamanote Area! What kind of food will be served by the first seat?
43
06
"The Imprisoned Queen"
November 7, 2017
April 3, 2021
More than half of the Elite Ten Council have been turned by Erina's father, Nakiri Azami, and appointed him as Totsuki's new director! News of the regime change comes as a shock to the whole campus, and there is unease in the air. One day, Soma goes back to his room, only to find the former director, Senzaemon, waiting for him. Senzaemon begins to tell Soma about Erina's shocking past.
44
07
"It Begins"
November 14, 2017
April 10, 2021
With Alice and Hisako's help, Erina escaped from her family home and came to Polar Star Dormitory. Meanwhile, Azami establishes Central, whose members will solely consist of students he personally finds worthy. In addition, he announces the dissolution of research groups, research societies, and clubs! Polar Star Dormitory is also on the list.
45
08
"The Alchemist"
November 21, 2017
April 17, 2021
Soma and Eizan begin the shokugeki that will determine the fate of Polar Star Dormitory. Hereto known more as a skilled consultant, Eizan's strengths as a chef will finally become known. The shokugeki's topic is Satsuma chicken from Kagoshima prefecture. However, the match is rigged due to Eizan having bought out all the judges. Does Soma have a fighting chance?
46
09
"Hunting the Survivors"
November 28, 2017
April 24, 2021
Though Polar Star Dormitory has won a narrow victory, the Azami administration is continuing its revolution. Isshiki (7th Seat), Megishima (3rd Seat), Kuga (8th Seat) are removed from the Elite Ten. Furthermore, the administration begins its "survivor hunt" to crush remaining organizations who seek to overturn the administration's decision to shut them all down.
47
10
"The Salmon Will Dance"
December 5, 2017
May 1, 2021
With the survival of Cutting Edge Cuisine RS on the line, Kurokiba and Kusunoki's Shokugeki begins. Not only does Kusunoki prepare the key ingredient, salmon, with the same skill as Kurokiba, but he also pulls out a steam convection oven. How will Kurokiba counter Kusunoki's expertise in cutting edge culinary skills?
48
11
"Der Weiße Ritter der Tafel"
December 12, 2017
May 8, 2021
Cutting Edge Cuisine RS was able to defeat Central. However, other organizations who suffered defeat have been shut down, strengthening Central's control over the academy. Meanwhile, the First Seat happens to become the substitute instructor in Soma's class, and Soma volunteers to be his assistant.
49
12
"The One Who Aims for the Summit"
December 19, 2017
May 15, 2021
Soma battles with the First Seat of the Totsuki Elite Ten, Tsukasa. If Soma loses, he has to join Central and Tsukasa wagers his seat in the Elite Ten. Their topic is French cuisine using venison. However, Soma pulls out an unlikely ingredient and a bizarre tool. The judges for this battle end up being Erina, Megumi, and Hisako who thought they were hiding, but were found. Who will be the victor in this battle that could greatly change both of their lives?
50
13
"Advancement Exam"
April 8, 2018
May 22, 2021
The 1st years at the Totsuki Culinary Institute are facing the biggest event of the 2nd semester, "The Advancement Exam"! However, the mood is gloomy at Polar Star dormitory as it is rumored that those who won't obey Azami's regime will face elimination. As Soma reflects on the situation, he is visited by Erina. When he hears her thoughts, he starts to cook a "Yukihira dish" and make her taste it.
51
14
"Onward on the Totsuki Train"
April 15, 2018
May 29, 2021
The advancement exam traditionally takes place in Hokkaido every year. With the theme of the exam being Hokkaido ingredients, Erina is to hold a special lesson on Hokkaido to the Polar Star members. With extra hard training, they are now ready for the exam. The 1st exam shortly begins; however, they are already facing interference from the Central Gourmet Organization.
52
15
"Jeanne d'Arc Rises"
April 22, 2018
June 5, 2021
After passing the 1st exam, Soma and others are moving onto the 2nd exam! The next theme is "noodle dish"! However, they face another obstruction from the Central! When it was their time to cook, all the noodles were used up. Although the regulation is to "procure any missing ingredients yourself", they are stranded in the rural mountain side venue and are also grounded with heavy snow! How will Soma and friends get through this?
53
16
"Revenge Match"
April 29, 2018
June 12, 2021
The advancement exam continues. In the third exam, students are to battle Totsuki elite ten members! Soma is up against none other than Hayama, who joined the council recently. Their exam will begin in 3 days time, with "bear meat" as its theme. Soma goes straight into trials but because of its distinct smell, bear meat is proven difficult to handle. As Soma tackles bear meat fruitlessly, an unexpected person comes to his aid!
54
17
"The Umami Tightrope"
May 6, 2018
June 19, 2021
Soma thinks upon the circumstance of Shiomi Seminar's closure and the reason why Hayama joined the Central without a fight. Dojima, who knew why Hayama became elite ten tells Soma it was because Azami has been pulling the strings from behind. Finally, the day of the third exam is here! Soma's revenge match begins!!
55
18
"For Whom"
May 13, 2018
June 26, 2021
The third round of the advancement exam begins with Soma vs Hayama! Soma throws everything he's got into his ultimately delicious Bear Menchi Katsu, which seemed like a winning dish already. However, Hayama's bear meat dish is finally revealed! A bear dish prepared with Hayama's extremely acute sense of smell blows judges away and even makes them admit that it surpasses Soma's dish! What will Soma's next move be?
56
19
"Declaration of War"
May 20, 2018
July 3, 2021
Hisako, Alice and Kurokiba all failed the third exam and were expelled! In desperation, Erina directly negotiates with Azami but her pleas are not taken seriously. Soma also challenges Azami for the seat at the elite ten. Like Erina, his challenge was also brushed away but the situation changes entirely when a certain person appears at the scene!
57
20
"Erina's Diligent Studies"
May 27, 2018
July 10, 2021
In order to prepare themselves for the upcoming Régiment du Cuisine, Soma and the others divide into 2 teams for practice battle. While they are not allowed to speak under the rule, the team leader Dojima prepares a dish but to everyone's confusion, he improvises from the recipe. As Takumi tries to understand Dojima's intention, he recalls the events of the Stagiaire Challenge.
58
21
"The Pioneer of the Wastelands"
June 3, 2018
July 17, 2021
23 years ago, Polar Star dormitory led by Saiba Joichiro and Dojima Gin was known as the strongest of all Totsuki Academy. Joichiro's creative dishes had won many competitions and been recognized by many, however, he still had unsettling feelings inside.
59
22
"To the Final Battleground"
June 10, 2018
July 24, 2021
The day of the Regiment de Cuisine is here! Soma has selected 8 members to defeat the central! After Azami and Erina's discussion, it was decided that Soma, Isshiki and Megishima will fight in the 1st Bout. Soma is up against Kinokuni Nene, the 6th seat in Central and also an expert in "Soba" noodles! What will the Shokugeki theme be?
60
23
"Bearing Polar Star Dormitory"
June 17, 2018
July 31, 2021
Excitement rises as the judges arrive at the venue of the Regiment de Cuisine. Isshiki is up against the 8th seat and Italian cuisine specialist Shiratsu Julio! His rivalry with Isshiki is apparent but what's the reason behind it? Julio's dish is ready first! What will the judges reaction be?
61
24
"The Basis for Strength"
June 24, 2018
July 31, 2021
The 3rd and final battle between Soma and Nene is heating up, as they are putting everything they've got into the dish! With the shokugeki theme of Soba, Nene is in her element and finishes first. Her dish is highly praised by the judges so what will Soma cook up to turn the situation around?
Food Wars! The Fourth Plate
No. in Series
No. in Season
Episode Title
Japanese Airdate
Toonami Airdate
62
01
"What We Want to Protect"
October 11, 2019
August 21, 2021
Régiment du Cuisine with the Central Gourmet organization lead by Azami Nakiri continues. The 1st Bout was won by Soma and the rebels! To keep the momentum going and secure more wins, the rebels place Kuga, Mimasaka and Megishima as their next trump cards. Central on the other hand, sends in First seat; Tsukasa, Second seat; Rindo and Fourth seat; Saito.
63
02
"Camera Flash"
October 18, 2019
August 28, 2021
The 2nd Bout of the Régiment du Cuisine is between Megishima & Rindo, Mimasaka & Saito and Kuga & Tsukasa! The theme of each  team is "Chili", "Tuna" and "Green Tea". Mimasaka shows off his new skill which he devised from working together in a team. The rebel team unite as one to defeat the new found Totsuki Elite Ten, but will they succeed?
64
03
"Hope in Solidarity"
October 25, 2019
September 4, 2021
The 2nd Bout between the new and old members of the Elite Ten continues. Both Megishima and Mimasaka lose only by a fraction. Why is Kuga so tenaciously persistent about Tsukasa? What kind of dish will they make using "Green Tea?" The 2nd Bout comes to an end! The rebels enjoy a short break but the 3rd seat of the Elite Ten, Momo visits them.
65
04
"Aim for Victory!"
November 1, 2019
September 11, 2021
The Régiment de Cuisine enters the 3rd Bout! Soma & Saito, Takumi & Eizan and Megumi & Momo are lined up for the next round. The 3 members of the rebels studied under famous chefs in the past and Megumi gets some help from Shinomiya for this round. However, her past experience with him brings back traumatic memories and she is unable to do her best. What made her come back to herself was... shojo comics?
66
05
"You're Through"
November 8, 2019
September 18, 2021
The 3rd Bout of the Régiment du Cuisine continues between Megumi and Momo. Meanwhile, Takumi and Eizan prepare their "beef" themed dish. While Takumi works on his version of the traditional Japanese dish "Shigure-ni", Eizan plays dirty behind his back in order to gain an advantage! What is Takumi's secret plan after being cornered?
67
06
"A Single Blade"
November 15, 2019
September 25, 2021
The Shokugeki between Takumi and Eizan comes to an end and there's only one pair left! Soma is up against Saito, who overcame Mimasaka's "Perfect Trace"! What will they cook using the theme of battle butter?
68
07
"The Two Queens"
November 22, 2019
October 2, 2021
The heated battle enters the 4th Bout! The three remaining Central members are Tsukasa, Rindo, and Momo. With the stakes at an all-time high, the rebel team goes all-out with their best, too: Isshiki, Takumi, and Erina! Erina finally joins the battle and she is up against Momo. The battle neither side can afford to lose is about to begin.
69
08
"Watching from Beside You"
November 29, 2019
October 9, 2021
Azami Nakiri turns up to the battle venue and announces that he will be involved as a judge for this round! The rebels are outraged but even Senzaemon, who is supposed to be on their side, agrees to this change! With everyone confused, Takumi's and Rindo's dishes are ready to be served!
70
09
"The First and Second Seats"
December 6, 2019
November 6, 2021
With one win for the Central and one win for the rebels, the Shokugeki between Isshiki and Tsukasa reaches its climax! The theme for their round was the classical French ingredient, "rabbit meat"! Isshiki's dish manages to impress the judges but Tsukasa seemed to be unmoved. Will Tsukasa be able to surpass Isshiki's super aggressive dish?
71
10
"How to Build a Specialty"
December 13, 2019
November 13, 2021
The last Team Shokugeki begins! For the final Bout, each member from the team must complete one appetizer and one main dish to complete a course meal. Although teamwork is crucial in this battle, Soma and Erina continue to bicker. On the other hand, the invincible pair of Tsukasa and Rindo are ready to present their dishes!
72
11
"Song of Hope"
December 20, 2019
November 20, 2021
During the final Bout, Soma challenges Erina to a Shokugeki! There was a hidden motive behind it; Soma wanted Erina to put everything she has into her specialty! As the time limit draws nearer, Erina accepts Soma's challenge and starts to prepare a new dish! What will Erina present as her specialty?
73
12
"The New "Totsuki Elite Ten""
December 27, 2019
November 27, 2021
The time has come to decide the winner for the final Bout! In the end, the rebel team wins the battle! Azami admits the defeat of Central and leaves the venue without a word. However, he is stopped by his old friends Joichiro and Dojima. Meanwhile, Soma and the others have gathered to decide who will now sit at the table of the Elite Ten.
Food Wars! The Fifth Plate
No. in Series
No. in Season
Episode Title
Japanese Airdate
Toonami Airdate
74
01
"Final Exams"
April 10, 2020
TBA
It's summer and Soma and his friends have gotten through the first semester of their second year and are now facing the final exams. The test is to run a "Beach House" on a beach packed with tourists and achieve sales of 3 million yen in 3 days! Soma and the other Elite Ten members felt confident, until they found out about the downside of this exam. The restaurant prepared for them was almost nothing but an abandoned house! Will Soma and the others be able to pass the final exam?
75
02
"The BLUE Preliminaries"
April 17, 2020
TBA
76
03
"Noir"
July 17, 2020
TBA
77
04
"The Last Supper"
July 24, 2020
TBA
78
05
"Convenience Store Brawl"
July 31, 2020
TBA
79
06
"A Midsummer Christmas"
August 7, 2020
TBA
80
07
"Crossed Knives"
August 14, 2020
TBA
81
08
"The Missing Half of the Moon"
August 21, 2020
TBA
82
09
"The God Tongue's Despair"
August 28, 2020
TBA
83
10
"Surpassing Dad"
September 4, 2020
TBA
84
11
"The Taste of Failure"
September 11, 2020
TBA
85
12
"The Perfect Rocks"
September 18, 2020
TBA
86
13
"Food Wars"
September 25, 2020
TBA
Toonami Episode Guides
Cartoon Network (1997-2008)
Adult Swim (2012-Present)