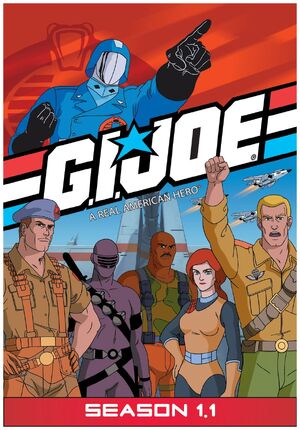 Series Overview
| Color | Season | Episodes | U.S. Season Premiere | U.S. Season Finale |
| --- | --- | --- | --- | --- |
| | Mini-Series | 05 | September 12, 1983 | September 16, 1983 |
| | Mini-Series | 05 | September 10, 1984 | September 14, 1984 |
| | 1 | 55 | September 16, 1985 | December 13, 1985 |
| | 2 | 30 | September 15, 1986 | November 20, 1986 |
| | Movie | 01 | | |
A Real American Hero (1983)
No.

Episode Title

Writers

Original Airdate

1
"The Cobra Strikes"
Ron Friedman
September 12, 1983
Using the M.A.S.S. device, Destro and Cobra Commander steal a powerful satellite, kidnap Duke and terrorize the world. Scarlett and the other Joes learn that the only way to stop Cobra is to build their own M.A.S.S. device. To do it they must search the globe for three precious elements and get them before Cobra does or all is lost. Meanwhile, Duke is captured and battles for his life in Cobra's Arena of Sport.
2
"Slaves of the Cobra Master"
Ron Friedman
September 13, 1983
Duke finds an unexpected ally in the shadows of the Arena of Sport, while Snake Eyes, Scarlett, and Stalker join with Snow Job in a treacherous search for the radioactive crystals of death. Meanwhile, Cobra terrifies the world with the impossible capture of an entire army and Duke's desperate bid for freedom seems sure to end in disaster.
3
"The Worms of Death"
Ron Friedman
September 14, 1983
Cobra robots blast their way into the crystal mine freeing the dangerously radioactive Snake-Eyes, while the G.I. Joe team dives to the ocean floor in search of the precious elements needed to stop Cobra's train of destruction. Meanwhile, Duke and the Baroness unexpectedly join forces in a terrifying struggle against giant tube worms.
4
"Duel in the Devil's Cauldron"
Ron Friedman
September 15, 1983
New York trembles on the brink of destruction and Stalker agrees to surrender the G.I. Joe team while Scarlett, Wild Bill, and Gung-Ho fly into an erupting volcano and battle Cobra and Destro for the final element. Only with the final element do the Joes have a fighting chance. But it's a chance that may cost Scarlett her life.
5
"A Stake in the Serpent's Heart"
Ron Friedman
September 16, 1983
Scarlett becomes a slave to Cobra and she and Salina lead a slave rebellion, while Dr. Vandermeer completes the M.A.S.S. device and the Joe team launches a deadly strike against Cobra and Destro.
The Revenge of Cobra (1984)
No.

Episode Title

Writers

Original Airdate

1
"In the Cobra's Pit"
Ron Friedman
September 10, 1984
Using a laser core stolen from G.I. Joe, Cobra activates the Weather Dominator, an incredible weapon which controls the forces of Nature itself.
2
"The Vines of Evil"
Ron Friedman
September 11, 1984
Cobra Commander targets Washington D.C. for destruction, but the Joe team repels the attack and the Weather Dominator explodes into three parts setting off a chain reaction of natural disasters around the world.
3
"The Palace of Doom"
Ron Friedman
September 12, 1984
Cobra forces attack G.I. Joe on the stormy seas surrounding the Island of No Return and in the cursed confines of the ancient Palace of Doom.
4
"Battle on the Roof of the World"
Ron Friedman
September 13, 1984
Zartan reveals his dangerous plan of treachery and G.I. Joe and Cobra battle for the recovery of the laser core.
5
"Amusement Park of Terror"
Ron Friedman
September 14, 1984
Storm Shadow infiltrates Joe Headquarters on a mission to steal the Joe's part of the Weather Dominator and Cobra and G.I. Joe clash in the ultimate battle outside the Cobra Temple.
Season 1 (1985)
No.

Episode Title

Writers

Original Airdate

1
"The Pyramid of Darkness, Part 1:
The Further Adventures of G.I. Joe"
Ron Friedman
September 16, 1985
Zartan and the Dreadnoks capture Space Station Delta and destroy G.I. Joe headquarters as phase one of Cobra's "Pyramid of Darkness", a plan for Cobra Commander to deprive the world of electricity.
2
"The Pyramid of Darkness, Part 2:
Rendezvous in the City of the Dead"
Ron Friedman
September 17, 1985
As G.I. Joe sets up their base of operations on the U.S.S. Flagg, on Delta Space Station, Dusty and Mutt warn the team about Cobra's plan to plant cubes at strategic locations in order to create the pyramid of darkness. Shipwreck and Snake Eyes travel underneath Enterprise City with secret control cubes, while the rest of the Joes plan to stop Destro from activating the first cube at the "Devil's Playground".
3
"The Pyramid of Darkness, Part 3:
Three Cubes to Darkness"
Ron Friedman
September 18, 1985
Tomax is captured by G.I. Joe, causing his identical twin brother Xamot to rescue him before Cobra can activate the final cube in the "Sea of Lost Souls". Shipwreck and Snake Eyes find an ally in a pop singer named "Satin", who helps them escape Cobra's troopers in Enterprise City.
4
"The Pyramid of Darkness, Part 4:
Chaos in the Sea of Lost Souls"
Ron Friedman
September 19, 1985
Cobra activates the Pyramid of Darkness, leaving the Joes stranded at sea. The Crimson Twins anticipate Cobra Commander's treachery and signal for the Dreadnoks to relieve Zartan and Cobra Commander of control. Alpine and Bazooka ally with Quick Kick, a stuntman and karate expert from Hollywood.
5
"The Pyramid of Darkness, Part 5:
Knotting Cobra's Coils"
Ron Friedman
September 20, 1985
G.I. Joe regains control of Space Station Delta, and they launch a full-scale assault on Cobra Temple, destroying the control cubes and the Pyramid of Darkness.
6
"Countdown for Zartan"
Ron Friedman
September 23, 1985
Cobra tries to take over a global anti-terrorism conference by sending Zartan to replace an ambassador and blow up the Worldwide Defense Center.
7
"Red Rocket's Glare"
Mary Skrenes
September 24, 1985
Roadblock's aunt and uncle run a fast food place called Red Rocket owned by Extensive Enterprises, Cobra's business alias. The rocket design hides extremely destructive warheads that Cobra hopes to utilize.
8
"Satellite Down"
Ted Pedersen
September 25, 1985
A military satellite crashes into the South Pacific, causing a race between G.I. Joe and Cobra to gain possession of it, but a primitive tribe finds it first, proclaiming it to be their god.
9
"Cobra Stops the World"
Steve Gerber
September 26, 1985
Cobra uses a cloaking device to make oil tankers disappear so they can detonate them by remote in an effort to take control of the world's fuel supply.
10
"Jungle Trap"
Paul Dini
September 27, 1985
In a plan to attack the world's cities with lava, Dr. Shakur, a scientist who invented the Vulcan Machine, is captured by Cobra. G.I. Joe must head into Cobra's jungle base, rescue the doctor and stop Cobra from carrying out their mission before these cities literally become "hotspots".
11
"Cobra's Creatures"
Kimmer Ringwald
September 30, 1985
Cobra uses a special weapon called "Hi-Freq", a mind control device that takes over all animals in the animal kingdom, including Mutt's dog, Junkyard. G.I. Joe has to stop Cobra's Hi-Freq device and save every animal in the world.
12
"The Funhouse"
Steve Mitchell & Barbara Petty
October 1, 1985
Several scientists have been captured by Cobra and imprisoned in South America, prompting the Joes to go through Cobra's booby-trapped "funhouse" to rescue them.
13
"Twenty Questions"
Buzz Dixon
October 2, 1985
The Joes discover Cobra's plan to invade the Rocky Mountain Chemical Weapons Arsenal to steal explosive gas, all while under scrutiny from Hector Ramirez, host of the television show Twenty Questions.
14
"The Greenhouse Effect"
Gordon Kent
October 3, 1985
A top secret nitrogen rocket fuel is stolen from the Joes and is accidentally stored in a greenhouse. The plants grow immensely, giving Destro a plan to seed the world with mutated fruits and vegetables to crush G.I. Joe in this gigantic jungle.
15
"Haul Down the Heavens"
Buzz Dixon
October 4, 1985
Cobra creates a weapon called the "Ion Attractor" that can pull down the Aurora Borealis to melt the polar icecaps and flood the world. G.I. Joe and a group of scientists must head north to prevent a global disaster.
16
"The Synthoid Conspiracy, Part 1"
Christy Marx
October 7, 1985
Zartan makes constructs called synthoids, artificial beings or life forms loyal only to Cobra. Cobra makes Synthoids of Admiral Ledger, Colonel Sharp, General Franks, General Howe, and Duke to cut off G.I. Joe's resources and undermine morale.
17
"The Synthoid Conspiracy, Part 2"
Christy Marx
October 8, 1985
Betrayed by an impostor in their ranks, G.I. Joe is disbanded by the government. Now fugitives from the military, the Joes must ally with Destro who gives them information on how to defeat Cobra Commander and Zartan and clear their names.
18
"The Phantom Brigade"
Sharman Divono
October 9, 1985
Cobra Commander and the Baroness hire a Gypsy to summon three ghosts; a Centurion warrior, a Mongolian warrior, and a World War I American pilot ace, to destroy G.I. Joe. The Baroness informs the Joes that they must retrieve a Roman coin, a wedding ring, and a heart-shaped locket from Cobra Commander, and then bury the items to make the ghosts disappear.
19
"Lights! Camera! Cobra!"
Buzz Dixon
October 10, 1985
Cobra Commander's personal Firebat with a homing signal is located at a Hollywood studio for a filming of "The G.I. Joe Story". Cobra orders Zartan and the Dreadnoks to recapture the Firebat before G.I. Joe can discover it and use the homing device to attack Cobra headquarters.
20
"Cobra's Candidate"
Gordon Kent
October 11, 1985
A sleazy political candidate hires Cobra to cause trouble for his opponent Robert Harper during their mayoral campaign race.
21
"Money to Burn"
Roger Slifer
October 14, 1985
Cobra invents a molecular degenerator to disrupt all U.S. currency, allowing them to mint their own Cobra money. The Joes must destroy the machine before Cobra can takes over the world with the face of Cobra Commander on all paper money.
22
"Operation: Mind Menace"
Martin Pasko
October 15, 1985
Cobra captures people with psionic abilities in order to exploit their powers to rule the world, coincidently one of the captured is Airborne's telekinetic little brother.
23
"Battle for the Train of Gold"
David Carren
October 16, 1985
Cobra steals all the gold bars from Fort Knox and loads it inside a bullet train, but G.I. Joe plans on stopping the Cobra Bullet before it reaches the coast.
24
"Cobra Soundwaves"
Ted Pedersen
October 17, 1985
Cobra develops a powerful sound weapon and uses it to attack a Sheik's oil supply in the Middle East.
25
"Where the Reptiles Roam"
Carla Conway & Gerry Conway
October 18, 1985
Wild Bill and a few Joes head to a farm in Texas to investigate a dude ranch Cobra captured in order to control a nearby power station.
26
"The Gamesmaster"
Flint Dille
October 21, 1985
A twisted tycoon known as "The Gamesmaster" captures Flint, Lady Jaye, Baroness, and Cobra Commander and has taken them to his private island. Joe and Cobra forces must work together against him to save their comrades.
27
"Lasers in the Night"
Marv Wolfman
October 22, 1985
The Baroness spies on the Joes to gain access to their laser guidance system for Cobra Commander. Meanwhile, Quick Kick meets Amber, a college student who dreams of being a Joe. The pair soon date and as his girlfriend, Amber gets closer to the Joes secrets, which causes them to suspect her of being a Cobra spy.
28
"The Germ"
Roger Slifer
October 23, 1985
Cobra steals a dangerous bacteria which causes a strong bacterium and growth serum to form a living germ monster that consumes everything in its path.
29
"The Viper is Coming"
David Carren
October 24, 1985
At his fire station, Barbecue keeps getting phone calls with cryptic messages from a man who calls himself "The Viper" and enlists the rest of the Joes to help him catch this mysterious man.
30
"Spell of the Siren"
Carla Conway & Gerry Conway
October 25, 1985
The Baroness gives Joe and Cobra forces a lot of trouble when she uses the song of the Sirens to put the males under her evil spell. With their comrades under the Baroness' control, Cover Girl, Lady Jaye, and Scarlett are the only ones who can stop her and set their hypnotized friends free from the spell.
31
"Cobra Quake"
Ted Pedersen
October 28, 1985
In an attempt to stop a world financial summit, Cobra heads to Japan to cause an artificially created earthquake that will destroy Tokyo unless G.I. Joe can stop their plans.
32
"Captives of Cobra, Part 1"
Christy Marx
October 29, 1985
Cobra kidnaps Quick Kick and the other Joes' families and the hostages become brainwashed to obey the Baroness' commands. The Baroness commands the captives to attack the Joes in her attempt to retrieve the explosive crystals that Cobra created.
33
"Captives of Cobra, Part 2"
Christy Marx
October 30, 1985
Scarlett and the other Joes set out to find a way to free the minds of their families from Cobra's control. Unfortunately, the Baroness wants possession of the crystals and she would stop at nothing to get what she wants.
34
"Bazooka Saw a Sea Serpent"
Maty Skrenes
October 31, 1985
While camping, Bazooka sees a Cobra flight pod get "eaten" by a giant sea serpent. In reality, this "sea serpent" is a Cobra submarine planning to steal everything it devours. But when it goes out of control, the sea serpent goes on a rampage and the Joes must stop it from destroying New York.
35
"Excalibur"
Dan DiStefano
November 1, 1985
G.I. Joe sets up a radar tracking station in England. While Storm Shadow finds King Arthur's legendary sword Excalibur at the bottom of a lake and uses its strength to attack the Joes.
36
"Worlds Without End, Part 1"
Martin Pasko
November 4, 1985
During a struggle between G.I. Joe and Cobra, an accident triggers an experimental device and the Joes are plunged into unconsciousness. When they awaken, the explosion has hurled them into an alternate reality, where Washington, D.C. and the rest of the world are under the control of Cobra.
37
"Worlds Without End, Part 2"
Martin Pasko
November 5, 1985
While stuck in the alternate reality, the Joes find an unlikely ally, the Baroness. Steeler learns that in this reality the Baroness is a double agent and his beloved. She helps rescue the Joes and sends them back to their own home world.
38
"Eau De Cobra"
Flint Dille
November 6, 1985
Destro concocts a love potion out of Cleopatra's perfume for the Baroness to make a wealthy shipping tycoon fall in love with her. But things go awry when Lady Jaye is accidentally sprayed with the scent.
39
"Cobra Claws Are Coming to Town"
Carla Conway & Gerry Conway
Story by: Dann Thomas & Roy Thomas
November 7, 1985
It's Christmas Eve and most of the Joes have gone home for the holidays. After using a special growth/shrinking ray and special toys (similar to the Trojan Horse) slipped into the donated toys for charity, Cobra ends up successfully infiltrating the G.I. Joe Headquarters, captures the Joes presents, and rewires the Joes equipment. They plan on attacking Keystone City on Christmas to have residents believe the Joes have turned treacherous against them.
40
"An Eye for an Eye"
Steve Mitchell & Barbara Petty
November 8, 1985
While in the midst of transporting valuables, G.I. Joe gets ambushed by Cobra, causing them to accidentally set a remote cabin in the mountains on fire. This makes the cabin's owner, Charlie Fairmont demand redemption against Cobra and Lady Jaye helps him with his revenge.
41
"The Gods Below"
Gordon Kent
November 11, 1985
Cobra heads for Egypt to steal the treasure of Osiris from an underground tomb. The G.I. Joes find themselves facing the Egyptian gods while Cobra faces Set, the Egyptian god of evil.
42
"Primordial Plot"
Donald F. Gult
November 12, 1985
Cobra steals dinosaur bones and kidnaps a biologist to have him recreate the dinosaurs using a cloning device with rapid growth serum in order to destroy G.I. Joe and rule the world.
43
"Flint's Vacation"
Beth Bornstein
November 13, 1985
Flint visits his cousins in Pleasant Cove, an experimental community secretly owned by Cobra. He soon finds out that they, and the whole population of the town are brainwashed slaves of Cobra, and if captured, Flint may be joining them.
44
"Hearts and Cannons"
Larry Houston
Story by: Alfred A. Pegal
November 14, 1985
Dusty and Footloose must help Dr. Nancy Winters, a beautiful scientist who was tricked into designing a plasma cannon for Destro and is now being held captive.
45
"Memories of Mara"
Sharmon Divono
November 15, 1985
The G.I. Joes go underwater to find a nuclear submarine called the Nerka, and rescue a crew being held captive by Cobra. Helping in the search is Mara, a woman Shipwreck saved from drowning who has blue skin that was genetically modified by Cobra to be the first of many "aquatic commandos".
46
"The Traitor, Part 1"
Buzz Dixon
November 25, 1985
G.I. Joe designs a new armor treatment that's impenetrable to laser fire and missiles. While on leave, Dusty is desperate after seeing his mother struggle with her asthma and mounting medical bills, so he makes a deal with Extensive Enterprises' Crimson Twins to pay for the costs in return for the armor formula.
47
"The Traitor, Part 2"
Buzz Dixon
November 26, 1985
In order to prove himself in Cobra, Dusty must battle a Cobra soldier named Lt. Claymore in the Arena of Death. Meanwhile, G.I. Joe revamps security and launch a full scale assault against their former comrade and Cobra to protect their armor treatment project. But when the Joes are captured by Cobra Commander to be subjects for his mind control gas, an unexpected turn of events proves that not all is what it seems.
48
"The Pit of Vipers"
Jim Ward
Story by: Flint Dille
November 27, 1985
Colonel Sharp buys an advanced computer program code-named Watchdog to be the new commander for G.I. Joe, until they discover it was created by Cobra. The program ordered Admiral Ledger on the U.S.S. Flag to attack the Cobra ship Cerebus, but it disappeared in the Indian Ocean. Now Flint, Lady Jaye, and Heavy Metal have to take out Watchdog along with its faux designer Dr. Hamler.
49
"The Wrong Stuff"
Stanley Ralph Ross
Story by: Flint Dille
November 28, 1985
Cobra captures satellites to create their own television network. G.I. Joe must head into space and destroy the space station before Cobra's propaganda infects everyone in the world.
50
"The Invaders"
Dennis O'Neil
November 29, 1985
Cobra devises a plot to take control of Washington D.C. and Moscow with the aid of UFO's, causing suspicion and paranoia between the U.S. and the Soviet Union. G.I. Joe and the Oktober Guard, an elite Russian combat force must reluctantly join forces to stop Cobra.
51
"Cold Slither"
Michael Charles Hill
December 2, 1985
After Cobra is disbanded, Destro invents a "subliminal enslavement program" to bend the will of the population to Cobra's way of thinking. In order to use the program, Cobra Commander gets Zartan and the Dreadnoks to form a rock n' roll band called "Cold Slither" to perform music with subliminal messages. Breaker, Footloose, and Shipwreck get caught up in the music and go to their concert, making G.I. Joe come after them and put a stop to Cobra.
52
"The Great Alaskan Land Rush"
David Carren
December 3, 1985
G.I. Joe and the Oktober Guard need to locate the real Seal of Alaska before Cobra takes control of Alaska and its resources. While searching, the Joes and Red Oktober are captured by 19th-century Cossacks, who bring them to Captain Lukrov who has the great seal. But he loses it to Cobra and Duke makes a deal with Lukrov to retrieve it.
53
"Skeletons in the Closet"
Flint Dille
December 11, 1985
Lady Jaye receives a letter of inheritance from Dame Agatha Doyle leaving her a manor house in Loch Lomond in Northern Scotland, which turns out to be the ancestral castle of Destro. She witnesses a winter solstice ritual to raise the power of evil, and is captured leaving Flint and G.I. Joe to come to her rescue.
54
"There's No Place Like Springfield, Part 1"
Steve Gerber
December 12, 1985
While on an island, Lady Jaye and Shipwreck are on a rescue mission to save Professor Mulaney, a scientist who claims of developing a new weapon to turn water into a bomb. When they find him, he implants the secret formula into Shipwreck's brain, which can only be released by a secret code word he gives to Lady Jay. Shipwreck passes out trying to escape after a Cobra assault and wakes up six years later in a place called Springfield, with Mara as his wife and a daughter named Alfea. G.I. Joe has won the war against Cobra.
55
"There's No Place Like Springfield, Part 2"
Steve Gerber
December 13, 1985
When Shipwreck is plagued by nightmares of what happened in the past six years he's missed, he soon discovers this might be Cobra's plan to retrieve the stored formula of Operation Hot Water from his mind. Meanwhile, Zartan creates G.I. Joe synthoid copies out of a material called pseudoplasm to look like the real thing. Knowing something is amiss, Shipwreck calls the Joes to Temple Alpha, Springfield's true location, to take down Cobra once and for all.
Season 2 (1986)
No.

Episode Title

Writers

Original Airdate

56
"Arise, Serpentor, Arise!, Part 1"
Story by: Buzz Dixon
Teleplay by: Ron Friedman
September 15, 1986
After being inspired by a strange dream, the fiendish Doctor Mindbender plans to obtain the DNA samples of history's greatest conquerors in order to make the Cobra Emperor.
57
"Arise, Serpentor, Arise!, Part 2"
Story by: Buzz Dixon
Teleplay by: Ron Friedman
September 16, 1986
The Joes are reunited with old friends (The Oktober Guard), and face new enemies (The B.A.T.'s and new Dreadnok's) as Cobra commences it's DNA extraction operation for the creation of Serpentor.
58
"Arise, Serpentor, Arise!, Part 3"
Story by: Buzz Dixon
Teleplay by: Ron Friedman
September 17, 1986
When Sgt. Slaughter destroys a batch of DNA needed for the creation of Serpentor, Dr. Mindbender is undaunted by the action and makes his decision for a substitute batch, much to the surprise of Cobra.
59
"Arise, Serpentor, Arise!, Part 4"
Story by: Buzz Dixon
Teleplay by: Ron Friedman
September 18, 1986
After collecting the DNA needed, Dr. Mindbender begins creating Serpentor, but unknown to Mindbender, Cobra Commander sabotages the experiment, creating a monster. Will this stop Dr. Mindbender from creating the perfect Cobra Emperor?
60
"Arise, Serpentor, Arise!, Part 5"
Story by: Buzz Dixon
Teleplay by: Ron Friedman
September 19, 1986
The Joes use Lifeline to distract Cobra and sneak into the Terror Drome to rescue Sgt. Slaughter from Serpentor. After they rescue Sgt. Slaughter, the Joes discover that Serpentor is leading his forces to invade Washington, D.C. and the Joes must try to stop them.
61
"Last Hour to Doomsday"
Tom Dagenais
September 25, 1986
Flint and Lady Jaye are racing against time to get information to the Joes about Cobra's latest weapon, a vortex weapon that can create tsunamis and tidal waves, so the Joes can destroy the weapon before Cobra uses it to wipe out the U.S.
62
"Computer Complications"
David Schwartz
September 26, 1986
A space probe containing anti-matter crashes into the ocean and both Joes and Cobra try to retrieve it.
63
"Sink the Montana!"
David Carren
September 29, 1986
The Joes are at the decommissioning ceremony for a battleship, the U.S.S. Montana, but Cobra arrives to spoil the occasion. Admiral Lattimer, former captain of the Montana, betrays the Joes and allies himself with Cobra and the Joes must stop him from harming more innocent people.
64
"Let's Play Soldier"
Sharman Divono
September 30, 1986
In the jungles of Thailand, Dr. Mindbender is concocting a special chewing gum which will put whoever eats it at the mercy of Cobra.
65
"Once Upon a Joe"
Buzz Dixon
October 1, 1986
While repairing the damage to a orphanage caused during the Joes battle with Cobra over "The McGuffin Device", Shipwreck tells a little girl a simple fairy tale, but little does he know, his story may have the power to help save the day.
66
"The Million Dollar Medic"
Carla Conway & Gerry Conway
October 2, 1986
In the Joe/Cobra battle in the Caribbean, a civilian yacht is sunk. The Joes save the day and the heiress Brittany Van Mark falls for Lifeline who helped her recover. Serpentor wants to claim the business of Owen Van Mark and sends Baroness, Tomax, and Xamot to capture Bree in order to make Owen Van Mark sell his company.
67
"Cobrathon"
Rebecca Parr & Martin Pasko
October 6, 1986
Over spending by Tomax and Xamot leads to the creation of the Cobrathon, to raise five billion dollars in order to delete all known terrorist activities from every international database in the world.
68
"The Rotten Egg"
Steve Mitchell & Barbara Petty
October 7, 1986
Leatherneck goes to CEC Academy to be it's guest of honor and soon finds out that it's a Cobra trap set up by his former cadet who's now a COBRA soldier, who plans to attack Parris Island to kidnap a major, all in the name of revenge.
69
"Glamour Girls"
Beth Bornstein
October 8, 1986
Madame Vail agrees to sell Doctor Mindbender usage of her facial transference machine in exchange for Cobra kidnapping the world's top models so that she can steal their faces for herself. Unfortunately for Cobra, one of the kidnapped models is the sister of Lowlight and the Joes spring into action to foil Vail's scheme.
70
"Iceberg Goes South"
Mary Skrenes
October 9, 1986
After a meeting with a friend who collects tissue samples ends badly, Iceberg goes to her base to find out why, and finds out that she and her uncle are being forced by Cobra to create animal-human hybrids, and he is the next test subject.
71
"The Spy Who Rooked Me"
Susan K. Williams
October 13, 1986
The Joes, along with British super secret agent Matthew Burke, must deliver to a weapons depository, a black box that, unknown to the Joes, contains a powerful nerve gas, a weapon that Cobra will spare no expense to possess.
72
"Grey Hairs and Growing Pains"
Story by: David Marconi & Flint Dille
October 14, 1986
The investigation into the theft of a youth formula leads Flint, Lady Jaye, and four other Joes to the Cobra owned Ageless Care spa, where they find they might have some trouble stopping Cobra after being turned into young children and old men.
73
"My Brother's Keeper"
Buzz Dixon
October 15, 1986
Sgt. Slaughter accompanies Sci-Fi to a science fiction convention, where Doctor Mindbender recruits a handicapped scientist named Dr. Jeremy Penser to perfect his anti-matter weapon in exchange for the ability to walk again.
74
"My Favorite Things"
Doug Booth
October 16, 1986
Serpentor goes on a quest to steal ancient artifacts belonging to history's merciless conquerors, which he intends to use to make himself invincible. The only Joes who can stop him are Wet Suit and Leatherneck who must work together to foil their enemy.
75
"Raise the Flagg!"
David Carren
October 20, 1986
G.I. Joe and Cobra mount separate salvage operations to recover the sunken U.S.S. Flagg, only to find that a former Cobra agent named Lakar and reprogrammed BATs occupy the Flagg and have renamed it Lakar City.
76
"Ninja Holiday"
Michael Charles Hill
October 22, 1986
Due to a mix-up, Sgt. Slaughter takes Wetsuit's place in a martial arts tournament put on by an international criminal. However the tournament is actually a contest to see who is good enough to serve Cobra commander as an assassin.
77
"G.I. Joe and the Golden Fleece"
Flint Dille
Teleplay by: Richard Merwin
October 27, 1986
G.I. Joe and Cobra forces race to capture a golden coil dropped from a UFO and an accident sends them back in time to ancient Greece, where they are mistaken for deities.
78
"The Most Dangerous Thing in the World"
Buzz Dixon
October 28, 1986
While General Hawk was attending a NATO meeting, Cobra hacks into the Defense Department's computer system and upgrades Shipwreck, Dial-Tone and Lifeline to the rank of Colonel.
79
"Nightmare Assault"
Marv Wolfman
October 29, 1986
Dr. Mindbender creates the Somnia machine, a device which he plans to use on a number of Joes by changing their dreams into nightmares, hoping to affect their morale and mental stability during their waking hours.
80
"Second Hand Emotions"
Carla Conway & Gerry Conway
October 31, 1986
Doctor Mindbender constructs a musical instrument to influence the Joes' emotions. Meanwhile, Lifeline makes peace with his father who seems displeased with his son's career choice as a member of the Joes.
81
"Joe's Night Out"
David Schwartz
November 10, 1986
Leatherneck, Wet Suit, and Dial-Tone visit a new nightclub which is a Cobra rocket in disguise, sending the trio to space.
82
"Not a Ghost of a Chance"
Sharman Divono
November 13, 1986
Cobra is suspected of shooting down an experimental military jet and the Joes must prove that Cobra is behind the attack.
83
"Sins of Our Fathers"
Teleplay by: Buzz Dixon
Story by: Steve Gerber
November 18, 1986
Dial-Tone is dismissed from the Joe team and ends up helping Cobra Commander raise a monster from the ruins of Castle Destro in order to destroy Serpentor.
84
"In the Presence of Mine Enemies"
Chris Weber & Karen Willson
November 19, 1986
When Slip-Stream is shot down by a female Strato-Viper near an abandoned Cobra laboratory, both hunt each other down.
85
"Into Your Tent I Will Silently Creep"
Buzz Dixon & Charles Hill
November 20, 1986
Cross-Country tries to track down the theft of some G.I. Joe members' personal items and finds them being taken by robots. Among them was a game program Mainframe was working on simulating battle tactics.
G.I. Joe: The Movie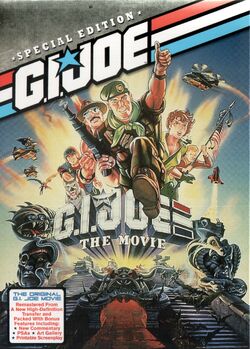 G.I. Joe: The Movie is a 1987 animated film spun off from the animated series G.I. Joe: A Real American Hero, based on the original Hasbro toyline. It was produced by Sunbow Productions and Marvel Productions and was animated in Japan by Toei Animation.
Created at the height of the G.I. Joe craze in the 1980s, G.I. Joe: The Movie was intended as a theatrical release to be closely followed by The Transformers: The Movie. However, the G.I. Joe film encountered unexpected production delays which allowed the Transformers feature to be released first. Due to the poor box office performances of the Transformers film and My Little Pony: The Movie, G.I. Joe: The Movie was instead released direct-to-video as well as aired on television in syndication, first in feature length format and later split into a five-part miniseries format as part of the show's syndication package.
Rhino Entertainment first released the film on DVD on June 20, 2000. Shout! Factory released a remastered special edition on DVD and Blu-ray on July 27, 2010, featuring audio commentary from story consultant (and series writer) Buzz Dixon, and a printable copy of the original screenplay.
No.

Episode Title

Writers

Release Date

1
"G.I. Joe: The Movie"
Ron Friedman
April 20, 1987
Time and time again, Cobra has been on the threshhold of global domination, only to be thwarted by G.I. Joe. Now the ruthless terrorist organization has a new ally, the alien race known as Cobra-La, led by the sinister Golobulus. Golobulus wants to steal the Joe's Broadcast Energy Transmitter in order to ripen space spores and mutate the people of Earth. When Duke is injured and the rest of the force immobilized, it's up to the new recruits to pick up the slack and save the world and the day.
Toonami Episode Guides
Cartoon Network (1997-2008)
Adult Swim (2012-Present)