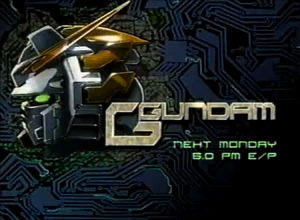 Series Overview
| Color | Season | Episodes | Toonami Premiere | Toonami Finale |
| --- | --- | --- | --- | --- |
| | 1 | 49 | August 5, 2002 | October 16, 2002 |
Season 1 (1994-1995)
#

Episode Title

Japanese Airdate

Toonami Airdate

1
"Gundam Fight Begins! The Gundam That Fell to Earth"
April 22, 1994
August 5, 2002[1]
Neo Japan's Shining Gundam falls to Earth in Neo Italy. The Gundam's pilot, Domon Kasshu, has gone looking for it. He and his partner Rain befriend some local children and they take the pair to a hotel to stay. When one of the children is captured by the local Gundam fighter, Michelo Chariot, Domon goes after him to rescue the little girl. Their subsequent battle begins the 13th Gundam Fight across the globe.
2
"Roar of the Winning Punch"
April 29, 1994
August 6, 2002
Domon travels to Neo America to face off against Chibodee Crocket, an All-American hero. The Neo America managers do not want this match to happen in fear that Chibodee will lose, so they send Domon a fake fight location and corner him with some mobile suits.
3
"Beat the Dragon Gundam"
May 6, 1994
August 7, 2002[2]
Domon goes to Neo China in order to fight the Dragon Gundam piloted by Sai Saici of the Shaolin temple. The monks in charge of Sai Saici tell Domon he must find and fight Sai Saici or they will kill Rain. They tell Domon Sai Saici needs to help restore the good name of the Shaolin Temple.
4
"Challenge! The Red Rose Knight!"
May 13, 1994
August 8, 2002
Domon attempts to get the Neo France Gundam to fight him, but he interrupts a match already in progress and the Neo France fighter, George de Sand, refuses to fight Domon due to his rude behavior.
5
"Great Escape! A Captive Gundam Fighter"
May 20, 1994
August 12, 2002[3]
Domon goes to Neo Russia to fight the Gundam there, but he is immediately arrested. The reason is Neo Russia locks up all potential Gundam fighters so Neo Russia can go to the finals. While in prison Domon meets a huge brute of a man, Argo Gulskii, who is a former space pirate. They break out of prison and Domon learns that Argo is the Neo Russia fighter.
6
"Fight, Domon! Earth is the Ring"
May 27, 1994
August 13, 2002[3]
Domon returns to the Neo Japan space colony. There he undergoes a virtual reality simulation to determine if he is the right choice for Neo Japan's Gundam fighter.
7
"Prepare to Fight! Desperate Fugitive"
June 3, 1994
August 14, 2002[3]
Domon goes to Neo Mexico in order to fight the local Gundam fighter, but upon arrival he learns that the fighter has run away and is being hunted by the local authorities.
8
"Old Grudge: Revenge of the Space Police"
June 10, 1994
August 15, 2002[3]
Domon travels to Neo Canada to fight Andrew Graham and the Lumber Gundam, but he is soundly defeated. Andrew then takes Rain hostage in order to lure out his old enemy, Argo Gulskii.
9
"Powerful Enemy! Chapman's Heroic Challenge"
June 17, 1994
August 19, 2002[3]
Domon travels to Neo England to defeat Neo England's Gentle Chapman who has won his fights by the use of drugs and unfair tactics.
10
"Terror! The Phantom Fighter Appears"
June 24, 1994
August 20, 2002[3]
Domon and Rain travel to Neo Egypt in order to face off against the Gundam there. Upon arriving, they find out the current Gundam and its pilot have been destroyed by a "ghost."
11
"Reunion in falling Rain"
July 1, 1994
August 21, 2002[3]
In Neo Turkey, Rain runs into an old friend from school. It is learned that he is the Neo Turkey Gundam fighter and he has been taken over by DG cells.
12
"He's The Undefeated of the East! Master Asia Appears"
July 8, 1994
August 22, 2002[3]
Reports of the Dark Gundam surfacing in Shinjuku send Domon and Rain flying to Neo Japan where they run into an army of soldiers controlled by the Dark Gundam.
13
"Big Trouble! Domon vs. Big 5"
July 15, 1994
August 26, 2002[3]
Domon and Master Asia set out to search for survivors. Master Asia leaves Domon alone and Domon is attacked by Chibodee Crocket, Argo Gulskii, Sai Saichi, and George de Sand, who appear to now serve the Dark Gundam. Meanwhile, Rain is attacked by a mysterious Gundam.
14
"Shocking! Shining Finger Defeated!"
July 22, 1994
August 27, 2002[3]
Rain notices that there are four unidentified objects heading for Earth. She also notices that Master Asia is going into an abandoned subway station. She follows him and loses him. Then she is hypnotized by a strange light and follows it to where she finds all of Domon's friends' crew members. They explain to her that they were brought there just like she and Domon were and that something is wrong with their pilots.
15
"Warrior's Crest - Goodbye, Shuffle Alliance"
July 29, 1994
August 28, 2002[3]
A Dark Army soldier comes to tell Domon that he is to meet with Master Asia alone at the Tokyo Tower. Domon goes, but along the way is attacked by his four friends.
16
"Ultimate Power and Evil! Rise of the Dark Gundam"
August 5, 1994
August 29, 2002[3]
An earthquake shakes Shinjuku, and all the members of the Shuffle Alliance along with their teams are trapped underground. Rain sees the Dark Gundam merging with its troops. Master Asia sees Rain, but he is stopped by a mysterious masked man called Schwarz Bruder. Domon finds Master Asia and confronts him, but Master Asia says it is too late and that the Dark Gundam is ready to rise.
17
"Challenge! Mysterious Masked Fighter"
August 12, 1994
September 2, 2002
Master Asia uses his knowledge of Domon to lure Domon away from Shinjuku and into the waiting grasp of the Dark Gundam. Schwarz follows Domon and tries to persuade him not to fight Master Asia.
18
"Steal the Secret! Scheme of the Beautiful Warriors"
August 19, 1994
September 3, 2002
Chibodee's pit crew notices how strange Chibodee has been acting lately, so they run off to the Guyana Highlands. Chibodee chases them, and in the process he finds Domon and begins to train with him. Meanwhile Chibodee's crew steals the fight data from the Shining Gundam.
19
"Fierce Battle! Dragon Gundam vs. Bolt Gundam"
August 26, 1994
September 4, 2002
After running into Domon and Rain in the Guyana Highlands, Sai Saici decides to battle Argo Gulskii.
20
"George, Beat the Nightmare!"
September 2, 1994
September 5, 2002
George De Sand is haunted by a massacre that occurred in the Neo France colony a year before.
21
"The Final Battle Approaches! Only 3 Days Away"
September 9, 1994
September 9, 2002
The Gundam fight finals are only three days away and Domon and the others are still training, but before they can complete their training they are attacked by the Dark Army.
22
"Breakthrough! Warriors Strong Ties"
September 16, 1994
September 10, 2002
The Shuffle Alliance members decide to fight the Dark Army in order to give Rain and Domon time to fix the Shining Gundam which was recently damaged by Master Asia.
23
"Destined Battle! Domon vs. Dark Gundam"
September 23, 1994
September 11, 2002
The other members of the Shuffle Alliance all escape the Guyana Highlands, while Domon stays back to defeat Master Asia and the Dark Gundam. Schwartz also remains to help Domon master control of the Shining Gundam's Super Mode.
24
"Bright New Star! The Birth of the Burning Gundam"
September 30, 1994
September 12, 2002
Though Domon has seemingly destroyed the Dark Gundam, the Shining Gundam is heavily damaged by Master Asia. After receiving the more powerful Burning Gundam from the Neo Japan colony and transferring the Shining Gundam's combat data into the new mobile fighter with Rain's help, Domon just barely makes it to Neo Hong Kong, the site of the Gundam fight finals.
25
"All Fighters Gathered! The Final Battles Begin"
October 7, 1994
September 16, 2002
As the opening ceremonies for the finals start, Domon and the others are surprised to learn that Master Asia is back in his Master Gundam, and Michelob and Chapman are back even though Domon defeated both of them.
26
"A New Weapon! Erupting Burning Finger"
October 14, 1994
September 17, 2002
The finals have started and Domon's first opponent is Zeus Gundam, the favorite to win the championship.
27
"Hang on Domon! Triumph of the Restored Faith"
October 21, 1994
September 18, 2002
Domon is set to face off against Cobra Gundam of Neo India but the pilot of Cobra Gundam has no qualms about hurting Domon before the match.
28
"Domon Targeted! The Assassin's Staff"
October 28, 1994
September 19, 2002
Domon has to avoid assassination attempts by his next opponent, a man who has won every match by default due to his opponents untimely deaths.
29
"Running Away! Sai Saici In Love"
November 4, 1994
September 23, 2002[4]
Sai Saici's next opponent is Mermaid Gundam but he may easily win because it is falling apart. Meanwhile he also falls in love with his opponent's sister.
30
"Beautiful Fighter! Dangerous Allenby"
November 11, 1994
September 24, 2002[4]
Domon is set to face off against Allenby Beardsely, a dangerous woman who defeated Argo in under one minute. He meets her in an arcade and they become friends. Rain is jealous of the two's friendship and thinks it's wrong for Gundam fighters to be so close to each other.
31
"Dazzling Power of the Clown! Get Mad, Gundam Maxter"
November 18, 1994
September 25, 2002[4]
As a child, Chibodee lost his mother to a group of terrorist clowns, since then he has been deathly afraid of them. So when his next opponent Jester Gundam is announced, it looks like Chibodee will lose fairly quickly.
32
"Dangerous Trap! Neros Gundam Strikes Back"
November 25, 1994
September 26, 2002[4]
Michelo Chariot of Neo Italy is Domon's next opponent, but Michelo doesn't fight fair. He enlists other fighters the Shuffle Alliance has defeated in the past to set traps to hurt Domon and the other Shuffle Alliance members.
33
"Emissary of Darkness! Chapman Rises Again"
December 2, 1994
September 27, 2002[4]
George's next opponent is Gentle Chapman. Like Michelo Chariot, Chapman is under the influence of Master Asia and the Dark Gundam. Near the beginning of the fight, the force field by the Neo France officials is down, so George must stand in the way of all of Chapman's attacks or Marie Louise and the King will be killed.
34
"Stand Up Domon! Raging Tag Team Match"
December 9, 1994
September 30, 2002[5]
Schwarz Bruder goes to the Neo Hong Kong government building and discovers the Dark Gundam still exits. He is noticed by Master Asia, and he flees. He spots Rain following him and carries her to safety. Prime Minister Wong believes Domon is the one who was spying, so he sets up a tag team match with Domon and Allenby versus two other Gundam fighters.
35
"Showdown! Bursting Machinegun Punch"
December 16, 1994
October 1, 2002[5]
Now that the Dark Gundam is back, Domon requests the help of the Shuffle Alliance. However, they all refuse because the only person they want to fight is Domon. First up is Chibodee, and he shows Domon his special technique before the match. Domon then trains with Allenby in order to overcome this obstacle.
36
"A Knights' Pride! Gundam Rose Stolen"
December 23, 1994
October 2, 2002[5]
George and Domon are set to fight each other, but the King of Neo France says there is no need, so he locks up Gundam Rose. However, George's feelings are so strong he is willing to steal Gundam Rose and challenge Domon to a fight.
37
"Sai Saici's New Attack! Blazing Dragon Gundam"
January 6, 1995
October 3, 2002[5]
The day before he is to fight Domon, Sai Saici isn't at all worried about the match. However after reading his father's will he decides to win the Battle Royale to revive the Shaolin Temple which was one of his father's wishes.
38
"Domon vs. Argo! Charging Bolt Gundam"
January 13, 1995
October 4, 2002[5]
Andrew Graham of Neo Canada faces off against Argo. The next match is a tag team match between the Domon and Allenby team and the Argo and Andrew team.
39
"The Ultimate Attack! Duel With Master Asia"
January 20, 1995
October 7, 2002[6]
After yelling at Rain because she was supposed to look after Allenby, Domon must search for his missing friend.
40
"The Ruthless Fight! Schwarz's Last Match"
January 27, 1995
October 8, 2002[6]
Domon is set to fight against Schwarz to determine the overall winner of the individual matches. Prime Minister Wong has the ring rigged with 5,000 time bombs set to explode after 8 minutes just in case there is no winner determined by that time. Just before the match, Domon learns that Rain quit and joined up with Schwarz to represent Neo Germany.
41
"Battle Royal Begins! Dark Gundam Revived"
February 3, 1995
October 9, 2002[6]
Domon has Rain go scope out the situation with Schwarz/Kyoji while he goes to the Battle Royale.
42
"Assault of the Four Evil Kings! Soaring Raven Gundam"
February 10, 1995
October 10, 2002[6]
With the help of Sai Saici and Argo, Domon defeats Michelo and heads for the next Heavenly King, Grand Gundam.
43
"Royal Counterattack! Ambush of the Grand Gundam"
February 17, 1995
October 11, 2002[7][6]
After Chibodee and George have defeated the Grand Gundam, Allenby appears and seems to be under the influence of the DG cells and Domon tries to reason with her. Then the Rising Gundam piloted by Rain attacks the Nobel Gundam.
44
"Schwarz Rests in Grace! Domon's Tearful Attack"
February 24, 1995
October 14, 2002[7][8]
Rain manages to save Allenby, the two Kyojis are one, and the Dark Gundam is finally beaten. It is also revealed that Wong was using Master Asia to get control of the Dark Gundam.
45
"Farewell Master: Master Asia's Last Breath"
March 3, 1995
October 14, 2002[7][8]
Domon defeats Master Asia after an extraordinary battle, and thus Master Asia dies, alongside his burning Master Gundam.
46
"Rain's Crisis: Return Of The Dark Gundam"
March 10, 1995
October 15, 2002[7][8]
The Dark Gundam needs a life unit that can produce life to get to its full potential. Ulbe plans to use Rain for the Dark Gundam, Allenby tells Domon that Rain feels that she must make up for her father's sins, and the remains of the Dark Gundam are in Ulbe's hands.
47
"Dark Colony Activated: Attack Of The Shuffle Alliance"
March 17, 1995
October 15, 2002[7][8]
Ulbe now has the Dark Gundam at its fullest, but though diabolical, he does not risk innocent lives. Domon and the other Gundam Fighters join together to fight off the Dark Gundam colony. Domon also makes an entrance into the Dark Gundam Colony.
48
"Earth's S.O.S.: Rescue Gundam Federation"
March 24, 1995
October 16, 2002[7][8]
Domon's father is now out of his cryogenic state and says that to beat the Dark Gundam Domon must destroy the core which is Rain. Ulbe meanwhile has made the Grand Master Gundam which consists of the Master Gundam and the Four Heavenly Kings. The Shuffle Alliance destroys Ulbe and Domon heads for Rain.
49
"Burning Gundam's Great Triumph: A Hopeful Future;
Ready, Go!"
March 31, 1995
October 16, 2002[7][8]
Though the Grand Master Gundam is resurrected and almost gains control of Earth, it is defeated again. When Domon finally tells Rain that he loves her, she breaks free of the Dark Gundam and together they defeat the Dark Gundam once and for all.
References
Toonami Episode Guides
Cartoon Network (1997-2008)
Adult Swim (2012-Present)