Mobile Suit Gundam 0080: War in the Pocket, often shortened to Gundam 0080, is a 1989 Japanese science fiction original video animation (OVA) series produced by Sunrise in association with Bandai. Directed by Fumihiko Takayama and written by Hiroyuki Yamaga, it was the first time anyone other than franchise creator Yoshiyuki Tomino was given a chance to write or direct a Gundam story.
In the United States, Gundam 0080 premiered on Toonami's Midnight Run programming block on November 5, 2001.[1] The series aired as a Midnight Run exclusive, never airing on the day-time Toonami block.
Released in 1989, the series serves to commemorate the Gundam franchise's ten-year anniversary. As suggested by its subtitle, War in the Pocket, it is a small, personal story; a side story focusing on the experiences of a ten-year-old boy during the One Year War. Gundam 0080 began an enduring tradition of retroactive redesigns. Yutaka Izubuchi updated the original Mobile Suit Gundam's dated mechanical designs and costumes, and since then every new creative team has offered its own take on the classic Gundam properties.
As the first Gundam property not to be penned by Gundam creator Tomino, Gundam 0080 also marked a significant departure from the constant background theme of Newtypes featured in the Universal Century timeline, which takes place from the original Mobile Suit Gundam up until Char's Counterattack. The absence of this theme raised the series' appeal towards audiences without knowledge of the Gundam franchise and Tomino's work and would continue in many following Gundam stories narrating ordinary soldiers and people in these conflicts.
December, Universal Century 0079, Zeon intelligence has identified a prototype Federation Gundam under development in a Federation base in the Arctic. Elite Zeon MS commandos are dispatched to destroy the prototype, but before they can accomplish their mission the Gundam is launched into space. When the Gundam turns up in a Federation R&D facility inside the neutral space colony Side 6, the Principality launches a covert operation to destroy the Gundam that includes young rookie Bernard Wiseman. However, the raid fails and the entire team is killed except for Bernard.
After crashing his mobile suit, Bernard manages to befriend a young boy named Alfred Izuhura and Christina Mackenzie, secretly the Gundam test pilot. As Bernard tries to repair his damaged mobile suit, Bernard slowly becomes infatuated with Christina, with both pilots remaining unaware of each other's true natures. However, Bernard discovers that Zeon will destroy Side 6 with a nuclear weapon if he cannot destroy the prototype Gundam. Feeling that he has no other choice, Bernard takes his mobile suit and goes to engage the Gundam.
Meanwhile, Alfred discovers that the Zeon ship carrying the nuclear weapons was captured, meaning Bernard has no more reason to fight. He goes to try and stop Bernard, only to see Bernard's mobile suit destroyed and an injured Christina pulled from the heavily damaged Gundam. Afterwards, Christina tells Alfred that she will be leaving Side 6, and asks Alfred to say goodbye to Bernard for her, still unaware that she had actually killed him. Alfred does not have the heart to tell her the truth and agrees to her request.
Alfred "Al" Izuruha — Al is an 11-year-old schoolboy, who has a distant relationship with his father who works for the Earth Federation. He gets mediocre grades in school and misbehaves in front of his mother and teachers. As a naive young boy who lives in the Libot colony of neutral "Side 6", Al is fascinated by tales of mobile suit combats, but has little real idea about the war outside of the fact that it is ravaging the Earth Sphere. He has a special interest in Zeon's Zaku mobile suits, which he regards as "cool". One day, Al meets a rookie Zeon pilot, Bernie Wiseman, whose Zaku is disabled and crashes after a short battle with Federation forces in the colony.
Bernard "Bernie" Wiseman — Petty Officer 2nd Class Bernard Wiseman is a rookie soldier for the Principality of Zeon who befriends Al after his Zaku is shot down within Libot. He is later reassigned to the elite Cyclops Team as they embark on a top secret mission to destroy the Gundam.
Christina "Chris" MacKenzie — Al's friend and neighbor who has just returned from Earth on a top secret mission for the Earth Federation. She is the test pilot for the Federation's newly developed Gundam.
| Color | Season | Episodes | Toonami Premiere | Toonami Finale |
| --- | --- | --- | --- | --- |
| | 1 | 06 | November 5, 2001 | November 12, 2001 |
Gundam 0080 is the first original video animation (OVA) series in the Gundam franchise. Being an OVA series, the 6 episodes were released over the course of several months in Japan, with one episode being released each month, beginning on March 25, 1989 and ending on August 25, 1989. The entire series has been released in the United States by Bandai, but is no longer in production. In October 2016, Right Stuf Inc., announced that the series would be released on DVD on January 3, 2017.[2]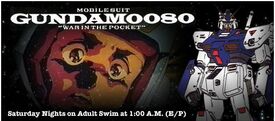 Gundam 0080 premiered on Cartoon Network from November 5, 2001 to November 30, 2001 as part of Toonami's Midnight Run block. It then briefly aired on Cartoon Network's late night Adult Swim block from November 16, 2002[3] to December 28, 2002. It also made an appearance on Cartoon Network's Saturday Video Entertainment System block from March 1, 2003 to April 19, 2003.
Gundam 0080 aired on Toonami's Midnight Run block from November 5, 2001 to November 30, 2001. The series aired as a Midnight Run exclusive, never airing on the day-time Toonami block, due to the content (buildings being destroyed, planes crashing, etc.) being similar to the recent 9/11 attacks.
All Gundam series:
Community content is available under
CC-BY-SA
unless otherwise noted.