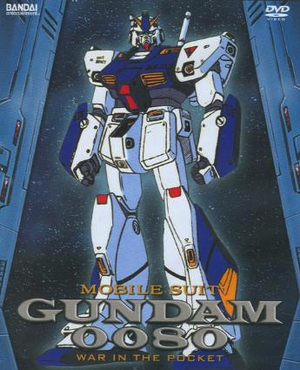 Series Overview
| Color | Season | Episodes | Toonami Premiere | Toonami Finale |
| --- | --- | --- | --- | --- |
| | 1 | 06 | November 5, 2001 | November 14, 2001 |
Season 1 (1989)
#

Episode Title

Japanese Airdate

English Airdate

1
"How Many Miles to the Battlefield?"
March 25, 1989
November 5, 2001
The elite Zeon Cyclops Team is sent to the Arctic to stop a new Gundam prototype from being launched into space, but their mission ends in failure. On the Libot colony of Side 6, 11-year-old Alfred Izuruha meets up with Christina MacKenzie, who used to babysit him when he was younger. Little does he know that she is now a Federation pilot. Meanwhile, Cyclops Team sneaks into Side 6 while Zeon forces invade the colony. During the attack, Al runs into the forest to chase a downed Zaku and encounters rookie pilot Bernie Wiseman.
2
"Reflections in a Brown Eye"
April 25, 1989
November 6, 2001
Bernie gives Al his badge in exchange for the video disc of his camera. Back at their secret hideout, Cyclops Team discovers that the disc contains footage of the warehouse inside the Federation base containing the Gundam.
3
"And at the End of the Rainbow?"
May 25, 1989
November 7, 2001
Cyclops Team smuggles parts of the mobile suit Kämpfer into the colony for their mission, with some help from Alfred.
4
"Over the River and Through the Woods"
June 25, 1989
November 12, 2001
Cyclops Team sneaks into the Federation base to destroy the Gundam, but the mission is a failure when their cover is blown and all but Bernie are killed in the ensuing gunfight. Meanwhile, Christina pilots the Gundam to fend off the Kämpfer mobile suit sent to eliminate it.
5
"Say it Ain't So, Bernie!"
July 25, 1989
November 13, 2001
Following the failure of his team's mission and the deaths of his comrades, Bernie goes into hiding and is told by his informant that Commander Killing has ordered a nuclear attack on the colony on Christmas day.
6
"War in the Pocket"
August 25, 1989
November 14, 2001
In one last attempt to destroy the Gundam and prevent the nuclear attack on the colony, Bernie repairs his Zaku with Al's help and sets traps within the forest, using the armament left over by Cyclops Team. He then sets off to lure the Gundam into his trap, but Al receives word that the Zeon fleet sent to destroy the colony was intercepted and destroyed. Al rushes to the scene in an attempt to stop Bernie from continuing his mission, but Bernie is killed while the Gundam is severely damaged. Al goes into shock upon discovering that Christina was piloting the Gundam.
Toonami Episode Guides
Cartoon Network (1997-2008)
Adult Swim (2012-Present)