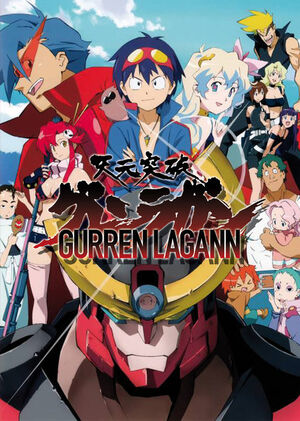 Series Overview
Color
Season
Episodes
Toonami Premiere
Toonami Finale
1
27
August 16, 2014
March 21, 2015
Movies
02
Unaired
OVA
01
Unaired
Season 1 (2007)
#

Episode Title

Japanese Airdate

English Airdate

Toonami Airdate

01
"Bust Through the Heavens with Your
Drill!"
April 1, 2007
July 28, 2008
August 16, 2014
In Giha village, an underground town, Simon and Kamina live mundane lives with the constant threat of earthquakes. During an attempt to escape to the surface - something almost unheard of - Kamina and Simon bear witness to a monstrous Gunman, as it crashes through the ceiling into the middle of their subterranean home. Together with the Gunman's pursuer, a girl from the neighboring village, Yoko, the two young men find the key - a small Gunman buried deep in the ground, named Lagann by Kamina - to both defeating the massive intruder and leaving Giha Village...
02
"I Said I'm Gonna Pilot That Thing!!"
April 8, 2007
July 28, 2008
August 23, 2014
With the mysterious Lagann in hand, Kamina and Simon take Yoko back to her home village of Littner. Life on the surface world catches up to Kamina and Simon, as they find themselves assisting in defending against a new Gunman threat and the Beastmen who pilot them. After forcibly ejecting one of the Beastmen from his Gunman, Kamina seizes control of his own Gunman, which he names Gurren.
03
"Who Do You Think You Are, Having Two
Faces!?"
April 15, 2007
August 4, 2008
September 6, 2014
In the aftermath of the previous battle, Kamina, Simon, and Yoko proceed to forage for provisions. However, a chance encounter with a formidable Beastman, Viral, and his powerful Gunman forces the Gurren and the Lagann to combine to form a new Gunman - Gurren Lagann.
04
"Having Lots of Faces Doesn't Make You
Great!"
April 22, 2007
August 4, 2008
September 13, 2014
In order to take the fight to the Beastmen and their Gunmen, Team Gurren sets out from Littner Village to strike a possible Gunmen rallying point. Along the way, they encounter the eccentric Black Siblings, as well as the prospects of having to defeat a multi-faceted enemy on empty stomachs.
05
"I Don't Get It, Not One Bit!"
April 29, 2007
August 11, 2008
September 20, 2014
Team Gurren's continuing journey brings them to an underground village, where society mandates a humbling existence and the worship of Gunmen as divine beings. After leaving the village, Team Gurren is joined by Rossiu, the adopted son of the village chief, and two children, Gimmy and Darry.
06
"Sit in the Hot Tub 'Till You're Sick!!"
May 6, 2007
August 11, 2008

September 27, 2014

Having picked up new members in their last adventure, Team Gurren continues onwards to the Gunmen rallying point. However, not everything is as it seems to be at a slight pit stop at a hot springs getaway in the middle of nowhere.
07
"You're Gonna Do It!!"
May 13, 2007
August 18, 2008
October 4, 2014
More details of the Beastman Empire are revealed as Thymilph, one of the Four Divine Generals of the mysterious Spiral King, arrives to support Viral's Enki, with the massive mobile Gunmen fortress, the Dai-Ganzan. Seizing the opportunity to land a great victory, Kamina and Simon pilot the Gurren-Lagann against seemingly overwhelming odds.
08
"Later, Buddy"
May 20, 2007
August 18, 2008
October 11, 2014
Having temporarily stalled Viral and Thymilph in the last skirmish, the Team Gurren and their newly arrived allies join forces as "Team Dai-Gurren" and launch a decisive strike against the regrouping Gunmen force. The massive battle violently reaches its conclusion, but Kamina dies in the process.
09
"What, Exactly, Is a Human?"
May 27, 2007
September 8, 2008
October 18, 2014
Team Dai-Gurren managed to take control of the enemy fortress, but is still mourning on Kamina's death, especially Simon. After falling off a cliff, he notices a Gunman throw a capsule into a deep valley. Simon inspects it and finds he is able to open it with the same drill key he uses to pilot Lagann, and inside is a young human girl named Nia, but their introduction is cut short when an enemy Gunman appears.
10
"Who Is This Bro?"
June 3, 2007
September 8, 2008
October 25, 2014
Having been temporarily spared by Adiane, another of the Four Divine Generals, Team Dai-Gurren uses the reprieve to reassess their situation. Nia learns of Kamina's significance in Simon's erratic behavior and offers him some stinging, yet honest advice, which draws the ire of an untrusting Yoko. With tension building within the Team, the crew scrambles to stand by Nia's side when Adiane returns to complete her stalled attack.
11
"Simon, Hands Off"
June 10, 2007
September 15, 2008
November 1, 2014
Team Dai-Gurren falls into a trap set by the third member of the Four Divine Generals, Guame. The Team is taken captive and stored underground to await execution. While digging an escape path, Simon finally understands Kamina's last words to him and after having a discussion with Guame, Nia finds out the reason why she was thrown away.
12
"Yoko, Will You Do Me a Favor?"
June 17, 2007
September 15, 2008
November 8, 2014
On their way to Teppelin, the Beastmen's capital city, Team Dai-Gurren stumbles upon a vast ocean and must wait for modifications on the Dai-Gurren to be completed before crossing it. While the rest of the group play at the beach, Yoko starts to feel uneasy about Nia and all the attention she gets from them. After preparations are complete, Team Dai-Gurren begins their sea cruise, oblivious to the fact that an ambush is underway by Adiane and Viral.
13
"Eat Up, Everyone!"
June 24, 2007
September 22, 2008
November 15, 2014
Trying to do her part in Team Dai-Gurren, Nia decides to become a cook, but just before the crew have a taste of her dishes, Cytomander, the fourth member of the Divine Generals, launches an aerial attack on the Dai-Gurren. Simon leads the counter-attack on the Gurren-Lagann, this time accompanied by Yoko, who replaces a sick Rossiu.
14
"Well Met, Everyone"
July 1, 2007
September 22, 2008
November 22, 2014
At last, Team Dai-Gurren arrives at the outskirts of Teppelin, but before aiming to the city, they must face a combined full-scale attack of Cytomander and Guame's forces.
15
"I Will Head Towards Tomorrow"
July 8, 2007
September 29, 2008
November 29, 2014
The last of the Divine Generals fall, and the city of Teppelin collapses, revealing a Gunman of gigantic proportions. Simon and Nia struggle to pass through it in order to confront her father, the Spiral King himself.
16
"Compilation Episode"
July 15, 2007
September 29, 2008
January 3, 2015
A recap of the story's events, as of episode 15.
17
"You Don't Know Anything!"
July 22, 2007
October 6, 2008
January 10, 2015
During the following seven years, a new civilization rises and prospers under Simon's leadership. However, these peaceful times come to end when the threat mentioned in Lordgenome's last words starts to reveal itself.
18
"Tell Me the Secrets of This World"
July 29, 2007
October 6, 2008
January 17, 2015
After the Anti-Spirals' first attack and Nia's astonishing announcement, Simon looks desperately for her, while Rossiu finally completes his secret project.
19
"We Will Survive by Any Means
Necessary"
August 5, 2007
October 13, 2008
January 24, 2015
To soothe the public opinion, Rossiu overthrows Simon and puts him under arrest. But when the Anti-Spirals launch a large-scale attack on Kamina City, he is left with no option but to let Simon engage the enemy using the Gurren-Lagann, not before resorting to extremes to put him under his control.
20
"How Far Will God Test Us?"
August 12, 2007
October 13, 2008
January 31, 2015
As Simon arrives in prison, he unexpectedly meets Viral, who comments on how far he has fallen. Meanwhile, the truth about Rossiu's emergency plan and the consequences for those left behind on Earth are revealed.
21
"You Are Someone Who Ought to
Survive"
August 19, 2007
October 27, 2008
February 7, 2015
One year earlier, Yoko starts working as a schoolteacher on an island until she learns of the situation at Teppelin and returns to break Simon free. Once again reunited, Simon and the members of Team Dai-Gurren launch themselves into space to protect the Arc-Gurren from the enemy forces, now accompanied by Viral as co-pilot of the Gurren-Lagann.
22
"This is My Final Duty"
August 26, 2007
October 27, 2008
February 14, 2015
The Gurren-Lagann and the Arc-Gurren join together to form the massive Arc-Gurren-Lagann and stop the Human Annihilation System.
23
"Let's Go, This is the Final Battle"
September 2, 2007
November 3, 2008
February 21, 2015
The members of Team Dai-Gurren make their preparations for the imminent war against the Anti-Spirals, but Rossiu is missing. However, when Kinon tells Simon about what he really intends to do, both start to look desperately for him.
24
"I'll Never Forget This Minute, This
Second"
September 9, 2007
November 3, 2008
February 28, 2015
Guided by Simon and Nia's feelings for each other, Team Dai-Gurren break through dimensions in search for the Anti-Spirals' homeworld. But after falling into the enemy's trap, they end up losing some of their most precious members, due to its vicious offensive.
25
"I Accept Your Last Wish!"
September 16, 2007
November 10, 2008
March 7, 2015
Team Dai-Gurren struggles to escape from the ocean of despair created by the Anti-Spirals without success, until history repeats itself, as another irreplaceable member of the Team sacrifices himself to save the others.
26
"Let's Go, Buddy"
September 23, 2007
November 10, 2008
March 14, 2015
After finally transforming their flagship into the gigantic Super Galactic Gurren-Lagann, Simon and his friends successfully fight back against the enemy. However, when their enemy starts to use their own memories and desires against them, Kamina reappears to help.
27
"The Lights in the Sky Are Stars"
September 30, 2007
November 10, 2008
March 21, 2015
At last, Simon and Nia are reunited, and by combining the power of its members, Team Dai-Gurren creates the galaxy-sized Tengen Toppa Gurren-Lagann, and engage the Anti-Spiral threat in a decisive battle to determine the fate of the universe.
Movies
#

Episode Title

Japanese Release

English Release

01
"Childhood's End"
September 6, 2008
July 1, 2010
In the distant future, mankind has lived quietly and restlessly underground for hundreds of years, subject to earthquakes and cave-ins. Living in one such village are 2 young men: one named Simon who is shy and naïve, and the other named Kamina who believes in the existence of a "surface" world above their heads. The destiny of these two starts moving drastically when the ceiling of their village falls in, and a gigantic "Gunmen" and a beautiful girl named Yoko, wielding a superconductive rifle, come from the surface. Together, Kamina, Simon and Yoko ride the mecha "Lagann" that Simon digs out of the ground, and fly up to the surface!

However, the surface is not the dreamland that Kamina envisioned. This world is ruled by the Spiral King and his army of beastmen. Kamina and Simon, along with their comrades, challenge the Spiral King in an attempt to change a desperate world to one full of hope for the future with Gurren Lagann!

02
"The Lights in the Sky are Stars"
April 25, 2009
July 30, 2010
Seven years have passed after the battle of Teppelin and humans have since reclaimed the surface of the earth and enjoy an unprecedented period of peace and prosperity. However, humanity's increasing population growth triggers the sudden emergence of an unknown, powerful enemy.

The fearsome, manipulative power of the mysterious Anti-Spiral proves too overwhelming for humans to even fight back. When everyone becomes desperate and loses hope, Team Dai-Gurren members reunite to stand up once again!
My Gurren is Sparkling!!
#

Episode Title

Japanese Airdate

English Airdate

01
"My Gurren is Sparkling!!"
October 25, 2007
N/A
Special episode bundled with the Nintendo DS game based on the series. Envious of seeing how Simon keeps his Lagann clean and neat, Kamina asks the mysterious Chitori to clean up his Gurren for him, unaware of her true intentions.
Toonami Episode Guides
Cartoon Network (1997-2008)
Adult Swim (2012-Present)