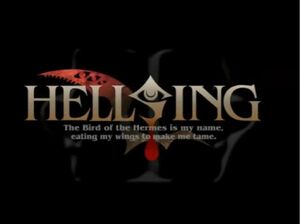 Series Overview
| Color | Season | Episodes | Toonami Premiere | Toonami Finale |
| --- | --- | --- | --- | --- |
| | 1 | 10 | September 13, 2014 | December 13, 2014 |
Hellsing Ultimate (2006-2012)
#

Episode Title

Episode Length

Japanese Release

English Release

Toonami Airdate

01
"Hellsing I"
(51 minutes)
February 10, 2006
December 5, 2006
September 13, 2014
During a mission to eradicate a vampire priest and his minions, Alucard is forced into a difficult decision upon encountering an injured police woman. Later, Father Alexander Anderson and Alucard clash for the first time.
02
"Hellsing II"
(43 minutes)
August 25, 2006
June 12, 2007
September 20, 2014
Two daring vampire brothers lead a violent raid on the Hellsing compound. The carnage is great, but Alucard and company manage to gain a key piece of information while turning the battle's tide.
03
"Hellsing III" -
(47 minutes)
April 4, 2007
October 16, 2007
October 4, 2014
The Hellsing organization resorts to the recruitment of mercenaries in the wake of a devastating attack on headquarters, and Integra's suspicions concerning the origins of their enemy are confirmed.
04
"Hellsing IV"
(56 minutes)
February 22, 2008
September 23, 2008
October 11, 2014
An important meeting between Hellsing and the Queen is interrupted by tidings of impending war. Meanwhile, Alucard is sent to deal with the deviants responsible for the hijacking of an aircraft carrier.
05
"Hellsing V"
(44 minutes)
November 21, 2008
November 13, 2012
October 18, 2014
While Alucard is trapped aboard an aircraft carrier, London is plagued by a gruesome vampire onslaught. Elsewhere, Integra narrowly escapes a hoard of Nazi vampires.
06
"Hellsing VI"
(42 minutes)
July 24, 2009
November 13, 2012
October 25, 2014
The Vatican's formidable combat unit is mobilized in preparation for battle. Back in the heart of London, the Hellsing Mansion is attacked, and the Wild Geese represent the last line of defense against the undead.
07
"Hellsing VII"
(45 minutes)
December 23, 2009
November 13, 2012
November 1, 2014
When her memories are violated, Seras becomes trapped in an illusion which forces her to relive the most horrifying moments of her life. Upon waking from the nightmare, the real pain begins as the battle nears its end.
08
"Hellsing VIII"
(49 minutes)
July 27, 2011
November 13, 2012
November 8, 2014
The Vatican forces led by Enrico Maxwell begin to attack the remaining Millennium forces along with the surviving citizens of London. Walter, now a vampire, joins forces with the Major. Alexander Anderson is enraged because he believes Maxwell has become drunk with power and is abusing God's power.
09
"Hellsing IX"
(49 minutes)
February 15, 2012
October 28, 2014
December 6, 2014
A dying Alucard envisions his past as Vlad the Impaler, recalling how he was raped as a child, and those he committed himself during his war against the Turks. He is shown eventually being carried off to execution, but before being beheaded, he drinks the blood of the battlefield and becomes a vampire. He is then awoken by the pleading of Seras, who is trying in vain to help him against Priest Anderson of the Vatican.
10
"Hellsing X"
(68 minutes)
December 26, 2012
October 28, 2014
December 13, 2014
Integra and Seras battle the remnants of Millennium aboard the zeppelin until the Captain intercepts them, with Seras staying to fight while Integra proceeds onward. Outside, Alucard begins to absorb the rivers of blood from the dead, though the Major had planned on this moment to defeat him.
Toonami Episode Guides
Cartoon Network (1997-2008)
Adult Swim (2012-Present)