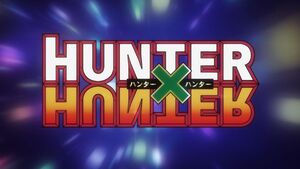 Series Overview
| Color | Story Arc | Episodes | Toonami Premiere | Toonami Finale |
| --- | --- | --- | --- | --- |
| | Hunter Exam | 26 | April 16, 2016 | November 5, 2016 |
| | Heavens Arena | 12 | November 12, 2016 | February 11, 2017 |
| | Phantom Troupe | 20 | February 18, 2017 | July 15, 2017 |
| | Greed Island | 17 | July 22, 2017 | December 2, 2017 |
| | Chimera Ant | 61 | December 9, 2017 | March 30, 2019 |
| | Election | 12 | April 6, 2019 | June 22, 2019 |
Hunter Exam Arc (2011-2012)
No. in
Series

No. in
Arc

Episode Title

Japanese Airdate

Toonami Airdate

01
01
"Departure × and × Friends"
October 2, 2011[1]
April 16, 2016
Gon departs on a journey to take the Hunter Exam and meets Leorio and Kurapika who also want to be Hunters.
02
02
"Test × of × Tests"
October 9, 2011
April 23, 2016
If Gon, Leorio and Kurapika cannot answer an old woman's question correctly, they will be immediately disqualified.
03
03
"Rivals × in × Survival"
October 16, 2011
April 30, 2016
Escorted by the Kiriko the trio finally arrive at the exam site.
04
04
"Hope × and × Ambition"
October 23, 2011
May 7, 2016
The exam for the First Phase consists of following Satotz, the proctor to the site of the Second Phase.
05
05
"Hisoka × is So × Sneaky"
October 30, 2011
May 14, 2016
Misty wetlands await the participants as they emerge from the long tunnel. Visibility is poor and various monsters lie in wait.
06
06
"A × Surprising × Challenge"
November 6, 2011
May 21, 2016
Proctors Menchi and Buhara's test consists of preparing a dish that will satisfy the palate of Gourmet Hunters.
07
07
"Showdown × On × The Airship"
November 13, 2011
June 4, 2016
Netero challenges Gon and Killua to a simple game. If they win, they earn the right to become Hunters.
08
08
"Decision × by × Majority Rule?"
November 20, 2011
June 11, 2016
The airship arrives at the site of the Third Phase. To pass this test, entrants must reach the base of the tower within 72 hours.
09
09
"Beware × of × Prisoners"
November 27, 2011
June 18, 2016
Gon chooses the challenge where the person whose candle goes out first loses, but finds his candle has been tampered with.
10
10
"The Trick × to × The Trick"
December 4, 2011
June 25, 2016
Leorio loses patience as Kurapika refuses to deliver the final blow. An uneasy mood settles over the five as time continues to tick away.
11
11
"Trouble × With × the Gamble"
December 11, 2011
July 9, 2016
With the score at 2 wins, 2 losses, the final do-or-die match is entrusted to Killua.
12
12
"Final × Test of × Resolve"
December 18, 2011
July 16, 2016
The five must vote and decide by majority rule on which path to take out of two.
13
13
"Letter × from × Gon"
December 25, 2011
July 23, 2016
A letter from Gon arrives at Whale Island for Aunt Mito. A recap of episodes 1 to 12.
14
14
"Hit × the × Target"
January 8, 2012
July 30, 2016
The participants head for Zevil Island, the site of the Fourth Phase.
15
15
"Explosion × of × Deception"
January 15, 2012
August 6, 2016
Gon bides his time for the perfect opportunity to steal Hisoka's tag.
16
16
"Defeat × and × Disgrace"
January 22, 2012
August 13, 2016
Kurapika and Leorio are targeted by Hisoka, but they negotiate a truce.
17
17
"Trap × in × the Hole"
January 29, 2012
August 20, 2016
Gon, Leorio and Kurapika come up with a strategy to take the tag from Ponzu, Leorio's target.
18
18
"Big × Time × Interview"
February 5, 2012
August 27, 2016
Gon and his friends are surrounded by vipers inside a cave with no way out.
19
19
"Can't Win × and × Can't Lose"
February 12, 2012
September 10, 2016
Gon goes up against Hanzo who easily overpowers him, but Gon refuses to surrender.
20
20
"Baffling Turn × of × Events"
February 19, 2012
September 17, 2016
Gon wakes up in the infirmary and finds out he passed the exam.
21
21
"Some × Brother × Trouble"
March 4, 2012
September 24, 2016
Gon decides to go to Kukuroo Mountain to bring Killua back.
22
22
"A × Dangerous × Watchdog"
March 11, 2012
October 1, 2016
Determined to see Killua, Gon and the others say that they are Killua's friends, and ask the guard to relay that message.
23
23
"The × Guard's × Duty"
March 18, 2012
October 8, 2016
To be able to see Killua, Gon and friends choose to go through the Testing Gate.
24
24
"The × Zoldyck × Family"
March 25, 2012
October 15, 2016
Thanks to Canary's help, Gon and the others get closer to the mansion.
25
25
"Can't See × if × You're Blind"
April 1, 2012
October 22, 2016
Gon and his friends meet the butler Gotoh who proposes a game to see if they are worthy enough to be friends with Killua.
26
26
"Then × and × After"
April 8, 2012
November 5, 2016
A letter from Gon arrives at Whale Island for Aunt Mito. A recap of episodes 14 to 25.
Heavens Arena Arc (2012)
No. in
Series

No. in
Arc

Episode Title

Japanese Airdate

Toonami Airdate

27
01
"Arrival × at × The Arena"
April 15, 2012
November 12, 2016
Killua fights Zushi and senses his strange technique is similar to the one used by Illumi.
28
02
"Nen × and × "Nen""
April 22, 2012
November 19, 2016
Zushi's mentor, Wing, tells Gon and Killua about the existence of something known as Nen.
29
03
"Awakening × and × Potential"
April 29, 2012
November 26, 2016
In order to break down Hisoka's Nen barrier, Gon and Killua ask Wing to let them awaken their Nen abilities.
30
04
"Fierce × and × Ferocious"
May 6, 2012
December 3, 2016
Gon's first battle in the Heaven's Arena on the 200th floor is against Gido, a Nen user.
31
05
"Destiny × and × Tenacity"
May 13, 2012
December 10, 2016
The match between Hisoka and Kastro is about to begin.
32
06
"A × Surprising × Win"
May 20, 2012
December 17, 2016
Kastro creates a double of himself with his mastery of Nen and steals Hisoka's arms.
33
07
"An × Empty × Threat"
May 27, 2012
January 7, 2017
Gon and Killua resume Nen training.
34
08
"Power × to × Avenge"
June 3, 2012
January 14, 2017
Gon and Killua face Gido and Reihlvelt in a match.
35
09
"The × True × Pass"
June 17, 2012
January 21, 2017
The curtain rises on the battle between Gon and Hisoka.
36
10
"A Big Debt × and × a Small Kick"
June 22, 2012
January 28, 2017
Gon lands a solid punch on Hisoka and returns the tag.
37
11
"Ging × and × Gon"
June 29, 2012
February 4, 2017
After mastering Nen and becoming a real Hunter, Gon returns to Whale Island with Killua.
38
12
"Reply × From × Dad"
July 7, 2012
February 11, 2017
Gon decides to listen to the cassette tape his father left inside of the box.
Phantom Troupe Arc (2012)
No. in
Series

No. in
Arc

Episode Title

Japanese Airdate

Toonami Airdate

39
01
"Wish × and × Promise"
July 14, 2012
February 18, 2017
Kurapika is determined to retrieve the eyes of his brethren and send the Phantom Troupe to the deepest depths of hell.
40
02
"Nen × Users × Unite?"
July 22, 2012
February 25, 2017
Kurapika and the other job applicants are attacked in the mansion of a flesh collector.
41
03
"Gathering × of × Heroes"
July 29, 2012
March 4, 2017
After receiving instructions from their leader, Chrollo, the Phantom Troupe converges in the city.
42
04
"Defend × and × Attack"
August 5, 2012
March 11, 2017
Gon, Killua and Leorio start gathering funds in order to bid on the game "Greed Island."
43
05
"A × Shocking × Tragedy"
August 12, 2012
March 18, 2017
The Phantom Troupe takes over the auction site and the merchandise disappears without a trace, along with the guests.
44
06
"Buildup × to a × Fierce Battle!"
August 19, 2012
March 25, 2017
The Mafia's secret weapon, the Shadow Beasts, set out to annihilate the Phantom Troupe.
45
07
"Restraint × and × Vow"
September 2, 2012
April 1, 2017
Kurapika has captured a member of the Phantom Troupe.
46
08
"Chasing × and × Waiting"
September 9, 2012
April 8, 2017
Kurapika sends the Boss away to safety, and then waits to confront the Phantom Troupe alone.
47
09
"Condition × and × Condition"
September 16, 2012
April 15, 2017
Kurapika comes face to face with Phantom Troupe member, Uvogin.
48
10
"Very × Sharp × Eye"
September 23, 2012
April 22, 2017
At the antiques market, Gon discovers a foolproof way to appraise valuable items.
49
11
"Pursuit × and × Analysis"
September 30, 2012
April 29, 2017
Gon and the others plan to raise the money they need by collecting the bounties placed on the Phantom Troupe.
50
12
"Ally × and × Sword"
October 7, 2012
May 6, 2017
The Phantom Troupe captures Gon and Killua.
51
13
"A × Brutal × Battlefield"
October 14, 2012
May 13, 2017
Kurapika's desire to destroy the Phantom Troupe gets him recruited into a newly formed team of assassins.
52
14
"Assault × and × Impact"
October 21, 2012
May 20, 2017
Zeno and Silva of the legendary Zoldyck family of assassins arrive to eliminate the Phantom Troupe.
53
15
"Fake × and × Psyche"
October 28, 2012
June 3, 2017
Kurapika heads to the auction site to confirm the death of the Phantom Troupe's leader for himself.
54
16
"Fortunes × Aren't × Right"
November 4, 2012
June 10, 2017
Kurapika recounts the events that have occurred and reveals his new Nen ability.
55
17
"Allies × and × Lies"
November 11, 2012
June 17, 2017
Kurapika learns that the Phantom Troupe is still alive. He teams up with his friends to capture Pakunoda.
56
18
"Beloved × and × Beleaguered"
November 18, 2012
June 24, 2017
Chrollo tries to discover Kurapika's whereabouts by using readily available information on Neon.
57
19
"Initiative × and × Law"
December 2, 2012
July 8, 2017
The Phantom Troupe finds out that Kurapika is the one who killed Uvogin.
58
20
"Signal × to × Retreat"
December 9, 2012
July 15, 2017
Kurapika has captured Chrollo and negotiates an exchange for Gon and Killua with Pakunoda.
Greed Island Arc (2012-2013)
No. in
Series

No. in
Arc

Episode Title

Japanese Airdate

Toonami Airdate

59
01
"Bid × and × Haste"
December 16, 2012
July 22, 2017
The auction for the game Greed Island finally begins.
60
02
"End × and × Beginning"
December 23, 2012
July 29, 2017
Gon and Killua join the tryouts to become Greed Island players.
61
03
"Invitation × and × Friend"
January 6, 2013
August 5, 2017
Gon and Killua enter the world of Greed Island in hopes of finding Ging, but all they find is a message left by him.
62
04
"Reality × and × Raw"
January 13, 2013
August 12, 2017
Gon and Killua head for Masadora, the City of Magic, in search of spell cards.
63
05
"A × Hard × Master"
January 20, 2013
August 19, 2017
Biscuit announces to Gon and Killua that she will be their teacher.
64
06
"Strengthen × and × Threaten"
January 27, 2013
August 26, 2017
Gon and Killua wrap up their training, while the Bomber appears before the players who had formed an alliance.
65
07
"Evil Fist × and × Rock, Paper, Scissors"
February 3, 2013
September 9, 2017
Gon continues to hone his special ability by using the Enhancer, Emitter and Transmuter aura types.
66
08
"Strategy × and × Scheme"
February 10, 2013
September 16, 2017
Killua passes the Hunter Exam on his second attempt and returns to the game. Once reunited, Gon, Killua and Biscuit begin collecting cards steadily.
67
09
"15 × 15"
February 17, 2013
September 23, 2017
In order to stop Genthru from clearing the game, Gon and Killua are asked to join an alliance.
68
10
"Pirates × and × Guesses"
February 24, 2013
September 30, 2017
Gon and his friends meet the pirate boss Razor, but are overwhelmed by his power.
69
11
"A × Heated × Showdown"
March 3, 2013
October 7, 2017
Gon and his friends team up with Hisoka and Goreinu to challenge Razor again. Also helping out is Team Tsezguerra.
70
12
"Guts × and × Courage"
March 10, 2013
October 14, 2017
Gon comes up with a plan to beat Razor, and it requires Killua's help.
71
13
"Bargain × and × Deal"
March 17, 2013
October 21, 2017
Gon, Killua and Hisoka face Razor head on, and a winner will finally be crowned in this dodge ball showdown!
72
14
"Chase × and × Chance"
March 24, 2013
November 4, 2017
Tsezguerra suggests that Gon and his friends should continue training while his team distracts Genthru.
73
15
"Insanity × and × Sanity"
March 31, 2013
November 11, 2017
Tsezguerra's group does not return to the game and a one-on-one battle ensues, with Gon taking on Genthru, Killua battling Sub and Biscuit taking on Bara.
74
16
"Victor × and × Loser"
April 7, 2013
November 18, 2017
Gon is overwhelmed by Genthru's power, but he isn't backing down.
75
17
"Ging's Friends × and × True Friends"
April 14, 2013
December 2, 2017
Gon and his friends finally defeat Genthru and collect 99 trading cards.
Chimera Ant Arc (2013-2014)
No. in Series

No. in Arc

Episode Title

Japanese Airdate

Toonami Airdate

76
01
"Reunion × and × Understanding"
April 21, 2013
December 9, 2017
Gon and Killua use the cards they brought back from the game to warp to Nigg, who they believe is Ging. However, they are sent to a completely different man who immediately knocks them to the ground. However, Gon finds him familiar for some reason.
77
02
"Unease × and × Sighting"
April 28, 2013
December 16, 2017
Gon and Killua join Kite's team as they investigate the Chimera Ants. The Chimera Ants are dangerous insects that can pass traits from the prey they consume to their offspring. As Kite begins to fear the worst, the Chimera Ants begin to feed on humans.
78
03
"Very × Rapid × Reproduction"
May 5, 2013
January 6, 2018
Kite uses the location where the Chimera Ant arm was discovered and ocean patterns to determine where the actual Chimera Ant is. It turns out to be an isolated country that bans all forms of technology. Meanwhile, the Chimera Ants continue to evolve.
79
04
"No × Good × NGL"
May 12, 2013
January 13, 2018
After passing a strict border checkpoint, Gon and his new friends enter NGL where they suspect the Chimera Ant is. However, ten other teams of Hunters have already arrived before them. Meanwhile, the Chimera Ants, with their new names and individual personalities, are attacking humans.
80
05
"Evil × and × Terrible"
May 19, 2013
January 20, 2018
Pokkle and Ponzu use Ponzu's bees to deliver messages asking the Hunter Association to help eliminate the Chimera Ants. Meanwhile, the Chimera Ants have attacked Gyro, the shadowy ruler of NGL, and taken his guns. As the situation gets worse, Ponzu's message reaches Gon's group.
81
06
"The × Fight × Begins"
May 26, 2013
January 27, 2018
Gon, Killua, and Kite discover the remains of a destroyed village. There, they encounter their first Chimera Ant. Gon and Killua are shaken by the speed and power displayed by the Chimera Ant. However, Kite tells them that they must defeat the Chimera Ant or leave.
82
07
"Kite × and × Slots"
June 2, 2013
February 3, 2018
Some of the more aggressive Chimera Ants have eaten the villains who ran the NGL underground and grown increasingly evil. When Gon looks away from their gruesome act, Kite admonishes him. Now, they must battle for their lives. Meanwhile, a Chimera Ant is on the verge of discovering Nen.
83
08
"Inspiration × To × Evolve"
June 9, 2013
February 10, 2018
The Hunter Association has dispatched an expeditionary force to exterminate the Chimera Ants. Meanwhile, Gon and his friends are being targeted by Chimera Ants who seek to eat rare humans. They are forced into one-on-one battles with Chimera Ant captains. They easily dispatch their opponents, but Kite continues to feel uneasy.
84
09
"A × Fated × Awakening"
June 16, 2013
February 17, 2018
Hagya sends his soldiers after Gon, Killua, and Kite in an attempt to capture rare humans. Gon and his friends struggle to find inside the forest as Chimera Ants relentlessly attack. At the same time, one of the Queen's Royal Guards has been born.
85
10
"Light × and × Dark"
June 23, 2013
February 24, 2018
Kite, Gon, and Killua follow Hagya as they seek the Chimera Ant nest where the Queen awaits. However, as they are about to reach the Queen's castle, one of the Royal Guards, Pitou, appears before them and attacks Kite with ferocious speed.
86
11
"Promise × and × Reunion"
June 30, 2013
March 3, 2018
Kite used himself as a decoy to allow Gon and Killua to escape. The two boys vow to save Kite, believing that he lives. However, to return to NGL, they must clear the condition set by Chairman Netero, leader of the expeditionary force, which is to defeat two assassins and take their tokens. Gon and Killua accept the condition and return to the board by the train station. That is when they sense an ominous aura behind them.
87
12
"Duel × and × Escape"
July 7, 2013
March 10, 2018
Gon and Killua are training to take the tokens from their targets. Immediately after finishing their training, they're sent exhausted by Bisky to fight Knuckle. Gon and Killua don't feel very good about their chances to win. Will they figure out a way to defeat the stronger Knuckle?
88
13
"Rock, Paper, Scissors × and × Weakness"
July 14, 2013
March 17, 2018
Gon and Killua head back to their lodging, exhausted after the battle with Knuckle. That is when their second opponent, Shoot, attempts to finish them off. However, he leaves in a cold sweat without making a move. Palm is worried about the progress that Gon and Killua are making in their training, but Gon promises that they will win. Meanwhile in the Queen's castle, the growing King's fetus begins to pulse.
89
14
"Compassion × and × Strength"
July 21, 2013
March 24, 2018
Gon has finally forced Knuckle to use his full strength. However, Knuckle immediately identifies the weakness in Jajanken, Gon's special attack. Knuckle goes on the attack by exploiting those weaknesses. Gon finds myself unable to fight back. However, he continues to attempt to charge up his Nen for Jajanken.
90
15
"Interest × and × Curse"
July 28, 2013
March 31, 2018 (Subbed)
April 7, 2018 (Dubbed)
Gon and Killua are finally facing off against Knuckle and Shoot. Killua takes Shoot while Gon's opponent is Knuckle. Gon succeeds in sensing Knuckle through his aura, but then LoanBoy pops up on his left arm. Meanwhile, Killua is struggling against Shoot.
91
16
"The Strong × and × The Weak"
August 4, 2013
April 14, 2018
At long last, the Queen gives birth to the King. The Chimera Ants are cowed by the menancing aura emitted by the King. Pitou, Pouf, and Youpi kneel before the King to greet him, but with that gesture, they have abandoned the Queen.
92
17
"One Wish × and × Two Promises"
August 11, 2013
April 21, 2018
After surrendering, Colt requests that the Hunters save the dying Queen. Morel immediately dispatches a team of researchers to the castle. Inside, Knuckle and Shoot discover an incredible sight.
93
18
"Date × With × Palm"
August 18, 2013
April 28, 2018
The King is on the move. After invading the Republic of East Gorteau and eating a Nen user's aura, his own power grows. Meruem quickly takes control of the palace. Meanwhile, after losing to Knuckle and Shoot, Gon and Killua return to the inn to face Palm's wrath for breaking their promise to take her to NGL.
94
19
"Friend × and × Journey"
September 1, 2013
May 5, 2018
While Gon is on a date with Palm, Killua, who was tailing them, encounters Rammot in the forest. Killua does not want to let Gon, who can't use Nen, get in a fight, so he takes on Rammot alone. However, he cannot rid himself of his brother Illumi's voice in his head that keeps telling him to run.
95
20
"Grudge × and × Dread"
September 8, 2013
May 12, 2018
Knuckle and Morel face off against Cheetu. The difference in physical strength between Chimera Ants and humans is immense, as the two Hunters appear to be overwhelmed by Cheetu's speed. However, Knuckle and Morel have a plan. Armed with wit and experience, they begin by having Morel cover the area with white smoke.
96
21
"A × Lawless × Home"
September 15, 2013
May 19, 2018
Meteor City, home of the Phantom Troupe. Kalluto, Feitan, Shalnark, Phinks, Shizuku, and Bonolenov arrive after hearing that Chimera Ants have taken over. Upon arriving, they come across grotesquely disfigured bodies. It is the work of Zazan, who has built her nest atop the garbage of Meteor City.
97
22
"Carnage × and × Devastation"
September 22, 2013
June 2, 2018
Zazan has built a new Chimera Ant nest in Meteor City, home of the Phantom Troupe. The Phantom Troupe members head inside the nest to defeat Zazan. Inside, they split up to fight Zazan's underlings. The Phantom Troupe reveal their secret abilities, but will it be enough to exterminate the Chimera Ants?
98
23
"Infiltration × and × Selection"
September 29, 2013
June 9, 2018
Gon and Killua infiltrate the Republic of East Gorteau in an attempt to stop the selection process that is occurring. They arrive at a village, only to find it deserted. However, after discovering traces of blood on the floors and walls, they follow the trail outside to a mass grave that has been disturbed by wild dogs. Killua then realizes the true purpose of the national celebration.
99
24
"Combination × and × Evolution"
October 9, 2013
June 16, 2018
Killua and Gon split up to stop the selection process, but Gon finds his path blocked by two new Chimera ants, an owl and a bat. Both are nocturnal hunters and Gon has a hard time coping with how loud the bat's wings are and how soft the owl's wings are.
100
25
"Tracking × and × Pursuit"
October 16, 2013
June 23, 2018
Knuckle and Shoot attempt to ambush Cheetu, but at the last moment, Cheetu changes directions and vanishes. The two Hunters realize that someone must have warned Cheetu. Meanwhile, Killua and Gon are both being followed. The Chimera Ant following Gon decides to reveal himself.
101
26
"Ikalgo × and × Lightning"
October 23, 2013
June 30, 2018
After splitting up with Gon, Killua is attacked by an octopus Chimera Ant named Ikalgo. Ikalgo has the ability to possess humans and transform his legs into a cannon for firing projectiles. However, he's captured by Killua before he can find a host. Killua tells Ikalgo that he'll spare his life in return for information about his ally's powers, but Ikalgo tells Killua that he won't sell out.
102
27
"Power × and × Games"
October 30, 2013
July 7, 2018
Ikalgo betrays his fellow Chimera Ants to save Killua, his former enemy. At the same time, Gon is bonding with a Chimera Ant named Melereon. Melereon tells Gon about his own power, which is a risky move for a Nen user. However, he's willing to take that risk to build a relationship of trust with Gon, for his objective is to defeat Meruem, the Chimera Ant King.
103
28
"Check × and × Mate"
November 6, 2013
July 14, 2018
The King is finding ways to entertain himself while waiting for the selection. He summons masters of Shogi and Go and defeats them in matches. It appears that he has incredible physical and mental strength. Next, the King summons Komugi, a blind girl who is the world champion of a board game called Gungi which originated in the Republic of East Gorteau. When the match begins, the blind girl opens her eyes.
104
29
"Doubt × and × Hesitation"
November 13, 2013
July 21, 2018
The Hunter Knov is making his way towards the Palace. The Chimera Ants, Leol and Flutter, are watching Knov in an attempt to learn what powers he has, but they lose sight of him.
105
30
"Resolve × and × Awakening"
November 20, 2013
July 28, 2018
The King's meeting with world champion Gungi player Komugi has left him baffled and irritated. However, he's also enjoying their matches. The King proposes that they wager on their next match, promising Komugi that he will grant any wish she makes if she wins.
106
31
"Knov × And × Morel"
November 27, 2013
August 4, 2018
While the King and Komugi continue to play Gungi, Knov has successfully infiltrated the palace. His objective is to play four-dimensional exits for the other Hunters to use.
107
32
"Return × And × Retire"
December 4, 2013
August 11, 2018
The lion Chimera Ant Leol has chased Morel into an underground cathedral for a duel. Leol activates his Nen ability to create large waves and a surfboard and charges Morel.
108
33
"Gungi × Of × Komugi"
December 11, 2013
August 18, 2018
Three days remain until the selection begins. Gon and the other Hunters are joined by new allies as they prepare to infiltrate the palace. Meanwhile, King Mereum, who has recovered from his injury, and Komugi continue to play Gungi. However, Komugi has grown fatigued.
109
34
"Taking Stock × And × Taking Action"
December 18, 2013
August 25, 2018
Only one day remains before the selection begins. Gon, Killua, and Ikalgo go over the plan one more time. They attempt to simulate every possible scenario. Meanwhile, a siren begins to blare inside Peijing.
110
35
"Confusion × And × Expectation"
December 25, 2013
September 8, 2018
The citizens of East Gorteau are assembling in front of the palace. Meanwhile, Welfin, a wolf Chimera Ant, has noticed that someone infiltrated the palace. At the same time, Secretary Bizeff has realized that Palm has disappeared and begins to search for her.
111
36
"Charge × And × Invade"
January 8, 2014
September 15, 2018
With only one minute left, Gon, Killua, Knuckle, Shoot, Melereon, and the others are waiting inside the Four-dimension Apartment preparing for the assault on the palace.
112
37
"Monster × And × Monster"
January 15, 2014
September 22, 2018
Zeno and Netero's attack throws the palace into chaos. Gon, Killua, and Shoot encounter Youpi at the bottom of the stairway leading up to the King's room. Meanwhile, Pitou and Pouf rush to the King, fearing the worst. Upon arrival, Pitou begins to shed tears. What has happened to the King?
113
38
"An × Indebted × Insect"
January 22, 2014
September 29, 2018
After Gon and the Hunters infiltrate the palace, they are separated by a powerful attack from Youpi. Morel uses his Nen smoke to distract Youpi and head towards the King, leaving Shoot and Knuckle to deal with the Royal Guard. At the same time, Gon and Killua also spring into action.
114
39
"Divide × And × Conquer"
January 29, 2014
October 6, 2018
Shaiapouf faces off against Morel while Menthuthuyoupi is up against Shoot and Knuckle. As the various players begin their battles, the King, Netero, and Zeno also square off. Zeno uses his Nen ability Dragon Head on the King, but the King does not try to dodge. What is the King's objective?
115
40
"Duty × And × Question"
February 5, 2014
October 13, 2018
Ikalgo is alone underground with a mission to find Palm. Meanwhile, Knuckle has abandoned Meleron's Perfect Plan and revealed himself to Youpi. Melereon leaves Knuckle and Shoot to assist the others. However, Welfin is sharp enough to notice that Flutter, under Ikalgo's control, is behaving strangely.
116
41
"Revenge × And × Recovery"
February 12, 2014
October 20, 2018
Killua now understands what Zeno meant when he said to draw their own conclusions about what was happening inside. Gon and Killua enter the tower where Neferpitou, their target for avenging Kite, awaits. Inside they find Doctor Blythe hovering over a gravely wounded Komugi. When Gon spots Pitou, he is surrounded by a cloud of vehement aura.
117
42
"Insult × And × Payback"
February 19, 2014
October 27, 2018
After Zeno leaves the palace, he is stopped by Cheetu. Cheetu wants to test his new ability on Zeno. After Zeno warns Cheetu to watch his back, Cheetu is immediately attacked from behind. Meanwhile, Knuckle is carrying a gravely injured Shoot and trying to escape Youpi.
118
43
"A × False × Rage"
February 26, 2014
November 3, 2018
Youpi pretends to grow increasingly irritated by Loanboy's interest tick and lose his temper. At the same time, the disguised Ikalgo is searching the palace for Palm.
119
44
"Strong × Or × Weak"
March 5, 2014
November 10, 2018
As Youpi begins to respect the Hunters' abilities, Ikalgo is hiding underneath the truck that was blown up by Brovada. As Ikalgo continues to search for Palm, he notices that the elevator is not moving after Brovada stepped in.
120
45
"Fake × And × Real"
March 12, 2014
November 24, 2018
Knuckle is very upset when he discovers that the gravely injured Shoot is missing. Meanwhile, Morel ends his vigil outside Pouf's cocoon and takes action. He lifts his giant pipe and shatters the cocoon. As expected, Pouf is not inside. Pouf was standing outside above the throne room. As Pouf laughed, Morel noticed that something seemed odd about Pouf.
121
46
"Defeat × And × Dignity"
March 19, 2014
December 1, 2018
Neferpitou is occupied using Doctor Blythe to heal the injured Komugi. Gon waits nearby for the healing to finish. As Shaiapouf watches from the back of the room, he notices that something is wrong.
122
47
"Pose × And × Name"
March 26, 2014
December 8, 2018
Zeno's Dragon Head flies through the night sky to deliver is cargo to the battlefield. The King, Mereum, stands on its arm. Netero stands on its body. Upon arrival, the King asks Netero why he wants to fight.
123
48
"Centipede × And × Memory"
April 2, 2014
December 15, 2018
As the fight between the King and Chairman Netero begins, Ikalgo is still underground lamenting his inability to finish off Brovada. However, Ikalgo recalls his mission to find Palm and pulls himself together.
124
49
"Breakdown × And × Awakening"
April 9, 2014
January 5, 2019
After Killua finishes recharging, he races back to Gon. However, he stops when he notices that someone is watching him. As he stands in the quiet hallway, a woman with long hair walks towards him.
125
50
"Great Power × And × Ultimate Power"
April 16, 2014
January 12, 2019
Shaiapouf and Menthuthuyoupi rush to find the King. At the same time, Neferpitou continues to use Doctor Blythe to heal Komugi on the second floor of the palace while Gon sits nearby. Behind Gon stands Pouf, and behind Pouf is Knuckle, who ignored Melereon's warnings and revealed himself to challenge Pouf to a duel.
126
51
"Zero × And × Rose"
April 23, 2014
January 19, 2019
Netero uses his ultimate technique, 100-Type Guanyin Bodhisattva, to repeatedly strike the King into the ground, as though he is swatting a fly around. However, the King is unscathed. The King attempts to counter Netero's attacks while Netero mounts a defense, leading to an intricate melee.
127
52
"Hostility × And × Determination"
April 30, 2014
January 26, 2019
"Mereum. That's your name." Netero finally tells the King his name. In the next moment, he is engulfed by blinding light. When Netero stopped his own heart, he triggered the powerful bomb inside his body named Miniature Rose.
128
53
"Unparalleled Joy × And × Unconditional Love"
May 7, 2014
February 2, 2019
Pouf and Youpi see King Meruem's ravaged body and the air is filled with their cries of anguish. However, the King is still alive. Pouf immediately comes up with an idea to save the King, telling the King to eat him. As Pouf sacrifices himself to save the King, his tears of despair become tears of elation.
129
54
"Formidable Enemy × And × Clear Objective"
May 14, 2014
February 9, 2019
The resurrected King calls himself Meruem and appears to have lost some of his memories. With Shaiapouf and Menthuthuyoupi by his side, he returns to the palace to regain his memories. Pouf believes that as a Royal Guard who must carry out the will of the Queen, the King is better off not remembering Komugi, so he sends his clones back to the palace to find Komugi and eliminate her. He soon comes across Killua standing on the wall of the palace with Komugi on his back.
130
55
"Magic × To × Destroy"
May 21, 2014
February 16, 2019
King Meruem returns to the palace with Youpi and Pouf to find hundreds of thousands of humans lined up for the selection. Knuckle is hiding inside the crowd with Melereon waiting nearby while Palm stands by behind the palace and Ikalgo waits above the hallway.
131
56
"Anger × and × Light"
May 28, 2014
February 23, 2019
Pitou uses Doctor Blythe to heal himself and after confirming that the fingers on his left hand move, Pitou tells Gon that he must kill him.
132
57
"Flash × and × Start"
June 4, 2014
March 2, 2019
The battle between Gon and Pitou is over. At the same time, Meruem, Youpi, and Pouf stand before the west tower. As Meruem steps inside the west tower, he feels that something is missing.
133
58
"Deadline × To × Live"
June 11, 2014
March 9, 2019
Pouf is worried that Meruem will remember Komugi. However, he must carry out his duty and spread pollen to the remaining citizens, despite the decrease in his power after offering his own body to the King.
134
59
"The Word × Is × You"
June 18, 2014
March 16, 2019
King Meruem was able to recover from his near-death state after the Miniature Rose explosion. However, he cannot remember Komugi. At the same time, he realizes that Shaiapouf is hiding something from him.
135
60
"This Person × and × This Moment"
June 25, 2014
March 23, 2019
One word from Welfin is all it takes for Meruem to remember Komugi. Having moved underground, the King transforms his aura into particles to find where Palm is hiding. When the King declares that the battle is over and reveals his reason for coming to Palm, she is shocked.
136
61
"Homecoming × And × True Name"
July 2, 2014
March 30, 2019
With the death of King Meruem, the battle between humans and Chimera Ants comes to an end. The humans suffered great casualties, but they emerge victorious. Welfin, Brovada, Hina, Shidore, and the other Chimera Ants, some with memories of their previous lives and some without, choose to take different paths.
Election Arc (2014)
No. in Series

No. in Arc

Episode Title

Japanese Airdate

Toonami Airdate

137
01
"Debate x Among x Zodiacs"
July 9, 2014
April 6, 2019
The leaders of the Hunter Association, the Zodiacs, have assembled. Gon's father Ging is one of the members. They discuss how they will carry out Netero's will and hold an election, but vice chairman Pariston quickly derails the conversation. Will the Zodiacs be able to reach a consensus?
138
02
"Request x And x Wish"
July 16, 2014
April 13, 2019
The election for Chairman Netero's successor has begun. Hunters line up at the headquarters to cast their vote. The rules require that 95% of the 661 member Hunters participate, or the vote must be reheld. There is much confusion as the first and second votes fail to meet the requirement.
139
03
"Alluka x And x Something"
July 23, 2014
April 20, 2019
While Killua is reunited with his sibling Alluka, his older brother Illumi is seeking assistance from Hisoka and telling him the family secret regarding Alluka's power. This power has the potential to destroy the Zoldyck family. When three of Alluka's requests are fulfilled, Alluka will grant a wish.
140
04
"Join Battle x And x Open Battle"
July 30, 2014
April 27, 2019
The Hunter Association expert is unable to dispel the Restraint and Vow made by Gon. Killua ignores his family's objections and takes Alluka outside the house to save Gon. He is followed by multiple butlers, but Killua does not stop. Will Killua be able to bring Alluka to Gon and save him?
141
05
"Magician X And X Butler"
August 6, 2014
May 4, 2019
In the Hunter Association headquarters, the fourth vote to elect a chairman has just ended. Pariston finishes in first, with Cheadle in second and Leorio in third. However, the requirements still are not met, so another vote must be held. The fifth vote will be a runoff with the top 16 vote-getters.
142
06
"Needles x And x Debt"
August 13, 2014
May 11, 2019
As Goto and the other butlers assist Killua, they encounter Hisoka, who is helping Illumi attempt to kill Alluka. Killua carries Alluka and runs through the forest towards Parasta, but he is followed by a shadowy figure.
143
07
"Sin x And x Claw"
August 20, 2014
May 18, 2019
After the 5th vote for the 13th Hunter Association Chairman, it's determined that there will be a run off among the top eight vote-getters. Meanwhile, Hisoka is killing Hunters from the Seirin Group who seek to capture one of the Needlemen and discovers a map which marks where Killua's airship will land. Illumi has obtained the same map and is in hot pursuit while the butlers Tsubone and Amane are also following the airship.
144
08
"Approval x And x Coalition"
August 27, 2014
May 25, 2019
After the 7th vote for the 13th Hunter Association Chairman, the remaining eight candidates are cut down to four for the next vote. After Ging's cryptic comment, "the outcome is that there is no outcome," Cheadle asks him how to defeat Pariston. Ging's response is that Pariston doesn't want to win and doesn't want to lose, which is what makes him strong.
145
09
"Defeat x And x Reunion"
September 3, 2014
June 1, 2019
The election for chairman is now on its 8th vote. Beans releases the results of the vote which are displayed on the screen for everyone to see and there is quite a stir. The result is that Leorio is in 1st while Pariston is in 2nd. However, Leorio failed to secure 50% of the vote so there will be a final vote between the top two vote-getters. Meanwhile, back in Gon's hospital, Alluka wakes up after napping on Killua's lap. Killua makes his forbidden wish to Something.
146
10
"Chairman x And x Release"
September 10, 2014
June 8, 2019
Gon's recovery is celebrated by the Hunters assembled in the Association headquarters. And Gon finally meets his father Ging for the first time.
147
11
"Salvation x And x Future"
September 17, 2014
June 15, 2019
The Chimera Ant Koala confesses his sins to a redheaded girl. When Koala finishes his confession, the girl quietly begins to talk. Meanwhile, Gon has discovered that Kite is actually still alive and goes to see him. What will Gon say when they finally meet?
148
12
"Past x And x Future"
September 24, 2014
June 22, 2019
Gon climbs the world's tallest tree, and at the top he finds his father, Ging, whom he's been searching for all along. Gon wants to tell Ging all about his journey so far: about leaving his hometown of Whale Island to find him, about passing the rigorous Hunter Exam and becoming a Pro Hunter, and about all the precious friends he made along the way. Gon's first experience spending time with Ging as father and son awaits him.
References
Toonami Episode Guides
Cartoon Network (1997-2008)
Adult Swim (2012-Present)