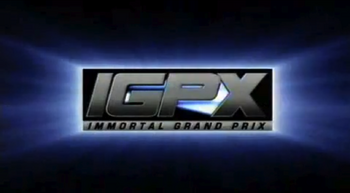 Series Overview
| Color | Season | Episodes | Season Premiere | Season Finale |
| --- | --- | --- | --- | --- |
| | Micro Series | 05 | September 15, 2003 | September 19, 2003 |
| | 1 | 13 | November 5, 2005 | February 4, 2006 |
| | 2 | 13 | May 20, 2006 | August 26, 2006 |
Micro Series (2003)
#

Episode Title

Original Airdate

1
"Part 1"
September 15, 2003
Team Suzaku is chosen to compete in the IG-1 Grand Prix 2035 with young, 14-year-old Takeshi Noah as their leader.
2
"Part 2"
September 16, 2003
Takeshi and Team Suzaku worry about the competition while their rivals, cybernetically enhanced Team Sledge Mamma, prepare for the IG-1 Grand Prix.
3
"Part 3"
September 17, 2003
Team Suzaku discovers that they have forgotten their weapons and can't compete without them.
4
"Part 4"
September 18, 2003
The Grand Prix has begun and the shocking ferocity of Team Sledge Mamma takes Team Suzaku by surprise.
5
"Part 5"
September 19, 2003
It's up to Takeshi and his dazzling ninja skills to beat Sledge Mamma and win the IG-1 Grand Prix for Team Suzaku.
Season 1 (2005-2006)
#

Episode Title

Original Airdate

1
"The Time to Shine"
November 5, 2005[1]
It's the year 2049 and the members of Team Satomi, which include Takeshi, Liz, Amy, River and team owner Satomi, have just entered the highest ranking league in the world's most exciting new sport, The Immortal Grand Prix. Unfortunately, it doesn't seem as though they're fully prepared to take on the sport's most experienced athletes including their first opponents, ten-year veterans Team Sledge Mamma.
2
"Win or Lose"
November 5, 2005[2]
Team Sledge Mamma causes problems for Team Satomi forcing Takeshi to retaliate during the race. When the first race of the 2049 IG-1 ends it leaves everyone suprised at its final result.
3
"Black Egg"
November 12, 2005[3]
In the second race, Team Satomi goes up against Team Black Egg. Meanwhile, Miss Satomi struggles to find a new sponsor before the owners decide to sell the team.
4
"The Ghost"
November 19, 2005[4]
A lonely Amy is worried that her team forgot her birthday. Meanwhile, Takeshi is left confused by an odd encounter with IG-1 MVP Cunningham, a member of Team Velshtein.
5
"Come Together"
November 26, 2005[5]
River must replace Liz after Team Satomi loses for the first time but he decides to go after Takeshi's spot instead.
6
"Cat vs. Dog"
December 3, 2005[6]
Team Satomi and their cat Luca go up against Team Edgeraid and their dog Sola. Also, River decides to quit Team Satomi just before the race.
7
"Spring Has Come"
December 10, 2005[7]
It is time once again for the IGPX All-Star Festival. Though only an exhibition, Takeshi and Team Satomi are out to prove they deserve to be in the big leagues. Meanwhile, Mark gets some unexpected news regarding his mother's health.
8
"I Like You, I Like You, I Love You"
December 17, 2005[8]
Liz and Amy worry about a race against Team Skylark due to Takeshi's romantic involvement with Fantine. Also, River has surprising news about his future in the IGPX. And Miss Satomi discovers the truth about Mark.
9
"Holiday"
January 7, 2006[9]
Takeshi tries to get away for some time alone with Fantine which isn't easy with Liz, a fan and a few thugs hot on their trail.
10
"Showdown"
January 14, 2006[10]
Takeshi and River must face-off against each other for the first time when Team Satomi races against Team Sledge Mamma.
11
"And Then…"
January 21, 2006[11]
The battle between Takeshi and River comes to a dramatic conclusion. Also, the team runs into trouble but gets help from an unlikely source.
12
"The Final Battle"
January 28, 2006[12]
The time has come for Team Satomi to go up against the sport's greatest team, Team Velshtein, with both teams preparing to unleash their fiercest weapons.
13
"Into Tomorrow"
February 4, 2006[13]
The race between Team Velshtein and Team Satomi concludes, along with the IG-1 League championship. Plus, the outcome of the race will determine if Andrei will introduce Takeshi to The Rocket or not.
Season 2 (2006)
#

Episode Title

Original Airdate

14
"A New Challenge"
May 20, 2006[14]
Team Satomi finishes their race with team Edgeraid. Though Takashi gets beat up quite a bit and has some mech problems, Team Satomi finishes 1, 2, and 3 to pick up the win. After the race Liz and Takashi have a fight.
15
"Feeling Lost"
May 27, 2006[15]
The race between Team Satomi and Team Edgeraid continues and finally comes to a conclusion. Meanwhile, Team White Snow continues to monitor Team Satomi's every move during the race. Afterwards, Takeshi begins to feel the pressure of trying to succeed, while the rest of the team crew try to repair the mechs.
16
"Vulnerable Mind"
June 3, 2006[16]
Team Satomi prepares for their race against Team White Snow. However, the race doesn't seem to go the way they expected. And Team White Snow proves that they have some tricks up their sleeves.
17
"White Snow"
June 10, 2006[17]
Team Satomi, the reigning champions of the IGPX, have been falling apart, and the second half of their race with Team White Snow promises to test their mettle. After being dealt a devastating loss by the new rookies, the members of Team Satomi are forced to make an unexpected roster change before their big match with last year's champs, Team Velshtein.
18
"Puzzled"
June 17, 2006[18]
The race against Team Velshtein ends with a shocking conclusion, but Satomi's Takeshi Jin is spiraling down to an all-time low. Can Takeshi get his act together before the next race?
19
"Moving On"
June 24, 2006[19]
After the shocking race against Team Velshtein, Team Satomi prepares itself for the next race, this time against Skylark. Can Takeshi get his head in the game and beat his girlfriend, or will it be another embarrassing finish for the pilots of Team Satomi?
20
"Comeback"
July 1, 2006[20]
Amy is released from the hospital but risks further injury when she attempts to race against her doctor's advice. Meanwhile, Yamma is under a directive from the owners of Sledge Mama to win the championship this year or face getting kicked off the team.
21
"Decision"
July 21, 2006[21]
The race with Sledge Mama heats up to epic proportions as Yamma is determined to win. Takeshi and Liz each lose a mech arm early in the race, and Amy still is not fully healed. Does Team Satomi stand a chance when it is so crippled?
22
"Function, Not Fashion"
July 28, 2006[22]
Takeshi is having mechanical trouble with his mech again in the all-star race, and Liz is now representing a clothing company in a fashion show causing Jessie to fear that she will quit the team.
23
"Fate"
August 4, 2006[23]
The rivalry between Andrei and Sir Hamgra is finally explored. Meanwhile, the playoff races of White Snow versus Sledge Mamma and Satomi versus Velshtein loom near.
24
"Winner's Circle"
August 11, 2006[24]
The race between Velshetin and Satomi is very intense as all six pilots unveil some intense battling skills as the finish line draws near. Later, White Snow is even more intent in their plotting to destroy Team Satomi.
25
"Hostile Contradiction"
August 18, 2006[25]
It's White Snow vs. Satomi now in the IG-1 Finals. And as they've proven all season long, White Snow continues to have some dirty tricks up their sleeves. Team Satomi is in for a very difficult race up ahead, as the race for the championship title begins
26
"The End… and the Beginning"
August 25, 2006[26]
The championship title race between Satomi and White Snow comes to a conclusion. White Snow put up a good fight, but not good enough, as Team Satomi wins the race and takes home the championship for the second year in a row. However, now that they've won, what does the future hold in store for them?
References
Toonami Episode Guides
Cartoon Network (1997-2008)
Adult Swim (2012-Present)