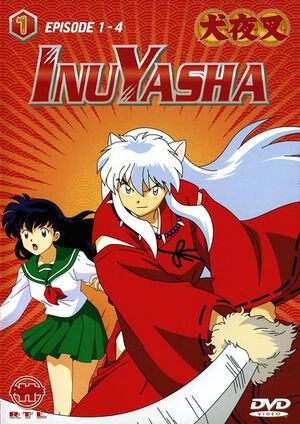 Series Overview
Color
Season
Episodes
Toonami Premiere
Toonami Finale
1
27
November 3, 2012
February 9, 2013
2
27
February 9, 2013
May 11, 2013
3
28
May 18, 2013
August 17, 2013
4
28
August 24, 2013
November 23, 2013
5
28
November 30, 2013
Unaired
6
29
Unaired
Season 1 (2000-2001)
No. in
Series

No. in
Season

Episode Title

Japanese
Airdate

English
Airdate

Toonami
Airdate

01
01
"The Girl Who Overcame Time... and
the Boy Who Was Just Overcome"
October 16, 2000
August 31, 2002
November 3, 2012
In feudal Japan, the half demon Inuyasha was sealed away by the priestess Kikyo. Many years later he is revived by Kagome, who has slipped through time from the present day. Kagome is surprised when the sacred Shikon Jewel, which makes demons stronger, emerges from a cut on her body.
02
02
"Seekers of the Sacred Jewel"
October 23, 2000
September 7, 2002
November 3, 2012
Kagome finds out that she may be the reincarnation of Kaede's late older sister, the priestess Kikyo, who sealed Inuyasha with her arrow. The Carrion Crow demon is after the Shikon Jewel and kidnaps Kagome, but Inuyasha shows up to save her. After Kagome defeats the Carrion Crow with an arrow, the Shikon Jewel shatters into pieces.
03
03
"Down the Rabbit Hole and Back
Again"
October 30, 2000
September 14, 2002
November 17, 2012
With the Shikon Jewel shattered, each shard has the ability to enhance the power of a yōkai. InuYasha fumes at the thought of having to collect the scattered pieces of the Shikon Jewel. Kagome soon falls into the Bone Eater's Well, after being raided by Yura, who steals a shard of the Shikon Jewel from Kagome. Meanwhile, InuYasha must face the human marionettes controlled by Yura, but he flees due to Kaede's brutal injury.
04
04
"Yura of the Demon-Hair"
November 6, 2000
September 21, 2002
November 17, 2012
InuYasha travels through the Bone Eater's Well to bring Kagome back to Feudal Japan to locate Yura's whereabouts. InuYasha is soon caught in a web of hair and skulls, as Yura endlessly attacks him trying to claim his shard of the Shikon Jewel for herself. Kagome figures out that a red skull found on the tower of hair is the source of Yūra's strength. She destroys the red skull, which turns Yūra into a comb.
05
05
"Aristocratic Assassin, Sesshomaru"
November 13, 2000
September 28, 2002
November 24, 2012
InuYasha's flea yōkai servant Myoga arrives, from which Kagome learns the truth about the deaths of Inu no Taisho and Izayoi, InuYasha's father and mother, respectively. Revealing to be InuYasha's half-brother, Sesshomaru, along with his imp yōkai servant Jaken, confronts him, taking the revived Izayoi captive. Izayoi breaks free and takes InuYasha and Kagome to a spirit world, where is it recognized that Izayoi's face does not reflect in water.
06
06
"Tetsusaiga, the Phantom Sword"
November 20, 2000
October 5, 2002
November 24, 2012
Kagome realizes that the spirit world is an illusion in order to find out the location of Inu no Taisho's tomb. InuYasha overcomes the illusion due to Kagome's assistance, however Sesshomaru finds out that the tomb was hidden in a Black Pearl deep within InuYasha's right eye. Sesshomaru activates a portal from the Black Pearl, as InuYasha and Kagome follow right behind him. Inside the tomb therein lies Tetsusaiga, Inu no Taisho's legendary sword, for which InuYasha fights Sesshomaru for its possession.
07
07
"Showdown! InuYasha vs. Sesshomaru"
November 27, 2000
October 12, 2002
December 1, 2012
Kagome is able remove Tetsusaiga from its altar, in which later gives to Inuyasha. After Sesshomaru reminds Inuyasha that the latter is a half-breed yōkai, the former reverts to his dog yōkai form to test the power of the sword, climbing their way to the top of the tomb. InuYasha is able to severely pierce Sesshomaru with Tetsusaiga, thereby defeat him. InuYasha and Kagome return to the village, with the Black Pearl safely returned back into InuYasha's right eye.
08
08
"The Toad Who Would Be Prince"
December 4, 2000
October 19, 2002
December 1, 2012
InuYasha and Kagome meet a young samurai named Amari Nobunaga. He leads them to a castle where a vengeful toad yōkai has possessed the reigning prince. At nightfall, the three infiltrate the castle in order to rescue the captivated Princess Tsuyu. The toad yōkai prince, who has a shard of the Shikon Jewel within him, attacks them and takes Tsuyu to a room full of the souls of women. The others soon arrive and manage to free Tsuyu. InuYasha and Kagome are able to case out the toad yōkai and claim its shard of the Shikon Jewel.
09
09
"Enter Shippo... Plus, The Amazing
Thunder Brothers"
December 11, 2000
October 26, 2002
December 8, 2012
InuYasha and Kagome come across Shippo, a mischievous orphaned fox yōkai, who seeks to take a shard of the Shikon Jewel to avenge the death of his father, who has recently been killed by Hiten and Manten of the Thunder Brothers. Kagome is abducted by Manten to the mountains, after trying to defend Shippo. InuYasha and Shippo travel to the mountains, seeing Kagome held hostage.
10
10
"Phantom Showdown: The Thunder
Brothers vs. Tetsusaiga"
December 18, 2000
November 2, 2002
December 8, 2012
A battle ensues between InuYasha and Hiten. Meanwhile, Shippo uses his illusory tricks in order distract Manten from Kagome. InuYasha successfully murders Manten with Tetsusaiga. Hiten bites into Manten's forehead to fuse himself with the shards of the Shikon Jewel obtained, increasing twofold in strength. Separated from Tetsusaiga, InuYasha seems powerless to defeat Hiten. However, the sword is summoned by the sheath, allowing InuYasha to deliver the final blow.
11
11
"Terror of the Ancient Noh Mask"
January 15, 2001
November 9, 2002
December 15, 2012
Kagome returns to the present to go back to school. Kagome's grandfather is attacked by an ancient Noh mask that has broken the talismans, in which he is admitted to a hospital. The Noh mask will stop at nothing to gain a body of its own. Kagome must protect the shards of the Shikon Jewel from the Noh mask. Sota, Kagome's younger brother, brings InuYasha from the past in an attempt to save Kagome.
12
12
"The Soul Piper and the Mischievous
Little Soul"
January 22, 2001
November 16, 2002
December 15, 2012
InuYasha spots a benevolent yōkai called the Tatarimokke, leading the souls of dead children with its tune. It is harmless when its eyes remain closed, but it becomes fearsome when its eyes are opened. Meanwhile, Kagome has found the vengeful spirit of Mayu, the older sister of Sota's comatose friend Satoru. Mayu is a likely candidate to be taken to the underworld unless she relieves herself of hatred over her mother and jealousy over her younger brother.
13
13
"The Mystery of the New Moon and
the Black-haired InuYasha"
January 29, 2001
November 23, 2002
December 22, 2012
InuYasha, Kagome, and Shippo save a girl named Nazuna from being attacked by spider heads. The priest of a nearby shrine allows the three to stay, with the protection of sutras. After they are attacked by spider heads at night, Kagome and Shippo soon discover that InuYasha becomes fully human on the phase of the new moon. It is learned that the priest is disguised as a spider head, as InuYasha is vulnerable against him. At sunrise, InuYasha is able to destroy the spider head.
14
14
"Kikyo's Stolen Ashes"
February 5, 2001
November 30, 2002
December 22, 2012
At midnight, InuYasha glimpses at an ogress sorceress demon named Urasue, who carries the scent of graveyard soil and the blood of Kaede. InuYasha, Kagome, and Shippo go to the village in the morning, where they soon learn the ashes of Kikyo were stolen. The three vow to assist Kaede in recovering the ashes thereupon. Meanwhile, Urasue has reawakened the body of Kikyo, but is disappointed to deduce that the soul has already been reincarnated.
15
15
"Return of the Tragic Priestess, Kikyo"
February 12, 2001
December 7, 2002
December 29, 2012
Urasue kidnaps Kagome in order to bring Kikyo back to life. The conveyed soul exits from Kagome and enters into Kikyo when InuYasha unwittingly calls out the name of the latter. A revived Kikyo is confused, but also enraged and now seeks to destroy InuYasha for betraying her fifty years ago. When InuYasha cries out in pain, Kagome calls the soul back into her body, leaving Kikyo wallowing in hatred. InuYasha tries to save Kikyo from falling off a cliff, but to no avail. He then recalls to the time of the betrayal fifty years ago.
16
16
"Mystical Hand of the Amorous Monk,
Miroku"
February 19, 2001
December 7, 2002
December 29, 2012
Miroku is introduced as a lecherous young monk, in search of the shards of the Shikon Jewel. He encounters Kagome and discreetly steals her shards of the Shikon Jewel. InuYasha soon trails him to an okiya in hopes to retrieve them. Miroku unleashes the void of the Wind Tunnel cursed in his right hand, however Kagome prevents him in doing so. Miroku then reveals the source of his curse, which was inflicted upon by the yōkai Naraku, who has been after the Shikon Jewel for fifty years.
17
17
"Cursed Ink of the Hell-Painter"
February 26, 2001
December 14, 2002
January 5, 2013
A wandering artist is banished from a castle, after being denied his unique skills as a warlord. Miroku notices ink demons surrounding the castle, in which they are paintings created by the artist. It is unveiled that a shard of the Shikon Jewel is responsible for bringing these paintings to life. Miroku uses the Wind Tunnel to draw the ink demons into the void. The shard of the Shikon Jewel must be recovered before the artist tries to escape. Nonetheless, the ink demons actually devours the flesh of the artist, due to his malevolent ambitions.
18
18
"Naraku and Sesshomaru Join Forces"
March 5, 2001
December 14, 2002
January 5, 2013
Sesshomaru receives from Naraku a human arm with a shard of the Shikon Jewel embedded in it as a means to wield Tetsusaiga. Sesshomaru approaches InuYasha, demanding the ownership of the sword. As Jaken summons demonic souls hidden in the mountains, Sesshomaru demonstrates the power of Tetsusaiga. While Miroku defends using the Wind Tunnel, Sessomaru liberates the demonic wasps known as the Saimyōshō, as Miroku discovers that these wasps are able to poison his right hand.
19
19
"Go Home To Your Own Time, Kagome!"
March 12, 2001
December 21, 2002
January 12, 2013
Kagome tries to shoot Sesshomaru's human arm with bow and arrow, but rather gets hurt in the process. Inuyasha tells Shippo and Miroku to take Kagome back to the Bone Eater's Well. Though InuYasha is able to take back possession of Tetsusaiga, he falls unconscious. Sesshomaru discards of his severed arm, as the shard of the Shikon Jewel is returned back to Naraku. InuYasha forces Kagome back to her own era, taking her jewel shards and blocking the Bone Eater's Well to ensure that she will not return.
20
20
"Despicable Villain! The Mystery of
Onigumo!"
March 19, 2001
December 21, 2002
January 12, 2013
Kaede reveals to InuYasha and Miroku a nearby cave, in which she and Kikyo once cared for a badly burnt thief named Onigumo. However this thief ended up lusting for Kikyo and allowed his body to be consumed by the yōkai from his desire for her, thus created who is to be known as Naraku. Naraku soon unleashes a corrupted Rouyakan upon the three, inasmuch as InuYasha is in a weakened state. Rouyakan returns for a second encounter, with a jewel shard embedded in his head by Naraku, causing panic for the three.
21[1]
21
"Naraku's True Identity Unveiled"
April 9, 2001
December 28, 2002
January 19, 2013
Kagome decides to go on a date with her high school classmate Hojo, yet cancels on short notice. Miroku and Kaede attempt to protect an injured InuYasha from Rouyakan. Meanwhile, Shippo runs to the Bone Eater's Well with Inuyasha's jewel shard which in turn helps Kagome get back to the feudal era. Naraku reveals he is responsible for pitting Kikyo and InuYasha against each other in order to gain the Shikon Jewel.
22
22
"A Wicked Smile; Kikyo's Wandering
Soul"
April 9, 2001
December 28, 2002
January 19, 2013
Kikyo, who survived the plunge from the cliff during her encounter with InuYasha, currently lives peacefully in a bourg. A monk named Seikai immediately senses her supernaturalism, later discovering that she must steal the souls of the dying to maintain her presence in the world. Meanwhile, InuYasha, Kagome, Shippo, and Miroku investigate a neighboring castle concerning absence of feminine souls, which inevitably leads them to Kikyo.
23
23
"Kagome's Voice and Kikyo's Kiss"
April 16, 2001
January 14, 2003
January 26, 2013
InuYasha takes off to find Kikyo, but Kagome ends up finding the shrine maiden first, trying to explain the true circumstances which led to her death. When InuYasha finally encounters Kikyo, she embraces him in tears. Kikyo, no longer caring about how she died, still cannot overcome her hatred of InuYasha and decides to drag him to the underworld to join her in death. InuYasha is able to heed Kagome's voice, which allow him to break free of Kikyo's bind. Kikyo later goes to Kaede in order to confirm Naraku's aspirations.
24
24
"Enter Sango the Demon Slayer!"
April 23, 2001
January 15, 2003
January 26, 2013
Sango is seen a demon slayer who collects shards of the Shikon Jewel as payment. She is the sole survivor of an arachnid attack engineered by Naraku to destroy her village of demon slayers and acquire their shards of the Shikon Jewel, by which her younger brother Kohaku was under the influence of Naraku. Sango furiously seeks revenge after believing from Naraku that InuYasha is to be responsible for the attack.
25
25
"Naraku's Insidious Plot"
May 7, 2001
January 16, 2003
February 2, 2013
Kept alive by determination alone, Sango reluctantly accepts a shard of the Shikon Jewel from Naraku, whom she does not trust. She faces off against InuYasha in battle, ignorant of which Naraku is the real culprit. Miroku and Kirara, Sango's pet yōkai cat, chase after Naraku, but the truth is soon revealed when Naraku is manipulating a demon puppet in his place as he fights them.
26
26
"The Secret of the Jewel of Four Souls
Revealed"
May 14, 2001
January 17, 2003
February 2, 2013
Sango notices that InuYasha, Kagome, Shippo, and Miroku had helped buried the graves of her fellow villagers. She uncovers the secret to passing through the barrier to a cave near her village where the shrine maiden Midoriko created the Shikon Jewel, able to purify the souls of the yōkai. It is explained when a person contains the four spirits, being courage, friendship, wisdom, and love, at their maximum, they unite to form a really strong and powerful balance within the soul that can be used for either good or evil.
27
27
"The Lake of the Evil Water God"
May 21, 2001
January 21, 2003
February 9, 2013
InuYasha, Kagome, Miroku, Sango, and Shippo find themselves in a town where the sacrifice of the firstborns are mercifully offered to an arrogant water god. The four are hired by the village headman's son, Taromaru, to save his friend, Suekichi. InuYasha, Kagome, and Shippo all work together in order to destroy the false water god, while Miroku and Sango search and free the true water goddess, then arrive and help the others.
Season 2 (2001)
No. in
Series

No. in
Season

Episode Title

Japanese
Airdate

English
Airdate

Toonami
Airdate

28
01
"Miroku Falls Into a Dangerous Trap"
May 28, 2001
January 22, 2003
February 9, 2013
Tricked by a praying mantis demon disguised as a beautiful princess, Miroku ends up damaging the edge of his Wind Tunnel while fighting her. He is to return to his master Mushin to have his right hand healed. Trouble arises when his master ends up possessed by a worm demon and tries to kill a weakened Miroku. After Miroku is found by the others, it is discovered that a demon worm charmer is controlling Mushin. After all the demons have been cast out, the demon worm charmer is annihilated and Mushin is no longer possessed.
29
02
"Sango's Suffering and Kohaku's Life"
June 4, 2001
January 23, 2003
February 16, 2013
Naraku resurrects Kohaku with a shard of the Shikon Jewel, although the memory of the latter is erased, considering the trauma being unbearable, being ordered to attack Inuyasha. Sango follows Kohaku, passing through a spirit shield embedded in a forest, to which Naraku is encountered. Using Kohaku as leverage, Naraku offers to let Kohaku live forever if Sango brings him the legendary sword Tetsusaiga.
30
03
"Tetsusaiga Is Stolen! Showdown At
Naraku's Castle!"
June 11, 2001
January 24, 2003
February 16, 2013
As InuYasha and Kohaku engage in combat, Sango succumbs to stealing Tetsusaiga and absconds away. Sango soon discovers that Naraku has possessed the form of Kagewaki Hitomi, the lord whose father hired them the fateful night her kin were killed. She proves to be no match against Kohaku, seeing that she still cares for him. It is until Kagome arrives to rescue Sango from Naraku.
31
04
"Jinenji, Kind Yet Sad"
June 18, 2001
January 28, 2003
February 23, 2013
Inuyasha and Kagome go to a town in search for medicinal herbs for Sango and Kirara. The two end up meeting the gentle giant horse hanyō Jinenji, who is being accused of killing townspeople. Inuyasha sets off to find the source of the real yōkai while Kagome tries to improve Jinenji's self-esteem. Touched by her kindness, Jinenji ends up protecting Kagome from the real yōkai and gains the acceptance of the townspeople.
32
05
"Kikyo and InuYasha, Into the Miasma"
June 25, 2001
January 29, 2003
February 23, 2013
Naraku is shocked to learn that Kikyo is still alive. Meanwhile, InuYasha, Kagome, Miroku, Sango, and Shippo are investigating yōkai appearances in the mountains, in which Kikyo suddenly arrives soon after. The yōkai are battled against, notwithstanding the souls of the yōkai defeated merge with Naraku. Having gained a new body, Naraku kidnaps Kikyo and disappears.
33
06
"Kikyo, Captured by Naraku"
July 2, 2001
January 30, 2003
March 2, 2013
As they search for Kikyo, InuYasha, Kagome, Miroku, Sango, and Shippo fall into a deadly trap set up by Naraku so they will all be destroyed by illusions of their deepest fears. Kagome, immune to the spell because of her shards of the Shikon Jewel, finds Kikyo no less than hostile and cold towards her, whereas Kikyo takes away her shards of the Shikon Jewel to give to Naraku.
34
07
"Tetsusaiga and Tenseiga"
July 9, 2001
January 31, 2003
March 2, 2013
Sesshomaru, dissatisfied with his sword Tenseiga, wishes to have the old, absent-minded blacksmith Totosai forge him another. The unwilling Totosai has Inuyasha defend him, causing the brothers to fight. Totosai reveals the heritage of Sesshomaru's sword before creating a diversion to allow InuYasha and his companions to depart. Soon after leaving, Totosai is attacked by Sesshomaru. Once again, Inuyasha battles his older half-brother as Totosai's protection, but must now face Sesshomaru's new defense of the claw of a dragon.
35
08
"The True Owner of the Great Sword"
July 16, 2001
February 3, 2003
March 9, 2013
As Inuyasha and Sesshomaru continue to duel for possession of the Tetsusaiga, both brothers discover the unexpected power and strength of their respective inheritances. After the fight, an injured Sesshomaru is helped by the young orphan Rin. Koga, the leader of the eastern wolf yōkai tribe, is seen attacking the villagers, in search for the shards of the Shikon Jewel. Sesshomaru finds Rin, who was killed by Koga's wolves, and revives her using the Tenseiga, realizing its true strength and power to heal and save lives.
36
09
"Kagome Kidnapped by Koga, the
Wolf-Demon"
July 23, 2001
February 4, 2003
March 9, 2013
After slaughtering much of the wolves, InuYasha and his companions are met by Koga, who takes an instant dislike for Inuyasha. Koga sees InuYasha perfecting the Wind Scar of the Tetsusaiga, an attack gained by sensing the fissure between two demonic forces. Koga later decides to kidnap Kagome along with Shippo, while attacking the others. He instructs Kagome to use her ability to see the shards of the Shikon Jewel in order to to destroy the demonic Birds of Paradise attacking his clan.
37
10
"The Man Who Fell In Love With
Kagome"
July 30, 2001
August 25, 2003
March 16, 2013
As Inuyasha, Mikoku, and Sango rush to save Kagome and Shippo, Kagome agrees to help Koga on the condition that he will not let the wolves hurt Shippo. Kagome locates a shard of the Shikon Jewel in a Siamese Bird of Paradise. When Inuyasha finally arrives to help, Koga audaciously declares his love for Kagome and incites Inuyasha's jealousy. However, InuYasha puts his jealousy aside and uses the Wind Scar to eliminate the Siamese Bird of Paradise.
38
11
"Two Hearts, One Mind"
August 6, 2001
August 26, 2003
March 16, 2013
After another heated argument with InuYasha, Kagome decides to return home and restock her medical supplies. She soon discovers that her friends are worried that she may lose Hojo to another girl. Meanwhile, Shippo attempts to explain why Inuyasha and Kagome are having an altercation against each other to Kaede, who offers some sound advice that Inuyasha decides to take.
39
12
"Trapped In A Duel To The Death"
August 13, 2001
August 27, 2003
March 23, 2013
Naraku, using the Saimyōshō, takes a poisoned shard of the Shikon Jewel from the forehead of a bear yōkai. During a raid on one of Naraku's castles, Koga's wolf yōkai tribe is killed by the wind sorceress Kagura, who lures Koga to the castle with the poisoned shard of the Shikon Jewel. When Koga finds Inuyasha amongst the fallen wolves, they begin a duel to the death. Miroku and Sango are to enter the castle to fight another demon puppet manipulated by Naraku.
40
13
"The Deadly Trap of Kagura the Wind
Sorceress"
August 20, 2001
August 28, 2003
March 23, 2013
Inuyasha finds himself at the losing end of his battle against Koga until Kagura shows her face and defeats Koga with ease. It is unfortunate that the Wind Scar is useless against Kagura, being that she can control the winds, until Kagome steps in to purify the air with her sacred arrows. As a defeated Kagura escapes, Inuyasha notices a familiar spider shaped scar on her back. Kagome later uses her sacred arrow to eradicate the poisoned shard of the Shikon Jewel from Koga's arm.
41
14
"Kagura's Dance and Kanna's Mirror"
August 27, 2001
September 1, 2003
March 30, 2013
Miroku is unexpectedly reunited with Koharu, a young girl who fell in love with him and has run away from her village when her master's son came to her with unwanted advances. Meanwhile, Kagura and Kanna, being the incarnated detachments of Naraku, wreak havoc upon the same village by stealing the souls of the villagers and controlling their bodies. Kanna finds that Kagome's spirit overwhelms the entrapment within her mirror, deciding to leave her weakened instead.
42
15
"The Wind Scar Fails"
September 3, 2001
September 2, 2003
March 30, 2013
Inuyasha continues to fight Kagura, who is using her wind to reanimate the soulless villagers. However, when he decides to use the Wind Scar against her, he gets a nasty surprise and finds Kanna using her mirror to reflect his attack. Naraku arrives to present startling news to Inuyasha, in that Kikyo herself willingly gave him the shards of the Shikon Jewel of which she took from Kagome. Kagome then shoots a sacred arrow into Kanna's mirror, wherefore all the souls and spirits trapped in the mirror are returned to the villagers.
43
16
"Tetsusaiga Breaks"
September 10, 2001
September 3, 2003
April 6, 2013
Inuyasha confronts Kikyo as to her motivations for giving Naraku the stolen shards of the Shikon Jewel, and she explains it being part of her plan to ultimately destroy Naraku. Meanwhile, Naraku has unleashed Goshinki, a large horned ogre yōkai with the ability of telepathy, revealed to be his third incarnation. Goshinki manages to break the Tetsusaiga but unexpectedly causes Inuyasha to transform into a full-breed dog yōkai.
44
17
"Kaijinbo's Evil Sword"
September 17, 2001
September 4, 2003
April 6, 2013
After finding the corpse of Goshinki and detecting the scent of InuYasha, Sesshomaru journeys to Kaijinbo, the rogue blacksmith and former disciple of Totosai, in order to commission a sword made from Goshinki's head. Ironically, on the same night Kaijinbo arrives, possessed and wielding the Tokijin as his newest creation, InuYasha has transformed into his human form, rendering him defenseless. Luckily, Totosai then appears and give InuYasha his sword, however being too heavy for him to lift.
45
18
"Sesshomaru Wields Tokijin"
October 8, 2001
September 8, 2003
April 13, 2013
Kaijinbo is destroyed by his own welded creation, being too nefarious for its maker to wield. Kagura directs Sesshomaru to Tokijin, witnessing as the demon claims his sword and wields it against his younger brother. While InuYasha and his companions escape before they feel the full brunt of Tokijin held in the hands of Sesshomaru, Kagura decides that Sesshomaru may be strong enough to destroy her master.
46
19
"Juromaru and Kageromaru"
October 15, 2001
September 9, 2003
April 13, 2013
Koga wants to defeat Naraku in order to avenge the deaths of his wolf yōkai tribe. Naraku presents his newest incarnate detachment, Juromaru, challenging Koga to a match. InuYasha soon shows up and combats against Juromaru, later discovering that Kageromaru lies dormant within Juromaru. Inuyasha and Koga reluctantly team up to fight against the devastatingly fast duo in spite of protecting Kagome. InuYasha destroys Juromaru and Kageromaru by way of the Tetsusaiga's Wind Scar.
47
20
"Onigumo's Heart Still Beats Within
Naraku"
October 22, 2001
September 10, 2003
April 20, 2013
Kagome returns home, upset with InuYasha pettily ignoring Koga, later revealed that she is just retrieving medical supplies. Naraku finds Kikyo, but realizes that he is unable to kill her because he still carries Onigumo's heart deep within him. In order to destroy her, he takes away the souls that she needs to remain animated and a weakened Kikyo flees only to end up back the Sacred Tree where she imprisoned InuYasha. Her souls are returned back to her thanks to InuYasha, but she takes a sudden leave after the two embrace, as a hurt and dejected Kagome watches behind a tree.
48
21
"Return to the Place Where We First
Met"
October 29, 2001
September 11, 2003
April 20, 2013
After witnessing Inuyasha and Kikyo embracing when he saved her from Naraku, Kagome becomes upset and quickly returns home again, leaving medical supplies with Miroku and Sango. She contemplates returning her shards of the Shikon Jewel and never returning to the past. However, with some advice from her mother, she confronts Inuyasha and confesses she is happy to be by his side and knows that she cannot compete with his deep and strong romantic feelings for Kikyo.
49
22
"Kohaku's Lost Memory"
November 5, 2001
September 15, 2003
April 27, 2013
Sango finds her brother alive when he is attacked by demons coming after his shard of the Shikon Jewel, but shes discovers he is amnesiac of his own identity. Inuyasha is reluctant to let him join the group, proving to be a wise decision when Kagura later attacks with a horde of demons. While Inuyasha, and Miroku distract her, Kagome and Kohaku escape into the forest.
50
23
"That Unforgettable Face"
November 12, 2001
September 16, 2003
April 27, 2013
After Kagome finds herself the target of a repossessed Kohaku, Sango intervenes and chases after him. Meanwhile, while InuYasha and Miroku struggle as they continue their fray against Kagura, a deceived InuYasha departs to find Kagome, only to see her still alive. While Sango catches up with Kohaku, she intends to atone for his actions by committing homicide and then suicide. InuYasha prevents her from doing so, and Kagura later reveals that Kohaku requested his memories to be erased.
51
24
"InuYasha's Soul, Devoured"
November 19, 2001
September 17, 2003
May 4, 2013
Sesshomaru travels to Bokusen'on, a tree yōkai responsible for the construction of the powerful inherited sheaths, who reveals the truth about InuYasha's demonic transformation. Elsewhere, InuYasha and his companions are led to a group of bandits who are terrorizing a nearby village. InuYasha and Miroku encounter a moth yōkai named Gatenmaru, who traps them in a venomous cocoon, intending to own the Tetsusaiga. However, InuYasha begins to alter to his yōkai state, once separated from the sword that seals his demonic blood.
52
25
"The Demon's True Nature"
November 26, 2001
September 18, 2003
May 4, 2013
After his demonic transformation is complete, InuYasha is able to break through the cocoon and destroy Gatenmaru. Though acquiring great power, he lacks sense of control over himself as he kills indiscriminately. Sesshomaru arrives only to discover that the words of Bokusen'on were true, as he gauges the power of his younger brother. After reverting back to his hanyō state, InuYasha agonizes for what he had done to the village.
53
26
"Father's Old Enemy: Ryukotsusei"
December 3, 2001
April 24, 2004
May 11, 2013
Hop­ing to find a way to wield the Tetsusaiga, In­uYasha goes to To­to­sai, who instructs him to slay Ryukotsusei, a dragon daiyōkai who was sealed into a dormant sleep with one of the claws of InuYasha's father, Inu no Taisho. Achieving this task will therefore gain InuYasha the strength required to lift his reforged sword. This backfires when Naraku comes to awaken the dragon. InuYasha is unable to fight as Ryukotsusei repeatedly attacks with the Thunder Attack Bullet, the huge pure white energy orbs that are launched out of his mouth.
54
27
"The Backlash Wave: Tetsusaiga's
Ultimate Technique"
December 10, 2001
May 1, 2004
May 11, 2013
In­uYasha becomes detached from the Tetsusaiga once again and initiates into his demonic transformation. He urges not only to battle against Ryukotsusei, but also against his yōkai state, regaining his ability to wield the Tetsu­saiga. After InuYasha attempts to attack Ryukotsusei with the Wind Scar, but to no avail. He is then able to master the Backlash Wave, an attack unleashed to engulf the attack of the enemy in a whirlpool and reflect it back with the added power and energy of the Wind Scar, in order to defeat Ryukotsusei.
Season 3 (2001-2002)
No. in
Series

No. in
Season

Episode Title

Japanese
Airdate

English
Airdate

Toonami
Airdate

55
01
"The Stone Flower and Shippo's First
Love"
December 17, 2001
May 8, 2004
May 18, 2013
Upon arriving at another village, Shippo falls in love with a young girl named Satsuki, who believes her deceased older brother will return to her someday, as she shows that she possesses a shard of the Shikon Jewel, unbeknownst that it is actually a quartz fragment. The next morning, Satsuki's brother has incredibly returned back to her, but Shippo notices that he is really a lizard demon. Shippo lets Satsuki escape, while he faces off against and easily defeats the lizard demon.
56
02
"Temptress in the Mist"
January 14, 2002
May 15, 2004
May 18, 2013
Miroku and Sango are asked to defeat a demon disguised as a beautiful princess, who has lured away men from a village and stealing their youth. They become separated while entering through a spirit shield infused in a forest. While Miroku comes across the princess who welcomes him into her mansion, Sango comes across the men who have aged dramatically due to having their life energy sucked out. Though it seems Miroku will be the next victim, he is surprisingly able to resist seduction and free the spirit of the princess from the coyote demon that stole it, allowing her to pass on. Sango slays the demon, but at the cost of Hiraikostu being cracked. Miroku and Sango almost have a romantic moment, but he rubs her behind again, earning a slap.
57
03
"Fateful Night in Togenkyo Part I"
January 21, 2002
May 22, 2004
May 25, 2013
Sango leaves to take a notice of three days in order to repair her gigantic boomerang Hiraikotsu. The others venture into the mountains to find Ninmenka, a demonic peach tree bearing the fruit of human faces. InuYasha has an unfortunate encounter with Tokajin, a sage who is responsible for nourishing Ninmenka with human souls, being sucked into his bottle gourd. Meanwhile, Kagome, Miroku, and Shippo are brought to the miniature village of Togenkyo, where they learn that the villagers are kept there to become sages.
58
04
"Fateful Night in Togenkyo Part II"
January 28, 2002
May 29, 2004
May 25, 2013
Though he breaks free from the bottle gourd, InuYasha is unable to fight Tokajin, due to being the night of the new moon. While Miroku and Shippo escape from the village, Kagome is captured by Tokajin. InuYasha finds Kagome and takes her back to Ninmenka, only to be met by Tokajin yet again. Kagome uses her bow and arrow to remove the shards of the Shikon Jewel from Tokajin, in which he is later devoured by Ninmenka. As dawn arises, InuYasha slices Ninmenka into pieces with the Tetsusaiga.
59
05
"The Beautiful Sister Apprentices"
February 4, 2002
June 5, 2004
June 1, 2013
While her weapon is now fixed, Sango finds herself delayed by two sisters, Serina and Suzuna, seeking to become her apprentices. Nevertheless, when the duo steal equipment for weapons that had yet to be purified, they are unaware that there are hundreds of demons that would be attracted by the demonic aura of the materials. Sango ends up having to save the two from the demons, and InuYasha and the others arrive to retrieve her.
60
06
"The 50 Year-Old Curse of the Dark
Priestess"
February 11, 2002
June 12, 2004
June 1, 2013
Kagura summons the dark priestess Tsubaki in the presence of Naraku, who offers his fragment of the Shikon Jewel to her. In exchange, Tsubaki curses Kagome using her snakelike demon puppet Shikigami. As her shards of the Shikon Jewel are tainted black and are merged within her, Kagome is forced under Tsubaki's hypnosis. Though, she is given the order to kill InuYasha, Kagome tries her best to resist in doing so.
61
07
"Kikyo and the Dark Priestess"
February 18, 2002
June 19, 2004
June 8, 2013
As Tsubaki controls the body of Kagome to kill InuYasha, she is interrupted by Kikyo, who passes through her barrier with ease. Meanwhile, InuYasha takes a weakened Kagome to the whereabouts of Tsubaki, sensing the tainted fragment of the Shikon Jewel, later being able to break the barrier. Kikyo warns her former nemesis not to underestimate her reincarnation. Kikyo promises that Tsubaki will be killed only if InuYasha is dared to be harmed. So using Kagome as collateral, Tsubaki threatens InuYasha not to draw his sword.
62
08
"Tsubaki's Unrelenting Evil Spell"
March 4, 2002
June 26, 2004
June 8, 2013
While InuYasha is distracted by a demon summoned by Tsubaki, Kagome struggles as she tries to break the curse. She dreams of her life if she had never met InuYasha, waking up after seeing an illusion of Kikyo. As Tsubaki diverts InuYasha, Miroku, and Sango with a raid of summoned demons, she sends Shikigami after Kagome. However, Tsubaki is defeated as Kagome reflects Tsubaki's attack back at her exactly as Kikyo did fifty years ago.
63
09
"The Red and White Priestesses"
March 11, 2002
July 3, 2004
June 15, 2013
As Tsubaki flees with her fragment of the Shikon Jewel, she returns to the shrine where she once trained. She tricks Momiji and Botan, two young priestesses, into believing that InuYasha and his companions are the enemies, referring to InuYasha as the demon to be slain. The two manage to get strands of hair from InuYasha and Kagome to create giant dolls in their image and likeness. InuYasha later destroys the dolls by executing the Wind Scar.
64
10
"Giant Ogre of the Forbidden Tower"
March 18, 2002
July 10, 2004
June 15, 2013
InuYasha, Kagome, Sango, and Kaede pace to the shrine, in search of Tsubaki's whereabouts. Elsewhere, Miroku and Shippo are to convince Botan and Momiji that Tsubaki is the true miscreant. It is seen that Tsubaki has freed an oni from the forbidden tower of the shrine, absorbing it to gain its power. Tsubaki's newly found ogreish abilities are proven significant, until InuYasha unleashes the Backlash Wave. The defeated priestess loses her eternal beauty when the fragment of the Shikon Jewel is taken away from her.
65
11
"Farewell, Days of My Youth"
April 8, 2002
July 17, 2004
June 22, 2013
InuYasha and his companions, after facilely defeating a demon in a town, are invited to a banquet as a reward. Oddly enough, Myoga the flea yōkai servant returns, as series of strange occurrences ensue. Sango, Miroku, and InuYasha are all possessed one after another, experiencing unorthodox behavior. Little do they know, Shoga, a female flea yōkai, is responsible for this, all in the desire to marry Myoga.
66
12
"Naraku's Barrier - Kagura's Decision"
April 15, 2002
July 24, 2004
June 22, 2013
The barrier of Naraku is mysteriously weakened, which allows InuYasha and Koga to finally detect the demon by scent. Kanna tells Kagura that Koga is approaching. Kagura entraps Koga in a whirlwind of skeletons. Kagura manages to cut out the shards of the Shikon Jewel from Koga's legs, albeit he tries to overtake her. Kagura then must decide whether or not she should betray her master. She goes to Sesshomaru, proposing the offer of the obtained shards of the Shikon Jewel in exchange for the death of Naraku.
67
13
"The Howling Wind of Betrayal"
April 22, 2002
July 31, 2004
June 29, 2013
As Sesshomaru declines her notion, Kagura departs in disappointment. Koga finds Kagura, trying to requite for his stolen shards of the Shikon Jewel, only to end up defeated once more. As the sun rises, Kagura discovers that InuYasha reverts to human form on the night of the new moon. Kagura does not inform Naraku of this, as it is observed that he is also a hanyō, undergoing a horrifying transformation of his own. Naraku threatens her life again, seemingly aware of her betrayal.
68
14
"Shippo Receives an Angry Challenge"
May 6, 2002
August 7, 2004
June 29, 2013
Shippo receives a letter issuing a challenge against Soten, the last surviving member of the thunder yōkai tribe. Shippo is soon captured by Soten, much to his dismay. Miroku and Sango fall into a trap set up by Koryu, Soten's dragon yōkai partner. However the plan backfires with InuYasha and Kagome, as Koryu is declared vulnerable against them. After enlightening Soten with his art, Shippo duels against her, with a handful of crayons as the prize. After the crayons are given by Shippo, Soten develops a crush for him.
69
15
"Terror of the Faceless Man"
May 13, 2002
August 14, 2004
July 6, 2013
Kagome resumes her life in the present time, catching up with her academic studies and social life. Meanwhile, Naraku decides to expel Onigumo from within him for good, but it unexpectedly takes on a life of its own as another incarnation. The incarnation steals the face and name of a monk named Muso and wreaks havoc across the countryside. Muso is uncertain of his true desires until he sees that Kagome has returned to the past.
70
16
"Onigumo's Memory Restored"
May 20, 2002
August 21, 2004
July 6, 2013
InuYasha slices Muso to pieces using the Wind Scar, unknowing that Muso can slowly reconstitutes himself. While InuYasha, Miroku, Sango, and Shippo encounter Kagura, Kagome and Kaede go to investigate Onigumo's cave once again, where it is found out that Muso is headed that way as well. Muso's memory has been restored, recalling the birth of Naraku.
71
17
"Three-Sided Battle to the Death"
May 27, 2002
August 28, 2004
July 13, 2013
Muso continues to regenerate himself each time InuYasha destroys him. Naraku discovers that while he can bring himself to kill Kikyo, he is weak without Onigumo's presence within him. When InuYasha finally finds Naraku, the two begin to fight. As Muso pierces the body of Naraku, this enables the latter to reabsorb the former. This exposes the startling secret that Naraku is a hanyō, however different from that of InuYasha.
72
18
"Totosai's Rigid Training"
June 3, 2002
September 4, 2004
July 13, 2013
InuYasha decides to visit Totosai in hopes of finding a method to break barriers. Given the opportunity to help prepare a bath, Totosai indoctrinates InuYas to accompany Bunza, a young lynx yōkai messenger, in fetching some water as well as chopping firewood. The two later unite to save Bunza's father, trapped in a barrier made by Nanafushi, a mantis demon who is destroying the village of the lynx yōkai tribe.
73
19
"Shiori's Family and InuYasha's Feelings"
June 10, 2002
September 11, 2004
July 20, 2013
Myoga offers InuYasha a method so that he can gain the power to break barriers. This involves traveling to a village in order to defeat and absorb the blood of a bat demon known for creating impenetrable barriers. It is explained that a bat hanyō named Shiori was given to her grandfather Taigokumaru, the leader of the bat yōkai clan, to ensure peace between the opposing sides. InuYasha is left conflicted; Shiori is a half-demon just like him and an innocent little girl, but he needs to gain the power to break barriers.
74
20
"The Red Tetsusaiga Breaks the Barrier"
June 17, 2002
September 18, 2004
July 20, 2013
Taigokumaru continues to demolish the village, while relying on the guardian powers of Shiori to shield himself, using the heirloom red orb called the Blood Coral Crystal. InuYasha empathizes with Shiori, recalling of his gruesome childhood past. When Shiori discovers Taigokumaru is responsible for the death of her father Tsukuyomaru, she provides InuYasha the means to annihilate her grandfather, by act of the Backlash Wave, and to acquire the ability to break barriers, by destroying the Blood Coral Crystal.
75
21
"The Plot of the Panther Devas"
June 24, 2002
September 25, 2004
July 27, 2013
A group of panther demons come after Kagome in search for her shards of the Shikon Jewel. Sesshomaru encounters Toran, the ice panther deva, who reminds him of the defeat of the panther king in the hands of Inu no Taisho. Meanwhile, InuYasha, Miroku, and Sango encounter Karan and Shuran, the fire and lightning panther devas, who distract the three to allow Shunran, the floral panther deva, to have Kagome kidnapped. All of them are to meet up and fight at the castle of the panther devas, all to seek revenge for the panther king.
76
22
"Target: Sesshomaru and InuYasha"
July 1, 2002
October 2, 2004
July 27, 2013
InuYasha breaks into the barrier of the panther yōkai tribe using Barrier Shattering, an attack that can shatter barriers when the Tetsusaiga glows red. Sesshomaru appears to tell InuYasha to heed his warning of retreat. It is revealed how and why the panther devas are seeking revenge originating fifty years ago. Everyone becomes divided and is separately confronted by the panther devas.
77
23
"The Panther Tribe and the Two Swords
of the Fang"
July 8, 2002
October 9, 2004
August 3, 2013
The panther devas fall back to the castle to begin the resurrection of the panther king, in when a large crowd of villagers are captured to be sacrificed. InuYasha arrives and frees the villagers, including Kagome, Miroku, and Sango. However, the panther king later unexpectedly devours Karan, Shuran, and Shunran to revive himself. Putting their feelings aside, Sesshomaru uses the Tenseiga to restore the lives of the panther devas, while InuYasha uses the Tetsusaiga to defeat the life of the panther king.
78
24
"Only You, Sango"
July 15, 2002
October 16, 2004
August 3, 2013
Sango is reacquainted with Kuranosuke Takeda, lord of the Takeda clan, after having first meet six years ago. Kuranosuke asks that Sango must slay a bear demon haunting his palace, as well as to accept his marriage proposal. While Sango hesitates to decline the marriage proposal, Miroku becomes exceedingly envious of her; however, he tells Sango that she's free to choose, and when questioned by Kagome he says that he thinks Sango shouldn't refuse a chance to have a normal life. Sango is caught off guard when battling the bear demon. However, Miroku defeats the bear demon through the ritual of exorcism. Sango ultimately declines marrying Kuranosuke and he lets her go with the group.
79
25
"Jaken's Plan to Steal Tetsusaiga"
July 22, 2002
January 10, 2005
August 10, 2013
Jaken decides to steal the Tetsusaiga from InuYasha to prove his worth to Sesshomaru, recalling how the two first chanced upon. After many failed attempts, including that as a sword blacksmith and a hot springs resort manager, Jaken manages to acquire the sword, but he is intercepted by InuYasha. To make matters worse, Jaken is forced to abandon his attempts entirely when Rin is seized by Kagura.
80
26
"Sesshomaru and the Abducted Rin"
July 29, 2002
January 11, 2005
August 10, 2013
Sesshomaru receives an ultimatum from Naraku, who threatens the safety of Rin for the death of InuYasha, to which he calmly enters in his castle. Sesshomaru faces off against Naraku, but is unaware that Naraku plans to absorb him. Kagome pursue a shard of the Shikon Jewel, which is likely embedded in Kohaku, who is ordered to guard Rin. InuYasha is blocked off by Kagura, who halfheartedly tried to fight him, since she desires InuYasha to kill Naraku and free her from his grasp.
81
27
"Vanishing Point: Naraku Disappears"
August 5, 2002
January 12, 2005
August 17, 2013
After Sesshomaru is engulfed by Naraku, InuYasha suddenly arrives to release him. Naraku is seriously wounded by both of them, however, until their sibling rivalry gets the better of them. The fight is halted when Naraku remotely orders his leverage to kill his hostage, Kohaku ordered to kill his best friend Rin. Sesshomaru trails to prevent Rin from being killed by Kohaku her best friend, while InuYasha simultaneously trails to prevent Kohaku from being killed by Sesshomaru.
82
28
"Gap Between the Ages"
August 12, 2002
January 17, 2005
August 17, 2013
While InuYasha, Miroku, and Sango investigate Naraku's abandoned castle with disappointment, Kagome must study for an upcoming test with tediousness. InuYasha becomes impatient and heads to the present to take her back to the past. Chaos ensues as Kagome struggles to catch up with her studies while InuYasha tries to adjust to the present time. It is reported that InuYasha stopped a bank robber from stealing money, as well as rescued a girl from an apartment fire.
Season 4 (2002-2003)
No. in
Series

No. in
Season

Episode Title

Japanese
Airdate

English
Airdate

Toonami
Airdate

83
01
"The Female Wolf Demon and the
Lunar Rainbow Promise"
August 19, 2002
January 18, 2005
August 24, 2013
Ayame, the granddaughter of northern wolf yōkai tribe leader, searches for Koga, who is needed to unite the northern and eastern tribes, once proposing to marry her during childhood. Meanwhile, a mouth incarnation of Naraku is attacking everything in sight and Koga decides to take off with Kagome to protect her, only to run into an angry and jealous Ayame. It is explained how Koga once saved Ayame from the terror of the Birds of Paradise, while promising to marry her during the night of the lunar rainbow.
84
02
"Koga's Bride-to-Be"
August 26, 2002
January 19, 2005
August 24, 2013
When Naraku's mouth incarnation arrives, Koga must save Kagome and Ayame from danger. When InuYasha and the others later appear, the mouth incarnation reveals that Naraku abandoned it in the castle. The mouth incarnation explodes when Koga and Ayame are consumed, due to Koga's shards of the Shikon Jewel. Though, he finally remembers having proposed to Ayame, Koga disregards ever recalling that night.
85
03
"The Evil Within Demon's Head Castle"
September 2, 2002
January 24, 2005
August 31, 2013
InuYasha and his companions run into an old woman named Haori, who introduces herself as a demon exorcist. She tells them that a head of an oni haunting a nearby bourg, after being risen from its grave within a neighboring castle. When the head of the oni comes out, Miroku deduces that it is an illusion. InuYasha believes that the lord of the castle may have been possessed. Miroku goes with the princess to the basement of the castle to observe the skeletons of the monks and priestess who have failed to slay the head of the oni.
86
04
"Secret of the Possessed Princess"
September 9, 2002
January 25, 2005
August 31, 2013
InuYasha realizes that the demon lord is a phantasm. Meanwhile, Sango and Haori find out that the demon princess, who had temporarily paralyzed Miroku, is actually the head of the oni. Elsewhere, Kagome and Shippo stumble upon the body of the real princess, being the host of the head of the oni. InuYasha and Miroku work together to defeat the head of the oni.
87
05
"Kikyo's Lonely Journey"
September 16, 2002
January 26, 2005
September 7, 2013
Kikyo meets an old male bandit named Rasetsu, who explains that he was a criminal fifty years ago. He unveils that Onigumo sent him to strike Kikyo to steal the Shikon Jewel. However, InuYasha gouged out his right eye, causing him to immolate Onigumo in revenge. An eye incarnation of Naraku, also abandoned in the castle, seeks Rasetsu's shard of the Shikon Jewel. Nonetheless, the eye incarnation is electrocuted, due to Kikyo's sacred arrow. Rasetsu requests Kikyo to bury his lock of hair as his dying wish.
88
06
"Three Sprites of the Monkey God"
October 14, 2002
January 31, 2005
September 7, 2013
Three mischievous monkey sprites are told to be ravaging the crops of a village. It is later found out that the monkey sprites are searching for their deity enshrined in the village. They have sealed an inconvenient stone effigy to InuYasha as leverage until the stone of their monkey deity is located. The monkey deity has been awaken, and the sealed of the stone effigy has been released from InuYasha.
89
07
"Nursing Battle of the Rival Lovers"
October 21, 2002
February 1, 2005
September 14, 2013
Kagome becomes ill and is advised to return to her time in order to recover and get better. Her schoolmates ultimately drop by for a visit to console her. InuYasha, who is very concerned for her health, gathers many ingredients from the dwellings of many demons. Kagome must study for the high school comprehensive exams, minding the fact that she is still sick. InuYasha concocts a very odd medicinal cure (one that his mother created when he was a child) using the ingredients, which relieves her common cold instantly, allowing her to take the comprehension exams.
90
08
"Sota's Brave Confession of Love"
October 28, 2002
February 2, 2005
September 14, 2013
InuYasha and Kagome notice that Sota is lovesick. Sota turns to InuYasha for advice to impress his love interest Hitomi. Sota first attempts to confess his love for Hitomi by offering a bouquet of roses, but to no avail. InuYasha tries to build up Sota's confidence. As InuYasha and Kagome are watching from afar, Sota manages to willingly asks Hitomi to be his girlfriend, to which she shyly accepts.
91
09
"The Suspicious Faith Healer and the
Black Kirara"
November 4, 2002
February 7, 2005
September 21, 2013
Kuroro, a two-tailed demon cat of a village, is the reason behind the bad luck befalling the village, being sent into exile by a faith healer named Tesso. Shippo witnesses a girl named Koume taking away Kirara, being mistaken as Kuroro. Shippo and Koume later find Kuroro, after being hoarded with a plague of rats. Meanwhile, InuYasha, Kagome, Miroku, and Sango realize that Tesso is a rat demon who has illusive powers. Kuroro is able to reunite the two parties in effort of defeating Tesso.
92
10
"Plot of the Walking Dead"
November 18, 2002
February 8, 2005
September 21, 2013
Enter, Enju,a freelance potter responsible for creating the clay soldiers. Enter, Kawaramaru, a warrior accountable for commanding the demonic clay soldiers. They both have been resurrected by their "mother", Urasue, the ogress sorceress demon. InuYasha and his companions fight their way past the demonic clay soldiers. InuYasha ultimately uses to Tetsusaiga to wipe out Kawaramaru, along with the demonic clay soldiers. Enju, who at first wanted to die, decides to give life a chance.
93
11
"The Mysterious, Lecherous Monk"
November 25, 2002
February 9, 2005
September 28, 2013
InuYasha's group see that Miroku innocently stirs up trouble with the villagers within each village they travel across, as he has been framed for being a fake and a flirter with the girls. Apparently a monk named Miroku, being described as mysterious and perverted, is seen wandering the countryside. They figure out that Hachi, Miroku's racoon dog slave, is the culprit, as they all are faced with a weasel demon. He is the one who has been imitating Miroku all this time. Upon defeating the weasel demon, Miroku makes sure Hachi never repeats his actions.
94
12
"The Sacred Jewel Maker Part I"
December 2, 2002
February 14, 2005
September 28, 2013
A young male scholar named Izumo explains to InuYasha and his companions that a snake demon called Orochidayu has created false Shikon Jewels to share with many demons. They discuss of about the origins of the fours souls that constructs the Shikon Jewel. When arriving to an abandoned town, an adolescent boy unravels that a group of demon captures his parents the night before. Orochidayu later shows up with the group of demons implanted with false Shikon Jewels, as InuYasha and his companions strive in trying to conquer them.
95
13
"The Sacred Jewel Maker Part II"
December 9, 2002
February 15, 2005
October 5, 2013
InuYasha and his companions become scattered due to a fierce attack from the group of demons. Kagome startlingly discovers that Izumo becomes a hanyō named Gyu-oh at nightfall, who intends to create a true Shikon Jewel by using Kagome's spiritual abilities and the souls of her friends. When dawn approaches, Gyu-oh reverts back to human form as Izumo, passing away due to the toxin of the fake Shikon Jewels.
96
14
"Jaken Falls ill"
January 13, 2003
February 16, 2005
October 5, 2013
InuYasha and his companions are on their way to visit Jinenji. Meanwhile, Jaken is attacked and poisoned by the Saimyōshō. He advises Rin to find a medicinal herb at Jinenji's village before sunset that would sooner or later cure his illness. Sesshomaru is also lead to the village by a weakened Saimyōshō, in hopes of locating the whereabouts of Naraku. Rin finds the herb atop a mountain cliff, and Sesshomaru later catches up to her. As dusk arrives, Jaken is given the herb and is restored back to health.
97
15
"Kirara, Come Home!"
January 20, 2003
February 21, 2005
October 12, 2013
Kirara mysteriously disappears one night, causing InuYasha's group to worry. Shippo unpleasantly examines that the others are to blame for using Kirara for their personal interests. They all encounter a baboon demon in a nearby forest, suspecting that he consumed Kirara. Sango recalls to when Kirara was first introduced into her life. This motivates her in defeating the baboon demon. It is later found out that Kirara was with Myoga, who was asked to carry back a whetstone for the Tetsusaiga.
98
16
"Kikyo and Kagome: Alone in a Cave"
January 27, 2003
February 22, 2005
October 12, 2013
Soon Kikyo and later Kagome wind up ensnared in the belly of a demon cloaked as a cavern that devours the spiritual energy of priestesses. With her knowledge and experience, Kikyo leads Kagome to the heart of the demon, and later uses her last depleted ounce of energy to merge Kagome's shards of the Shikon Jewel into one. With her latent potential, Kagome successfully shoots a Sacred Arrow into the eye of the heart, dissolving the body of the demon.
99
17
"Koga and Sesshomaru, A Dangerous
Encounter"
February 3, 2003
February 23, 2005
October 19, 2013
Hakkaku and Ginta, the left-hand and right-hand men of Koga, encounter Sesshomaru, Jaken, and Rin, unaware that Koga was responsible for Rin's traumatic experience with wolves. While InuYasha and Koga quarrel over Kagome's food, Hakkaku and Ginta ask Kagome about Sesshomaru. Hakkaku and Ginta attempt with little success to prevent Koga and Sesshomaru from meeting. When the two run upon each other, they mutually team up to save Rin from some demons.
100
18
"Truth Behind the Nightmare: Battle
in the Forest of Sorrow"
February 10, 2003
February 28, 2005
October 19, 2013
Garamaru, the brother of the moth demon Gatenmaru, appears to seek revenge on InuYasha by encasing all his friends within cocoons. This would transform them into moth demons as they are plagued by their worst fears. Meanwhile, InuYasha is to prevent Garamaru from devouring the souls of his friends. He is able to reach into the dreams of his friends, urging them to overcomes their anxieties.
101
19
"The Snow from Seven Years Past"
February 17, 2003
March 1, 2005
October 26, 2013
Miroku recalls being saved in his youth by a beautiful woman named Koyuki during a blizzard seven years ago. It is reported that male villagers have been allured by a snow maiden. Miroku comes across Koyuki, who claims to have bore his children as she guides him to a secluded house. InuYasha, Kagome, and Shippo find Sango deep within the snowy plains, where she tells of Miroku's disappearance. They are encountered by Koyuki, as she summons and merges with a snow demon, by which is eventually defeated.
102
20
"Assault on the Wolf-Demon Tribe"
February 24, 2003
May 28, 2005
October 26, 2013
The northern wolf yōkai tribe is attacked by monstrous Kyokotsu, the first of the Band of Seven. It is revealed that Kohaku is responsible for resurrecting Kyokotsu, using one of seven shards of the Shikon Jewel. Kohaku then assigns Kyokotsu to find more shards of the Shikon Jewel, in which he finds the perfect opportunity when he runs into Koga, who has returned to save the eastern wolf yōkai tribe. Koga is able to remove the shard of the Shikon Jewel from Kyokotsu's forehead.
103
21
"The Band of Seven, Resurrected"
March 3, 2003
June 4, 2005
November 2, 2013
The Band of Seven are foretold as mercenaries who slaughtered the warlords in the plains ten years past. However, the mercenaries were later beheaded by the soldiers in the mountains. Sango senses Kohaku in a forest nearby, only to recede, as the presence of Mukotsu, another member of the Band of Seven, is sensed. Meanwhile, InuYasha, is to fight another newly resurrected member of the Band of Seven, the unpredictable and deadly Jakotsu.
104
22
"The Stealthy Poison User, Mukotsu"
March 10, 2003
June 11, 2005
November 2, 2013
The fight between InuYasha and Jakotsu ends abuptly when Mukotsu releases a stinging poison. Mukotsu soon paralyzes Kagome with poison, seeking for her shards of the Shikon Jewel. While Shippo retrieves InuYasha from Jakotsu, Miroku and Sango are intoxicated by Mukotsu. An immune Sesshomaru enters to splice Mukotsu in half, removing the shard of the Shikon from his throat. InuYasha and Shippo later arrive to carry Kagome, Miroku, and Sango to a safe place.
105
23
"The Ghastly Steel Machine"
March 17, 2003
June 18, 2005
November 9, 2013
The mechanical Ginkotsu, another member of the Band of Seven, appears and wreaks havoc. InuYasha orders Shippo to take Kagome, Miroku, and Sango away from the area, while he is to battle Ginkotsu. Shippo ultimately takes them to a nearby temple. When Kagome awakes from her comatose state, she discovers that the monk Renkotsu has a shard of the Shikon Jewel in his throat, hinting that he is a member of the Band of Seven. InuYasha rushes to the temple after momentarily defeating Ginkotsu.
106
24
"Kagome, Miroku, and Sango: A
Desperate Situation"
April 14, 2003
June 25, 2005
November 9, 2013
InuYasha arrives at the temple, of where his friends are bewitchingly bedridden, sensing the scent of graveyard dirt. While the supposedly destroyed Ginkotsu soon returns to distract InuYasha, Renkotsu later sets the temple afire before announcing that he is a member of the Band of Seven. Shippo tries to alarm the others of the fire surrounding them, but to no avail. By the time InuYasha finds his friends, Shippo sadly informs him that they have all stopped breathing.
107
25
"InuYasha Shows His Tears For the
First Time"
April 21, 2003
July 2, 2005
November 16, 2013
InuYasha is devastated that his friends almost died because of his weakness. Sesshomaru appears to InuYasha in order to rebuke him for not protecting his friends. Myoga saves Kagome, Miroku, and Sango by sucking the poison from their blood. Meanwhile, Kikyo has found a kind doctor caring for local children named Suikotsu, who possesses an unusually pure shard of the Shikon Jewel and a strange anxiety around blood.
108
26
"The Secret of the Pure Light"
April 28, 2003
July 9, 2005
November 16, 2013
Kikyo attempts to solve the mystery surrounding the nature of Suikotsu. Renkotsu, Jakotsu, and Ginkotsu attack the town, in search for Suikotsu. Renkotsu traps InuYasha and his companions on a net of fire, while Jakotsu and Ginkotsu attack Kikyo and Suikotsu. Kikyo discovers that the doctor possesses not only a frightening alter ego, but is another member of the resurrected Band of Seven.
109
27
"Hidden in the Mist: Onward to Mt.
Hakurei"
May 5, 2003
July 16, 2005
November 23, 2013
Suikotsu fights InuYasha with ease, that is until his doctor persona struggles to emerge again. InuYasha and his companions tend to Kikyo, taking her to a nearby forest in order for her to regain consciousness. Kikyo discusses Mount Hakurei, a sacred mountain capable of absolving and cleansing criminals. It is explained that the purity of Suikotsu became tainted when nigh the mountain. While InuYasha and his companions head to Mount Hakurei, the four remaining members of the Band of Seven are finally reunited with their leader.
110
28
"Enter Bankotsu, The Leader of the
Band of Seven"
May 12, 2003
July 23, 2005
November 23, 2013
Bankotsu, the leader of the Band of Seven, orders Kohaku to send a letter stating that he is to recover his precious halberd guarded at a castle. Meanwhile, InuYasha and his companions try to figure out how to pass through the barrier surrounding Mount Hakurei. Bankotsu raids the castle, reclaiming his halberd and murdering the warlords of the castle. InuYasha finally shows up and faces off against Bankotsu.
Season 5 (2003-2004)
No. in
Series

No. in
Season

Episode Title

Japanese
Airdate

English
Airdate

Toonami
Airdate

111
01
"The Big Clash: Banryu vs Wind Scar!"
May 19, 2003
July 30, 2005
November 30, 2013
While InuYasha and Bankotsu face off against each other for the first time, the rest of the group are to handle the remaining members of the Band of Seven. At Mount Hakurei, Rin follows Kohaku to a nearby cave. When the remaining five members are forced to retreat, Kagome notices that the demon puppet of Naraku has an unusually purified scent. Within the cave, Kohaku kindly protects Rin from the emerging demons and urges her to escape. Sesshomaru stops holding a grudge towards Kohaku, seeing Rin was protected and uninjured. Unfortunately for Rin, her friendship with Kohaku ends when he reveals to the remaining five members that Sesshomaru is also their enemy.
112
02
"Afloat on the Lake Surface: The Barrier
of Hijiri Island"
May 26, 2003
August 7, 2005
November 30, 2013
Shintaro, the young son of the village headman, pleads for help when his father fails to return for two weeks from a shrine on Hijiri Island in the middle of a misty lake. The villagers believe that the village is cursed due to the absence of the headman. InuYasha and his companions travel with Shintaro to the island, being the source of the same purified scent of the demon puppet. Bankotsu appears to fight InuYasha yet again. To make matters worse, InuYasha's Tetsusaiga is rendered powerless against Bankotsu's Banryu. It is explained that Saint Hakushin, the monk of the shrine, is responsible for putting up a barrier surrounding the mountain and the island. Miroku and Shintaro work together to destroy the core of the barrier.
113
03
"The Sacred Vajra and the Mystery of
the Living Buddha"
June 2, 2003
August 14, 2005
December 7, 2013
With the barrier destroyed, InuYasha and Bankotsu continue their battle, clashing each other with lightning attacks. The alter ornament Saint Hakushin is mystically summoned and has purified the Tetsusaiga. A barrier is formed around Bankotsu, transporting him to a hidden temple. InuYasha and his companions make their way head towards Mount Hakurei. However, The power of the barrier erected by the spirit of Saint Hakushin cannot be broken nor crossed by any demon. So Miroku and Sango enter the barrier to find Naraku, while InuYasha, Kagome, Shippo and Kirara stay behind.
114
04
"Koga's Solitary Battle"
June 9, 2003
August 21, 2005
December 7, 2013
Koga is attacked by Renkotsu and Ginkotsu from afar. Sango and Miroku are to scout Mount Hakurei from within its barrier, however Miroku struggles to retain his lechery for Sango. Renkotsu and Ginkotsu are lured out of the barrier after bombarding Koga with cannon blasts and flamethrowers, which gives Koga the upper hand. Renkotsu is bruised by Koga, who attempts to remove the shard of the Shikon Jewel from his throat. Ginkotsu destructs the area, sending his shard of the Shikon Jewel to Renkotsu. InuYasha senses an explosion initiated by Ginkotsu, as he is led to Koga, whose legs are badly wounded.
115
05
"Lured by the Black Light"
June 16, 2003
August 28, 2005
December 14, 2013
When their paths are crossed, Kikyo confronts Bankotsu, who claims he is fearless of the afterlife. Jaken and Rin encounter Suikotsu on a log bridge, but they descends after the log bridge collapse. Sesshomaru is to fight Jakotsu, but chooses to go search for Rin after finding Jaken. Rin is met with the good persona of Suikotsu in a forest, as he brings her back to his village. However, his evil persona takes over, and Jakotsu takes custody of Rin. It is apparent that Suikotsu struggles with his two personae while attempting to kill the orphaned children of the village.
116
06
"The Exposed Face of Truth"
June 23, 2003
September 4, 2005
December 14, 2013
Sesshomaru is beguiled into the barrier of the mountain, being forced to combat against Jakotsu. Sesshomaru then manages to pierce his hand his sword into Jakotsu and Suikotsu, respectively. However, the two remain alive due to the tainted shards of the Shikon Jewels in each of their throats. Kikyo arrives and interrupts the battle, implanting a Sacred Arrow in Suikotsu, hence purifying his shard of the Shikon Jewel. Suikotsu, finally free of his evil persona, reveals the origins of his conflicting personalities. He explains that his bad persona arose as he first killed someone with his own hands. Jakotsu takes Suikotsu's shard of the Shikon Jewel, after Kikyo was requested to do so.
117
07
"Vanished in a River of Flames"
June 30, 2003
September 11, 2005
December 21, 2013
Renkotsu vows to avenge Ginkotsu's destruction after recovering from Koga's battle, preparing his artillery for an assault. InuYasha is mentioned to have carried Koga to a cave near a waterfall to recover, much to his dismay. Renkotsu distracts InuYasha with the Saimyōshō while he ignites the waterfall into flames, later sending him attacks of ammunition. After entering the cave, Renkotsu threatens to light incendiary devices to obtain Koga's shards of the Shikon Jewel, however InuYasha sends Renkotsu into the river of flames, causing a huge eruption. Luckily, both of them manage to survive, much to a surprise.
118
08
"Into the Depths of Mt. Hakurei"
July 7, 2003
September 17, 2005
December 21, 2013
As they have reached the summit of Mount Hakurei, Miroku and Sango are attacked by Kagura in a shaft. After Kagura defeats Sango by using the Wind Gust against her Hiraikotsu, Miroku uses Wind Tunnel to vacuum the demons, even enduring the poison of the Saimyōshō. Meanwhile, Jakotsu gives Suikotsu's shard of the Shikon Jewel to Bankotsu, who happily thanks him. InuYasha decides to enter the barrier in order to find Miroku and Sango, but finds himself in trouble when confronted by Renkotsu. InuYasha is purified by the barrier reverting himself to human form, while Miroku and Sango are also both purified by the barrier being able to escape outside the mountain.
119
09
"Divine Malice of the Saint"
July 14, 2003
September 24, 2005
January 4, 2014
Although InuYasha manages to avoid Renkotsu, he now faces off against Jakotsu. Miroku and Sango discover a hidden temple being shrouded in the mists of Mount Hakurei, which lead them directly to Saint Hakushin, who continues to uphold the barrier despite his knowledge of the true nature of Naraku. Saint Hakushin explains that he fell ill during a time of famine in his village, swearing to protect the village after his death. The pair must destroy Saint Hakushin and his formidable barrier, in hopes for InuYasha to regain his demonic powers.
120
10
"Fare Thee Well: Jakotsu's Requiem"
July 28, 2003
October 1, 2005
January 11, 2014
InuYasha easily defeats Jakotsu with his Tetsusaiga, having his demonic powers restored. Renkotsu removes the shard of the Shikon Jewel from Jakotsu's throat. Meanwhile, Kikyo questions Saint Hakushin about his desires after being reborn through Naraku. Elsewhere, Bankotsu is aware of Renkotsu's motives, as the former takes two shards of the Shikon Jewel from the throat of latter. The two duel to the death, trying to prove who has more power. Upon defeating him, Bankotsu removes the last shard of the Shikon Jewel from Renkotsu's throat as payment for his betrayal. Kikyo empathizes with Saint Hakushin, as he dissolves the barrier and she brings solace to his spirit.
121
11
"Final Battle: The Last and Strongest
of the Band of Seven"
August 4, 2003
October 8, 2005
January 18, 2014
Bankotsu sets his sight on InuYasha, using all seven shards of the Shikon Jewel. Bankotsu explains how he the Band of Seven was joined after he first met Naraku, who mentions about the manifestation of the Shikon Jewel. Bankotsu recalls the moment that he was resurrected by Naraku with a shard of the Shikon Jewel. Miroku and Sango return to the shaft, as they are met by Kagura once again. It is discovered that Naraku used Saint Hakushin to reside within the barrier of Mount Hakurei in order to complete his demonic transformation, all due to the fact that InuYasha has acquired the Barrier Shattering. Kagome locates where Naraku and Bankotsu are inside the mountain.
122
12
"The Power of Banryu! Duel to the
Death on Mt. Hakurei"
August 11, 2003
October 15, 2005
January 25, 2014
InuYasha is able to take out almost all of the shards of the Shikon Jewel from Bankotsu's body. InuYasha describes Bankotsu as a human shield for Naraku, to which he objects. InuYasha notices a shard of the Shikon Jewel embedded in Bankotsu's Banryu when it evolves after slashing through one thousand demons. The fight finally reaches its conclusion when InuYasha uses the Backlash Wave. Mount Hakurei becomes animated, becoming like quicksand within the caves, where Koga becomes devoured. Kagome, Shippo, and Kirara struggle as they reunite with Miroku and Sango. InuYasha is seen entangled in an intestinal structure as he ascends toward Naraku's whereabouts.
123
13
"Beyond the Darkness - Naraku
Reborn"
August 18, 2003
October 22, 2005
February 1, 2014
Naraku is reborn from Mount Hakurei, in which the mountain is part of himself. He collects and merges all the shards of the Shikon Jewel, revealing his completed demonic transformation. InuYasha attempts to attack Naraku with the Wind Scar, only to have that attack absorbed and reflected in various parts of the cave. Kikyo witnesses Kagura from the mountain with an unusual bundle. Kagome senses Koga's presence within Naraku's demonic aura, dispersing the Wind Scar and releasing Koga from the demonic aura. Naraku begins to destroy the mountain, putting the lives of InuYasha and his companions in danger.
124
14
"Farewell Kikyo, My Beloved"
August 25, 2003
October 29, 2005
February 8, 2014
While Inuyasha goes down into the depths of the mountain to retrieve Koga, the rest of the group struggle to escape the collapsing Mount Hakurei. Meanwhile, Naraku comes after Kikyo, who questions his purpose. Naraku says that he lured her to the mountain. He now is longer held back by the human heart of Onigumo, now in the possession of Kagura. Kikyo is now defeated and is thrown into the crevices of the cliff. Sesshomaru enters to attack Naraku, in which it is absorbed and reflected back. After Naraku takes his leave, InuYasha learns from Sesshomaru that Kikyo has died.
125
15
"The Darkness in Kagome's Heart"
September 1, 2003
November 5, 2005
February 15, 2014
InuYasha desperately searches for Kikyo's remains, but has no luck in the matter. InuYasha and his companions revisit Shintaro's village, where it is later ravaged by a swarm of demons. They are met by an elderly priest, who tells about Kikyo being washed up at the end of a riverbank two days prior on the other side of the mountain. InuYasha goes in that direction in hopes of finding her. When a group of soldiers captures Kagome, along with Miroku and Sango, she finds out that she has been tricked by Kagura. While Miroku and Sango are surrounded by the soldiers, Kagome becomes ensnared by the darkness in her heart, as The Infant, the seventh incarnation of Naraku whom Kagura took from the mountain, takes control of her.
126
16
"Transform Heartache into Courage"
September 8, 2003
November 12, 2005
February 22, 2014
Shippo find InuYasha and tells him that the others have been taken captive. After defeating the soldiers, InuYasha realizes he was deceived by Kagura. Meanwhile, The Infant orders Kagura to implant a tainted shard of the Shikon Jewel into Kagome. However, Kagome has regain her control of her mind but not of her body. Kagome must overcome her bitterness towards Kikyo. InuYasha and the others find her, and they interrogate The Infant as being the human heart of Naraku. The Infant departs after repelling InuYasha's attempted attack. InuYasha later discovers how dangerous his deep and strong affections for Kikyo are for Kagome.
127
17
"Don't Boil It! The Terrifying Dried-Up
Demon"
September 15, 2003
January 4, 2006
March 1, 2014
Kagome returns home to relax, hoping to take her mind off of Feudal Japan for a while. Unfortunately, the high school is preparing for a cultural festival, much to her chagrin, being suggested by her friends to be an understudy for the cultural festival. It is realized that Naraku has nearly all the shards of the Shikon Jewel, eluded by only a single shard that cannot be found anywhere in the world. Meanwhile, Miroku urges InuYasha to prevent Kagome from being kidnapped a second time. Kagome is frustrated that she must be the star attraction of the cultural festival, yet she is able to appreciate her active role in participation. InuYasha goes to the present to fetch her, only to learn about the upcoming cultural festival.
128
18
"Battle Against the Dried-Up Demons at
the Cultural Festival"
October 13, 2003
January 11, 2006
—
It is revealed that the dried-up food that Kagome brought back from Feudal Japan are actually dehydrated food demons when boiled in water. InuYasha must seek and destroy any demon lurking within the high school to cease any potential chaos. Kagome, on the other hand, is to complete her understudy assignments, minding her attention of the demons. During her choral performance, there is a cameo appearance of Jimmy Kudo and Rachel Moore from Case Closed. During her theatrical performance, InuYasha interrupts the play, in which Kagome must ad-lib to evade the scene.
129
19
"Chokyukai and the Abducted Bride"
October 20, 2003
January 18, 2006
—
A young man named Kisuke turns to InuYasha and his companions for help when maidens are being kidnapped by demons using a golden diadem to control them, mentioning that the remaining maidens were forced to reside in a nearby cave. Chokyukai asks Kagome to be his bride, thrilled with her knowledge about his ancestors. Kagome is soon allured by the diadem, to which she is later abducted. InuYasha and his companions elaborately try to distract Chokyukai in order to find and free Kagome. She later uses her Sacred Arrow along with Miroku's Sacred Sutra in order to defeat Chokyukai.
130
20
"Shippo's New Technique, The Heart
Scar!"
October 27, 2003
January 25, 2006
—
Several young fox yōkai, who are searching for their parents, mistake Shippo for a hero when InuYasha recently destroyed a demon with his Wind Scar. Shippo meet a girl named Mizuki at a local village. They turn to Shippo for help, assuming he is the leader of his group. The young fox yōkai manipulate Shippo to fight against a salamander demon, but he chooses to avoid the situation. They later convince him into betraying Mizuki, much to his dismay. When the salamander demon returns, Shippo uses Biting, a move in which his sharp teeth become a weapon, in order to defeat the salamander demon.
131
21
"Trap of The Cursed Wall Hanging"
November 3, 2003
February 1, 2006
—
InuYasha and his companions are informed by an old man who tells them about a village of women tossing a corpse into a marsh. As they are to investigate, they find themselves helping a young man named Shinnosuke to search for his lost lady love named Wakana. They all are invited to spend the night at the village. Miroku and Sango are separately reminded of their moment together at Mount Hakurei. Miroku falls prey into flirtation and is accompanied to a shrine, leading to an encounter with the head of an oni Sango soon becomes captured and shackled inside a cave, being forced to swallow a salamander egg in order to be possessed. Shinnosuke reunites with Wakana, however he is unaware of what is to come.
132
22
"Miroku's Most Dangerous Confession"
November 10, 2003
February 8, 2006
—
InuYasha, Kagome, and Shippo are surrounded by the possessed women of the village. The head of the oni explains that her body was sealed into a scroll desiring the need for the flesh of men to return to her human form. The head of the oni is revealed itself as a salamander demon. InuYasha must defeat the salamander demon while Miroku uses his Sacred Sutras to save the women from being possessed any further, in which they regurgitate salamanders from their stomachs. Miroku witnesses Sango possessed and under her possession she fights him forcing him to battle her, proving to be a much more formidable adversary than he expects. Miroku later comes to realize how much she truly means to him, eventually resulting in him proposing to her, which she tearfully accepts.
133[2]
23
"The Woman Who Loved Sesshomaru
(Part 1)"
November 24, 2003
February 15, 2006
—
While an ill nun named Sara Asano plays the flute, InuYasha and his companions pass by the convent, to which Sara releases demonic aura and dies after catching sight of InuYasha. A resurrected Sara appears to Sesshomaru, reminding him of their encounter at her castle during a time when Sesshomaru defended her castle. She reveals her deep infatuation for him, hoping to garner his interest. Meanwhile, InuYasha and his companions find a woman, unbeknownst as Sara, wanting to be sacrificed to a sea demon to break a curse of ice, of which Miroku and Sango are victimized. InuYasha, Kagome, and Shippo are brought to a shrine, where Sara successfully steals the Tetsusaiga from InuYasha.
134
24
"The Woman Who Loved Sesshomaru
(Part 2)"
November 24, 2003
February 22, 2006
—
Sesshomaru is disappointed that Sara had stolen the Tetsusaiga from InuYasha, whereupon InuYasha must chase after Sara. Sara tells Sesshomaru of the time when he first asks her to give him the Tetsusaiga and of the time the Asano clan attempted to kill Sesshomaru. She recalls being surrounded by apparitions during her illness, allowing herself to be consumed for her rebirth, all to devote herself to Sesshomaru. As InuYasha arrives to retrieve his Tetsusaiga, while Sesshomaru releases the apparitions from Sara. She is unveiled as a medium, being controlled by a demon. The Tetsusaiga is first wielded by Sesshomaru in order to destroy the demon and then by InuYasha in order to eradicate the apparitions.
135
25
"The Last Banquet of Miroku's Master"
December 1, 2003
March 1, 2006
—
There has been gossips that various clergymen have been murdered. Miroku is told that his master Mushin is in terrible health. InuYasha and his companions must uphold Mushin's troublesome tasks. This includes cleaning the temple, ventilating the bedding, cutting the grass, doing the laundry, and going to an expensive restaurant. Mushin's last wish is to taste a rare sake made from fabled sages found on a sacred mountain peak. InuYasha and his companions are soon influenced by the poisonous mist of the mountain. Miroku returns to give Mushin the sake. Mushin later falls asleep, to which Miroku first believed he died. However, Mushin explains that it was all a misunderstanding.
136
26
"A Strange Invisible Demon Appears!"
December 8, 2003
March 8, 2006
—
InuYasha and his companions are reacquainted with the elderly demon exorcist Haori, who returns and convinces them to help her exterminate an invisible demon involved in robberies. They split up into two groups, guarding the two riches estates of the town. Sango and Shippo learn from Haori to be able to temporarily shroud themselves, but they are later seen by Miroku and InuYasha, respectively. When the invisible demon raids the estate, it is found out that he can be formed as thin as paper. He is forgiven for his actions, being told never to involve himself with humans ever again.
137
27
"An Ancestor Named Kagome"
January 12, 2004
March 15, 2006
—
It is recognized that Akitoki Hojo, one of Hojo's ancestors from Feudal Japan, is the husband of a woman named Kagome. While Kagome tries to deal with her unsettling feelings, Akitoki approaches Kaede in finding a solution in sealing an inherited halberd of great misfortune called the Naginata of Kenkon. Akitoki, along with InuYasha and his companions, must travel to a shrine atop a mountain, which will dissipate the demonic aura from the halberd. Soon after resting at a tea house, strange occurrences begin to stir, including that of boulders descending and explosives dropping. Akitoki uncovers the fact that he possesses the Ken Blade half, while the Kon Blade half might be possessed by four ninja yōkai.
138
28
"Mountain of Demons: Survival of the
Duo"
January 19, 2004
March 22, 2006
—
Kagome and Akitoki become separated from InuYasha and the others. InuYasha faces off against Hoshiyomi, the master of the ninja yōkai and owner of the Kon Blade, while Miroku, Sango and Shippo are to find Kagome and Akitoki, who have been drifted off from a waterfall. Kagome and Akitoki later eat and rest deep in the woods. InuYasha questions Hoshiyomi on his purpose for obtaining the Ken Blade. The four ninja yōkai use demon puppets disguised as ancestors of Kagome's classmates, in which Kagome uses her Sacred Arrows to destroy them. However, she is suddenly captured by the four ninja yōkai as a hostage.
Season 6 (2004)
No. in
Series

No. in
Season

Episode Title

Japanese Airdate

English Airdate

139
01
"The Great Duel at Shoun Falls"
January 26, 2004
March 29, 2006
Hoshiyomi holds Kagome captive, to unite the Ken Blade with the Kon Blade. The rest of InuYasha's group have been scattered by the pentagram barrier surrounding the shrine created by Hoshiyomi. Each are encountered by one of the four ninja yōkai, proving to be worthy opponents, as InuYasha's group struggle to defeat them. The bitter Hoshiyomi reveals to Kagome his own tragic close romantic relationship with a high-ranking human priestess named Tsukiyomi. He believes that by reuniting the two blades, he must kill humans to save humankind. Miroku uses his Wind Tunnel to vacuum the four ninja yōkai into the vortex. Hoshiyomi summons the two blades together to form the Naginata of Kenkon.
140
02
"Eternal Love, The Naginata of Kenkon"
February 2, 2004
April 5, 2006
With the complete Naginata of Kenkon in his possession, Hoshiyomi is virtually unstoppable. The spirit of Tsukiyomi returns and possesses Kagome to reason with her old lover. Hoshiyomi wanted to forge the Naginata of Kenkon in order to fight alongside Tsukiyomi, but he became possessed by the demonic influence of his overwhelming weapon. Tsukiyomi sealed Hoshiyomi within the shrine, and separated the halberd into two blades. However, Hoshiyomi killed Tsukiyomi as payment of betrayal. Akitoki confesses his unrequited romantic love for Kagome, defending against an attack by Hoshiyomi. Tsukiyomi gives InuYasha and Kagome a chance to destroy the demonic halberd once and for all.
141
03
"Entei, The Demon Horse Unleashed"
February 9, 2004
April 12, 2006
When InuYasha and his companions come upon a wrecked village, they find out that the priest of the village was murdered by Kagura and The Infant. A legendary monk is known for sealing a swift demon horse known as Entei, and its demon master named Rengokuki, in the mountains. Kagura and The Infant approach the monk to attack him. However, the monk slices The Infant in half. Kagura brings both halves of The Infant to Kanna, who keeps one of the halves. Chaos ensues when the seal of Entei is broken. Moreover, due to Entei's swiftness, it is left unharmed.
142
04
"Untamed Entei and Horrible Hakudoshi"
February 16, 2004
April 19, 2006
The half of The Infant that was guarded by Kagura transforms into Hakudoshi, the eighth incarnation of Naraku. InuYasha and his companions follow Entei and is led to Rengokuki, who has risen from his grave, but the two retreat when InuYasha overpowers them. Rengokuki meets Kagura, who quickly declines his offer in marriage. Hakudoshi ends Entei's wild rampage when he arrives and slaughters Rengokuki, hence being chosen as its new master. InuYasha and his companions encounter Hakudoshi, who is in search of the remaining shard of the Shikon Jewel located in the Netherworld, before he escapes. Kagome and Shippo are later attacked by a headless demon, in which InuYasha deduces that Hakudoshi is responsible.
143
05
"3000 Leagues in Search of Father"
February 23, 2004
April 26, 2006
InuYasha and his companions met an otter yōkai named Kanta. He tells them that he seeks to restore the head of his father, after it had been sliced off by Hakudoshi. Meanwhile, Hakudoshi is seen with a handful of the heads of demons, glimpsing at the Netherworld. Kanta's headless father has entered into the village, but is scared away by the villagers, as he appears toward Sesshomaru. Kanta and InuYasha's group find Kanta's father to reattach his head, but to no avail. Sesshomaru is soon convinced to use his Tenseiga to revive Kanta's father. The Netherworld is described as a world covered in clouds of white mist and strewn with heaps of giant bones.
144
06
"Hosenki and the Last Shard"
March 1, 2004
May 3, 2006
InuYasha, realizing that the Netherworld is the grave of his father Inu no Taisho, goes to see Myoga, who tells him that he must go to see Hosenki in order to visit the Netherworld. After climbing a cliff, InuYasha encounters Hakudoshi, who is aware of who Hosenki is. InuYasha and his companions soon meet Hosenki, whose father has died of old age. Even though his father was the creator of the Black Pearl in InuYasha's right, Hosenki is only the apprentice as such. Kagura appears to InuYasha's group saying that the pathway to the Netherworld is found in a gateway within the Mountain in the Realm of Fire.
145
07
"Bizarre Guards at the Border of the Afterlife"
March 8, 2004
May 10, 2006
InuYasha and his companions head toward the Mountain in the Realm of Fire, with the Saimyōshō leading them there. After entering a cave, they find Gozu and Mezu, the giant stone statues that guard the gate of the Netherworld. However, in order to pass through the gate, one must be deceased. InuYasha seems vulnerable to the attacks from Gozu and Mezu. The only way to revert these two back to stone is to force the gate open by use of the Wind Scar. Kagura quickly attempts to pass through, but her demon army becomes petrified by the blinding light beyond the gate. Gozu and Mezu close the gate and revert to stone. Kagome tells the rest of the group that there is a presence of the shard of the Shikon Jewel beyond the gate. Kagura returns to Hakudoshi, furious at him. Nevertheless, it is kept in mind that Hakudoshi is connected to Naraku, having possession of her heart.
146
08
"The Fiery Bird Master, Princess Abi"
March 15, 2004
May 17, 2006
It is seen that Princess Abi, who is a phoenix yōkai, has raided a town, in which her horde of phoenix demons drains the blood of the townspeople. Naraku presents himself to Princess Abi as an ally for her quest to heal her poisoned mother Queen Tekkei, wreaking havoc in order to collect the blood of humans to dilute the poison. Abi reluctantly accepts his help in the form of a trident, as it is claimed to be of use to her. A group of goblin demons have appeared in revenge of their father, yet Naraku easily defeats them and continues on his way. Princess Abi encounters InuYasha for the first time, as her mob of phoenix demons attack a village, but she evades after realizing Naraku intended her to fight against InuYasha.
147[3]
09
"The Tragic Love Song of Destiny (Part 1)"
April 19, 2004
May 24, 2006
This is the first part of a flashback. Kaede witnesses Kikyo and Tsubaki fight a swarm of demons. The grave of Midoriko in a limestone cave reacts to the Shikon Jewel inside a slain yet resurrected Mistress Centipede. Tsubaki places a curse on Kikyo for whenever she were to deeply fall in love. Kikyo is given the duty to guard and purify the Shikon Jewel inside the shrine of the village. After meeting InuYasha, she realizes that he wants to have the Shikon Jewel to transform from a hanyō to a full-fledged, full-blooded yōkai. She gradually falls in love with him, feeling grateful for what he has unconditionally done, and he with her. InuYasha gives Kikyo a pearl oyster containing cosmetics as a gift, which belonged to his human mother.
148
10
"The Tragic Love Song of Destiny (Part 2)"
April 19, 2004
May 31, 2006
This is the second part of a memory flashback. A bandit named Onigumo is secretly harbored inside a cave, though devious intentions are sensed, as he desires the Shikon Jewel. Tsubaki initiates a cursed assault on Kikyo, who is able to reflect that assault. Onigumo later is consumed by a flock of demons, thus being transformed into Naraku. Kikyo is attacked by Naraku, and InuYasha enters to rescue her. InuYasha wants to be a human in order to be with Kikyo for the rest of his life. Naraku disguises himself as InuYasha and then as Kikyo to turn them against each other, thereby tainting the Shikon Jewel. Naraku mortally wounds Kikyo. But before she dies, she is seals Inuyasha to the Sacred Tree of Ages.
149
11
"The Single Arrow of Chaos"
April 26, 2004
June 7, 2006
Another village has been demolished by Princess Abi. Kagura is in search for Sesshomaru. Kanna, with her half of The Infant, plants the child with a noblewoman for reasons unknown. InuYasha and his companions travel with some villagers to pursue a mysterious person named Saint Hijiri, referred to as the Holy One. Hakudoshi and Kagura attack with a group of phoenix demons, buying time for Princess Abi to wreak havoc in the village of Saint Hijirii. A Sacred Arrow is fired at Hakudoshi and Kagura, urging the two to retreat. InuYasha is left to spar against Entei, leading it inside a cave. Entei is ultimately destroyed by InuYasha's Backlash Wave attack.
150
12
"The Mysterious Light that Guides the Saint"
May 3, 2004
June 14, 2006
The unsettling possibility that Kikyo may be still alive arises, after having witnessed a sacred arrow being shot. She saves a group of villagers from a conflict with Princess Abi and her group of phoenix demons. InuYasha and his companions must follow Saint Hijiri to confirm that she is really Kikyo. Kaede finds out that Kochou and Asuka, two female soul collectors in human form, visit Kikyo's grave to gather her remains. InuYasha and his companions are to venture to the Forbidden Mountain, in hopes of finding Saint Hijiri. Unfortunately, Naraku's demons are an obstacle for them. InuYasha sees an image of Kikyo before she disappears. Kagome crosses a barrier and finds a fatally wounded and unconscious Kikyo submerged in a waterfall.
151
13
"Kagome's Instinctive Choice"
May 10, 2004
June 21, 2006
It is Kochou and Asuka who bring Kagome to a waterfall where the body of Kikyo is suspended. Being that she is the only person who must save Kikyo before dusk, Kagome chooses to save Kikyo, purifying her spirit of the miasma. Kagome witnesses a vision of the events leading to the death of Kikyo at the hands of Naraku, being tricked into sealing InuYasha to the Sacred Tree. Though Kikyo has revived, she does not return her thanks for the decision Kagome made. The barrier dissipates allowing InuYasha's group to find an irritated Kagome. InuYasha learns from Kagome that Kikyo has been purified, urging him to go after her. However, he refuses saying that Kikyo is probably fine.
152
14
"Protect and Plunder!"
May 17, 2004
June 28, 2006
Queen Tekkei tells Princess Abi that Saint Hijiri has become a hindrance to Naraku, also mentioning that Naraku is avoiding a neighboring castle. Meanwhile, the noblewoman becomes suspicious of Kohaku, who is told by Naraku to peacefully reside at the castle. Also, Kagura is commanded by Hakudoshi to follow Princess Abi to the castle. The phoenix demons attack the warlords of the castle. Kohaku is commanded by Naraku to protect The Infant. InuYasha faces against Princess Abi once again, as it is found out that the latter is planning to betray Naraku. Kohaku leads the noblewoman to safety as he saves her from the phoenix demons.
153
15
"The Cruel Reunion of Fate"
May 24, 2004
July 5, 2006
Naraku orders Kohaku to take The Infant and to kill everyone else. He does so. Kanna enters and takes The Infant with her after collecting the soul of the noblewoman. Princess Abi makes her escape, concentrating on collecting more human blood. Kohaku recovers his memories when encountering Sango again, but his escape is aided by Kagura, who is unaware that he is finally conscious of his past. He attempts to commit suicide but resolves to kill Naraku to make amends when Kagura saves him. Sango notices that The Infant is the tie between Naraku and the castle, and Kagura realizes that The Infant is the heart of Hakudoshi. Miroku embraces Sango while she contemplates about Kohaku being controlled by Naraku.
154
16
"The Demon Linked with the Netherworld"
May 31, 2004
July 12, 2006
InuYasha is summoned by Kochou and Asuka to see Kikyo, who is aware of Naraku's intentions for crossing over to the Netherworld. She presents InuYasha with a special arrow for Kagome, which she will know when to use it when the time is right. InuYasha and his companions sense that Naraku is approaching the nest of phoenix demons. Meanwhile, Queen Tekkei reveals herself to Naraku, later devouring him. Princess Abi sends forth her phoenix demons after InuYasha and his companions. Naraku decapitates Queen Tekkei from the inside and then stabs Princess Abi from the outside in betrayal, opening the river of blood that will lead him to the Netherworld.
155
17
"The Demon Protector of the Sacred Jewel Shard"
June 7, 2004
July 19, 2006
InuYasha and his companions pursue Naraku into the Netherworld, finding themselves at the grave of Inu no Taisho. InuYasha hallucinates to when he was attacked by demons as a child. The deceased Hosenki shoots a multitude of adamant (diamond) spears at InuYasha and his companions from the grave, where the last shard of the Shikon Jewel has been located. Hosenki prophesies that many shards of the Shikon Jewel have become tainted, whereupon he must not let anyone get a hold of the last shard of the Shikon Jewel, as that may also be tainted. Hosenki is corrupted by the last shard of the Shikon Jewel, drawing evil from the presence of tainted shards of the Shikon Jewel nearby. InuYasha plummets into the abyss after being brutally attacked by Hosenki.
156
18
"Final Battle at the Graveside! Sesshomaru vs.
Inuyasha"
June 14, 2004
July 26, 2006
Sesshomaru is provided an alternate method of entering the Netherworld by Kagura, by which to face against Gozu and Mezu. Hosenki has been weakened from fight InuYasha, as Naraku arrives to attempt to take the last shard of the Shikon Jewel. InuYasha, who has survived the fall, returns to battle Naraku, but he is unable to shatter Naraku's barrier using Tetsusaiga. Meanwhile, Sesshomaru uses Tenseiga to pass through the gate to the Netherworld. Naraku tells InuYasha and his companions that their entrance to the Netherworld will not be their exit.
157
19
"Destroy Naraku with the Adamant Barrage"
June 21, 2004
August 2, 2006
Sesshomaru comes to the Netherworld and engages in combat against Naraku. Hosenki challenges InuYasha to slay him in order to strengthen the Tetsusaiga and acquire the power to fight back against Naraku. Every time Sesshomaru slices the body of Naraku, his poisonous miasma affects everyone. InuYasha must choose between eradicating the miasma and slaying Hosenki. It is then that Hosenski realizes that InuYasha is selfless, giving him the power of the Adamant Barrage to shatter Naraku's barrier. Kagome uses Kikyo's special arrow that forces Naraku to appear through Hakudoshi, being injured in the process and relinquishing the last shard of the Shikon Jewel.
158
20
"Stampede of the Countless Demon Rats"
July 5, 2004
October 12, 2006
Kohaku and Kagura deduce that they must kill The Infant in order to destroy Naraku. Naraku decides to send Hakudoshi and Kohaku to bring Kikyo out of hiding. Hakudoshi orders Kohaku to unleash a plague of rat demons from a shrine box throughout many villages, hoping to draw out Kikyo. InuYasha and his companions realize that Naraku is after Kikyo. Meanwhile, Kikyo performs a myosei ritual to grow a special branch into a magical tree that pierces the clouds, attracting the rat demons to climb it. Kohaku debates closing the shrine box to save lives, though that would show Naraku he is regaining his memories. Sango confronts him.
159
21
"Kohaku's Decision and Sango's Heart"
July 12, 2004
October 13, 2006
While InuYasha, Kagome, and Shippo encounter Hakudoshi at the myosei tree, Miroku and Sango come face to face with Kohaku at the shrine box. Hakudoshi places great slug demons on the tree to weaken it and prevent the rat demons from being purified. He makes his escape, as he warns that bad will come to worse if Kikyo does not reveal herself. The rat demons surround Sango and Kohaku while returning to the shrine box. Kikyo shoots a Sacred Arrow into the shrine box, allowing InuYasha to destroy it. The rat demons disappear. Kohaku is spirited away by Hakudoshi. Sango suffers mixed feelings for protecting Kohaku from the rat demons knowing he was responsible for massacring the castle inhabitants, even under Naraku's influence.
160
22
"The Lucky but Two-Timing Scoundrel"
July 26, 2004
October 17, 2006
Kagome returns to the present, still pondering InuYasha and Kikyo's relationship. Kagome receives a used bicycle as a gift from a neighbor. InuYasha lands and wrecks it, angering her greatly. Her three classmates are informed that InuYasha must chose between her and Kikyo. To make matters worse, they are intent on meeting her mysterious boyfriend, something which Kagome anticipates will be a disaster. InuYasha mangles the bicycle further whilst repairing it. He later tries to atone by assisting Kagome's grandfather in the shed, but soon gets in trouble when Kagome sees her bicycle in shambles. The classmates finally meet InuYasha and it goes more smoothly than Kagome expected. Greatly relieved, she forgives him.
161
23
"Miroku's Past Mistake"
August 2, 2004
October 18, 2006
Miroku comes across a village in which he remembers meeting a young girl named Shima, who was ill two years past. He had lecherously proposed to her then, swindling her parents to buy his expensive medicinal herbs. She is being forced into a marriage with a catfish demon, despite the fact she claims to be betrothed to Miroku. It is revealed that her father unknowingly promised Shima to marry the catfish demon, due to using lake water for her medicine and regularly praying to the shrine by the lake. The whole situation causes Sango to begin to doubt Miroku's feelings for her. Shima later insists she had lost her virginity to Miroku when he first met her and Sango finds she cannot easily forgive him. The catfish kidnaps Shima and then Sango as his intended mistress, but Miroku uses his Wind Tunnel to dry up the lake and defeat the yōkai. Shima reveals that she lied about being betrothed to (and sleeping with) Miroku, only to avoid marrying the catfish demon in the first place. Sango and Miroku reconcile.
162
24
"Forever with Lord Sesshomaru"
August 9, 2004
October 19, 2006
InuYasha and his companions are told that a group of demon-hunting monks are attempting to locate children abducted by an unknown yōkai. Jaken later tells Sesshomaru that Rin has been enchanted by the flute music of a demon named Ongukuki. Soon after Rin is brought inside a cave full of children, the group of monks comes to vanquish Ongukuki. Rin is faced with the choice of either living in a village among humans again or staying with Sesshomaru after he defeats the monks. She chooses Sesshomaru.
163
25
"Kohaku, Sango and Kirara: The Secret Flower
Garden"
August 23, 2004
October 20, 2006
Kirara returns to her home village, recalling pleasant memories of times past with Sango and Kohaku. Meanwhile, Kohaku is there to pay his respects to his dead relatives. Kirara is soon surrounded by a bunch of demons; Kokahu saves her. Sango runs into Kagura, who reminds her that Kohaku is bound to Naraku. Kohaku shares a secret flower garden of lilies with Kirara, but flees to avoid the shame of being discovered by Sango. Sango meets Kirara, who shows her the flowers. Sango realizes Kohaku was recently there with Kirara.
164
26
"Possessed by a Parasite: Shippo, Our Worst
Enemy!"
August 30, 2004
October 24, 2006
Naraku steals the Fuyouheki, an orb which conceals demonic auras, from a mountain demon named Gakusaijin, who then sheds parasite chrysalis demons. Meanwhile, InuYasha and his companions purify a fox deity possessed by a parasite chrysalis demon in a town. Another parasite chrysalis demon possesses Shippo, which later causes him to attack his friends and the townspeople with his devious fox magic. InuYasha manages to detach the parasite chrysalis demon from Shippo. The parasite chrysalis demons are destroyed, upon realization that Naraku was behind all of this.
165
27
"The Ultimate Key to Defeating Naraku"
September 6, 2004
October 25, 2006
InuYasha and his companions learn from Gakusaijin that Naraku has stolen the Fuyouheki from him. He gives crystals of his demonic aura to Miroku to allow InuYasha's group to locate his stolen gem, thus finding Naraku. Kohaku encounters Kikyo, who is taken by surprise by Naraku, hiding his demonic aura with the Fuyouheki. InuYasha and his companions arrive just in time to drive off Naraku. The Fuyouheki was stolen because Naraku wanted to hide the demonic aura of his detached heart (The Infant), so Kikyo tells InuYasha that she must find the heart of Naraku to end this trouble. Hakudoshi creates an experimental series of soulless demons to attack InuYasha's group to steal the crystals from Miroku.
166[4]
28
"The Bond Between Them, Use the Sacred Jewel
Shard! (Part 1)"
September 13, 2004
October 26, 2006
The demon mountain Gakusaijin has been struck and slain by shafts of light from an unknown source. A mysterious monk named Goryomaru with a demonic arm has his child ascetic warriors slay demons and recover their corpses. This leads the protagonists to investigate his temple in hopes of finding the Fuyouheki. They confront Goryomaru for killing Gakusaijin with his warriors. The children admit they believed all demons were evil. Kagura thinks The Infant is within the temple and commands the previously-slain demons to attack the temple. She is severely wounded by Goryomaru, falling into a nearby waterfall. Sesshomaru later saves her downstream. Though he knows she has betrayed him, Naraku does not destroy her heart in hopes of setting a trap for InuYasha.
167
29
"The Bond Between Them, Use the Sacred Jewel
Shard! (Part 2)"
September 13, 2004
October 27, 2006
Kagura tells Sesshomaru about The Infant being the possessor of the heart of Naraku, as she leaves him with a crystal connection to the Fuyouheki. Hakudoshi brings Kagura back to the temple, all to observe Goryomaru being murdered. The demons were being slain and brought to the temple to amass a large amount of demonic aura, the better to mask the presence of The Infant. The protagonists are lured into the stomach of a large stone demon, trapping them there with the intent of collecting the last shard of the Shikon Jewel held by Kagome after they are dissolved by digestion. Kikyo encounters Kanna, who is holding The Infant. However, the soulless demon stops her attempt to kill The Infant. InuYasha attaches the last shard of the Shikon Jewel to the Tetsusaiga, causing him to transform to demon form. Kagome embraces him, subduing him long enough to purify the shard. After breaking out with a final Adamant Barrage they vow to pursue Naraku until he is destroyed.
Notes
Toonami Episode Guides
Cartoon Network (1997-2008)
Adult Swim (2012-Present)