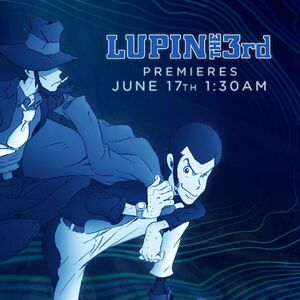 Series Overview
| Color | Season | Episodes | Toonami Premiere | Toonami Finale |
| --- | --- | --- | --- | --- |
| | 1 | 26 | June 17, 2017 | January 20, 2018 |
Season 1 (2015)
#

Episode Title

Italian Airdate

Japanese Airdate

Toonami Airdate

01
"The Wedding of Lupin The Third"
August 30, 2015
October 1, 2015
June 17, 2017
Inspector Zenigata arrives in San Marino after receiving a note from Lupin The Third. This time, instead of a declaration of a new theft, it's a wedding invitation?
02
"The Fake Fantasista"
August 30, 2015
October 8, 2015
June 24, 2017
Soccer star Marlow Brozzi is known as the Treasure of San Marino and his team, AC San Marino, is well on its way to winning the Coppa Italia. Will they prove themselves to be the best team in Italy, or will Brozzi's secret bring the whole team down?
03
"0.2% Chance of Survival"
August 30, 2015
October 15, 2015
July 8, 2017
Lupin and the gang managed to steal a fragment of Marie Antoinette's necklace, a treasure deeply connected to Count Cagliostro, but Jigen has been captured by Nix, also known as Agent MI6 of the British Secret Service and a super talented spy.
04
"With a Gun in my Hand"
August 30, 2015
October 22, 2015
July 15, 2017
A toothache prompts Jigen to rush to a clinic in a ruined town. The doctor, Livia, says she'll only take a look at him if he'll let her hold on to his gun, so he has no choice but to hand it over. While he waits for Livia to examine him, Jigen notices several patients lying in the clinic looking, for all intents and purposes, dead.
05
"The Magician's Left Hand"
September 6, 2015
October 29, 2015
July 22, 2017
Fujiko seemingly falls in love with Luca, a young circus performer. However, in actuality, she seeks the valuable memento he holds. Luca's deceased mentor, Tony Belacastro, known as the Magician, left Luca his "Trick Recipes" which everyone, including Lupin, wants to get their hands on.
06
"Venice of the Dead"
September 6, 2015
N/A
July 29, 2017
Rebecca invites Lupin to one of her mansions, near Venice, in order to sign the papers for their divorce. Suddenly, a horde of zombies attack the island.
07
"Until the Full Moon Passes"
September 6, 2015
November 5, 2015
August 5, 2017
Zenigata is assigned to protect Elena Gotti, the famous wife of a recently deceased billionaire, Roberto Gotti. Elena is the only one who knows where her late husband hid his fortune, so her life is continuously threatened by attempted robberies, including Lupin.
08
"The Zapping Operation"
September 13, 2015
November 12, 2015
August 12, 2017
Brigitte, Nyx's daughter (who, like her sisters and her mother, doesn't know about his father's true job), is kidnapped during a school trip by traffickers that want to sell her as a prostitute to her own father, who is currently working undercover.
09
"Welcome to the Haunted Hotel!"
September 13, 2015
November 19, 2015
August 19, 2017
Lupin and Jigen go looking for a treasure in an old castle, converted into an hotel, which is said to be haunted by a ghost. Here, Lupin must face an aged woman thief and her two sons, but is helped by a little girl, Carla, who claims to be the owner's daughter.
10
"Requiem for the Assassins"
September 13, 2015
November 26, 2015
August 26, 2017
Sometime ago, Goemon had been hired with other killers by the young italian politician, Leopoldo Flago, in order to kill Samuel Decale, an African dictator, and his bodyguard, Zora, a legendary sniper. During the mission Goemon met Isabella, a young rookie killer, and they swore to protect each other 'till death. The mission succeeded, but now someone is killing all the killers involved in that mission, and this leads Goemon to fear that Zora is alive.
11
"The Lovesick Pig"
September 20, 2015
December 3, 2015
September 9, 2017
Lupin is invited by both Fujiko and Rebecca to a party where the collection of a recently deceased famous wine collector, Count McCalman, will be put on sale, and decides to accept both the invites trying to juggle the two women during the party. In order to win Lupin's affection, the two girls challenge each other to find the legendary Nettare d'Amore (Love's Nectar), a very rare and precious wine.
12
"The Dream of Italy (Part One)"
September 20, 2015
December 10, 2015
September 16, 2017
Rebecca is kidnapped by the MI6, and Robson calls for Lupin's help. Lupin finds out that the MI6 is looking for the research of Rebecca's lost love, Wataru, a young japanese scientist who died sometime ago.
13
"The Dream of Italy (Part Two)"
September 20, 2015
December 17, 2015
September 23, 2017
After his escape from Rome, Lupin manages to decrypt Wataru's notes, suddenly finding himself in a sort of dream, where he meets Wataru himself. He informs Lupin that this world, called Il Sogno Italiano (the Italian Dream) has the power to influence all mankind, and that someone killed him in order to find out his secrets.
14
"The End of Lupin III"
September 28, 2015
December 24, 2015
September 30, 2017
Zenigata is able to stop several attempts by Lupin to escape from Italian prisons, but the Italian government can't afford the costs for such surveillance. So, to prevent him from escaping once and for all, Zenigata escorts Lupin to a single, impenetrable cell on a tiny island, under his personal surveillance.
15
"Don't Move the Mona Lisa"
October 5, 2015
January 8, 2016
October 7, 2017
Lupin is so broke that he doesn't know what he'll eat tomorrow, so he concocts a plan to steal the Mona Lisa. However, the Mona Lisa is one of the most prominent works of art in the world and won't be easy to steal.
16
"High School Undercover!"
October 12, 2015
January 15, 2016
October 14, 2017
Lupin steals a precious diamond with the unique power to change the personality of anyone who looks at it, but during his escape, the jewel ends up in a boy's backpack. To retrieve it, Lupin sneaks into the boy's high school as a new professor.
17
"Lupin's Day Off"
October 19, 2015
January 21, 2016
October 21, 2017
Lupin, Jigen and Goemon want to spend some time in the hills outside Rome, but they casually find a lost dog. The dog belongs to a rich woman who's ready to offer a big reward to anyone who will be able to return it to her. So, the trio starts a long journey to Messina, where they'll be able to fulfill their duty.
18
"The Murdering Marionette"
October 25, 2015
January 28, 2016
November 4, 2017
Lupin and his team are kidnapped by Greco, a philanthropist who has sworn to rid the world of all criminals. Trapped in a giant underground basement, they're challenged to find a way to escape, but they are informed by Greco that one of them has been secretly brainwashed in order to become his personal puppet.
19
"The First Supper"
November 2, 2015
February 4, 2016
November 11, 2017
Strange paintings representing Lupin, his team and others involved in the Sogno Italiano affair begin to appear all around Italy. In search for answers, Lupin and all the others represented meet in Santa Maria delle Grazie.
20
"Dragons Sleep Soundly"
November 9, 2015
February 11, 2016
November 18, 2017
Fox, a dangerous mercenary, manages to steal the "Dragon's Tail", a top secret list of MI6's secret agents around the world, taking it to his island. To retrieve it, Gibbons orders Nyx to retake his place in the secret service, or his family will be killed. However, Lupin is also looking for the Dragon's Tail.
21
"To Hear You Sing Again"
November 15, 2015
February 18, 2016
December 2, 2017
Lupin steals an old Fiat 500 "Topolino" from a vintage car dealer, and Zenigata cannot arrest him because the car is extremely precious and could be damaged.
22
"From Japan with Love"
November 15, 2015
February 25, 2016
December 9, 2017
Shortly after having returned to Japan Fujiko is kidnapped, and her abductor orders Lupin to return to Japan as well, in order to steal a precious doll.
23
"Nonstop Rendezvous"
November 22, 2015
N/A
December 16, 2017
While watching her last movie, inspired by a true story, Rebecca remembers the day when she and Lupin met for the first time.
24
"I'm Going to Get You Lupin"
November 23, 2015
March 3, 2016
January 6, 2018
Rebecca realizes she is truly in love with Lupin, and announces to Italy that she'll be able to capture him. In the meantime, Lupin continues to break into various banks without stealing anything, and Rebecca understands that he's searching for something in particular.
25
"World Dissection, Part 1"
November 29, 2015
March 10, 2016
January 13, 2018
Leonardo Da Vinci announces that he is going to unveil his latest work in San Marino. Its title is "World Harmony." After the announcement, for some reason, people all around the Italian Peninsula fall unconscious... and Lupin and the gang are no exception.
26
"World Dissection, Part 2"
November 30, 2015
March 17, 2016
January 20, 2018
Rebecca's personality is under Da Vinci's control and, in an effort to save her, Lupin delves in to her mind, where he struggles with all kinds of traps set by Da Vinci.
Toonami Episode Guides
Cartoon Network (1997-2008)
Adult Swim (2012-Present)