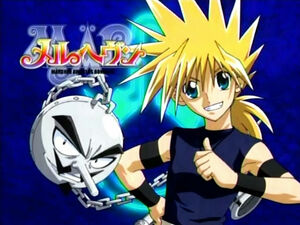 Series Overview
| Color | Season | Episodes | U.S. Season Premiere | U.S. Season Finale |
| --- | --- | --- | --- | --- |
| | 1 | 26 | December 23, 2006 | — |
| | 2 | 26 | — | — |
| | 3 | 24 | — | — |
| | 4 | 26 | — | — |
Season 1 (2005)
No. in
Series

No. in
Season

Episode Title

Japanese
Airdate

Jetstream
Airdate

Toonami
Airdate

01
01
"Open! The Door to Another World!!"
April 3, 2005
July 14, 2006
December 23, 2006[1]
Ginta is an ordinary boy who dreams about a mysterious land where people fight with odd weapons. One day he enters a doorway that leads to the very place he dreams about - MÄR Heaven! There, he gains abilities he has never had before. He soon encounters a witch named Dorothy, who tells him about the weapons of the world called ÄRMs. Together, the two enter a dungeon in search of a powerful ÄRM, Babbo.
02
02
"Babbo: The Legendary ÄRM!"
April 10, 2005
July 24, 2006
March 3, 2007[2]
After aiding Dorothy on her ÄRM hunt, Ginta's forfeited the ownership of the dormant legendary ÄRM Babbo, a sentient weapon that is just as vexing as it is fabled. Ginta's and Babbo's bickering eventually leads to their newly founded company crumbling, landing Babbo in the hands of two ÄRM thief con men, Moku and Chapu. However their identity is quickly exposed, and after Ginta forcibly reclaims Babbo, the two reconcile.
03
03
"Jack's Battle Shovel in Action!"
April 17, 2005
July 31, 2006
March 10, 2007[3]
Ginta's traveling leads him to the house of Jack, a father-orphaned farmer of Ginta's age, living with his hospitable mom. They befriend each other after the Ginta helps Jack defend his crop against the Rogelu brothers, two werewolves terrorizing Jack's farm, and Jack decides to accompany Ginta on his quest to find a way back to Earth.
04
04
"Lost and Found Babbo!"
March 24, 2005
August 7, 2006
March 17, 2007[4]
The trio arrives at Pezu, a small town where Jack does his trading. As their efforts to search out the occult clown Dimension ÄRM turn fruitless, more trouble awaits them. Ginta is again robbed of Babbo by the Stanley bandit. When he fights to recover his ÄRM, one unlikely hand of help extends from Alviss, a mysterious yet hostile boy introducing himself as the one who summoned Ginta to MÄR-Heaven using the "Monban Piero" clown ÄRM.
05
05
"Alviss, The Mysterious Young Man!"
May 1, 2005
August 14, 2006
January 6, 2007[5]
Alviss' arrival brings a dark secret to light: the existence of a rebellious military faction known as the Chess Pieces army, which 6 years ago came within an ace of conquering MÄR-Heaven before it was quelled by the world's guardians, the Cross Guard soldiers; as well as the need to dispose of Babbo due to its gory history of massacring people alongside the Chess' un-dead commander, Phantom. Much persuasion, and even retaliation (though vain) is needed from Ginta to change Alviss' mind, including a promise to get stronger. Meanwhile, in a lightning-zapped graveyard, one bevy of masked warriors salutes a man, seemingly resurrected from inside his tomb, whom they addresses as "no.1 Knight Phantom".
06
06
"Snow: The Young Girl Inside the Ice"
May 8, 2005
August 21, 2006
April 14, 2007[6]
Soon after the confrontation with Alviss, Ginta & co. encounter Edward, a small dog-man introducing himself as the custodian of Snow, a princess currently fleeing from her stepmother queen, an insatiable woman who, out of desire for the world's throne, makes attempts on her stepdaughter's life to reign over the entire kingdom. On Edward's request to rescue the princess, who at the moment is dying inside a frosted palace, Ginta discovers that 1) the girl bears an exact resemblance to his Earth friend Koyuki and 2) the minions, Ian and Loco, that the queen sends after the princess turn out to be none other than Chess Pieces.
07
07
"Awaken: Meet the Other Ed!"
May 15, 2005
August 28, 2006
January 13, 2007[7]
Ginta's clash with one of the two Chess Pieces, Ian, clearly favors the latter as Ginta is far too inexperienced to use Babbo properly. As the situation necessitates it, Edward reverts to his second form, Alan, a man whose identity is unknown to Ginta but much dreaded by the Chess members, buying Ginta enough time to unfreezes Snow and (accidentally) exchanges a kiss with her. In the middle of the confusion, Halloween, a Knight of the Chess Pieces – an acquaintance with whom Alan stays in discordance – arrives to summon his subordinates back for the Chess Pieces' official war declaration against MÄR-Heaven.
08
08
"Phantom: The Undead Knight!"
May 22, 2005
September 11, 2006
April 28, 2007[8]
Phantom, the "no.1 Knight" zombie from the resurrection assembles all Chess Piece warriors in the hall of a levitating castle and loses no time raising his men's esprit de corps with the long-awaited declaration of the 2nd Marchen war. At the same time, Ginta's gang meets with Dorothy; and Alan sends all four of them into the training dimension, "Training Gate" (Shuuren no mon) for some quick fighting coaching, knowing time's running out.
09
09
"The Training Gate: Merilo and Bumoru!"
May 29, 2005
September 25, 2006
May 5, 2007[9]
Inside the Gates the two groups, Ginta and Snow, Dorothy and Jack, greet their respective training navigator Meriro (a soft-spoken, cute nekomimi) and Bumolu (a dumpy and foul-mouthed bearwoman) and enter their training sessions: Ginta learns of the truth behind Babbo's fame as a legendary ÄRM – the ability to metamorphose into 8 powerful versions, and Jack gets his incapable scoop ÄRM upgraded with Dorothy's magic stones. Outside, Alan accosts the aforementioned Alviss, whom he recognises as a fellow Cross Guard member from 6 years ago, though he was a child at that time.
10
10
"The Second Great War Begins!"
June 5, 2005
October 9, 2006
May 12, 2007[10]
As sunset dawns, the Chess Piece soldiers, with Phantom assuming their command, grace their returned heyday by showering MÄR-Heaven in a mass blood-bath. The emergency transmitted by Cross Guard troops throughout the world reaches Alan and Alviss as they discuss whether Ginta's potential can outdo the late Cross Guard general (also a man from Earth), and Alviss departs in a hurry after scowling at Alan for remaining on his post beside the Training Gate when MÄR-Heaven is in dire need of his help.
11
11
"Babbo Version 2!"
June 12, 2005
October 23, 2006
May 26, 2007[11]
Just before the 180-day deadline reaches its end, Ian uncovers the groups training spot and battles a physically deteriorated Alan to advance to Ginta's dimension. The trainees finish their session just in time to fend the Rook off, and Ginta settles their duel with a win, using version 2 of Babbo: Bubble Launcher.
12
12
"Nanashi: Chief of Luberia!"
June 19, 2005
October 30, 2006
Unaired
Now with Dorothy on their side, team MÄR gains two more members whom, according to Snow, will defend MÄR-Heaven in the Cross Guard's stead. On their way to Hild continent, Ginta & co. are ambushed by Luberia, MÄR-Heaven's most prestigious thief guild. They meet and ally with Luberia's captain, Nanashi, whom turns out to be seeking a man from Chess responsible for the assault on Luberia's base fort just before the war. In the faraway Lestava castle, the news of Ian's punishment for disobedience to command reaches him, his girlfriend Gido (also his companion on the search for Ginta) is to be executed in his place.
13
13
"Nanashi Vs. Orco at the Underground Lake!"
June 26, 2005
November 6, 2006
January 20, 2007[12]
Now accompanied by Nanashi, MÄR arrives in Vestry, a coastal village wrecked after a Chess attack and divide their numbers to help the people and exile the Chess away from that part of the continent. Ginta later befriends Tom, a (self-claimed) native young boy habitué of the haunted Vestry cave. While on the other side of the underground route, Dorothy & Nanashi encounter a Chess Bishop, Orco, and Dorothy is in awe at Nanashi's prowess.
14
14
"Babbo Version 3: Gargoyle!"
July 3, 2005
November 13, 2006
January 27, 2007[13]
Ginta's 2nd Chess adversary introduces himself as another Bishop-ranked psycho, Girom. Granting the request of the cave ghosts, Ginta resorts to his powerful version 3 Babbo: Gargoyle, and defeats Girom, blasts the cave's blockade, and sets the ghost free. In return, they present him a key and a magic stone as a token of gratitude. Observing the scene, Tom switches off his façade and reverts back to the genuine Phantom, killing the loser Orco as he leaves.
15
15
"John Peach: The Seventh Team Member?"
July 10, 2005
November 20, 2006
February 3, 2007[14]
Ginta's team runs into John Peach, a loudmouthed boy claiming himself to be the hero that shall save MÄR-Heaven from under the Chess Pieces claws. He steals (thinking he's earned it) gold from some thieves who happen to have a strong spider ÄRM (which he later gets by accident). Peach, thinking he's the hero, challenges Ginta to a match which Snow later says will be a race. After the race, Dorothy later explains that the spider ÄRM is really rare, because the spider is uncontrollable and to stop it, it has to eat the user. Peach activates it, and much to his avail, almost gets eaten by it. Ginta saves the day, and Peach says he'll get stronger.
16
16
"The War Games Commence"
July 17, 2005
November 27, 2006
Unaired
In Vestry and throughout the world of MÄR-Heaven, the Chess' announce a War Game will be held, gathering all its adversaries to Reginrave castle, stage of the preliminary round. However, aside from Ginta's MÄR team and Alviss of Cross Guard, none of the fighters get out of it alive.
17
17
"First Battle: Alviss Vs. Leno!"
July 24, 2005
December 4, 2006
Unaired
Alviss wins his first victory against a Chess Piece Rook named Leno Rodokin. His Cross Guard past as a child is brought into light, including his fatal first meeting with Phantom, which resulted in his cursed blemish, the Zombie Tattoo.
18
18
"First Battle, Part 2: Jack Vs. Pano!"
July 31 2005
December 11, 2006
Unaired
After the defeat of Leno, Team MÄR stands at one win. Jack steps up to fight Leno's sister, Chess Piece Rook Pano Rodokin. The battle ends in a comical loss on Jack's part.
19
19
"Captain Ginta and Gargoyle Vs. Garon!!"
August 7, 2005
December 18, 2006
February 10, 2007[15]
Since Jack lost to Pano both teams have one victory and one loss, and now the time has come for Ginta to face Garon! Ginta soon learns that Babbo's first two versions are useless, and so he attempts to activate Babbo's third version, Gargoyle. Will it be enough to defeat Garon, the man who uses ten ÄRM?!
20
20
"Back to the Training Gate! Learn How to Really Fight!"
August 14, 2005
December 26, 2006
Unaired
Round one of the War Games is over, and the score is in favor of Team MÄR! Now is the time to celebrate, but Ginta cannot keep his mind off of his late father, Danna. Jack questions Ginta about it and learns of Ginta's revelation! Gaira soon appears and puts them in the Gate of Training for they do not fit his standards.
21
21
"The Desert Field and the Fighting Princess!"
August 21, 2005
January 2, 2007
Unaired
While Ginta and Jack are in the Gate of Training, Snow, Dorothy, and Nanashi head to the desert to fight in the second stage. Snow goes first and is paired against Chess Piece Fugi. Things start out well for Snow, but Fugi soon gets serious! Can Snow defeat this menace?
22
22
"Nanashi Vs. Loco and the Straw Doll!"
August 28, 2005
January 15, 2007
Unaired
With Snow's victory, Team MÄR is up by one! Nanashi steps up to take on Loco but things don't start off good for Nanashi when he gets paralyzed. Loco then pulls out her best ÄRM, which turns out to be a Voodoo Doll! Can Nanashi break free from the ÄRM that holds him in place?
23
23
"Dorothy: A Witch to be Feared!"
September 4, 2005
January 29, 2007
Unaired
Since Nanashi fell unconscious at the end of his battle, the teams are now tied. Next is Dorothy against Maira, Guardian ÄRM User vs. Guardian ÄRM User! Who will come out victorious?
24
24
"Phantom's Hidden Joy"
September 11, 2005
February 12, 2007
Unaired
Since Ginta's group has won two matches a celebration is in order. After the party, Ginta and Babbo encounter Tom. Tom says that the Chess are after him, but why?! And, just who is Tom?
25
25
"Alan: the Man Who Came Late!"
September 18, 2005
February 26, 2007
February 17, 2007[16]
Finally getting knocked out, Edward is able to transform into Alan! Phantom allows Alan to enter the War Games late, and the five members from Team MÄR, Ginta, Jack, Snow, Alviss, and Alan, face off against five Chess Pieces in a Volcanic Field!
26
26
"Show Your Stuff, Jack: Funky Fungi"
September 25, 2005
March 12, 2007
Unaired
The third battle's second round begins, and it's the rematch between Jack and Pano. Everyone is worried and curious to see how Jack's training paid off! Will he win this time? Or, will he lose yet again?
Season 2 (2005-2006)
No. in
Series

No. in
Season

Episode Title

Japanese
Airdate

English
Airdate

27
01
"Snow at the Volcano Mountain Range Field"
October 2, 2005
—
3rd Round, 3rd battle, volcano stage, Snow vs. the Bishop pirate Mr.Hook. Though she fights with courage, the heated battlefield gives Mr. Hook an advantage against Snow's ice-elemental ÄRMs.
28
02
"Accursed Candle! Ginta Vs. Kannochi!"
October 9, 2005
—
3rd Battle, 4th round, volcano stage, Ginta against Kannochi. The Bishop's shrewd deployment of his Body Candle ÄRM lands Ginta in a deadly crisis, but the boy's timely summon of his Holy Guardian. Alice, quickly turns the table.
29
03
"Another Zombie Tattoo! Alviss Vs. Rolan!!"
October 16, 2005
—
3rd Battle, 5th round, volcano stage, Alviss against Rolan. Alviss spars with the adolescent, yet proficient in the field of explosive Nature ÄRM, Rolan of the Knights, only to find out that while he's not the only one bearing the tattoo curse of immortality, he appears to be the only one to harbor a grudge against it.
30
04
"Phantom and the Zodiac Knights"
October 23, 2005
—
MÄR's victorious choir is soon to be silenced as they return to the Reginrave castle only to find Phantom and his Zodiac Knights ready to welcome them.
31
05
"Shadow Battles! Gargoyle Vs. the Dark Gargoyle!"
October 30, 2005
—
To prepare for the upcoming battles against the zodiac knights, all members of MÄR except Snow, begin to hone their skills in the "Shadow battle" of the Training Gate.
32
06
"The Quiet Fighting Spirit…Alviss' Power!"
November 6, 2005
—
4th Battle, 1st round, ice field stage, Alviss vs. Mr. Hook. The "Shadow battle" has augmented Alviss' power to another level, and without using any of his ÄRM, Alviss disposes of Mr. Hook's ÄRM.
33
07
"Team MÄR on the Ropes"
November 13, 2005
—
4th Battle, 2nd round, ice field stage, Jack vs. Korekkio. Jack uses his wits to earn himself a victory. 4th Battle, 3rd round, ice field stage. Dorothy defeats the Bishop Avrute with such swiftness that it spares him no time to counterattack, much less salvage a chance for his life in the game of Janken with Rapunzel.
34
08
"Aqua, Akko and the Nanashi Method"
November 20, 2005
—
4th Battle, 4th round, ice field stage, Nanashi vs. Aqua. Although his thunder mastery overwhelmingly dominates her aquatic monsters, Nanashi's gentleman instincts prevail. After bearing witness to the fates of Aqua's unfortunate teammates, Nanashi deliberately brings the fight to a draw. However, even after winning the janken match, she cannot escape her fate.
35
09
"Girom Counterattacks! Egola Vs. Gargoyle!"
November 27, 2005
—
4th Battle, 5th round, ice field stage, Ginta vs. Girom rematch. Aqua's death has brought a bout of wrath from Ginta, stripping him of reason and sensibility, causing his synchronization and strength to drop considerably. Ginta's impending defeat warrants Babbo's forcible intervention, and eventually with Babbo v.5 Cushion Jelly conceived and realized, the Ginta vs. Giromu vendetta ends with Giromu's loss.
36
10
"Sing, Crazy Quilt, Sing! Dorothy Vs. Rapunzel!"
December 4, 2005
—
4th Battle, 6th round, ice field stage, Dorothy vs. Rapunzel. Engaging the Knight with overconfidence, Dorothy pays dearly with several wounds, forcing her to turn to the impertinent doll Guardian Crazy Quilt for help, which finally ensures her victory.
37
11
"To Caldia, the Land of Witches"
December 11, 2005
—
After the fight with Rapunzel, Dorothy goes back to Kaldea with team MÄR escorting her and they learn of the truth behind one of the more shrouded characters at the top of the Chess Pieces' echelon, its Queen, Dorothy's exiled older sister Diana.
38
12
"Phantom Vs. Ginta"
December 18, 2005
—
Diana unleashes her most powerful knight piece Phantom and a brigade of Rooks onto her former homeland to attack team MAR. In the field of a sabotaged Kaldea, Phantom's ÄRM virtu and Ginta clash for the first time, as do their ideals.
39
13
"Ash, the Knight Who Protects Children"
December 25, 2005
—
Tensions after the Kaldea incident soon break into tranquil intervals, but are not without trouble as each member of team MAR pursues his/her thoughts. Ginta in particular is approached by his scheduled 5th Battle's opponent, the child-loving Knight Ash.
40
14
"The World's Ugliest Match! Snow Vs. Emokis!"
January 8, 2006
—
5th Battle, 1st round, desert field stage. Snow the benign princess loses her benignancy against the tactless manners of Emokis, the most graceless of the three Bishops. The worsening situation invites the introduction of her new Guardian, Undine.
41
15
"Alviss' Crisis: Stolen Magical Power!"
January 15, 2006
—
5th Battle, 2nd round, desert field stage, Alviss against the 2nd Bishop, Hamelin the piper. In quite a contradiction to Snow's round, Alviss emerges from the fight victorious with others curious as to the identity of his new Guardian.
42
16
"Sensation! The Knight Candice, Stone User!"
January 22, 2006
—
5th Battle, 3rd round, desert field stage. Jack battles the sadomasochist seasoned female Knight Candice. The resolution and his new Guardian Mehitos, however, only allows him to end the battle in a tie.
43
17
"Battle Field of Death! The Psycho Space!"
January 29, 2006
—
5th Battle, 4th round, desert field stage, Ginta vs. Ash. As the combatant selection for this duel conflicts with the Knight's moral code of excluding children from his prey list, Ginta wins by default.
44
18
"Fateful Mortal Combat! Nanashi Vs. Galian!"
February 5, 2006
—
5th Battle, 5th round, desert field stage, Nanashi's battle with the Knight Galian turns into a fated rendezvous with the mysterious silhouette from his past.
45
19
"Lightning Vs. Lightning! Nanashi's Memory Returns!"
February 12, 2006
—
Galian's reason for resignation from Luberia and his confession fuel Nanashi's wrath at his betrayal and induces his summoning of the leviathan eel Guardian Gymnote, overpowering Galian.
46
20
"A Knight Reborn! Ian's Revenge!"
February 19, 2006
—
From inside the perilous Training Gate Ian surfaces, this time with power equivalent to Knight class. Under Phantom's command, he challenges Rapunzel for her Knighthood and officially claims it after incinerating the butcher madwoman in front of Girom's eyes.
47
21
"Alviss' Struggle"
February 26, 2006
—
Right on the first off-stage day MÄR enjoy their break, some hoodlums capture Belle for her fairy power and flee. However their getaway don't go that smoothly, for an enraged Alviss is not one to sit back watching others grab his best friend... or tolerate this deed leniently.
48
22
"Dorothy's Anger! The Desert Tower!"
March 5, 2006
—
Following the instructions of an ÄRM dealer, Dorothy, Jack and Ginta accompany a young scout named Chibo on an expedition into the desert for ÄRM hunt. Unknown to the foursome, that ÄRM dealer has a sinister plot in store.
49
23
"The Zonnens Infiltrate the Training Gate!"
March 12, 2006
—
As the Knights continue biding their time, Alan again sends his apprentice teammates into the training dimension, unaware of the outlawed Chess Piece, Zonnen's, move of protest against Phantom's War Games. Their first targets are Ginta and Jack, with the duo Mars-Mercury as assailants.
50
24
"Alviss Vs. Nanashi! Forbidden Labyrinth!"
March 19, 2006
—
Nanashi and Alviss are the second targets, with Venus and Jupiter attacking. Nanashi and Alviss must learn to work together in order to defeat the assailants.
51
25
"Dorthy Vs. Snow! The Allure of Lippenstift"
March 26, 2006
—
The third targets are Dorothy and Snow. This time Zonnen sends three assailants: Pluto, Uranus and Neptune. Even with their combined power, the three siblings can't outmatch the princess and the witch united.
52
26
"Concentrate! The Power of the Sixth Sense!"
April 2, 2006
—
Alan, outside the Training dimensions, is Zonnen's final target and he sends the captain, Saturn to face him. Accumulating the magic power of the Gate trainees onto his own, Alan breaks free from his tight spot, and reverses the curses upon Saturn.
References
Toonami Episode Guides
Cartoon Network (1997-2008)
Adult Swim (2012-Present)