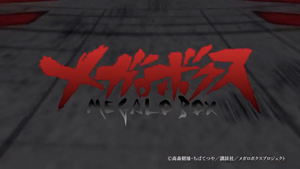 Series Overview
| Color | Season | Episodes | Toonami Premiere | Toonami Finale |
| --- | --- | --- | --- | --- |
| | 1 | 13 | December 8, 2018 | March 23, 2019 |
Season 1 (2018)
#

Episode Title

Japanese Airdate

Toonami Airdate

01
"Round 1 - Buy or Die?"
April 6, 2018
December 8, 2018
In the run-down slums of a futuristic city, the boxer only known as Junk Dog is making a living throwing fights for the mob in underground arenas. That all changes when he has a chance encounter with the champion, Yuri.
02
"Round 2 - The Man Only Dies Once"
April 13, 2018
December 15, 2018
Yuri has sought Junk Dog out to test his mettle in the ring, and their encounter will leave the underground fighter a changed man.
03
"Round 3 - Gear is Dead"
April 20, 2018
January 5, 2019
Nanbu and Joe are preparing for their first official match, but in order to do that, they'll need to find a decent set of Gear first.
04
"Round 4 - Let's Dance With Death"
April 27, 2018
January 12, 2019
Nanbu and Joe decide to make the ultimate gamble to get into Megalonia: Joe is going to be fighting without any kind Gear. Can a gearless boxer really survive in a sport designed to showcase the cybernetic enhancements?
05
"Round 5 - The Man From Death"
May 4, 2018
January 19, 2019
Nanbu's old fighter, Aragaki, has returned to the ring a changed man. And he has a vendetta against his old trainer... one that might cost Joe his life.
06
"Round 6 - Until the Last Dog Dies"
May 11, 2018
January 26, 2019
Aragaki is more seasoned, faster, and more vicious than Joe. Is there any way for the fighter from the underground to win?
07
"Round 7 - The Road to Death"
May 18, 2018
February 2, 2019
There's one month until Megalonia begins, and it looks like Shirato Yukiko's brother, Mikio, is a lock for the final entrant into the tournament. Will Joe and Team Nowhere find a way to secure their spot in the Megalo Box championship tournament?
08
"Round 8 - Deadline of the Dream"
May 25, 2018
February 16, 2019
Shirato Mikio has forced Team Nowhere to forfeit a match by threatening to expose Joe and Nanbu's seedy past. Will their dream of making it into the Megalonia tournament ever come true?
09
"Round 9 - A Dead Flower Shall Never Bloom"
June 1, 2018
February 23, 2019
It's man vs machine, as "Gearless" Joe squares off against Shirato Mikio, who is guided by Ace, an artificial intelligence of his own design.
10
"Round 10 - The Die is Cast"
June 8, 2018
March 2, 2019
Crime boss Fujimaki has decided that Team Nowhere needs to throw their opening match in Megalonia in order to repay their debt to him. Can the team survive this blow to their ambitions? And even if they do, and Joe wins, will they survive the gangster's wrath?
11
"Round 11 - A Deadmarch"
June 15, 2018
March 9, 2019
Joe faces off against the bloody lion, Glen Burroughs. If he wants his friends to live, he'll have to throw the match. After coming this far... is there nothing else Team Nowhere can do?
12
"Round 12 - Leap Over the Edge of Death"
June 22, 2018
March 16, 2019
Inspired by Joe's meteoric rise, and wanting to face him in a fair fight, Yuri makes a decision that will change everything for himself and Yukiko.
13
"Round 13 - Born to Die"
June 29, 2018
March 23, 2019
Joe has risen to the top and finally gets his chance of a rematch with Yuri. Yuri himself also feels joy in his chance to fight with Joe. The final battle begins!
Toonami Episode Guides
Cartoon Network (1997-2008)
Adult Swim (2012-Present)