Miguzi was the weekday-afternoon replacement for Toonami on Cartoon Network, when Toonami switched to a Saturday night block. It began airing on April 19, 2004[1] and ended on June 1, 2007, a year before the cancellation of Toonami on September 20, 2008. Miguzi was replaced by Master Control, an interactive block on September 24, 2007.
Created by Cartoon Network's Williams Street division, the folks that brought us Toonami and Adult Swim, it was created to be a lighter-toned successor to Toonami (while Toonami itself was reconfigured to a Saturday night block), running action shows from America, France, and Japan. The block initially aired weekdays from 5:00-7:00 PM. In January of 2006, the block was moved up an hour, airing from 4:00-6:00 PM, where it stayed until its cancellation.
The animated hostess of the block was Erin, a young CGI girl with black hair, green eyes and a yellow jumpsuit (voiced by Jessica DiCicco) who, at the start of the block, was transported underwater and into a sunken alien spaceship by an enormous red fish. There, she chills out and watches the shows along with a group of mutant sea creatures and robots, none of whom speak but all of whom have rudimentary personalities.
On June 20, 2004, the block also received a time slot on Sundays (3pm-5pm). The initial Sunday version of Miguzi featured the same lineup as the weekday version; however, only reruns from the previous week were aired.[2][3] On September 12, 2004, the Sunday schedule was changed to a viewers choice 4-episode marathon of one of the shows from the weekday lineup. This Sunday version of Miguzi was titled Wheel of Gooz, and the promo featured a roulette wheel with 4 sections that corresponded to the 4 Miguzi shows.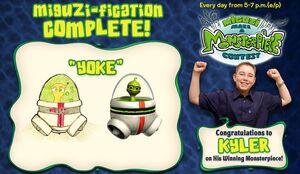 From November 22, 2004 to January 15, 2005, the "Make a MonsterPiece" contest was held on cartoonnetwork.com and viewers could enter for a chance to have their drawing appear on Miguzi. Hundreds of entries were submitted and a panel of judges selected the winning drawing that was then turned into an animated character.[4] The winning submission was "Yoke" by by Kyler Spears.
Ben 10
Codename: Kids Next Door
Krypto The Superdog
The Life and Times of Juniper Lee
¡Mucha Lucha!
Robotboy
Team Galaxy
Teenage Mutant Ninja Turtles (2003 Series)
Totally Spies!
Winx Club
Community content is available under
CC-BY-SA
unless otherwise noted.