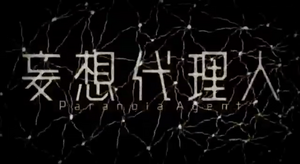 | Color | Season | Episodes | Toonami Premiere | Toonami Finale |
| --- | --- | --- | --- | --- |
| | 1 | 13 | April 25, 2020 | July 25, 2020 |
Season 1 (2004)
#

Episode Title

Japanese Airdate

English Airdate

Toonami Airdate

01
"Enter Lil' Slugger"
February 2, 2004
May 28, 2005
April 25, 2020
Tsukiko Sagi, a character designer, is under pressure and feels trapped when suddenly her worries are put to rest when she is assaulted by who she describes as an elementary school kid with a golden bat.
02
"The Golden Shoes"
February 9, 2004
June 4, 2005
May 2, 2020
For Yuichi "Ichi" Taira, life is good. He's the most popular kid in school, excels in academics and sports, and plans to run for Student Council president. But then he is suspected of being Lil' Slugger.
03
"Double Lips"
February 16, 2004
June 11, 2005
May 9, 2020
After being attacked by Lil' Slugger, Yuichi's name is cleared and he can finally relax. However, Harumi Chono, Yuichi's tutor and an assistant at a local university, has problems of her own.
04
"A Man's Path"
February 23, 2004
June 18, 2005
May 16, 2020
After the strings of attacks by Lil' Slugger, it is discovered that each victim has some sort of relationship with previous victims. Meanwhile, the life of Masami Hirukawa, a police officer, is about to be changed forever.
05
"The Holy Warrior"
March 8, 2004
June 25, 2005
May 23, 2020
Ikari and Maniwa interrogate "Lil' Slugger" who turns out to be in the eighth grade. Still, he admits to the attacks. However, he has a blurred sense of reality and believes that the world around him is a medieval-style role-playing game.
06
"Fear of a Direct Hit"
March 15, 2004
July 2, 2005
May 30, 2020
Ikari and Maniwa find the old homeless woman that witnessed Tsukiko's incident and discover something that turns the entire case around. Meanwhile, with a hurricane about to make landfall, a teenage girl named Taeko discovers a dark secret about her father.
07
"MHz"
March 22, 2004
July 9, 2005
June 6, 2020
Ikari and Maniwa receive word of Taeko's attack. While both Tsukiko and Kozuka have alibis, Maniwa considers the possibility of another Lil' Slugger existing and looks for connections between the victims in an attempt to pinpoint who will be next.
08
"Happy Family Planning"
April 5, 2004
July 16, 2005
June 13, 2020
Three Internet buddies form a pact to meet and commit suicide together. But as these poor souls bungle numerous attempts to meet their demise, they become close to each other.
09
"ETC"
April 12, 2004
July 23, 2005
June 20, 2020
After hearing of the suicide pact, several housewives share rumors related to Lil' Slugger, most of which are far-fetched.
10
"Mellow Maromi"
April 19, 2004
July 30, 2005
June 27, 2020
Maromi is getting her very own anime. However, the staff begins to fall behind as the deadline approaches. They get rough with Naoyki Saruta, the production manager who is unable to competently do his job.
11
"No Entry"
April 26, 2004
August 6, 2005
July 11, 2020
Ikari Misae returns to her home to find Lil' Slugger waiting. Before she allows him to attack, she talks about the troubles in her life.
12
"Radar Man"
May 10, 2004
August 13, 2005
July 18, 2020
After a failed attempt at defeating Lil' Slugger, Maniwa turns to a mysterious old man for help.
13
"The Final Episode"
May 10, 2004
August 20, 2005
July 25, 2020
A dark formless flow that Maniwa describes as Lil' Slugger starts to overrun Tokyo as a result of Maromi's disappearance.
Toonami Episode Guides
Cartoon Network (1997-2008)
Adult Swim (2012-Present)