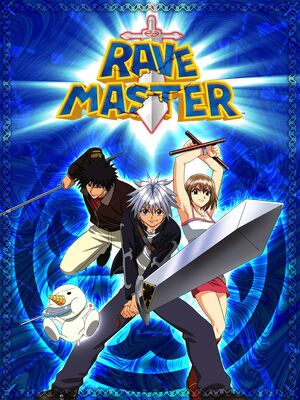 Series Overview
| Color | Season | Episodes | U.S. Season Premiere | U.S. Season Finale |
| --- | --- | --- | --- | --- |
| | 1 | 25 | June 5, 2004 | December 11, 2004 |
| | 2 | 26 | January 22, 2005 | July 31, 2005 |
Season 1 (2001-2002)
#

Episode Title

Japanese Airdate

English Airdate

01
"The Rave Master, Part 1"
October 13, 2001
June 5, 2004
In Hip Hop Town, Elie meets a young man named Haru Glory and his companion Plue, who she calls an insect. The three encounter a criminal, named Georco, and defeat him and Elie decides to travel alongside Haru and Plue.
02
"The Rave Master, Part 2"
October 20, 2001
June 12, 2004
As Haru Glory, Elie, and Plue try to escape Hip Hop Town they encounter Hole who helps them. At the same time, Elie and Haru's purpose is revealed. Then, Haru faces off with Shuda and learns that Shuda knows his father.
03
"Release the Beasts, Part 1"
October 27, 2001
June 19, 2004
Haru, Elie, and Plue reach Punk Street. While Elie goes out to upgrade her tonfas, Haru and Plue search for Musica, the blacksmith. They find a drunk man who is actually Galein Musica, unbeknownst to them.
04
"Release the Beasts, Part 2"
November 3, 2001
June 26, 2004
When Lance finds Elie and attempts to kidnap her, Hamrio Musica arrives to intervene but fails to defeat him. Meanwhile, Haru Glory finds out that Galein Musica is working for the Demon Card. Haru remembers when he first met Shiba Roses, and how he was first given the responsibility to search for the Shadow Stones. Haru and Musica plan to rescue Elie.
05
"Release the Beasts, Part 3"
November 10, 2001
July 3, 2004
Galein Musica repairs Haru's sword. Meanwhile, Hamrio Musica finds Lance holding Elie captive. Lance battles Musica, wielding a sword of beast illusions. Haru arrives just in time to save Elie from death.
06
"Release the Beasts, Part 4"
November 17, 2001
July 10, 2004
As Haru faces difficulty in his fight with Lance, Galein Musica rushes into their battle and holds down Lance. He urges Haru to pierce his sword through both of their bodies to end this fight once and for all.
07
"Release the Beasts, Part 5"
November 24, 2001
July 17, 2004
Haru hesitates to kill Galein Musica and Lance with his sword. Haru defeats Lance afterward by knocking the sword out of his hands. Lance surrenders, begging for his life to be spared. However, he attempts to kill Haru, but to no avail. Haru then decides to destroy Lance's sword.
08
"Breaking Out"
December 1, 2001
July 31, 2004
Hamrio Musica and his Silver Rhythm Gang rob a bank only to find out that the Silver Ray is not there. Hebi and Plue get caught due to an accident and Musica promises Haru that he will get Plue back. Later on, Haru demands Musica to talk to Galein Musica to find out if the two Musicas are related. Shortly before Haru and his group leave, Galein tells them about the land of Falling Stars where a possible Rave could be located.
09
"A Bite to Eat"
December 8, 2001
August 7, 2004
Haru Glory, Elie, and Plue meet Griffon Kato, their navigator, for the first time. As they journey towards the Ska Village, they take a break. In a hot springs, Elie freaks out at Plue's shriveled nose. Haru and Elie get into a fight; Elie strives to make things right by hunting for a special berry but Unbeknownst to her, a monster stalks her. Can Elie fix Plue?
10
"Sound of Thunder, Part 1"
December 15, 2001
August 14, 2004
As they all continue to head toward Experiment City, a thunderstorm begins which stirs up Elie's memory. They stop at a hotel in Ska Village for Elie to get some rest. Later on, she takes a hot shower to relax. The hotel manager, Lasagna, explains that the thunderstorm has been occurring for five years nonstop.
11
"Sound of Thunder, Part 2"
December 22, 2001
August 21, 2004
Elie arrives at Thunder Mansion and Go mistakes Elie as the Rave Master. Go shows off his super strength and his good looks, which doesn't seem to impress Elie. Haru arrives at the Thunder Mansion, accidentally knocking Go unconscious. Rosa, able to make males dance uncontrollably, explains to Haru that Go is starring her in a movie in which is rains continuously.
12
"Sound of Thunder, Part 3"
December 29, 2001
August 28, 2004
Haru must destroy the Shadow Stone placed in the middle of Go's hammer. Elie's memory is jogged once again, which causes her to throw Plue into the hammer, breaking the Shadow Stone and the hammer.
13
"Under Tremolo Mountain, Part 1"
January 5, 2002
September 4, 2004
Haru, Elie, Plue, and Griff make their way toward Tremolo Mountain in search of the Rave Stone. However, they soon realize that Shuda is there as well. Plue runs off in a nearby forest, and Haru sets out to look for Plue.
14
"Under Tremolo Mountain, Part 2"
January 12, 2002
September 11, 2004
Schneider gets Haru, Elie, Plue, and Griff lost in the caves and tunnels of Tremolo Mountain. While they decide to rest for a while, Schneider attempts to murder Haru.
15
"Under Tremolo Mountain, Part 3"
January 19, 2002
September 18, 2004
The Knight of the Blue Sky happens to be Deerhound, who is not convinced that Haru is the Rave Master. To prove himself, he must fight against Deerhound, showing his skills with the Rave Stone.
16
"Fortress in Flight, Part 1"
January 26, 2002
October 2, 2004
After the deerhound returns to his grave, Shuda appears and tells Haru that to be stronger he's got to get rid of his weakness, then attacks him and destroys the graves of the soldiers by using his explosive power, also destroying the cave.
17
"Fortress in Flight, Part 2"
February 2, 2002
October 9, 2004
Haru and Shuda continue their battle, while Musica fights against Poosya and Rugar alone.
18
"Fortress in Flight, Part 3"
February 9, 2002
October 16, 2004
In the underground base, Musica soon realizes that Rugar is preventing the self-destruct sequence from being cancelled. Meaning the group will have to hurry if they want to make it out alive.
19
"Out of Time, Part 1"
February 16, 2002
October 23, 2004
Haru, Elie, Musica, Plue, and Griff go to the beach to have some fun. They then all go to the Symphonia Museum, where there are rumors about the legend of the Rave Master.
20
"Out of Time, Part 2"
February 23, 2002
October 30, 2004
Sieg Hart finds Elie, not knowing how he is connected to her past. Sieg Hart explains to Elie that she is an experiment in the Etherion Project. As Haru, Musica, Plue, and Griff continue to search for Elie, Hebi informs them that she is with who seems to be Sieg Hart.
21
"Out of Time, Part 3"
March 2, 2002
November 6, 2004
As Sieg Hart prepares to deliver the final blow to Elie, Haru arrives to intervene. Meanwhile, the fortune teller finds Musica, Plue, and Griff to warn them that the future is unfortunate for Haru and Elie.
22
"Out of Time, Part 4"
March 9, 2002
November 13, 2004
Haru absorbs the power of Etherion from Elie to his sword causing his attacks to be very effective against Sieg Hart. Later, Sieg Hart explains to Haru how Resha used the power of Etherion to cause worldwide destruction fifty years ago.
23
"Out of Time, Part 5"
March 16, 2002
November 20, 2004
Haru is trapped in the Altealice where he encounters an illusion of Sakura Glory, his mother, and Cattleya Glory, his sister, which traumatizes him.
24
"Out of Time, Part 6"
March 23, 2002
December 4, 2004
Reina comes after Haru, using Spear Rain and attacks him multiple times, but Haru stands his ground. Musica attempts to fight her, however Jegan arrives to interrupt the fight and summon her back to headquarters.
25
"Singing the Blues"
March 30, 2002
December 11, 2004
Haru, Elie, Musica, Plue, and Griff are set to take a train to Lyric Continent, however the train scheduled was robbed by the Big Butt Bandits, who are planning to go to Lyric Continent as well.
Season 2 (2002)
#

Episode Title

Japanese Airdate

English Airdate

26
"Bandits Behind"
April 6, 2002
January 22, 2005
Going by train across the ocean to Lyric continent, Haru Glory and his gang's leisurely adventure gets interrupted by the Big Butt Bandits. Though, Haru does not find them dangerous.
27
"Under Desert Sands, Part 1"
April 13, 2002
January 29, 2005
Arriving in the desert, Haru Glory and the gang find themselves falling under the desert sands into a hidden city called Ray Barrier. There, they find Remi Maltese, Solasido, and Fua.
28
"Under Desert Sands, Part 2"
April 20, 2002
February 5, 2005
Haru Glory attempts to take on an army of 1,000 demons in order to confront his father to find out the truth. Can Haru do it all by himself?
29
"Under Desert Sands, Part 3"
April 27, 2002
February 12, 2005
Haru Glory realizes his father actually killed Zashu to protect him. After Gale Glory gets acquainted with Gale Raregroove, King explains the background behind Enclaim and when the Tower of Din finishes transforming, King leaves Haru and Gale. Both father and son head out to defeat King.
30
"In the Tower of Din, Part 1"
May 4, 2002
February 19, 2005
Haru and his father get separated in the Tower of Jin, and after the two make a promise to get out of here alive, Gale Glory continues his path to fight King while Haru and his gang face off with the 5 Palace Guardians. Can Haru and his gang defeat their foes before King successfully completes the Enclaim?
31
"In the Tower of Din, Part 2"
May 11, 2002
February 26, 2005
Haru and the others are split apart from each other due to Ltiangle's Soul Palace ability. They have an hour left to defeat the guardians and stop King's Enclaim. Can Haru and the Rave Warriors do it?
32
"In the Tower of Din, Part 3"
May 18, 2002
March 5, 2005
Solasido hurries to help his sister whose life is fading away in Rionette's hand, and at the same time, Haru and Musica are pushed to the extremes as they fight Let and Ltiangle.
33
"In the Tower of Din, Part 4"
May 25, 2002
March 12, 2005
Both Musica and Haru Glory figure out a way to defeat their opponents, Ltiangle and Racas, respectively. After the fight with the Palace Guardians is over, Haru tells his friends to head back to the city due to Musica and Fua's extreme conditions. As Haru head upstairs to fight King along with his father, Elie's gang encounter Maltese who instructs Elie to give the Rave of Combat to Haru.
34
"The Enclaim, Part 1"
June 1, 2002
March 26, 2005
Arriving to the top of the tower, Haru finds his father battling fiercely with King. When the Enclaim ceremony is finished, King begins answering Haru's questions how he and Gale became bitter enemies. What shocking truth lies await Haru Glory?
35
"The Enclaim, Part 2"
June 8, 2002
April 2, 2005
The origin story of King and Gale ends in tragedy and broken promises. With Haru being empathetic with King's sorrowful tale, he and his father continue to fight King, and Elie arrives with the Rave of Combat.
36
"The Enclaim, Part 3"
June 15, 2002
April 9, 2005
The battle between Haru, Gale, and King gets intense as King resorts to using his Monster Prison Dark Bring. Despite being exhausted, Gale and Haru manage to defeat King with their combined attack.
37
"The Enclaim, Part 4"
June 22, 2002
April 16, 2005
Even though King is defeated, he refuses to give up and activates Warp Road to teleport an explosion, much to everyone's horror. However, it turns out that King has destroyed Demon Card Headquarters with the Oración Seis. With Gale and King sharing their final farewells, Gale, Haru, Elie, and Plue attempt to escape from the crumbling tower.
38
"The Enclaim, Part 5"
June 29, 2002
April 23, 2005
With Haru and Gale trapped underneath the tower, Gale informs Haru about the Stellar Memories that hold the answers to everything. When the tower begins to cave in, Gale makes the ultimate sacrifice and protects Haru with his life. At Gale's grave, Haru and Elie shed tears after Haru reads his father's letter. Later that night, Haru meets his father in a dream where Haru vows to complete his missions: collect the Rave, find Elie's lost memories, and go back home for Cattleya's sake.
39
"Origins: Shiba"
July 6, 2002
April 30, 2005
The origin story of the Rave starts with Shiba sharing his tale with Cattleya and Nakajima in Garage Island. In his story, Shiba becomes the leader of the Knights of the Blue Sky after Resha dies upon the creation of the Rave.
40
"Origins: Sir Plue"
July 13, 2002
May 7, 2005
Griffon's story explains how he and Plue met on Griffon Island, how Plue defeated the Pudding army, and how Plue met Haru. In the meantime, Haru, Elie, and Plue visit Musica who is recovering in the hospital.
41
"Sideshow"
July 20, 2002
May 21, 2005
As Musica leaves the hospital, Remi and Solasido give Haru's gang their goodbyes. Plue and Griffon eat all the lollipops and pudding from a candy store, and the candy store owner forces Haru's gang to pay off the debt.
42
"All Aboard, Part 1"
July 27, 2002
May 28, 2005
Haru Glory, Elie, Hamrio Musica, Let, Plue, and Griffon Kato are aboard the airship of the Silver Rhythm Gang. Later on, an air casino hovers over the airship, docking them inside. Haru, Elie, Musica, Let, Plue, and Griff enter the casino in formal attire.
43
"All Aboard, Part 2"
August 3, 2002
June 4, 2005
Let figures out that the Doryu Raid Squad is aboard the ship, and he informs Hamrio Musica and Griffon Kato. Plue is captured by the Doryu Raid Squad, to be given as a gift to Ruby. The Jiggly Butt Gang saves the day with a smelly attack.
44
"All Aboard, Part 3"
August 10, 2002
June 12, 2005
Hebi enters the air casino in a gas mask, to take the crew back onto the airship of the Silver Rhythm Gang. Plue requests that Ruby should board the airship as well and the gang heads to Symphonia.
45
"The Shadow Master"
August 17, 2002
June 19, 2005
The crew lands on Symphonia, but they find themselves in a wasteland. So they decide to set out and explore. The Dark Bring Master appears. After he talks with Haru Glory, he, suddenly, approaches Elie and kisses her.
46
"Return of the Oracion Six, Part 1"
August 23, 2002
June 26, 2005
After the Dark Bring Master leaves. The Oracion Seis appears, ready to kill Elie. Berial separates the gang with his Dark Bring, G-Earth, giving each of the Oracion Seis members an opponent.
47
"Return of the Oracion Six, Part 2"
August 31, 2002
July 3, 2005
Let Dahaka states that he will defeat Jegan for Julia's sake. However, Jegan reveals that his Dragon, in reality, is Julia.
48
"Return of the Oracion Six, Part 3"
September 7, 2002
July 10, 2005
Reina reveals to Hamrio Musica, that she wishes to find the Silver Ray. However, Musica states, that once he finds it, he will destroy it.
49
"Return of the Oracion Six, Part 4"
September 14, 2002
July 17, 2005
The Oracion Seis easily overpowers the Rave Warriors. However, Sieg Hart comes to the rescue of the fallen warriors at the last minute.
50
"Further Myserties, Part 1"
September 21, 2002
July 24, 2005
Sieg Hart vows to protect Elie and the power of the Etherion. With their combined strength, Haru Glory, Elie, Hamrio Musica, Let Dahaka, and Sieg Hart manage to cause the Oracion Seis to flee.
51
"Further Myserties, Part 2"
September 28, 2002
July 31, 2005
The Rave Warriors find themselves within an advance spellbound barrier, secluded from the rest of Symphonia. They send Elie to venture deeper into the forest in order to reclaim her memory.
Toonami Episode Guides
Cartoon Network (1997-2008)
Adult Swim (2012-Present)