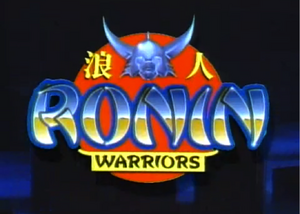 Series Overview
Color
Season
Episodes
Toonami Premiere
Toonami Finale
1
39
September 27, 1999
November 18, 1999
OVA 1
02
Unaired
OVA 2
04
Unaired
OVA 3
05
Unaired
Season 1 (1988-1989)
#

Episode Title

Japanese Airdate

English Airdate

Toonami Airdate

1
"Shadowland"
April 30, 1988
June 26, 1995
September 27, 1999
The city of Toyama is attacked by the forces of the Dynasty. The five Ronin Warriors are determined to stand against them in defense of the city, but they can only win if they can come together as a team.
2
"Glory for Anubis"
May 7, 1988
June 27, 1995
September 28, 1999
Anubis is sent to attack the Ronin Warriors and their new friends, but the Ronins prevail with the help of a mysterious monk. Realizing that the five of them together pose a dangerous threat to his plans, Talpa decides to separate the Ronin Warriors.
3
"Secret of Wildfire"
May 14, 1988
June 28, 1995
September 29, 1999
Ryo awakens in a volcano after being separated from the other five Ronins. Anubis is sent to destroy him, but has trouble against the newly revitalized Armor of Wildfire.
4
"The Search Begins"
May 21, 1988
June 29, 1995
September 30, 1999[1]
Ryo, Mia, and Yuli go to see Mia's grandfather in order to find the remaining four Ronin Warriors. However, Sekhmet descends upon the university to stop them and a life is lost as a result.
5
"Halo's Prison"
May 28, 1988
June 30, 1995
October 1, 1999[2]
Following the poem left to them by Dr. Koji, Ryo, Mia, and Yuli arrive at the Catasota Gulch Pinnacles, where they expect to find Sage. But Sekhmet has a plan to that won't make it easy for Ryo to find his friend.
6
"The Counter Attack"
June 11, 1988
July 3, 1995
October 4, 1999
The group splits up to search for the remaining three Ronin Warriors. Ryo, Yuli, and White Blaze head to the Sea of Toyama to revive Cye, unaware that Sekhmet is scheming to put an end to the Ronins once and for all.
7
"Splitting the Stone"
June 18, 1988
July 4, 1995
October 5, 1999
Sage and Mia journey north to Mount Dojo in order to find Kento. However, they are confronted by Kale, who aims to kill all three of them to further the Dynasty's goal.
8
"Friend or Foe"
June 25, 1988
July 5, 1995
October 6, 1999
All of the Ronin Warriors have been found except for Rowen. Dais claims to have captured him, but can the Dark Warlord of Illusion be trusted?
9
"Wildfire in the Sky"
July 2, 1988
July 6, 1995
October 7, 1999
The four Ronin Warriors and Mia try to come up with a way to reach Rowen in the depths of space. Ryo and Kento head back into Toyama alone to discover that the Dynasty has already figured out a way to destroy their friend. It's a race against the clock to see who will reach Rowen first.
10
"In the Sea of the Sky"
July 9, 1988
July 7, 1995
October 8, 1999
Ryo is trapped inside the energy ball heading off into outer space. Somehow, he must find a way to destroy it before it reaches Rowen, but the energy ball continues to weaken him. Now the Ronin Warriors are in danger of losing not just one of their friends, but two.
11
"Assault on the Dynasty"
July 16, 1988
July 10, 1995
October 11, 1999
Reunited, the time has come for the Ronin Warriors to infiltrate the Dynasty's stronghold. To protect Mia and Yuli, the Ronins decide to leave them behind. But when Dais attacks, the teens are forced into a battle they cannot win without a little help.
12
"Shallow Darkness"
July 23, 1988
July 11, 1995
October 12, 1999
Just when they've made it inside Dynasty territory, the Ronin Warriors are separated again. It's up to Sage to protect Mia and Yuli, but he struggles when he finds himself confronted by Kale and his overwhelming darkness.
13
"Fate of the Ronin Armor"
July 30, 1988
July 12, 1995
October 13, 1999
Dais, the Warlord of Illusion, lays a trap for Kento of Hardrock drawing him into a dark world. Dais begins to plant seeds of doubt in the Ronin's mind, ones that Kento just can't shake. Could it be that the Ronin Armors and their bearers are destined to serve the Dynasty?
14
"Armor of Life"
August 6, 1988
July 13, 1995
October 14, 1999
The Ronin Warriors reunite just in time as Talpa has sent Anubis to take them out. However, with Kento doubting himself and his Armor of Hardrock, do they even stand a chance?
15
"The Ancient's Battle"
August 13, 1988
July 14, 1995
October 15, 1999
The Ronin Warriors have gained a potential ally in Anubis, but Talpa will stop at nothing to have the power of all nine armors in his grasp. The Ancient One makes his last stand in order to give the Ronins a way to break into Talpa's castle.
16
"Raid on Talpa's Castle"
August 20, 1988
July 17, 1995
October 18, 1999
The time has come to bring the fight to Talpa. The Ronin Warriors enter the castle, but are they ready to face the full force of the Dynasty?
17
"The Legend of the Armor"
August 27, 1988
July 18, 1995
October 19, 1999
As the Ronin Warriors continue their assault on the Dynasty, the situation becomes dire as Talpa starts to regain control over the armors. Now only one Ronin stands between him and the Mortal Realm.
18
"Talpa's Triumph"
September 10, 1988
July 19, 1995
October 20, 1999
Ryo of the Wildfire faces off against Talpa alone, but before he can defeat the Dynasty Emperor, he must first find a way to rescue his friends. Will he prevail or will Talpa reclaim the final armor?
19
"Wildfire's Fight Against Fate"
September 17, 1988
July 20, 1995
October 21, 1999
Ryo is absorbed into Talpa and the Dynasty Emperor's armor is complete. Is there any hope for the Mortal Realm, now that its greatest heroes have been defeated?
20
"Ronin vs. Saranbo"
September 24, 1988
July 21, 1995
October 22, 1999
The Mortal World is at peace once again, but a new evil has arrived from the Dynasty seeking the White Armor that defeated Talpa. Can the Ronin Warriors protect Ryo from this threat or have they finally met their match?
21
"Ryo's Mega Armor"
October 1, 1988
July 24, 1995
October 25, 1999
Blaming himself for what happened to his friends, Ryo decides to face Saranbo alone, but is captured. Can the other four Ronin Warriors save him or will the demon from Nether Realm claim the Inferno Armor for himself?
22
"Saber Stryke's Deadly Challenge"
October 15, 1988
July 25, 1995
October 26, 1999
Mia finds evidence in her grandfather's notes of special swords Ryo can use with his new armor. Legend states the Soul Swords of Fervor are hidden at the base of a volcano and protected by a special divine power. After locating the swords, Lord Saber Stryke challenges Ryo over possession of them.
23
"White Blaze's Sacrifice"
October 22, 1988
July 26, 1995
October 27, 1999
Even with the white armor, if Ryo doesn't have a sword, he can't defeat Lord Saber Stryke in a duel. Despite heavy wounds, White Blaze makes a sacrifice to help Ryo.
24
"Sun Devil: Ambassador of Evil"
November 5, 1988
July 27, 1995
October 28, 1999
On the way to investigate a volcanic eruption that was mysteriously halted by ice, the heroes encounter Sun Devil, a new Dynasty warrior sent by his master to test their strength.
25
"Torrent's Evil Twin"
November 12, 1988
July 28, 1995
October 29, 1999
As Ryo struggles with getting a grip on the intense power of his armor and swords, Sekhmet creates an evil duplicate of Cye to subdue the real one.
26
"The Armor Must Be Destroyed"
November 19, 1988
July 31, 1995
November 1, 1999
Sage fights a battle of wills when he returns to the caves of the Catasota Gulch Pinnacles, where his armor was forged. Sage is confronted by Cale, who attempts to convince him he is capable of great evil.
27
"Sand Blasted"
November 26, 1988
August 1, 1995
November 2, 1999
Talpa dispatches Dais to capture Kento, the strongest of the heroes, who must learn to rely on more than his brute strength to win fights.
28
"Lady Kayura and the Dark Realm"
December 3, 1988
August 2, 1995
November 3, 1999
Rowen and Ryo encounter Lady Kayura and learn Talpa's forces have captured their friends, and must fight her to avoid the same fate.
29
"Anubis Is Reborn"
December 10, 1988
August 3, 1995
November 4, 1999
The Ancient One's reappearance troubles Lady Kayura; as Ryo and Rowen seek a way into the Nether Realm to rescue their friends, they encounter a familiar face who pledges to help them
30
"Talpa Turns the Tide"
December 17, 1988
August 4, 1995
November 5, 1999
Anubis attempts to gain Mia and Ully's trust by explaining his past. Ryo and Rowen enter the Nether World in search of the other Ronins while Talpa uses the energy of the captive heroes to create a new weapon.
31
"Legend of the White Armor"
December 24, 1988
August 7, 1995
November 8, 1999
Dala attacks Ryo and Rowen with Talpa's new sword, which allows him to use Cye, Kento and Sage's powers against them. Meanwhile, the full history behind Ryo's unbeatable Inferno Armor is revealed.
32
"Strategies of the Nether World"
January 14, 1989
August 8, 1995
November 9, 1999
Badamon comes up with a plan to take control of Ryo's armor, but it requires Talpa to force his warlords to give up theirs. Lady Kayura enacts the plan, revealing another aspect of the Inferno Armor none of them knew.
33
"In Search of Secret Treasures"
January 21, 1989
August 9, 1995
November 10, 1999
Ryo rests from his taxing battle with Lady Kayura. Meanwhile, Anubis and Mia come across something important in Mia's grandfather's research that could aid the heroes, drawing Talpa's attention to them.
34
"Strata's Defiant Stand"
January 28, 1989
August 10, 1995
November 11, 1999
Mia and Anubis try to figure out how to use the Jewel of Life to defeat Anubis while Ryo and Rowen encounter traps in the Nether World.
35
"The Warriors Return"
February 4, 1989
August 11, 1995
November 12, 1999
Rowen, Ryo and the others fend off Lady Kayura while Badamon and Talpa realize the Ronins now possess the means to destroy them.
36
"Cheap Tricks"
February 11, 1989
August 14, 1995
November 15, 1999
The warlords separate the heroes once again when they force Ryo, Cye and Kento to fall into a chasm. Meanwhile, Sage and Rowen defend Mia and Ully, who possess the Jewel of Life, from Talpa's minions.
37
"Anubis' Armor Revived"
February 18, 1989
August 15, 1995
November 16, 1999
The Ronin Warriors take a much-needed rest to prepare for the final showdown with Talpa. Meanwhile, as Lady Kayura's memories resurface, Badamon and Talpa scheme to keep her under control.
38
"Lady Evil Sees the Light"
February 25, 1989
August 16, 1995
November 17, 1999
As Talpa's plan to harness the power of the nine armors comes to fruition, Anubis battles a possessed Lady Kayura in the hopes of freeing her from the bonds of evil.
39
"Triumphant Warriors"
March 4, 1989
August 17, 1995
November 18, 1999
Lady Kayura and the warlords fight alongside the Ronin Warriors to defeat Talpa before the solar eclipse triggers the destruction of the mortal world.
Ronin Warriors: Gaiden
After defeating Talpa, the Ronin Warriors have gathered for a party, but Sage is missing. To their surprise, they soon see Sage's armor on TV – killing people! The remaining warriors travel to New York in order to investigate the situation; but as they arrive they are attacked by not only an evil sorcerer, but the Armor of Halo as well. It is during this second attack that they realize their friend's armor is being controlled by the evil sorcerer, and they must now travel to Los Angeles to try to rescue Sage. There's just one catch: the evil sorcerer wants their armor, too!
#

Episode Title

Japanese Release Date

English Release Date

1
"Warrior Armor, Again"
April 30, 1989
April 2, 2003
2
"Save the Friend, Samurai Heart"
June 1, 1989
April 2, 2003
Ronin Warriors: Legend of the Inferno Armor
During an unusual heat wave, a strange silent warrior appears and starts attacking the city. This mysterious warrior is stronger than the Ronin Warriors, even though he seems to have no armor of his own. However, it is soon revealed that he wields a black copy of the mighty Inferno armor! Ryo and Sage are taken away to the mysterious warrior's homeland, and their friends chase after them; but once the battle has begun they discover that their true enemy is their very own armor. The decisions the Ronin Warriors make now may either save or destroy the entire world.
#

Episode Title

Japanese Release Date

English Release Date

1
"Mukala of the Sun"
October 8, 1989
April 2, 2003
2
"Black Inferno"
November 1, 1989
April 2, 2003
3
"Started Running Armor"
December 1, 1989
April 2, 2003
4
"The More Than Sadness, Seek!"
January 11, 1990
April 2, 2003
Ronin Warriors: Message
Just when the Ronin Warriors thought their days of fighting were over, a mysterious girl from the ancient past appears, bearing with her an ancient play that details the adventures of the Ronin Warriors long before they were even born. The armors were a cause of a terrible tragedy in her own time, and now it seems that she wants to destroy them. While the Ronin Warriors are trying to figure out if they have been nothing more than puppets of fate all of this time, the girl is kidnapping them one by one, using their greatest desires to lure them into her clutches.
#

Episode Title

Japanese Release Date

English Release Date

1
"The Fateful End"
March 21, 1991
June 3, 2003
2
"Predestined Future"
May 22, 1991
June 3, 2003
3
"The Broken Confidence"
June 21, 1991
June 3, 2003
4
"The Wandering Soul"
July 25, 1991
June 3, 2003
5
"The Truth Arrives"
August 23, 1991
June 3, 2003
References
Toonami Episode Guides
Cartoon Network (1997-2008)
Adult Swim (2012-Present)