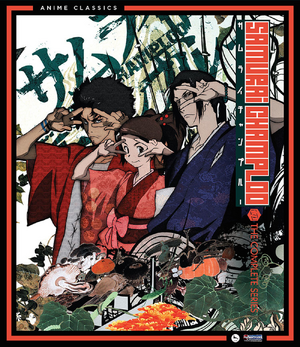 Series Overview
| Color | Season | Episodes | Toonami Premiere | Toonami Finale |
| --- | --- | --- | --- | --- |
| | 1 | 26 | January 2, 2016 | July 9, 2016 |
Season 1 (2004-2005)
#

Episode Title

Director

Writer

Japanese
Airdate

Adult Swim
Airdate

Toonami
Airdate

01
"Tempestuous Temperaments"
Shinichirō Watanabe
Shinji Obara
May 20, 2004
May 14, 2005
January 2, 2016
Fuu is a part-time teahouse worker whose life changes forever when two vagabond warriors, Mugen and Jin, stumble into her place of business and end up in hot water with the local magistrate.
02
"Redeye Reprisal"
Takeshi Yoshimoto
Shinji Obara
June 3, 2004
May 21, 2005
January 9, 2016
When Mugen wounds an enemys arm, it sets off a dangerous chain reaction. Fuu is kidnapped, and two deadly assassins are dispatched to make short work of vagabond Mugen and ronin Jin.
03
"Hellhounds for Hire (Part 1)"
Shintaro Inokawa
Shinji Obara
June 10, 2004
May 28, 2005
January 16, 2016
After leaving the domineering Fuu behind, Mugen and Jin arrive in town. Once there, it's not long before theyre hired on as bodyguards by the two clans that run the city.
04
"Hellhounds for Hire (Part 2)"
Hirotaka Endo
Shinji Obara
June 17, 2004
June 4, 2005
January 23, 2016
The paths Mugen, Jin, and Fuu follow bring them together again, but their reunion is put on hold when an untimely mistake intensifies the struggle between two clans fighting for control of one city.
05
"Artistic Anarchy"
Sayo Yamamoto
Dai Satō
June 24, 2004
June 11, 2005
January 30, 2016
An unknown artist hires Fuu for a private modeling session, but his passion for painting turns out to be a front for a human trafficking ring. Will Mugen crack the case in time to save Fuu from a life of slavery?
06
"Stranger Searching"
Akira Yoshimura
Shinji Obara
July 1, 2004
June 18, 2005
February 6, 2016
Mugen and Jin loses their weapons - and their appetites - in an rice-eating contest, and the only way to get them back is by posing as tour guides for a mysterious European with a penchant for man love!
07
"A Risky Racket"
Takeshi Yoshimoto
Seiko Takagi
July 8, 2004
June 25, 2005
February 13, 2016
Fuu gets caught in a web of deception when she falls for prolific pickpocket with a heart of gold. But when her sticky-fingered friend slips his hands into the wrong pocket, he could be headed for a beat down.
08
"The Art of Altercation"
Keiichi Sasajima
Dai Satō
July 15, 2004
July 2, 2005
February 20, 2016
A cocky sword-slinger with a crush on Fuu dishes the dirt on Jin's disgraceful past. If the renegade ronin wants to restore his good name, he will need to get his glasses out of hock and make ready for a throw down!
09
"Beatbox Bandits"
Hirotaka Endo
Dai Satō
July 22, 2004
July 9, 2005
February 27, 2016
The crew is headed for the gallows after getting caught flashing fake travel permits, but Mugen can win back their freedom by out hustling a deranged gang of warrior priests.
10
"Lethal Lunacy"
Akira Yoshimura
Touko Machida
July 29, 2004
July 16, 2005
March 5, 2016
Mugen takes his training to the next level in preparation for a full moon death match with a killer who uses a deadly armor-piercing attack to soak the streets in the blood of his victims.
11
"Gamblers and Gallantry"
Sayo Yamamoto
Seiko Takagi
August 5, 2004
July 23, 2005
March 12, 2016
Jin falls in love with a suicidal beauty whose husband sold her into slavery, and Mugen tries to make his fortune in the cutthroat world of beetle sumo wrestling.
12
"The Disorder Diaries"
Hirotaka Endo
Shinichirō Watanabe
August 12, 2004
July 30, 2005
March 19, 2016
When Mugen and Jin do the unthinkable and read Fuu's diary, they are treated to a riveting recap of all their greatest misadventures.
13
"Misguided Miscreants (Part 1)"
Takeshi Yoshimoto
Shinji Obara
August 26, 2004
November 19, 2005
March 26, 2016
When Mugen crosses paths with a face his past, he reluctantly signs on for a heist that could land him a fortune in stolen gold. Unfortunately for him, some old friends aren't to be trusted.
14
"Misguided Miscreants (Part 2)"
Shukō Murase
Shinji Obara
September 2, 2004
November 26, 2005
April 2, 2016
Mugen - double-crossed and headed for the bottom of the ocean - flashes back to his life before he died for the first time. Back on land, a pretty young thing convinces Jin to brandish his blades in the name of vengeance.
15
"Bogus Booty"
Kazuto Nakazawa
Uwadan Shimofuwato
September 9, 2004
December 3, 2005
April 9, 2016
Mugen goes under the covers with an undercover investigator who's out to put the smack down on a murderous ring of counterfeiters. Will he finally get the booty he's after?
16
"Lullabies of the Lost (Verse 1)"
Masato Miyoshi
Keiko Nobumoto
September 16, 2004
December 10, 2005
April 16, 2016
Tempers flare, harsh words are exchanged, and the gang splinters, each member marching off in a different direction. Mugen and Jin wander into some swordplay, and Fuu ends up at the bottom of a river.
17
"Lullabies of the Lost (Verse 2)"
Hirotaka Endo
Ryota Sugi
September 23, 2004
December 17, 2005
April 23, 2016
Jin and Fuu reunite, only to be attacked by a vengeance-driven samurai from Jin's old life. Meanwhile, Mugen takes aim at an arrow-slinging madman who's at the top of everyone's most wanted list.
18
"War of the Words"
Sayo Yamamoto
Dai Satō
January 22, 2005
January 11, 2006
April 30, 2016
Mugen learns his letters from a sake-guzzling maniac, Jin makes good on a promise from many years ago, and Fuu sparks a jealous showdown between two bickering graffiti artists.
19
"Unholy Union"
Hirotaka Endo
Seiko Takagi
January 29, 2005
January 18, 2006
May 7, 2016
Fuu harbors a female fugitive who's on the run from a bogus, gun-slinging missionary. The new girl is trouble, no doubt about it, but she may hold the finding the samurai who smells like sunflowers.
20
"Elegy of Entrapment (Verse 1)"
Takeshi Yoshimoto
Shinji Obara
February 5, 2005
January 25, 2006
May 14, 2016
Mugen defends the honor of beautiful blind songstress, but when the when the trio of wanderers becomes a quartet, Fuu will be faced with an impossible decision.
21
"Elegy of Entrapment (Verse 2)"
Akitoshi Yokoyama
Shinji Obara
February 12, 2005
February 1, 2006
May 21, 2016
Mugen's has his own deadly run-in with the same blind beauty that sent Jin plummeting towards a gruesome end. Who is this seductive assassin, and why is she targeting the Champloo crew?
22
"Cosmic Collisions"
Sayo Yamamoto
Dai Satō
February 19, 2005
February 8, 2006
June 4, 2016
Jin, Mugen, and Fuu fall into the clutches of a hoard of rotting zombie treasure hunters. Next, they get blown to oblivion by an asteroid. Or maybe they just ate some bad mushrooms.
23
"Baseball Blues"
Mitsutaka Noshitani
Shinichirō Watanabe
February 26, 2005
February 15, 2006
June 11, 2016
Mugen's failed attempt at a dine-and-dash restaurant caper lands him in hot water with the locals. Redemption lies with leading the towns baseball team to a victory over the arrogant and unwelcome Americans.
24
"Evanescent Encounter (Part 1)"
Takeshi Yoshimoto
Shinichirō Watanabe
Shinji Obara
March 5, 2005
February 22, 2006
June 18, 2016
As the crew draws ever nearer their final destination, Fuu makes a bold and startling decision. Elsewhere, unnamed adversaries pursue the travelling trio.
25
"Evanescent Encounter (Part 2)"
Kazuto Nakazawa
Shinichirō Watanabe
Shinji Obara
March 12, 2005
March 1, 2006
June 25, 2016
Jin enters a bloody grudge match with the man responsible for the ruin of his rep. Meanwhile, Mugen races to save Fuu from the clutches of a sadistic madman bent on bloodshed.
26
"Evanescent Encounter (Part 3)"
Sayo Yamamoto
Shinichirō Watanabe
Shinichirō Watanabe
March 19, 2005
March 8, 2006
July 9, 2016
Old scores are finally settled as Mugen, Jin, and Fuu finally come face to face with the ghosts of their respective pasts.
Toonami Episode Guides
Cartoon Network (1997-2008)
Adult Swim (2012-Present)