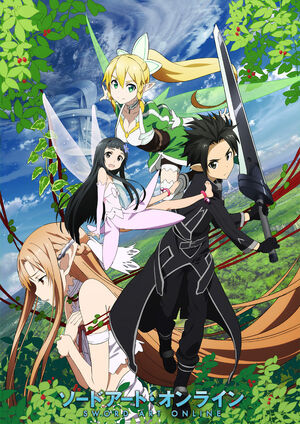 Series Overview
Aincrad Arc
#

Episode Title

Japanese Airdate

Toonami Airdate

01
"The World of Swords"
July 7, 2012
July 27, 2013
In the year 2022, a next-generation gaming system known as "Nerve Gear" has been developed, making Full Dives into a virtual dimension possible. Utilizing "Nerve Gear" The world's first true VRMMORPG "Sword Art Online (SAO)" has generated worldwide buzz, and on its official launch day, one player, Kirito, immerses himself in its virtual world. But Akihiko Kayaba, the developer of SAO, proclaims the following to all players. This game is inescapable unless all levels are cleared. And in this world, "Game Over" is equivalent to death in the real world.
02
"Beater"
July 14, 2012
August 3, 2013
One month has gone by since the start of the death game - it is December 2022. Already, 2,000 players have met their deaths. Using his knowledge as a beta tester for the game, Kirito tries to overcome the dungeon on his own, but it proves to be a steep challenge. No one has yet been able to clear even the first floor of the 100-level Aincrad; just then, a player named Diabel summons the others to a boss raid meeting. Kirito attends the meeting, and teams up with a certain solo player.
03
"The Red Nosed Reindeer"
July 21, 2012
August 10, 2013
Kirito rescues a guild called the Moonlit Black Cats from a monster attack. Drawn to the warmth of this guild, whose members are all friends even in real life, Kirito joins them, concealing the fact that he is a Beater. With Kirito's help, the weak Black Cats gain newfound power, and set their sights on catching up to the "front-line fighters." But one night, Sachi, the only female member of the guild, vanishes unexpectedly. Kirito soon tracks her down, only to discover that she is terrified of dying.
04
"The Black Swordsman"
July 28, 2012
August 17, 2013
After quarreling with her party, the young girl Silica, who is a beast-tamer, storms off and loses her way in the forest, where she runs into monsters. She is saved by Kirito, who just happens to be passing by, but loses her familiar, Pina. Silica is in tears over the loss of her precious friend, so Kirito tells her that there's a way to revive familiars, and offers her his help.
05
"A Crime Within the Walls"
August 4, 2012
August 24, 2013
April 2024. As vice-commander of the most powerful guild in SAO, the Knights of the Blood, Asuna is now fighting on the front lines, and has advanced to the 59th floor. It is then that a male player named Kains dies in a village that can't be invaded by monsters (an Area). Hearing a witness's scream, Kirito and Asuna rush over to investigate, and find that the man couldn't have been killed in a duel (PK - Player Kill). Fearing that there might be an unknown PK skill, Asuna joins Kirito in trying to get to the bottom of the incident.
06
"Illusionary Avenger"
August 11, 2012
September 7, 2013
Kirito and Asuna investigate the "Murder in the Safe Area", which should have been impossible to commit, only to see a new victim perish right before their eyes. The common link between Kains and the other victims is the fact that they were all former members of Golden Apple, a now-disbanded guild. According to former Golden Apple member Schmidt, their deceased leader, Griselda, has become a ghost and is wreaking vengeance on her ex-comrades. But could something as indefinite as a ghost really exist within this cyberworld?
07
"The Temperature of the Heart"
August 18, 2012
September 14, 2013
A customer arrives at the blacksmith Lisbeth's shop, requesting her to make him the best possible sword - with cost not being an issue. To give her an idea of what he has in mind, the customer, Kirito, shows her a rare magical sword. The confident craftswoman shows him the finest sword she's ever forged, but Kirito, wanting to test its durability, promptly breaks it. Further enraged by a thoughtless comment from Kirito, Lisbeth retorts that she could forge a sword that would satisfy him, if she could only get her hands on a rare metal.
08
"The Sword Dance of White and Black"
August 25, 2012
September 21, 2013
October 2024. On his way back from having cleared the 74th floor from the front lines, Kirito acquires some "ragout rabbit" - an S-Level rare food. But since he has done nothing to increase his cooking skills, it's a mere waste in Kirito's hands. Having no other choice, he tries to sell it to Agil, at whose shop he runs into Asuna. Hearing that Asuna has mastered her cooking skills, Kirito asks her to cook the rare food for him. Agreeing in return for half of the ragout rabbit, Asuna invites Kirito to her own room, as she needs her cooking utensils.
09
"The Blue-Eyed Demon"
September 1, 2012
September 28, 2013
Teaming up with Asuna, Kirito clears the dungeon on the 74th floor and discovers the Boss Room. They attempt to obtain information on defeating him, but once they lay eyes on the formidable boss, they immediately withdraw. Retreating to a Safe Area, they encounter a troop from The Army, a giant guild - the largest in all of SAO. At the request of Corbaltz, the commander of the troop, Kirito willingly shares with him his map to the Boss Room. At the same time, he tells Corbaltz to be prudent in challenging this boss, only to have his warning fall on deaf ears.
10
"Crimson Killing Intent"
September 8, 2012
October 5, 2013
Asuna reveals that she wants to distance herself from the Knights of the Blood Oath for awhile. Kirito decides to stake Asuna's freedom in a duel with Heathcliff, the notorious leader of the Knights of the Blood Oath, said to be the most powerful man in Aincrad. Knowing how formidable an opponent Heathcliff will be, Asuna worries for Kirito's safety, but Kirito reassures her with a laugh that he doesn't intend to go down easily. And so it begins - the one-on-one battle between Heathcliff, master of the unique skill, Holy Sword, and Kirito, wielder of Dual Swords.
11
"The Girl of Morning Dew"
September 15, 2012
October 12, 2013
Thanks to an incident caused by Kuradeel, Kirito and Asuna's bond has grown stronger, and they marry. Asuna is granted temporary leave from the Knights of the Blood Oath, and she and Kirito begin living together by a lake on the 22nd floor. Kirito and Asuna pass the days peacefully, in a land far removed from battle. One day, after hearing a rumor about a ghost-sighting, they set off for the forest, where they meet a young girl, wandering through the gloomy woods. When the girl collapses right in front of them, they take her in, but she has lost her memory.
12
"Yui's Heart"
September 22, 2012
October 19, 2013
In order to search for Yui's guardians, Kirito and Asuna set off for the Town of Beginnings. When they hear that Thinker, a leader of The Army, has been left trapped in a dungeon, they take on the job of rescuing him. Along with Yulier, who sought their help, and Yui, who insisted on tagging along, Kirito and Asuna descend to the underground dungeon on the first floor. There, an unexpected enemy awaits them.
13
"Edge of Hell's Abyss"
September 29, 2012
October 26, 2013
While fishing at the lake, Kirito is approached by an elderly player, Nishida. As Nishida is an avid fisherman, the two hit it off, and Kirito decides to help him try and catch the local god, said to live in that very lake. After knowing nothing but battle, day in and day out, on the front lines, Kirito and Asuna, through their encounters with Nishida and the others, realize that there are ordinary people around them, doing their best to live another day. As the weight of their responsibilities as top players hits home, they receive a message...
14
"The End of the World"
October 6, 2012
November 2, 2013
November 2024. The battle against the Skull Reaper, boss of the 75th floor, is ferocious beyond anyone's imagination. In a space where teleport crystals are ineffective, one battle-scarred player after another succumbs to the boss. Although they just barely manage to defeat the Skull Reaper, the faces of the front-line fighters are grim, as they have sustained heavy casualties. Knowing that the upcoming battles will be grueling, they are overcome by despair, as Heathcliff looks on quietly.
Fairy Dance Arc
#

Episode Title

Japanese Airdate

Toonami Airdate

15
"Return"
October 13, 2012
November 9, 2013
After a battle to the death with Heathcliff, Kazuto Kirigaya, a.k.a. Kirito, returns to the real world. Although the other survivors of the death game also make it back home, 300 of the players, including Asuna, have yet to regain consciousness, and are still comatose. Two months later, Kazuto heads to the hospital to visit Asuna, whose real name is Asuna Yuuki, where he meets two other visitors, Asuna's father, Shouzou, and Nobuyuki Sugou, who works for him. Learning that Sugou plans to wed the comatose Asuna in a week's time.
16
"Land of the Fairies"
October 20, 2012
November 16, 2013
Summoned to Agil's shop, Kazuto's gaze is drawn to a screenshot that Agil shows him - that of a VRMMORPG called Alfheim Online (ALO). A girl resembling Asuna can be seen in this screenshot. When he finds out that the company that launched ALO is RECTO, where Sugou works, Kazuto is convinced that Asuna is trapped inside the game. Wasting no time in logging into ALO under the name Kirito, he discovers that for some reason, his newly-created character has retained all of his SAO data.
17
"Captive Queen"
October 27, 2012
November 23, 2013
Leafa, a Sylph player, finds herself under attack by the player-hunting Salamanders, but is saved when a Spriggan named Kirito suddenly appears on the scene. Although Kirito, who has brought along a private pixie named Yui, appears to have significant skills, he doesn't seem to know much about Alfheim Online (ALO). Leafa wonders at his lack of knowledge, but as a token of thanks for having rescued her, she proceeds to give him a lecture about the world of ALO (Alfheim), and takes him to the Sylph capital, Sylvain.
18
"To the World Tree"
November 3, 2012
November 30, 2013
Leafa leads Kirito to the World Tree, which stands in the center of Alfheim. But when they try to depart Sylvain, a member of Leafa's party, Sigurd, stands in their way. Because she's annoyed by the way he belittles Kirito, and by the way he tries to constrain her, Leafa announces that Kirito is her new partner. Meanwhile, trapped at the top of the World Tree, Asuna, not knowing whether Kirito is dead or alive, is filled with anxiety and fear.
19
"The Lugru Corridor"
November 10, 2012
January 4, 2014
On their way to the World Tree, Kirito and the others are advancing through a gigantic cave, the Lugru Corridor, when Leafa receives a message from her friend, Recon. In it, he urges caution, but it is too late - a Salamander squad is fast approaching. Driven into a corner, Kirito finds himself with no option but to fight, and he designates Leafa as the Healer of their group, while he himself launches a solo attack on the enemy. But the Salamanders have a counterattack in place. As Kirito stands blocked by their unyielding front-line defense, he is deluged by magic unleashed by the Mages.
20
"General of the Blazing Flame"
November 17, 2012
January 11, 2014
In order to clear the Grand Quest, the Sylphs and the Cat Sídhes hold a top-secret meeting between leaders, only to be attacked by a massive force of Salamanders, led there by a mole. They are in hopeless danger when Kirito arrives on the scene, and tries to get the Salamanders to withdraw by announcing himself as an emissary of the Spriggan-Undine Alliance. In answer to Kirito's tremendous bluff, the Salamander general, Eugene, tells him that he'll trust Kirito's words as long as a certain condition is met.
21
"The Truth of Alfheim"
November 24, 2012
January 18, 2014
At last, Kirito and the others have reached Central Arun, the largest city in Alfheim, located at the foot of the World Tree. But because the servers are scheduled to be closed soon for maintenance, Kirito and Leafa log out temporarily, promising to see each other again the next day. Meanwhile, in the real world, Kazuto's younger sister, Suguha, agonizes alone over her budding feelings for her elder brother. Deciding to test how real those feelings are, Suguha asks Kazuto to allow her to join him when he visits Asuna in the hosptial.
22
"Grand Quest"
December 1, 2012
January 25, 2014
Yui senses Asuna's player ID. Upon hearing from Yui that Asuna is at the top of the World Tree, Kirito can hold back no longer, and spreads his wings. But he is blocked by a system barrier, and fails to reach even the lowest branch. But Asuna herself is also aware that they're near. Asuna throws a certain item into the sky, pouring all of her hopes into it. Armed with a fresh resolve to get Asuna back, Kirito decides to take on the challenge of the impregnable Grand Quest - the only path leading to the top of the World Tree.
23
"Bonds"
December 8, 2012
February 1, 2014
Kazuto is shocked to discover that Leafa is, in fact, Suguha. When Suguha goes on to confess her buried feelings for him, he realizes that his own careless words and actions have been wounding his younger sister deeply, and is aghast. Even so, Kazuto hopes to meet with Suguha face-to-face. Telling her that he'll be waiting in Central Arun, he logs in to ALO once more. Suguha, too, regrets having hurt Kazuto, and logs in to ALO, but can't muster the courage to meet up with Kirito. Just then, someone completely unexpected arrives.
24
"Gilded Hero"
December 15, 2012
February 8, 2014
With the help of the Sylphs and Cat Sídhes, Kirito gets through the Grand Quest. Kirito and Yui reach the top of the World Tree, the goal of every ALO player, and are reunited with Asuna at last. Although Kirito tries to bring Asuna back to the real world immediately, Yui tells him that, because Asuna is bound by complex code, in order to log her out he will need a system console with the appropriate privileges. But it is already too late - Sugou, alias Oberon, has launched an assault against them.
25
"The World Seed"
December 22, 2012
February 15, 2014
After the showdown with Oberon, Kirito and Asuna vow to each other to reunite in the real world, then log out from ALO. The moment he returns to the real world, Kazuto rushes to Asuna's hospital. But Sugou awaits him at the entrance, his face twisted with hatred and pain. Driven by vengeance, Sugou attacks Kazuto with the knife he's brandishing and Kazuto faces losing his life for the first time in reality.
Sword Art Offline
Sword Art Offline miniseries episodes are included on the DVD volumes of the series.
#

Episode Title

Japanese Airdate

01
"Sword Art Offline 1"
October 24, 2012
A mock talk show anchored by Kirito and Asuna featuring some highlights of episodes 1 and 2 and having Klein as a special guest, with life counsel section held by Kirito and trivia sections held by Yui.
02
"Sword Art Offline 2"
December 3, 2012
The talk show continues, with Klein replaced Kirito as life counsel host, featuring highlights of episodes 3, 4, and 5 with Silica as the special guest.
03
"Sword Art Offline 3"
December 26, 2012
This edition feature the highlights of episodes 6, 7, and 8 with Lisbeth as the special guest.
04
"Sword Art Offline 4"
January 23, 2013
This edition highlights episode 9, 10, and 11 with Yui as the special guest. Heathcliff substitutes Yui as trivia guide in this episode.
05
"Sword Art Offline 5"
February 27, 2013
This edition highlights episode 12, 13, and 14 with Heathcliff as the special guest.
06
"Sword Art Offline 6"
March 27, 2013
The show received major overhaul due to ALO arc, with Leafa replaced Asuna as main anchor, and a new section "Slot Talk" replacing Klein's Life Counsel. There was no guest for this episode and it highlighted episode 15 and 16.
07
"Sword Art Offline 7"
April 24, 2013
This edition highlights 17, 18, and 19 with Yui once again the special guest. Oberon substituted Yui as trivia guide in this episode.
08
"Sword Art Offline 8"
May 22, 2013
This edition highlights 20, 21, and 22 with Sakuya and Alicia murdering Kirito. In addition, Kirito was locked in a coffin by Alica at the end of this episode.
09
"Sword Art Offline 9"
June 26, 2013
This edition highlights 23, 24, and 25.
Sword Art Online Extra Edition
Sword Art Online Extra Edition is a special anime film which was simulcasted worldwide on December 31, 2013. The film recounts the events of the original Sword Art Online anime told in retrospect by the series characters and features new footage.
#

Episode Title

Japanese Airdate

01
"Sword Art Online Extra Edition"
December 31, 2013
Kazuto and Suguha meet with Asuna, Rika and Keiko at their high school where the latter trio had agreed to teach Suguha how to swim, in preparation for an ALFheim quest that they are planning to undertake. Meanwhile, Kazuto makes his way to the counseling office where he meets with Kikuoka Seijiro—a member of the Ministry of Internal Affairs. While investigating the SAO incident, Kikouka has Kazuto relate his experience so that he can unearth a firm grasp on Akihiko Kayaba's motives while also forcing Kazuto to reflect on his actions throughout the death game. At the same time, Rika, Keiko and Asuna all relate to Suguha how they met Kirito during their time in the game and eventually causing Suguha to reflect on her feelings for her brother. After defeating Kayaba and gaining no insight on his goal, Kazuto's story enters the ALO stage where Kikouka admits the Ministry's lapse in monitoring Nobuyuki Sugō and his heinous human experimentation—leaving Kazuto to dive into ALO by himself, rescuing Asuna and freeing the captive players all with the help of his newfound friends. As Suguha eventually learns how to swim, Kazuto concludes his story by explaining the cost of power and leaves Kikouka.

Later on, Kirito, Klein, Agil, Asuna, Silica, Lizbeth and Leafa meet at Turtle Island in preparation for the undersea quest where they expect Yui to see a whale for the first time. With Kirito acting as the party leader, they dive into the ocean and arrive at an undersea temple where they are met by the NPC—Nerakk. Despite Leafa being slightly suspicious, the group begins the Deep Sea Invaders quest where they are to retrieve a stolen pearl from the temple and return it to Nerakk. After entering the temple, Kirito and Klein inadvertently activate a trap which unleashes a giant Armachthys monster. However with some difficulty the group eventually defeats it. After exploring the temple, the group recovers the pearl and just before Kirito gives it to Nerakk, Asuna notices that it had been an egg all along. Nerakk then reveals his malicious true form, the boss Krakken—The Abyss Lord, an overwhelmingly powerful monster which attacks and deals them severe damage. Just when all seems to be lost, Leviathan, the Sea King stops the Krakken and after a brief talk, the Krakken retreats. Leviathan then retrieves the egg, clearing the quest and returns the group to the surface on the back of a giant whale—their reward. In the epilogue, Kikouka once again tries to get in contact with Kazuto.
Toonami Episode Guides
Cartoon Network (1997-2008)
Adult Swim (2012-Present)