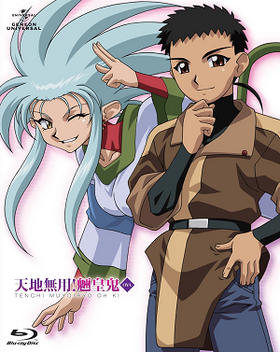 Series Overview
Color
Season
Episodes
Toonami Premiere
Toonami Finale
OVA 1
07
July 3, 2000
July 11, 2000
OVA 2
06
July 12, 2000
July 19, 2000
OVA 3
07
Unaired
OVA 4
04
Unaired
OVA 5
06
Unaired
OVA 1 (1992-1994)
#

Episode Title

Japanese Release Date

Toonami Airdate

01
"Ryoko Resurrected"
September 25, 1992
July 3, 2000
The show starts with Katsuhito (Tenchi's Grandfather) finding Tenchi looking for the keys to their shrine. Tenchi was able to get them from Katsuhito and went into the shrine, accidentally releasing a space pirate known as Ryoko, who was defeated by Yosho (First Prince of Jurai) 700 years ago. Tenchi, who falls asleep on the roof of his school, wakes to be chased by Ryoko.
02
"Here Comes Ayeka!"
October 25, 1992
July 4, 2000
Ayeka arrives at earth in pursuit of Ryoko and her brother Yosho. The battle ensues, and in short order the guardians Azaka and Kamadake capture both Ryoko and Tenchi. Later, while Ayeka sleeps, Tenchi meets her younger sister Sasami who provides an escape for Tenchi, with the guardians in hot pursuit with Sasami. After a short jail-break, Ryoko joins them on the run from Ayeka's wrath. As the battle continues, Ryo'oki forces Ayeka's ship out of orbit into the lake near the Misaki house, destroying both ships.
03
"Hello, Ryo-Ohki!"
November 25, 1992
July 5, 2000
Ryoko pulls an egg from the wreck of her ship and introduces it as her offspring. Is Tenchi the father? Ayeka discovers signs of Jurai present on Earth, and opens up to Tenchi.
04
"Mihoshi Falls to the Land of Stars"
December 10, 1992
July 6, 2000
An incompetent Galaxy Police officer, Mihoshi, is sent to patrol Earth, where the wanted criminal Kagato is headed. Meanwhile, Tenchi and his extended family take a short vacation at a local hot springs, and chaos ensues as Ryoko and Ayeka's fighting destroys the resort and causes Mihoshi's ship to crash, stranding the Galaxy Police officer on Earth.
05
"Kagato Attacks!"
February 25, 1993
July 7, 2000
The murderous space criminal Kagato arrives on earth and seizes Ryoko, claiming to be her creator. Tenchi, Ryoko, Ayeka and Mihoshi chase after him aboard Ryo-Ohki (who has transformed into her spaceship form and combined with the remains of Ayeka's ship, Ryu-Oh).
06
"We Need Tenchi"
March 25, 1993
July 10, 2000
The girls head for Kagato's ship to avenge Tenchi. Meanwhile, on Earth, Sasami senses Tenchi is in trouble and summons Tsunami, her own Juraian battleship, to save him from near-death. Mihoshi accidentally releases a 20,000-year-old scientific genius, Washu, from Kagato's imprisonment, who turns out to be Ryoko's true creator, and Tenchi returns to face Kagato in a battle to the death.
07
"The Night Before the Carnival"
January 25, 1994
July 11, 2000
Life after the Kagato incident is still chaotic at the Masaki household. Ayeka, helped by Washu, plants a replacement Ryu-Oh seedling to grow a new ship. Ryoko and Ayeka, spurred on by reading romantic comic books, try out all kinds of methods of winning Tenchi's love. Resolving to get the competition out of the way, they trick Mihoshi into reporting back to Galaxy Police HQ, and trap Washu in her laboratory in the closet under the stairs. However, Ryoko and Ayeka are soon fighting fist-to-fist over Tenchi again.
OVA 2 (1994-1995)
#

Episode Title

Japanese Release Date

Toonami Airdate

08
"Hello Baby!"
September 25, 1994
July 12, 2000
Tenchi and the girls are charged with the duty of looking after his baby cousin, Taro, for a few days. As can be expected, chaos ensues and before too long the girls have run themselves ragged. It takes Washu to show them how to care for a baby, but even under her instruction they cannot cope, so Washu takes on the job single-handedly.
09
"Sasami and Tsunami"
October 25, 1994
July 13, 2000
Tenchi and family return to the local hot springs resort in need of a holiday, but end up having to repair the place first, since they destroyed it in episode 4. While working at the inn, the others see a ghostly figure in white. Meanwhile, Sasami is acting oddly, and she has a secret about her past to reveal.
10
"I Love Tenchi"
February 25, 1995
July 14, 2000
Ryoko accidentally damages a robe that belonged to Tenchi's late mother. When Tenchi yells at her, he accidentally upsets Ryo-Ohki as well. The heartbroken Ryo-Ohki sulks in Washu's laboratory, where her emotions affect a colony of shape-shifting creatures (the same creatures used as a base for Ryoko and Ryo-Ohki), causing them to break out of the lab and make a beeline for Tenchi.
11
"The Advent of the Goddess"
March 25, 1995
July 17, 2000
The dastardly Dr. Clay, acting on the orders of the mysterious Lady Tokimi, sends his robotic slave Zero down to earth to capture Washu. Zero transforms into an exact duplicate of Ryoko to infiltrate the Masaki household, but repeatedly fails to carry out her mission as she simply cannot cope with the wave of emotion she experiences when she is near Tenchi!
12
"Zero Ryoko"
June 25, 1995
July 18, 2000
Zero fails in her mission to capture Washu and returns to Dr. Clay. Tenchi, Ryoko and Washu pursue her to locate and rescue the real Ryoko. When Washu confronts Dr. Clay, she reveals that she and Clay were once contenders for the director's chair at the Science Academy, but Clay was cast out for misusing his scientific talents. He tries to destroy Tenchi as a means of manipulating Washu, but Zero betrays him and he is forced to destroy his ship to make an escape.
13a
"Here Comes Jurai"
September 25, 1995
July 19, 2000
Tenchi's life is disrupted once again when some visitors from Jurai arrive. Funaho, Tenchi's Juraian great-grandmother, and her sister Misaki, who is also Ayeka and Sasami's mother, are paying a visit to Earth. Funaho has come to see her son Yosho, and to make an interesting offer to Washu. Soon after, Misaki and Funaho's husband, King Azusa of Jurai, arrives and tells Ayeka that she must marry the man he has chosen already, Seiryo. The only way Ayeka can be saved from this fate is for Tenchi to beat him in a duel!
13b
"Here Comes Jurai 2"
September 25, 1995
Unaired
A short "picture book" episode (vocal track and still images) foreshadowing events in the third OVA series. Mihoshi returns back from GPHQ with news of Dr. Clay. Washu carries out an amusing experiment on Ryoko. Elsewhere, Lady Tokimi and D3's interest in Tenchi grows, and a powerful warrior is summoned.
OVA 3 (2003-2005)
#

Episode Title

Japanese Release Date

English Release Date

14
"Visitor From Afar"
September 18, 2003
July 5, 2005
The mysterious warrior summoned by D3 and Tokimi is sent to Earth. Meanwhile, Tenchi reminisces about the unusual events in his life that have led him to where he is now, as well as the death of his mother ten years ago. Ryo-Ohki wanders off and gets lost in the woods. After coming to her rescue, Ryoko begins to act more affectionately towards her. The next day, the Masaki household receives a most unexpected visitor.
15
"Fiancée"
December 21, 2003
July 5, 2005
The woman who arrived at the Masaki house turns out to be Tenchi's sister, Tennyo. She has arrived with news that Seto Kamiki, the princesses' grandmother and self-appointed matchmaker of the Juraian royal family, has picked out a fiancée for Tenchi. Before long, Tenchi's grandmother Airi arrives...but what has become of the would-be fiancée Airi was escorting?
16
"Strategy"
March 27, 2004
July 5, 2005
A combination of stress and exhaustion leaves Tenchi bedridden, and Tenchi's fiancée Noike nurses him back to health. Once he recovers, Noike shows Tenchi a new experimental Juraian ship designed to be more effective against any attacking foe. Meanwhile, the Kuramitsu family have received word that Mihoshi is unhappy on Earth, and send their state-of-the-art battleship out to collect her.
17
"Here Comes Misao on The Chobimaru!"
September 15, 2004
October 17, 2006
Mihoshi's brother Misao develops the notion that his beloved sister is part of a harem run by Tenchi and swears to kill him. However, his adjutant, Mashisu, has other plans for the mission. Meanwhile, the princesses' grandmother, Lady Seto, arrives for a visit, and the family prepare a special meal to welcome her.
18
"Operation: Lovey-Dovey"
December 22, 2004
October 17, 2006
The girls fight off Mashisu and her heavy mob, and Ryoko and Ryo-Ohki take on the massive battleship the Chobimaru. Mashisu, meanwhile, is forced to confront her feelings for Misao, and she begs Misao to make a choice between her and his beloved sister.
19
"Z"
March 16, 2005
October 17, 2006
Lady Tokimi's progeny Z finally moves against Tenchi, and an epic battle in space ensues. However, when the other two chōshin, Tsunami and Washu, discover Z's motivation for wanting to kill Tenchi, they are forced to move against their sister, bringing about a confrontation that threatens to destroy Tenchi, Z and the universe itself.
20
"Final Confrontations"
September 9, 2005
November 7, 2006
In the aftermath of the Chobimaru incident, the Kuramitsu family meet to discuss the futures of, among others, Mashisu and Misao. Tenchi's family has much to discuss as well, including finally revealing to Tenchi the truth about his mother. More astonishing revelations come to light when Tokimi and Washu reveal the identity of the little girl whose life Tenchi saved.
OVA 4 (2016-2017)
#

Episode Title

Japanese Release Date

21
"The Night-Before Party"
November 30, 2016
As everyone prepares for Nobuyuki and Rea's wedding three days from now, they get a visit from Minaho and her three accountants.
22
"The Fate of the Masakis"
February 22, 2017
The Accountants, Tsukiko, and Rea talk about Seina, weddings and their Masaki connections and Minaho and Tenchi continue to bond. But Minaho brings a troubling truth to the forefront which may well change the entire dynamic.
23
"Vows and Desires"
May 31, 2017
At last, Nobuyuki and Rea celebrate their wedding, while the Emperor of Jurai discusses with Minaho and Airi about Rea's origins and the reason why she was sent to Earth from the world of Geminar.
24
"A Good Day to Set Out"
September 13, 2017
The Masaki family rejoice with the birth of Nobuyuki and Rea's child, Kenshi. Some years later, Tenchi's family and friends discuss the preparations needed for Kenshi to fulfill his destined mission on Geminar.
OVA 5 (2020-2021)
#

Episode Title

Japanese Release Date

25
"Step Mother, Step Sister, Inheritance, and…"
February 28, 2020
A new life in the Masaki family, "Masaki Kenshi". Though the destiny-laden life brings a lot of joy to Kenshi's mother, Rea, and Tenchi, the days are also tinged with worries.
26
"Project Eden"
May 29, 2020
27
TBA
TBA
28
TBA
TBA
29
TBA
TBA
30
TBA
TBA
Toonami Episode Guides
Cartoon Network (1997-2008)
Adult Swim (2012-Present)