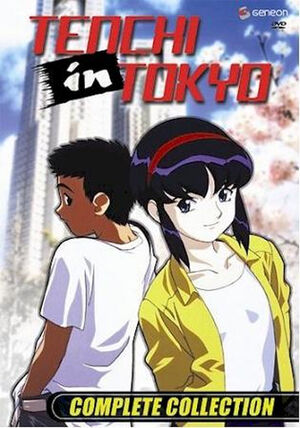 Series Overview
| Color | Season | Episodes | Toonami Premiere | Toonami Finale |
| --- | --- | --- | --- | --- |
| | 1 | 26 | August 25, 2000 | September 29, 2000 |
Season 1 (1997)
#

Episode Title

Japanese Airdate

Toonami Airdate

1
"Separation Anxiety"
April 1, 1997
August 25, 2000
Tenchi announces that he is leaving for Tokyo to train as a Shinto priest so he can inherit the family shrine. Fortunately, Washu comes up with an inter-dimensional tunnel that links his house in Okayama with his apartment in Tokyo, so they can visit him whenever they want. Little do Tenchi and the girls know that they are being watched by Yugi, a mysterious girl living in a palace of crystal.
2
"Four's a Crowd"
April 8, 1997
August 28, 2000
Tenchi meets a pretty and flirtatious girl, Sakuya, at his new school. However, it's not long before trouble is afoot for them both when they end up at a Love Knot shrine, and Sakuya accidentally releases a love goddess who is determined to tie their fates together.
3
"Long Distance Lunacy"
April 15, 1997
August 29, 2000
The girls, having been locked out of the inter-dimensional tunnel, keep an eye on Tenchi with the aid of Washu's spy probes. However, Yugi has other plans. A demon, summoned from a mobile telephone, is determined to put an end to all long-distance relationships by scrambling long-distance communications, including Washu's spy probes. The girls are so disturbed by the bizarre images they receive from the demon-addled probes that they set out to stop the demon in a daring aerial battle!
4
"The Eternal Pledge"
April 22, 1997
August 30, 2000
Tenchi and Sakuya accidentally stumble across a mysterious mansion, the House of the Eternal Pledge, and meet Hotsuma, one of Yugi's servants inside. Telling them that a couple who proclaim their love for each other in the house will stay together forever, Hotsuma leads them both into a wedding ceremony against their will. However, Ryoko and Ayeka are not about to let Tenchi get married without them intervening!
5
"Money! Money! Money!"
April 29, 1997
August 31, 2000
Money is running short at Tenchi's house, so the girls set out to earn a living by finding jobs in Tokyo. However, they can't keep their minds on the job when they spot Tenchi going around with Sakuya, and they soon get fired. They think their luck has turned when they spot a high-paid job on a construction site, but don't realise they are unwittingly helping Matori, one of Yugi's servants, to construct a gigantic palace-building demon!
6
"Play Date"
May 6, 1997
September 1, 2000
Sasami arrives at Tenchi's apartment one day in tears. She tells Tenchi that the girls have been trying to steal the money she made performing with Ryo-Ohki. She decides to spend all the money to stop the girls from trying to take it all for themselves, so Tenchi takes her shopping in Tokyo. However, Yugi is still watching, and sends Tsugaru, another of her servants, to trick Sasami into coming to her palace.
7
"The Day We Met"
May 13, 1997
September 4, 2000
Part one of a two part story. Tenchi returns home to Okayama on the anniversary of when he met all his house guests. Told mostly in flashbacks, we learn of the events that took place to bring this oddball gang of space pirates, cops, and princesses to Earth.
8
"Tenchi Anniversary"
May 20, 1997
September 5, 2000
The concluding part of the story. The girls recall how Tenchi looked after them following the battle, and how each of them received a piece of Tenchi's mother's crystal necklace as a bond that ties them together. There is a minor crisis as a demonic monkey summoned by Yugi steals everyone's crystal piece, and Ryoko accuses Sakuya of the theft.
9
"The Guardians of Old"
May 27, 1997
September 6, 2000
A school field trip to an archaeological dig leads Tenchi and his classmates into trouble when they fall through a hole in the ground into an underground cavern and discover a 3,500 year-old tomb. The tomb is clearly not of Earth origin, and it has been shattered by a rock-fall caused by an earthquake 3 months previously. As they explore the underground cavern, two guardians of Jurai appear and, mistaking them for the demon that was sealed in the tomb, attack them!
10
"Ryoko's Big Date"
June 3, 1997
September 7, 2000
Ryoko arrives in Tokyo for a date with Tenchi. Unfortunately, she has chosen the same day and location that Sakuya wants to meet him too. Rather than risk a big argument (or worse), Tenchi decides to go along with Ryoko's plans. However, Yugi is, as ever, watching them, and so too is Sakuya.
11
"Moon Mission"
June 10, 1997
September 8, 2000
When Ryoko and Ayeka break a statue while fighting over the last cookie, they blame the accident on Ryo-Ohki. Ryo-Ohki protests her innocence, but Ryoko and Ayeka convince Sasami that she is lying. Sasami shouts at Ryo-Ohki, and the distressed cabbit runs away from home. Sulking at the lake shore, she spots another cabbit watching her. The other cabbit leads Ryo-Ohki to the rest of her family on the moon. The next day, Tenchi is snatched up from Tokyo to help search for Ryo-Ohki, and when Washu locates her on the moon, they set out to bring her back. However, the cabbit that lead Ryo-Ohki away is none other than Yu-Ohki, Yugi's evil pet cabbit, who is on a mission to keep them apart.
12
"Stupid Cupid"
June 17, 1997
September 11, 2000
Hunger is afflicting the Masaki household once again; with Sasami in bed with the flu, Tenchi's father Nobuyuki is in charge of the cooking, and no-one can stomach his food. Realising his help is unappreciated at home, he heads for Tokyo to see Tenchi. There he meets Sakuya, and, thinking that she and Tenchi are in love, tries to kindle the relationship. Yugi's servant Matori steps in, and creates a dim-witted clone of Nobuyuki from one of his discarded cigarette butts. The clone, however, is too stupid to get its mission right, and kidnaps Sakuya, leading both Tenchi and his father on a desperate chase through the streets of Tokyo to get her back!
13
"The Eye of the Destroyer"
June 24, 1997
September 12, 2000
The story steps up a gear as the first half of the series draws to a close. Yugi's toying with Tenchi and the girls becomes more vicious as she threatens to break their bonds to one another. Although Sakuya and Tenchi's relationship is back on the rails, Ryoko is pining for Tenchi. Hotsuma pays her a visit and tries to gain her trust. Yugi herself attacks the Masaki home that night, and almost kills Ryoko. However, Hotsuma and Tsugaru rush to her defence - have their loyalties changed, or is Yugi's first direct attack an intricate bluff?
14
"Tokyo or Bust!"
July 1, 1997
September 13, 2000
With no other means of getting to Tokyo, Ayeka resolves to hitchhike her way there to check up on Tenchi. Hitchhiking is tougher than she imagines, but she and Sasami eventually cadge a lift off a leather-clad biker girl with an impossibly fast pair of wheels. The biker tells Ayeka of her unrequited love for the fastest man on the road, and the soft-hearted Ayeka encourages her to pursue him no matter what the cost. But she is no ordinary biker, and her beloved is no ordinary man.
15
"Love Match"
July 8, 1997
September 14, 2000
Tenchi 'phones Washu late one night to ask that she close the inter-dimensional tunnel for good. Shocked to discover their only route to Tokyo blocked the following morning, the girls desperately try to scrape together the cash for bus tickets. Washu comes to the rescue by deducing that Tenchi's father must have some savings put aside, and they tear the house apart to look for them. Meanwhile, in Tokyo, the spirit of a female pro-wrestler, summoned by Yugi from an old wrestler's mask, is determined to put a stop to anyone who might get in the way of Tenchi and Sakuya's blossoming relationship.
16
"Carnival!"
July 15, 1997
September 15, 2000
The girls finally locate Tenchi's father's hard-earned savings and blow them all on their trip to Tokyo. In Tokyo, the preparations for the school festival are well underway. By the time the girls arrive in Tokyo, the carnival is in full swing, but they bring their inimitable brand of chaos with them and manage to lay waste to the festivities. Furious with them for ruining the festival, Tenchi sends them home shamefaced. This latest outrage renders their relations even more strained, and Yugi's well-laid plans come closer to fruition when Ryoko realises she has finally lost Tenchi to Sakuya.
17
"Drifting Away"
July 22, 1997
September 18, 2000
Ryoko wanders the streets of Tokyo, mired in self-pity over Tenchi, when she is attacked by a mysterious assailant. As she flees from her attacker, she meets Hotsuma again. Both he and Ryoko are being stalked by automated attack drones sent by the Galaxy Police. Hotsuma offers Ryoko the opportunity to return to space piracy, become his ally and fight against the Galaxy Police together. Ayeka too is tortured with doubt over Tenchi, and a meeting with Tsugaru finally convinces her that she has also lost him to Sakuya.
18
"Game Over"
July 29, 1997
September 19, 2000
Kiyone and Mihoshi are angling for a promotion and working extra hard chasing down wanted criminals. Washu has holed herself up in her laboratory to perform important research. Meanwhile, Ryoko is quickly settling back into her role of space pirate, and with Hotsuma as her new partner, they try a daring raid on the Federation Bank. Back on Earth, Mihoshi and Kiyone finally receive notification of their promotion, and are reassigned to a station on Pluto. But Ayeka notices how lonely life at the Masaki home is becoming with the departure of the Galaxy Police duo. Tenchi's grandfather is apprehensive; the dwindling relationships between the girls and Tenchi does not bode well.
19
"The Lonely Princess"
August 5, 1997
September 20, 2000
Ayeka grows increasingly worried about the splitting up of the family. Following a nightmarish premonition and a visit from Tsugaru, she resolves to do something about the situation and bring everyone back together again. Unfortunately, Washu remains stubbornly locked up in her laboratory, and Ryoko is nowhere to be found. She borrows Ryo-Ohki to fly to Pluto to visit Mihoshi and Kiyone, but gets pulled over by them for speeding. After they issue her a speeding ticket, Kiyone tells Ayeka that Ryoko is back on the class A wanted list. Despite her pleas, the Galaxy Police duo refuse to give up their new assignment to return to Earth. In a final act of desperation, Ayeka telephones Tenchi in Tokyo to tell him her concerns.
20
"Old Friends"
August 12, 1997
September 21, 2000
Mihoshi and Kiyone are assigned to perform an undercover investigation of Ryoko's band of space pirates. Ryoko instantly sees through their disguises, but decides to have a little fun by getting them to perform all the menial chores around her hideout. When Ryoko finally lets on that their cover is blown, she invites them back to her quarters, which are designed to look like the interior of the Masaki home. As they play cards together, Kiyone manages to find out why Ryoko left Earth.
21
"Real Friends?"
August 19, 1997
September 22, 2000
Washu finally comes out of her laboratory with some startling news. She has been scanning the data from Yugi's attack on the Masaki residence, and has detected traces of Jurai energy coming from Yugi. Ayeka remembers the Juraian ruins under the archaeological dig site, and flies there on Azaka and Kamidake to investigate. Sure enough, the ruins' memory system contains records of how Yugi was responsible for the darkest hour in Jurai's history, and was banished by the then empress, Hinase. Her accidental release from her tomb 3,500 years later coincides with the beginning of the split in the Masaki family. Meanwhile, Yugi pays her playmate Sasami another visit.
22
"Sakuya's Secret"
August 26, 1997
September 25, 2000
Ayeka finds out about Sasami's friendship with Yugi. Much to Sasami's disbelief, her friend Yugi and the Yugi who attacked the Masaki home are the same person. Determined to keep the murderous Yugi away from Sasami, Ayeka orders Azaka and Kamidake to step up security around the Masaki household. Meanwhile, in Tokyo, Sakuya takes up photography to make a record of her summer with Tenchi. However, when Tenchi begins to ask her about her family and her history, she first changes the subject, then has to admit she cannot remember. Sakuya reaches the painful realisation that she cannot recall anything of her life before she met Tenchi.
23
"Here, There, and Everywhere"
September 2, 1997
September 26, 2000
Ryoko is beginning to grow weary of her new life as a space pirate. She takes a walk outside her hideout and reminisces about her time on Earth. Meanwhile, Washu sends a modified spy probe out to collect data on Sakuya, and makes a shocking discovery about the nature of Tenchi's girlfriend. Yugi, who finds that Sakuya is no longer an essential part of her plans, erases her from existence - not even Tenchi's classmates can remember her. Finally, Ryoko makes the decision to give up piracy and return to Earth, but Hotsuma is determined not to let her escape.
24
"Yugi's Shadow"
September 9, 1997
September 27, 2000
Yugi's plans are nearing completion as her palace begins to emerge into the real world. The girls are involved in their own battles against her servants Hotsuma, Matori and Tsugaru. Meanwhile, Washu and Katsuhito hurry to Tokyo to warn Tenchi of Yugi's impending attack, and to reveal not only the nature of the seven-piece crystal, but also the startling history of the Masaki family, and Sakuya's true nature. Having served her purpose, what remains of Sakuya is destroyed altogether by Yugi.
25
"The End of Time"
September 16, 1997
September 28, 2000
Yugi leads her assault on Earth as her domain bursts through into the real world, turning everything to crystal. Sasami is kidnapped by Matori and taken to Yugi's palace. Mihoshi and Kiyone resort to desperate measures to defeat Tsugaru, and Ryoko's love for Tenchi leads her to victory against Hotsuma. Tenchi resolves to live up to his duty as defender of the planet and enters Yugi's palace, but he becomes trapped in an illusory world where he is able to live happily with Sakuya.
26
"Payback"
September 23, 1997
September 29, 2000
With her servants defeated, Sasami no longer her prisoner and the family reunited, the desperate Yugi retreats to her inner sanctum. Tenchi knows that since it was he who was manipulated by Yugi's tricks, he must accept the responsibility and face her alone. He collects the six gems from the girls and, uniting it with his own, creates the gem sword and heads for Yugi. The girls back him up as best they can by holding off her attacks until Tenchi reaches Yugi herself for the final confrontation.
Toonami Episode Guides
Cartoon Network (1997-2008)
Adult Swim (2012-Present)