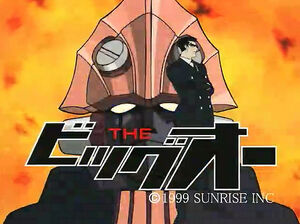 Series Overview
| Color | Season | Episodes | Toonami Premiere | Toonami Finale |
| --- | --- | --- | --- | --- |
| | 1 | 13 | April 2, 2001 | April 18, 2001 |
| | 2 | 13 | July 27, 2013 | October 19, 2013 |
Season 1 (1999-2000)
#

Episode Title

Japanese Airdate

English Airdate

Toonami Airdate

01
"Roger the Negotiator"
October 13, 1999
April 2, 2001[1]
Roger Smith is Paradigm City's top negotiator. One day, he is called upon to negotiate a deal with kidnappers for the release of his new client's daughter. Despite Roger's best efforts, practical means of negotiations just doesn't seem to work. Soon, things go really bad and Roger calls upon his secret weapon in order to save the city – the Big O!
02
"Dorothy Dorothy"
October 20, 1999
April 3, 2001
After the last fight ended, Roger found himself looking for Dorothy, who had gone missing shortly afterwards. He soon receives a tip about a nightingale in the city, and thus goes to a club called Nightingale. There, he finds Dorothy and a man named Waynewright, who claims to be her grandfather. However, Beck soon shows up and causes countless problems for Roger and Dorothy. Just what is the truth behind all of this?
03
"Electric City"
October 27, 1999
April 4, 2001[2]
When some recent power outages cause the Paradigm Corporation some concern, they send a representative to hire the one and only Roger Smith. Roger sets out to convince the people of Electric City to let the power plant operate. However, Roger soon finds himself dealing with claims that a god that uses electricity lives in the sea... and he soon discovers that there may just be some truth to their claims.
04
"Underground Terror"
November 3, 1999
April 5, 2001
Angel, the same woman who hired Roger to deal with the miss happenings of Electric City, approaches him in hopes of getting him to do another job for the Paradigm Corporation. This time, she uses the alias of Patricia Lovejoy. Roger reluctantly agrees, and is hired to convince a reporter named Michael Seebach to hand over his manuscript. The problem - Michael has disappeared months earlier and nobody knows where he is. Roger uses his connections with Major Dastun to find out that Michael has been renting an apartment, though when he goes there to investigate, he soon discovers that this negotiation isn't going to be a simple procedure!
05
"Bring Back My Ghost"
November 10, 1999
April 6, 2001
After a recent string of military police vehicles crash while crossing a certain bridge, the higher ups of the military police start to get worried. Meanwhile, Roger is asked to work for a billionaire named Melissa Frazier, who wants Roger to find her son Bonny. Bonny worked for the military police, though he was thought to have been killed during a riot that occurred on the very bridge where the crashes are occurring. Roger gets a tip that may just connect the two events, so he heads out to try to piece the puzzle together.
06
"A Legacy of Amadeus"
November 17, 1999
April 9, 2001[3]
When Dorothy once again wakes Roger up by her loud piano playing, Roger decides to take Dorothy to see a friend who may just be able to get her to add feeling to her playing. His friend is a robot named Instro, who plays the piano for patrons at a local bar. He was built by a scientist named Amadeus. However, while Roger and Dorothy are visiting him, a mysterious stranger shows up and tries to convince Instro to fulfill his creator's legacy, which causes Roger to become curious. Roger soon uncovers that there is much more to Instro than meets the eye, and he soon heads off in an attempt to prevent him from making a dire mistake.
07
"The Call from the Past"
November 24, 1999
April 10, 2001[3]
Roger and Angel are trapped inside of a building that is buried under the sea!... ... Earlier that day, Roger is trying to use his negotiation skills in order to try to lower the price of fish for the people living outside of the domes. He learns that the fishermen aren't going out to sea because they're afraid of a sea titan in the water. Roger doesn't believe in their stories, though after seeing the alleged servants of the sea titan, he decides to purchase the use of an exotic machine that can take him underwater. Angel shows up, and when she tries to steal it first, Roger manages to sneak aboard and they head into the watery abyss together.
08
"Missing Cat"
December 1, 1999
April 11, 2001[3]
After a rich woman is killed, Dastun's men find a mysterious blob inside of her pool. Meanwhile, Dorothy is on her way home and soon discovers a cat in an alley. She decides to take it home with her, and requests that Roger negotiate with the owners of the cat, which she has named Pero. Unfortunately, Roger just believes that Dorothy should get rid of it. The cat's owners soon come to retrieve the cat. They refuse to negotiate and they demand that the cat is given back to them. Just as Dorothy is about to give them the cat, a mysterious plane flies up to the balcony and kidnaps Dorothy and Pero; the male owner identifies the pilot as Eugene before he is shot and killed. Will Roger be able to find Dorothy and Pero before its too late? And, why is Pero so important to the owners and the thief?
09
"Beck Comes Back"
December 8, 1999
April 12, 2001[3]
Mr. Wise, a rich industrialist, hires Roger in order to negotiate for the return of his kidnapped son, Francis. After hanging up on his kidnappers, Wise fires Roger, only to be rehired when the ransom is paid and the son isn't returned. The kidnappers call back, but when they recognize Roger's voice, they agree to return the son only if Roger himself brings the ransom. Suspicious, Roger arrives at the cabin and finds Francis. The police show up and they believe Roger is the real kidnapper. Roger soon discovers that all this is a plan by Beck, so he heads off to once again stop him.
10
"Winter Night Phantom"
December 15, 1999
April 13, 2001[3]
When Dastun has a recurring dream about a woman in white, strange things begin to happen in Paradigm City. After seeing the woman at the scene of one of the crimes Dastun is positive that she is behind it, and with help from Roger, he is determined to get to the bottom of it all.
11
"Daemonseed"
January 5, 2000
April 16, 2001[3]
t's almost Heaven's Day, a day where people in love exchange gifts with one another. Dorothy wants to buy a tie for Roger, though Roger doesn't celebrate the holiday and after he bashes the holiday and demands that nobody in his house celebrate it, Dorothy runs out. Later, Norman tells Roger that Dorothy's birthday is on Heaven's Day. Feeling bad, Roger goes out and gets a dress for her, despite the fact that he was reluctant to celebrate this tradition in the first place. Meanwhile, a saxophone player that Roger meets on the street is trying to get some money to get his blind girlfriend a Heaven's Day gift. A strange passerby drops some jewelry into his saxophone case. The Paradigm Corporation soon hires Roger, as it is believed that a crazed scientist is attempting to ruin Heaven's Day.
12
"Enemy Is Another Big!"
January 12, 2000
April 17, 2001[3]
Alex Rosewater hires Roger to deliver a very large severance check to Michael Seebach, who now calls himself "Schwarzwald". After accepting the assignment, Roger intercepts a report, via the police radio, about a new "MegaDeus" that has appeared at JFK Mark. Eager, Roger hops into the Big O and heads there. He is soon confronted by a MegaDeus that is covered in bandages. He later learns that it is being controlled by Schwarzwald himself. The two MegaDeus begin to fight! Shockingly, Schwarzwald's MegaDeus vanishes! A helpful tip by Angel, however, soon puts Roger back on the track to complete his objectives, though it seems Schwarzwald has other plans in store.
13
"R.D."
January 19, 2000
April 18, 2001[3]
There's been a recent string of murders in Paradigm City. The suspect - a woman in a red cloak and hood. The victims - individuals who claim to have memories from before the great amnesia. The only clue – the woman leaves behind the phrase "Cast In The Name of God, Ye Not Guilty" at every crime scene. As he attempts to make sense out of all of this, Roger Smith deals with his constant flashbacks.
Season 2 (2003)
#

Episode Title

Japanese Airdate

English Airdate

Toonami Airdate

14
"Roger the Wanderer"
January 2, 2003
August 3, 2003
July 27, 2013
Roger is in the middle of fighting three foreign MegaDeuses! He soon begins to question his own existence, which causes him to delve into a world inside his own head. As he struggles to deal with his own existence and who he really is, he relives some of the events in his life.
15
"Negotiations with the Dead"
January 9, 2003
August 10, 2003
August 3, 2013
A woman hoping to protect her husband, whom happens to be a retired senator, hires Roger to negotiate with the assassin trying to kill him. The assassin is believed to be working for the same people who controlled the mad bomber and the murderous android from earlier. Shockingly, after Roger receives a tip from his informant, it becomes clear that Dorothy's creator, Timothy Wayneright, was the only one capable of creating new androids. The problem – he was killed a long time ago! In hopes of trying to make more sense of this situation, Roger and Dorothy head to the Wayneright mansion, where they soon come across something unexpected...!
16
"Day of the Advent"
January 16, 2003
August 17, 2003
August 10, 2013
An unknown object crashes to Earth right inside of Paradigm City! This causes the general populace to consider it a good omen due to some local lore. Roger Smith, however, isn't so sure especially when he is hired by one of the locals to see what exactly it was that fell from the sky. This negotiation puts him into direct conflict with the CEO of the Paradigm Corporation, Alex Rosewater, who knows more about Roger than he expected.
17
"Leviathan"
January 23, 2003
August 24, 2003
August 17, 2013
There have been recent reports that Schwarzwald is back once again, this time with a new MegaDeus. What's worse, he's threatening Paradigm City! Roger reluctantly agrees to investigate the issue; he retraces his steps and examines Schwarzwald's old apartment and the underground chamber where he confronted Schwarzwald previously. He soon discovers some clues that may just help him figure out what's going on, as well as some unexpected information about Alex Rosewater's true intentions.
18
"The Greatest Villain"
January 30, 2003
August 31, 2003
August 24, 2013
While on his way to meet with some foreign businessmen who speak no English, Roger mysteriously disappears! Norman and Dorothy wait for him to return, though as the hours pass by, Dan Dastun eventually arrives to give them the bad news; Roger has been kidnapped!! Meanwhile, Roger wakes up to discover that Beck is working with the foreign businessmen to promote his own interests, though Roger is soon placed inside a mask-like device that prevents him from speaking. When Beck calls the Smith household to explain his demands, Dorothy decides to take charge and lead the negotiations. Will she be able to handle the complex affairs involved? And, more importantly, will she save Roger?
19
"Eyewitness"
February 6, 2003
September 7, 2003
August 31, 2013
When an assassin begins to cause problems in Paradigm City, Dan Dastun is assigned to the case. His mission – to capture the assassin. However, the assassin only targets androids, which bothers Dastun because he's been assigned an android partner. Regardless of bad conditions, Dastun still continues to do his job and thus begins to discover that his partner isn't as useless as he initially thought. Things soon heat up when they begin to discover more about the situation at hand.
20
"Stripes"
February 13, 2003
September 14, 2003
September 7, 2013
Roger has been having some nightmares that have been confusing him. So, he decides to go speak with Gordon Rosewater in hopes of finding some answers. Eventually, Rosewater tells Roger that he had a contract with him in the past, which causes Roger quite a lot of confusion since he doesn't remember ever having one with him. Afterwards, Roger heads to the Speakeasy Bar to relax, although this is short lived as Angel comes and sits down next to him. Meanwhile, Dorothy has been hearing a faint song in the air, which causes her to go investigate. Angel hears the same song, and she leaves Roger to go to the source of the music as well. Roger soon discovers that another MegaDeus is rampaging through Paradigm City, so he gets into Big O and heads off to stop it.
21
"The Third Big"
February 20, 2003
September 21, 2003
September 14, 2013
The Big O shields itself right before the Bonaparte tries to drill into it. After seeing an image of Dorothy in danger, Roger allows the Big O to continue the fight on it's own and makes his way to an abandoned church in Dastun's car, while Alan prepares to pierce through Dorothy, ignoring Angel's pleas. Roger arrives to confront Alan, but Dastun soon interrupts the fight. As the Bonaparte then begins to destroy the city dome under Vera's command, Alex awakens his newly modified megadeus, known as the Big Fau, and quickly blows up the Bonaparte. However, the Big Fau begins to malfunction, causing chaos within the city. Roger returns back into the Big O and shuts down the Big Fau.
22
"Hydra"
February 27, 2003
September 28, 2003
September 21, 2013
The military police are rounding up citizens suspected of being union sleeper agents. At a villa, Alex explains that his father founded the city in order to preserve the memories of human civilization. Elsewhere, Angel tells Dorothy that Roger must not let the memories of the city fall into the hands of Alex or Vera. Roger is outraged that Alex would form such an alliance with Vera in order to obtain the memories. Alex looks for the means to reactivate the Big Fau, but Vera blocks it by awakening the three-headed megadeus, known as the Hydra Eel, which shuts off the electricity from the underground water system. Roger gets in the Big O to engage in battle, but the Hydra Eel nearly shocks Roger to death. The Big O then transforms and eradicates the Hydra Eel, but not before the Hydra Eel lets out an electric shock to unexpectedly allow the Big Fau to be reactivated.
23
"Twisted Memories"
March 6, 2003
October 5, 2003
September 28, 2013
Roger is given the message from Dorothy concerning what Angel told her. Alana releases Beck in jail to persuade him to pilot the Big Fau, or face an order of execution. Alex visits Gordon at his farm to asks about the memories of the city, but when the latter says nothing, the former covers the fields in flames. Dastun shows Roger that another sleeper agent is still on the loose, and it happens to be Angel. Roger finds Vera in an underground tunnel, where she tells him that the bird whose wings have been plucked will shed all its feathers and will turn into the beast it was before it evolved into a bird. If the union takes the memories, hellfire will burn down the city once again as it did forty years past. As the mansion is suddenly being attacked by scorpion-like machines, Dorothy and Norman do their best to fend them off until the Big O manages to intervene. Roger finds out that Beck created these machine to capture Dorothy for her hidden memories. With Dorothy slowly becoming beyond reach for Roger, he is stopped by none other than a resurrected megadeus, now known as the Big Duo Inferno.
24
"The Big Fight"
March 13, 2003
October 12, 2003
October 5, 2013
The Big Duo Inferno seems to have the upper hand due to its airborne capabilities. However, the Big O is able to fire multiple missile to weaken his opponent. Much to Roger's surprise, the pilot of the Big Duo Inferno is Alan, who is directly linked to the Duo. Just as Alan prepares for his finishing blow, the spirit of Schwarzwald engulfs Alan inside the cords of the megadeus, flying him into the atmosphere. Roger finds Dorothy atop the ledge of a building, but he sees that her memory circuit has been stripped. Meanwhile, Alex wants Beck to assist him into recreating the city to his liking. Roger remembers when Dorothy asked him whether or not he would fall in love with her if she was a human. While journeying in an underground tunnel, Angel stumbles upon a stage set of a cabin, where she was first told about the scars on her back as a child. Dastun walks into a movie theater, where he sees his memories displayed on film.
25
"The War of Paradigm City"
March 20, 2003
October 19, 2003
October 12, 2013
The Union is continuing their bombing campaign, while Alex Rosewater finally gets Big Fau operating! He proclaims his new order and his plan to destroy Paradigm City and all of the people he deems unworthy to exist. Meanwhile, Angel copes with some sudden truth about her past, while Roger attempts to figure out a way to restore Dorothy's memories. The two soon cross paths when Roger's vehicle falls into a hole that takes him underneath the city.
26
"The Show Must Go On"
March 27, 2003
November 2, 2003
October 19, 2013
Roger is in Big O fighting Alex Rosewater's Big Fau. Big-Fau has the upper hand, and to make matters worse for Roger, the Military Police are assaulting Big O. Meanwhile, Dastun decides to abandon the force and head off to try to help Roger on his own. Dastun's attack on the Big Fau doesn't do much damage, but he manages to buy some time for Roger to get Big O moving again. However. Big Fau throws Big O into the sea, causing it to sink into the abyss. Elsewhere, Dorothy miraculously regains functionality and heads off to rescue the sinking Roger. As all of this chaos occurs, Gordon Rosewater is helping Angel cope with her newfound knowledge about her existence.
References
↑ "The official word: Big O ". animenewsnetwork.com. March 8, 2001. http://www.animenewsnetwork.com/news/2001-03-08/the-official-word-big-o

. Retrieved on April 5, 2015

.

 

↑ "CN Schedule ". cartoonnetwork.com. April 4, 2001. https://web.archive.org/web/20010404213345/http://alt.cartoonnetwork.com/Schedule/0,2989,CTN%7c%7c%7cEastern,00.html

. Retrieved on March 16, 2020

.

 

↑ 3.0 3.1 3.2 3.3 3.4 3.5 3.6 3.7 "Big O - CN Schedule ". cartoonnetwork.com. April 7, 2001. https://web.archive.org/web/20010407063105/http://alt.cartoonnetwork.com/Schedule/1,2989,CTN%7c0%7c317420%7cEastern,00.html

. Retrieved on March 16, 2020

.

 
Toonami Episode Guides
Cartoon Network (1997-2008)
Adult Swim (2012-Present)