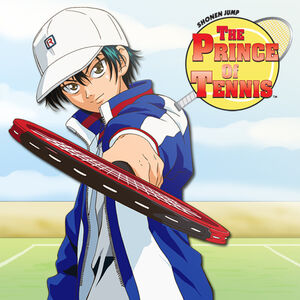 Series Overview
Color
Season
Episodes
Toonami Premiere
Toonami Finale
1
26
December 23, 2006
—
2
26
Unaired
3
47
Unaired
4
18
Unaired
5
31
Unaired
6
37
Unaired
7
13
Unaired
Season 1 (2001-2002)
No. in
Series

No. in
Season

Episode Title

Japanese Airdate

Jetstream Airdate

Toonami Airdate

01
01
"The Prince Appears"
October 10, 2001
July 14, 2006
December 23, 2006[1]
Echizen Ryoma arrives to Seigaku for the first time, meeting a girl named Sakuno along the way. However, he is five minutes late for his match and is then disqualified. Moments later, Sasabe, someone he sasses earlier, decides they should have a match of their own. Even though Sasabe does some cheap tricks to try to win, Ryoma ultimately overpowers him using his non-dominant hand and gains victory.
02
02
"Samurai Jr."
October 17, 2001
July 24, 2006
March 3, 2007[2]
Ryoma's first day at Seishun Academy, also known as "Seigaku." He rescues Horio, a seventh grader being picked on by two older tennis team members. He easily dispatches them, piquing the interest of Takeshi Momoshiro, a tennis team regular.
03
03
"The Seigaku Regulars Make Their Debut"
October 24, 2001
July 31, 2006
March 10, 2007[3]
Arai tries to get his revenge on Ryoma. He hides Ryoma's rackets and challenges him to a match, forcing him to play with an old and broken racket. All the while the Seigaku team members observe Ryoma closely.
04
04
"The One Named Viper"
October 31, 2001
August 7, 2006
January 6, 2007[4]
Ryoma has been chosen by Captain Kunimitsu Tezuka to play for a spot on the regular team, a first for a seventh grader. His main opponent is Kaoru Kaido, infamous for his "Snake Shot" and reptilian nature.
05
05
"The Snake Shot"
November 7, 2001
August 14, 2006
January 13, 2007[5]
Ryoma patiently plays Kaido's game while gathering information crucial to voiding his dangerous "Snake Shot." Ryoma counters effectively, amazing all who watch.
06
06
"Nanjiroh Echizen"
November 14, 2001
August 21, 2006
April 14, 2007[6]
Mr. Inoue from Monthly Pro Tennis magazine goes to interview Ryoma's quirky and lazy father Nanjiro. Rebuffing his questions, Nanjiro challenges Inoue to a game of tennis.
07
07
"The Two Ryomas"
November 21, 2001
September 5, 2006
April 21, 2007[7]
Ryoma's next opponent in the ranking matches is Sadaharu Inui, a scientific and methodical tennis player whose data never fails him.
08
08
"The Split Step"
November 28, 2001
September 18, 2006
May 5, 2007[8]
Ryoma unleashes his secret weapon, "the split step," which makes him respond to Sadaharu's attacks quicker and clouds Sadaharu's predictions of Ryoma's game.
09
09
"The Hard Day"
December 5, 2001
October 2, 2006
January 20, 2007[9]
Ryoma defeats Sadaharu and wins a spot on the regular team. Sadaharu isn't out of the picture though—he stays on to help train the regulars and introduce them to his special concoction: a vegetable drink guaranteed to make them stronger.
10
10
"Counterattack! Sasabe Again?"
December 12, 2001
October 16, 2006
May 26, 2007[10]
Sasabe has returned! Only this time it's his father who's the troublemaker, making a fun day at Kachiro's father's tennis club a nightmare. Ryoma tries to diffuse the situation slyly by asking Mr. Sasabe to teach him tennis.
11
11
"Ryoma Vs. Momoshiro"
December 19, 2001
October 23, 2006
January 27, 2007[11]
Ryoma and Momo are developing a competitive friendship. They both have their eyes on the #3 doubles spot so they decide to play each other for it. At the outdoor tennis courts they come upon a round-robin doubles game.
12
12
"The Perfect Match"
December 26, 2001
October 30, 2006
Unaired
Although they lost to Fukawa and Izumi, Ryoma and Momo decide to challenge themselves and play doubles at the district matches. Coincidentally, their opponents there are Gyokurin's Fukawa and Izumi, again.
13
13
"Real Men Play Doubles"
January 9, 2002
November 6, 2006
Unaired
In the midst of their uncoordinated game with Fukawa and Izumi, Ryoma and Momo bring their game back with an interesting yet unorthodox way to synchronize their attack.
14
14
"The Triple Counter"
January 16, 2002
November 13, 2006
Unaired
The mysterious team from Fudomine Junior High comes out of nowhere to defeat a seeded school. Shusuke Fuji and Taka Kawamura are up to play them in doubles.
15
15
"To Each His Own Battle"
January 23, 2002
November 20, 2006
Unaired
Fudomine's Ishida breaks out his secret weapon—the "Wave Surge" shot—to bring the momentum back to their team. As Shusuke prepares to return the invincible flat shot meant for him, Taka steps in and intercepts it.
16
16
"The Boomerang Snake"
January 30, 2002
November 27, 2006
Unaired
Eiji Kikumaru and Shuichiro Oishi win their doubles match over Fudomine, and Kaoru Kaido begins his match against Fudomine's Akira Kamio. Kaido is pushed by Akira's speedy game and is forced to use his specialty "Snake Shot," but he slips!
17
17
"A Little Gesture of Triumph"
February 6, 2002
December 4, 2006
Unaired
Kaido's new move "The Boomerang Snake" ends up amazing everyone and himself! He regains his confidence and restarts his strategy—to tenaciously wear down a player and finish them off with one strike.
18
18
"The Love Letter"
February 13, 2002
December 11, 2006
February 3, 2007[12]
Ryoma starts his match with Fudomine's Shinji Ibu, and Coach Ryuzaki remembers when Ryoma's father Nanjiro was a student of hers.
19
19
"Battle-Scarred Ryoma"
February 20, 2002
December 18, 2006
February 10, 2007[13]
Ryoma injures his eye as he tries to bounce back from a series of shots from Shinji Ibu. Ibu's shots were strategically chosen to momentarily paralyze Ryoma, but Ryoma isn't giving up despite his injury.
20
20
"Time Limit"
February 27, 2002
December 26, 2006
February 17, 2007[14]
The Seigaku Team watches intently as Ryoma figures out a brilliant strategy—a combination of his split step and his father's "two-sword style"—to shut down Ibu's "spot."
21
21
"Is the Tennis Court Burning Up?"
March 3, 2002
January 2, 2007
Unaired
Seigaku's recent success at the district matches attracts unwanted attention and "spies" from rival schools, desperately trying to gather any sort of data they can. Two of these spies, Shunsuke and Kenzo, end up challenging Momo and Ryoma to a match.
22
22
"Kaoru's Troubles"
March 13, 2002
January 16, 2007
Unaired
After practice, Kaoru goes off to train but Ryoma, Momo, Horio, Kachiro and Katsuo go shopping for supplies. On their way, they run into a purse-snatcher. Momo "borrows" a bike and chases the culprit.
23
23
"Here Comes Inui's Deluxe Drink!"
March 20, 2002
January 29, 2007
Unaired
It's nine days away from the Metropolitan Tournament! Captain Tezuka and Inui introduce a new way to train. The team members are separated based on their style of play and rally against each other...
24
24
"Ryoma's Day Off"
March 27, 2002
February 12, 2007
Unaired
Coach Ryuzaki asks Ryoma to take Sakuno to restring her racket, but everybody else thinks he's taking her out on a date!
25
25
"Seigaku's Strongest Man, Part 1"
April 10, 2002
February 26, 2007
Unaired
Captain Tezuka challenges Ryoma to a match because he feels Ryoma's tennis is a copy of his father's game, even though he is staking his own health. He wants to challenge Ryoma to aim higher, beyond just wanting to beat his father.
26
26
"Seigaku's Strongest Man, Part 2"
April 10, 2002
March 12, 2007
Unaired
Shuichiro Oishi watches Tezuka and Ryoma play their game, worried that Tezuka may injure his already weakened arm.
Season 2 (2002)
No. in
Series

No. in
Season

Episode Title

Japanese Airdate

Jetstream Airdate

27
01
"Kalpin's Adventure"
April 17, 2002
March 26, 2007
Ryoma accidentally packs his cat Kalpin's favorite toy in his tennis bag, and the cat follows him to school. When Ryoma finds out his cat is wandering around campus, the search is on to find Kalpin!
28
02
"A New Regular Appears?!"
April 24, 2002
April 9, 2007
It's the day of the Metropolitan Tournament and Ryoma oversleeps, forcing his teammates to find a substitute for registration—Horio in a team jersey! Will the imposter be found out?
29
03
"Momo and Viper"
May 1, 2002
April 23, 2007
Momo and Kaido are assigned to play doubles by Coach in the next match, but their stormy rivalry just might get in the way—or could it work to their advantage?
30
04
"Mizuki's Scenario"
May 8, 2002
April 30, 2007
The intense doubles match goes long, and Kaido finds that his snake is ineffective against the St. Rudolph duo. The pressure pushes Kaido to the brink and a new move is unleashed.
31
05
"The Moon Volley"
May 15, 2002
May 7, 2007
Next up is Seigaku's "golden pair," Kikumaru and Oishi, and the two find themselves facing some tough challengers. Ryoma notices that their opponent Akazawa's hits make the ball a blur—could this be the secret to their surprising success?
32
06
"Mortal Blow: Eiji's Feigned Sleep Attack"
May 22, 2002
May 14, 2007
Oishi and Kikumaru try the Australian Formation to gain the upper hand over the St. Rudolph pair. But when Kikumaru's energy starts to fade, their game is in jeopardy!
33
07
"The Tiebreak"
May 29, 2002
May 21, 2007
Kikumaru brilliantly revives his strength and breaks out his acrobatic moves, and the grueling doubles match with St. Rudolph goes into a tiebreak. Will Eiji be able to hold out to the end?
34
08
"Twist Spin Shot"
June 5, 2002
May 29, 2007
Ryoma Echizen's turn is finally up, and he faces Fuji's younger brother Yuta, who will stop at nothing to surpass his older brother.
35
09
"Drive B"
June 12, 2002
June 4, 2007
Ryoma sees the secret behind Yuta's most powerful move and tells him to stop using it, as it will hurt him eventually. Ryoma then unveils his new move, the "Drive B."
36
10
"Big Brother, Syusuuke Fuji"
June 19, 2002
June 11, 2007
Shusuke Fuji is up against the St. Rudolph mastermind Mizuki, but he isn't his usual cheerful self. Will Fuji be able to fend off Mizuki's data-driven tennis?
37
11
"A Tennis Ball with Ryoma's Face"
June 26, 2002
June 18, 2007
It's Ryoma's day off, but Nanjiro tricks him into giving tennis lessons to Sakuno and Tomoka!
38
12
"Penal-Tea"
July 3, 2002
June 25, 2007
Before Seigaku's tennis practice starts, a rival player from Yamabuki is seen on campus asking around for Ryoma and causing trouble. Meanwhile, Inui has some very special training planned.
39
13
"The Brown Bear"
July 10, 2002
July 2, 2007
Inter-team practices are held before the Metropolitan Matches, and Ryoma and Fuji face off, each bringing out his most formidable moves to topple.
40
14
"A Duel in the Rain"
July 17, 2002
July 16, 2007
Echizen continues his practice match with Fuji. The others also starts their practice matches: Tezuka against Momoshiro, Kaidoh against Kawamura and a duel between the two members of the golden pair.
41
15
"Trouble"
July 24, 2002
July 30, 2007
The second half of the Metropolitan Matches begins! Fudomine Junior High plays badly due to circumstances beyond their control and forfeits. Ginka Junior High also forfeits and Seigaku advances to the next match to play Yamabuki Junior High!
42
16
"Oishi is Targeted"
July 31, 2002
August 13, 2007
Kikumaru and Oishi start their doubles match against Yamabuki Junior High's Higashikata and Minami. Oishi confronts the same pair that he was unable to beat in last year's match. And finally Momoshiro's match with Sengoku starts!
43
17
"Lucky Sengoku"
August 7, 2002
August 27, 2007
Sengoku counters Momoshiro's signature dunk smash and the match slowly starts shifting in his favor. Momoshiro perseveres but his left foot starts to spasm due to the intensity of the match.
44
18
"Jackknife"
August 14, 2002
September 10, 2007
Finally Ryoma's match starts with Akutsu from Yamabuki Junior High. With all the trouble Ryoma encountered with Akutsu a few days ago, everyone is worried for his safety!
45
19
"A Devil on the Court"
August 21, 2002
September 24, 2007
Provoked by Ryoma's taunts, Akutsu begins to take their match seriously and unleash his true strength. Akutsu's power and speed amaze the crowd, while Ryoma counters with his special shots.
46
20
"Samurai Spirit"
August 28, 2002
October 8, 2007
Ryoma brings out his best shots to challenge Akutsu's raw power. In spite of the spectators' worries, the violent battle continues to rage. Will Ryoma find the strength within to help him defeat his most challenging enemy?
47
21
"I Can't Lose"
September 4, 2002
October 20, 2007
Evolving with each and every play, Ryoma holds his own, and the game is even! Coach Banda of the Yamabuki Jr. High team hands Akutsu a secret strategy. With a game he cannot lose, Akutsu makes his move.
48
22
"The Decisive Moment"
September 11, 2002
November 5, 2007
Ryoma is cornered by Akutsu. But he accepts this challenge head on and releases his newfound power. Each player steps closer to the next level without giving an inch, all the while throwing out his most powerful moves.
49
23
"Free Style Fighting"
September 18, 2002
November 19, 2007
Ryoma, during cleaning duty, encounters three uperclassmen, to whom he challenges to a free throw duel. Meanwhile, Akaya Kirihara ends up wondering around the tennis courts at Seigaku because he overslept on the bus on his way to school.
50
24
"A Seigaku Tradition"
September 25, 2002
December 3, 2007
As the regional tournament approaches, the Seigaku tennis club decides to hold another intraschool tournament to determine the eight Seigaku regulars who will be representing their school.
51
25
"Inui's Challenge"
October 2, 2002
Unaired
Inui faces off against Tezuka in the final match of the intraschool tournament and we find out that data isn't all that Inui has.
52
26
"Seigaku's Biggest Crisis"
October 9, 2002
Unaired
In the conclusion of the match between Inui and Tezuka, Tezuka shows why he's the captain of the Seigaku Tennis Club. And Momoshiros absence has not gone un noticed as it causes more than a few incidents between other teammates.
References
Toonami Episode Guides
Cartoon Network (1997-2008)
Adult Swim (2012-Present)