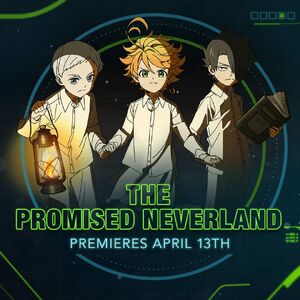 Series Overview
| Color | Season | Episodes | Toonami Premiere | Toonami Finale |
| --- | --- | --- | --- | --- |
| | 1 | 12 | April 13, 2019 | June 29, 2019 |
| | 2 | 11 | April 10, 2021 | June 19, 2021 |
Season 1 (2019)
No. in Series
No. in Season
Episode Title
Japanese Airdate
Toonami Airdate
01
01
"121045"
January 10, 2019
April 13, 2019
Grace Field House is where children without parents are taken in. An irreplaceable home for the 38 children who live happily every day. Until suddenly, their lives are completely changed forever…
02
02
"131045"
January 17, 2019
April 20, 2019
Emma and Norman spend their day preparing for their escape, but they also find some eerie things about Mom.
03
03
"181045"
January 24, 2019
April 27, 2019
While preparations are underyway, Emma, Norman, and Ray are now "training" the other kids so they can get stronger and be ready when the time comes. But despite Mom's orders, the new Sister Krone has her own plan.
04
04
"291045"
January 31, 2019
May 4, 2019
Emma, Norman, and Ray figure out that there may be a traitor among the children, an informant for Mom. As Norman attempts to solve this mystery, Emma notices something strange about Gilda.
05
05
"301045"
February 7, 2019
May 11, 2019
As Norman confronts the traitor, Emma and Gilda are keeping a watchful eye on Mom, and discover that she disappears somewhere, every night at eight o'clock.
06
06
"311045"
February 14, 2019
May 18, 2019
Discussions for the escape plan continue, and Emma introduces Ray and Norman to someone. Meanwhile, Don and Gilda take a dangerous risk.
07
07
"011145"
February 21, 2019
May 25, 2019
The children gain a powerful ally, but they need to be careful with this person. Who knows what this person could be plotting behind the children's backs?
08
08
"021145"
February 28, 2019
June 1, 2019
Ray will attempt to distract Mom while Emma and Norman go to inspect the wall. Gilda and Don are keeping a watchuful eye on Ray, but will everything go smoothly?
09
09
"031145"
March 7, 2019
June 8, 2019
As Emma steps down from moving the escape plan forward, a new shipment date is announced earlier than expected, and someone will get shipped before Ray.
10
10
"130146"
March 14, 2019
June 15, 2019
Emma loses yet another ally and friend, and in the brink of despair, Mom pays her a visit in the infirmary.
11
11
"140146"
March 21, 2019
June 22, 2019
Ray and Emma haven't spoken to each other for nearly two months. With Ray's shipment approaching, have they really given up? In the midst of despair, Emma finds Ray in the library.
12
12
"150146"
March 28, 2019
June 29, 2019
As Emma and Norman continue to surprise Ray, the fated night finally arrives. As Phil holds on to Mom, what will he say?
Season 2 (2021)
No. in Series
No. in Season
Episode Title
Japanese Airdate
Toonami Airdate
13
01
"Episode 1"
January 7, 2021
April 10, 2021
Emma and the children have finally escaped the House and now head to the place indicated on the pen Norman gave them. But on their way, a large, wild demon attacks the group. In an attempt to draw the demon's attention and lure it into a trap, Ray separates from the group. This decision, however, leads him into greater danger.
14
02
"Episode 2"
January 14, 2021
April 17, 2021
The children's saviors turn out to be demons named Mujika and Sonju. The pair claims that their religion forbids them from eating humans. Emma and Ray visit Sonju while the others are sleeping, intending to ask about what happened to humans thirty years ago as well as what is happening in the world now.
15
03
"Episode 3"
January 21, 2021
April 24, 2021
Emma and the group learn the necessary skills to survive in this world from Mujika and Sonju. The two demons also guide the children toward the place indicated by the pen before going their separate ways. Back on their own, the children traverse a wasteland in search of a place called "B06-32."
16
04
"Episode 4"
January 28, 2021
May 1, 2021
Without warning, the shelter's phone begins to ring, echoing through the halls. Emma hesitantly answers and finds that it is William Minerva. While the call turns out to be a recording, the children take time to go over what they learned from the message. Eventually, they come up with a plan: they will begin working on making the shelter Minerva prepared for them a place to live in the long term, then return to Grace Field House to save Phil and their younger siblings.
17
05
"Episode 5"
February 4, 2021
May 8, 2021
Emma and the other escapees manage to survive the attack on the shelter. Now they have settled in an abandoned temple a short ways from a demon town. Unlike the shelter and Grace Field House, here there is a limited supply of food, and they are barely surviving. Emma watches her siblings as they sleep and contemplates their need to overcome this new predicament, but feels responsible for it as she is unable to come up with a solution.
17.5
5.5
"Guidepost"
February 11, 2021
TBA
A recap episode comprised of scenes from the first seventeen episodes of the series.
18
06
"Episode 6"
February 18, 2021
May 15, 2021
Norman, thought to have been shipped, stands before Emma and Ray. It is a reunion they never dreamed of, and they embrace tearfully. They all return to the temple, where the other children enjoy the reunion as well. Norman explains what happened between the fateful day of his shipment and now. He explains the truth of Lambda 7214, where they sent him, and why demons need to eat humans.
19
07
"Episode 7"
February 25, 2021
May 22, 2021
Emma and Ray learn about the legend of Mujika, the evil-blooded girl, from Norman. Though Mujika's power comes as a surprise, Emma sees hope in what they've learned. Norman, however, thinks she is a threat to his plan and instead intends to kill both Mujika and Sonju. Though Emma pleads with him, explaining she has no wish to eradicate the demons, Norman is set in his decision and deaf to her arguments. To resolve their dispute, Emma proposes a deal.
20
08
"Episode 8"
March 4, 2021
May 29, 2021
Norman, seized by a terrible fit of coughing, spits up blood. He lied about not being experimented on when he was at Lambda. With the little time he has left, Norman manages to reunite with Emma and hopes to create a world where she and the children can live in peace. But this is a battle he fights alone. Meanwhile, Emma, Ray, Don, and Gilda successfully find Mujika and Sonju. As they ask the pair for help, an explosion echoes through the area. Emma knows it signals the start of Norman's plan, and so they hurry back to the town.
21
09
"Episode 9"
March 11, 2021
June 5, 2021
Norman has begun executing his plan without waiting for Emma. When Emma, Ray, and Sonju appear, Norman is hesitating to kill Vylk and his grandchild, but he tells them that they are too late and that the plan is already in motion.
22
10
"Episode 10"
March 18, 2021
June 12, 2021
Vincent reveals his plan to use hot air balloons to enter the farm from the sky. After hearing this plan, Peter reconfigures the security on the farm to prepare for the intruders. However, Vincent's betrayal was a part of Emma's strategy all along, and they use the balloons as a diversion to begin their invasion of the farm. Meanwhile, the shipment of children from the house has been set in motion, and Phil has already arrived at the gate.
23
11
"Episode 11"
March 26, 2021
June 19, 2021
Peter always believed that the mission of his clan was to keep its promise, so he could not understand why James acted under the pseudonym of William Minerva to help save the children that were being raised as livestock. Peter chose to sacrifice his brother's life in order to maintain the order of the world. When Emma extends her hand to Peter and says, "Let's be free," he shows a calm expression, but realizes his fate and ends up taking his own life. The children finally arrive at the gate leading to the human world, where they use Minerva's pen to open the door and pass through. However, Emma, Norman, Ray, Cislo, Barbara, and Zazie decide to remain behind in the demon's world in order to save all the children on the farms.
Toonami Episode Guides
Cartoon Network (1997-2008)
Adult Swim (2012-Present)