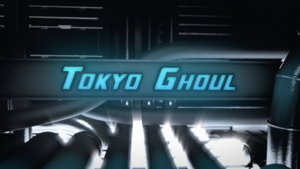 Series Overview
Color
Season
Episodes
Toonami Premiere
Toonami Finale
1
12
March 25, 2017
June 24, 2017
2
12
July 8, 2017
September 30, 2017
3
24
Unaired
Tokyo Ghoul (2014)
No. in Series

No. in Season

Episode Title

Japanese Airdate

Toonami Airdate

01
01
"Tragedy"
July 4, 2014
March 25, 2017
Ken Kaneki is a young man who befriends the beautiful and enigmatic Rize Kamishiro, unaware that she is a ghoul. Rize reveals her intentions to eat Kaneki but by a stroke of luck Kaneki survives her attack but is mortally wounded. He is saved by an emergency operation, transferring Rize's organs into himself. This subsequently turns him into a half-ghoul half-human hybrid and Kaneki struggles to survive and cope by himself.
02
02
"Incubation"
July 11, 2014
April 1, 2017
Kaneki struggles to adapt to his new nature with no success, until another ghoul, Nishiki Nishio attempts to prey on his friend Hideyoshi Nagachika and he must fight to protect him.
03
03
"Dove"
July 18, 2014
April 8, 2017
After saving his friend, Kaneki is taken in by Yoshimura, a ghoul who run the Cafe "Anteiku", who teaches him to blend in human society while hiding his true nature. However, he gets bullied by another ghoul named Touka.
04
04
"Supper"
July 25, 2014
April 22, 2017
A ghoul named Tsukiyama approaches Kaneki with unknown intentions and the two start hanging out. However, Kaneki does not know that Tsukiyama is preparing a mortal trap for him.
05
05
"Scars"
August 1, 2014
April 29, 2017
Intending to consume Kaneki himself, Tsukiyama prepares another trap for him, using Nishio's human girlfriend as a hostage.
06
06
"Cloudburst"
August 8, 2014
May 6, 2017
Tsukiyama is defeated by Touka with Kaneki and Nishio's help, but the recent developments in the 20th ward draw the attention of the police, who sends two of their investigators, Kureo Mado and Kōtarō Amon to hunt down all ghouls in the area.
07
07
"Captivity"
August 15, 2014
May 13, 2017
Hinami's mother is killed by Mado. Touka attacks members of the ghoul investigation and kills Kusaba, but is wounded by Mado. Kaneki tells Touka that he wants to fight the ghoul investigators and is given his mask.
08
08
"Circular"
August 22, 2014
May 20, 2017
Touka and Hinami confront Mado after being lured into a trap. During the commotion, Kaneki confronts Amon while Touka is focused on getting revenge for Hinami.
09
09
"Birdcage"
August 29, 2014
June 3, 2017
After the battle with Mado, Hinami starts living with Touka and Kaneki. Still mourning the loss of his partner, Amon is relocated to the 11th ward, where the police are having trouble facing some dangerous ghouls who do not fear them.
10
10
"Aogiri"
September 5, 2014
June 10, 2017
Kaneki is kidnapped by members of Aogiri Tree, an underground ghoul faction who is interested in his connection with Rize. Meanwhile, Amon is introduced to his new partner, the eccentric and dangerous Juuzou Suzuya.
11
11
"High Spirits"
September 12, 2014
June 17, 2017
As his friends from Anteiku make preparations to rescue him, Kaneki is tortured by Jason, one of the members of the Aogiri Tree, whose hideout is stormed by the CCG.
12
12
"Ghoul"
September 19, 2014
June 24, 2017
During the physical and mental tortures he suffers at the hands of Jason, Kaneki comes to accept his ghoul-half and fights back.
Tokyo Ghoul √A (2015)
No. in Series

No. in Season

Episode Title

Japanese Airdate

Toonami Airdate

13
01
"New Surge"
January 9, 2015
July 8, 2017
Having defeated Jason and accepted his ghoul half, Kaneki joins Aogiri Tree to protect those close to him in Anteiku.
14
02
"Dancing Flowers"
January 16, 2015
July 15, 2017
With Kaneki in their ranks, the Aogiri Tree takes the offensive against the CCG, and Amon is introduced to Mado's daughter Akira, who is assigned to become his new partner.
15
03
"Hangman"
January 23, 2015
July 22, 2017
Kaneki and Ayato rescue Naki, one of Jason's old cohorts from CCG custody, and prepare to storm the maximum security prison for Ghouls known as "Cochlea". Meanwhile, Tōka pays a visit to the university where Kaneki used to attend, where she has an encounter with Hideyoshi.
16
04
"Deeper Layers"
January 30, 2015
July 29, 2017
Aogiri commences their invasion of Cochlea and free a majority of the imprisoned ghouls while Amon and Akira visit the prison to learn more about Aogiri's plan from Donato Porpora. Amid the battles between the CCG, Cochlea security and ghouls, Kaneki meets a ghoul named Orca with orders to break him free, but is attacked by him instead.
17
05
"Rift"
February 6, 2015
August 5, 2017
The battle at Cochlea intensifies on several fronts when Ayato is almost killed, he is rescued in the nick of time by Kaneki, who undergoes a bizarre transformation after consuming the bodies of several dead Ghouls to empower himself.
18
06
"Thousand Paths"
February 13, 2015
August 12, 2017
The appearance of the "One-Eyed-Owl", considered the most dangerous of them all, leaves the CCG in a state of alert while Kaneki writhes in pain due to his new condition.
19
07
"Permeation"
February 20, 2015
August 19, 2017
Worried about Kaneki's disappearance, Hinami wants to do something for him, but is uncertain about it, until Takatsuki Sen shows up at the coffee shop while Tsukiyama is in the restroom. Takatsuki tells Hinami that in her current state, she cannot help her Onii-chan (Kaneki). Kaneki appears at Anteiku and Hinami calls for Touka to see him again.
20
08
"Old Nines"
February 27, 2015
August 26, 2017
After revealing to Kaneki that the One-Eyed-Owl is actually his child with a human woman, Yoshimura sends Touka and Hinami to safety, knowing that the CCG discovered the truth about Anteiku and plans to attack it.
21
09
"City In Waiting"
March 6, 2015
September 9, 2017
The CCG launches a full scale attack on Anteiku and instead of running away, Yoshimura and his friends decide to make a stand against them, and despite being warned, Touka and Kaneki depart to the 20th ward to assist their friends as well.
22
10
"Last Rain"
March 13, 2015
September 16, 2017
Kaneki's friends from Anteiku are being defeated one by one but he arrives in the nick of time to save them. Meanwhile, Juuzou, Shinohara and a few other investigators corner and defeat Yoshimura after a long battle, but suddenly, an even greater threat appears before them.
23
11
"Deluge of Flowers"
March 20, 2015
September 23, 2017
When the Aogiri Tree joins the battle, the CCG is driven into a corner until their strongest investigator, Kishō Arima appears to assist them and fight the One-Eyed Owl. Meanwhile, Kaneki and Amon face off. Barely alive, Yoshimura comes face to face with his daughter Eto the One-Eyed Owl. It is revealed that she's also Takatsuki Sen.
24
12
"Ken"
March 27, 2015
September 30, 2017
Wounded, Kaneki wakes up in Anteiku and finds Hide trying to make coffee for him. Kaneki tries to hide his ghoul eye but Hide reveals that he knew all along, learning Kaneki was a ghoul when Nishiki attacked the two of them.
Tokyo Ghoul:re (2018)
No. in Series

No. in Season

Episode Title

Japanese Airdate

Toonami Airdate

25
01
"START: Those Who Hunt"
April 3, 2018
Unaired
26
02
"member: Fragments"
April 10, 2018
Unaired
27
03
"fresh: Eve"
April 17, 2018
Unaired
28
04
"MAIN: Auction"
April 24, 2018
Unaired
29
05
"PresS: Night of Scattering"
May 1, 2018
Unaired
30
06
"turn: In the End"
May 8, 2018
Unaired
31
07
"mind: Days of Recollections"
May 15, 2018
Unaired
32
08
"TAKe: One Who Writhes"
May 22, 2018
Unaired
33
09
"play: Departed Spirit"
May 29, 2018
Unaired
34
10
"think: Sway"
June 5, 2018
Unaired
35
11
"writE: The Absent One"
June 12, 2018
Unaired
36
12
"Beautiful Dream: Daybreak"
June 19, 2018
Unaired
37
13
"Place: And So, Once Again"
October 9, 2018
Unaired
38
14
"VOLT: White Darkness"
October 16, 2018
Unaired
39
15
"union: Close Game"
October 23, 2018
Unaired
40
16
"vive: Those Left Behind"
October 30, 2018
Unaired
41
17
"MovE: Confluence, Confusion"
November 6, 2018
Unaired
42
18
"FACE: Effulgence"
November 13, 2018
Unaired
43
19
"Proof: Bonds"
November 20, 2018
Unaired
44
20
"Incarnation: Awakened Child"
November 27, 2018
Unaired
45
21
"Morse: Remembrances"
December 4, 2018
Unaired
46
22
"call: The Far Side of Tragedy"
December 11, 2018
Unaired
47
23
"ACT: Encounters"
December 18, 2018
Unaired
48
24
"Episode 24"
December 25, 2018
Unaired
Toonami Episode Guides
Cartoon Network (1997-2008)
Adult Swim (2012-Present)