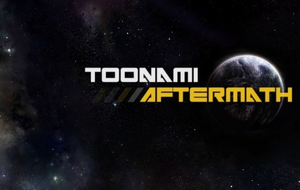 Toonami Aftermath is a Toonami revival effort, which began as a 24/7 stream, launched on January 18, 2010 with its website appearing a few months after that. It airs programs that have been broadcast on Toonami, and also Cartoon Network, Fox Kids, and Kids' WB!, such as Ronin Warriors, Cartoon Cartoons, X-Men: The Animated Series, and Pokemon.
Toonami Aftermath has no commercials so the filler time between shows is filled with Toonami promos, Music Videos, old Toonami themed commercials, and every former Toonami Show is introduced with its Toonami intro.
The site is not affiliated with Williams Street, Cartoon Network, Turner Broadcasting, or Time Warner. Due to the websites' illegal use of copyright material, Toonami, the Toonami Staff, and the Administrators of Toonami Wiki do not officially endorse the Toonami Aftermath project or its affiliates.
Shows
Toonami Aftermath has aired various shows, mainly animation, with the occasional live action movie.
2 Stupid Dogs
Android Kikaider: The Animation
Animaniacs
Aqua Teen Hunger Force
Beast Machines
Berserk
Berserk: Eve of the Feast
Birdman
The Brak Show
Captain America
Cartoon Planet
Celebrity Deathmatch
Courage the Cowardly Dog
Cow and Chicken
Cromartie High School
Dexter's Laboratory
Digimon
Dr. Katz
Team Four Star's DBZ Abridged
Earthworm Jim
Ed, Edd 'n Eddy
Elfen Lied
Escaflowne
Fantastic Four
Fighting Spirit (Hajime no Ippo Season One)
Freakazoid
Fullmetal Alchemist
Gaogaigar
Gasaraki
Genocyber
Ghost Stories
Girls und Panzer
Harvey Birdman, Attorney at Law
Home Movies
Hulk
I Am Weasel
Initial D
Interstella 5555
Iron Man
Johnny Bravo
Jonny Quest
Lupin III (Red Jacket)
Mega Man (1994 Series)
Men in Black: The Animated Series
The Mighty Thor
Mission Hill
Mobile Suit Gundam 0083: Stardust Memory
Mobile Suit Zeta Gundam
Monster Rancher
Mystery Science Theater 3000
Nadia: The Secret of Blue Water
Pokemon Origins
Powerpuff Girls Z
Ranma 1/2
Rifftrax
Roughnecks: Starship Troopers Chronicles
Saint Seiya
Scooby-Doo, Where Are You?
Sealab 2021
Serial Experiments Lain
Shin-Chan
SilverHawks
Slam Dunk
Slayers
Space Ghost
Space Ghost: Coast to Coast
Spiderman (1968 Series)
Spider-Man (1994 Series)
Street Fighter (1995 Series)
The Tick
Transformers: Generation 1
The What a Cartoon Show!
Wolfs Rain
X-Men: The Animated Series
External Links