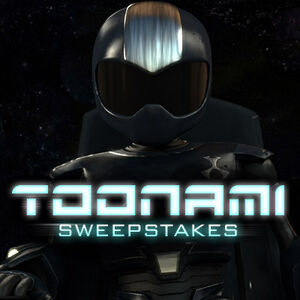 Since 1997, Toonami has held many sponsored sweepstakes, contests and giveaways that gave the loyal viewers chances to win prizes. These sweepstakes were used as marketing promotions to reward existing Toonami viewers, as well as to draw in additional new viewers to the programming block.
Viewers in certain U.S. states were unable to enter several Toonami sweepstakes due to stricter laws in those states. Although Colorado and New York were excluded from a few, one state in particular was excluded from a large number of sweepstakes. Florida viewers were excluded from entering at least 20 Toonami sweepstakes during the block's run on Cartoon Network.
The 2 non-continental states, Hawaii and Alaska, were also excluded from several sweepstakes. Possibly due to cost or logistical reasons, such as higher costs of shipping and or travel logistics for winners, if travel was included in the prize.
List of Toonami Sweepstakes
No.
Year
Name
Sweepstakes Dates
Grand Prize
01
1997
Big Heavy Giveaway
May 26, 1997 - August 22, 1997
Toonami Merch
02
1998
Digimon Giveaway
January 24-31, 1998
Digimon Virtual Pet
03
Beast Wars Call-in Contest
March 9-13, 1998
Beast Wars action figure
04
Coaster 2 Coaster
April 27 - May 10, 1998
7-day trip visiting 5 Six Flags theme parks
05
Banjo-Kazooie Sweepstakes
June 8-12, 1998
Nintendo 64 & Banjo-Kazooie
06
"Month of the Dragon" Sweepstakes
September 18, 1998
PlayStation & Spyro the Dragon
07
"Mattel Barbie/Toonami Giveaway" Sweepstakes
December 11, 1998
Barbie photo designer digital camera
08
1999
"Nintendo Toonami Giveaway" Sweepstakes
March 19, 1999
Nintendo 64 & Mario Party
09
"Beetle Adventure" Toonami Giveaway
April 2, 1999
Nintendo 64 & Beetle Adventure Racing
10
"Sailor Moon Wants You!" Sweepstakes
July 19-25, 1999
Sailor Scout Fan Prize Pack
11
DinoZaurs Sweepstakes
September 24, 1999
DinoZaurs action figures
12
"CyberTiger Giveaway" Sweepstakes
October 25-29, 1999
Golf lesson from Tiger Woods
13
"CyberTiger Online Giveaway" Sweepstakes
October 25-31, 1999
Trip to PGA golf tournament
14
"Ape Escape Giveaway" Sweepstakes
December 15-29, 1999
PlayStation & Ape Escape
15
2000
"Gundam Toonami Giveaway" Sweepstakes
March 24, 2000
Trip to Air Combat USA & Gundam Wing model kit
16
"Star Wars: Episode I The Phantom Menace" Sweepstakes
April 3-7, 2000
Trip to the set of Star Wars: Episode II Attack of the Clones
17
"WCW/Toy Biz Online Giveaway" Sweepstakes
April 10-16, 2000
WCW/Toy Biz Action Figure prize pack
18
"Galaxy Quest Online Giveaway" Sweepstakes
April 24, 2000 - May 1, 2000
Trip to Space Camp
19
"Titan A.E. Giveaway" Sweepstakes
June 12-19, 2000
Private screening of Titan A.E.
20
"Absolution Afterburn" Sweepstakes
September 22-28, 2000
Trip to Tokyo, Japan & Seattle, WA
21
"Gundam Toonami Giveaway" Sweepstakes
October 6, 2000
21 Gundam Wing model kits
22
"Crash Bash Giveaway" Sweepstakes
December 22, 2000 - January 5, 2001
PlayStation & Crash Bash
23
2001
"Toonami Gundam Wing Action Figure" Giveaway
April 13, 2001
Gundam Wing model kits
24
"Game Boy Advance Giveaway" Sweepstakes
June 11-17, 2001
Game Boy Advance & 2 game packs
25
"Toonami CD Giveaway" Sweepstakes
July 2-9, 2001
Toonami prize pack
26
"Toonami/Final Fantasy Giveaway" Sweepstakes
July 9-16, 2001
PlayStation 2
27
"Toonami Lockdown" Sweepstakes
September 10-24, 2001
GameCube & 6 game packs
28
"Jak and Daxter Giveaway" Sweepstakes
December 3, 2001 - January 4, 2002
PlayStation 2 & Jak and Daxter: The Precursor Legacy
29
2002
"Batman VS. Superman" Sweepstakes
January 20-28, 2002
Personal Television Visor
30
"Toonami Reactor/Bandai" Sweepstakes
February 25, 2002 - March 4, 2002
"Perfect Grade" Gundam model kit
31
"Hot Wheels Robo Wheels Giveaway" Sweepstakes
March 18-25, 2002
Robo Wheels prize pack
32
Midnight Run/Bandai Sweepstakes
April 22-29, 2002
Trip to Metreon Festival of Anime & Gundam prize pack
33
"Sunkist Giveaway" Sweepstakes
May 6-13, 2002
Sunkist vending machine
34
"Be a Jedi" Sweepstakes
May 13-27, 2002
Trip to Hasbro facility & custom Jedi action figure
35
Super Monkey Ball 2 Sweepstakes
September 2-9, 2002
Super Monkey Ball prize pack
36
"Toonami Trapped in Hyperspace" Sweepstakes
September 9-23, 2002
GameCube & Super Mario Sunshine
37
"He-Man Giveaway" Sweepstakes
September 30, 2002 - October 7, 2002
He-Man prize pack
38
"Zapper" Sweepstakes
October 14-21, 2002
2002 Volkswagen Beetle
39
"Star Wars: Episode II Attack of the Clones" Sweepstakes
November 18-25, 2002
Replica Jedi Lightsaber autographed by George Lucas
40
"Toonami Mega Bloks" Sweepstakes
December 2-9, 2002
Mega Bloks Dragons set
41
2003
"Toonami/Sly Cooper" Sweepstakes
January 3, 2003
PlayStation 2 & Sly Cooper and the Thievius Raccoonus
42
"Toonami/Battle Scarred" Sweepstakes
March 10-24, 2003
TOM statue & Gundam prize pack
43
"Toonami/Bandai Perfect Grade" Sweepstakes
May 5-12, 2003
"Perfect Grade" Gundam model kit
44
"Toonami/Seven Up" Sweepstakes
June 9-16, 2003
Custom "7 Up" Bonzini Foosball Table
45
"The Medallion" Sweepstakes
August 18-25, 2003
Private screening of The Medallion
46
"Toonami/Jak II" Sweepstakes
September 8-26, 2003
PlayStation 2 & Jak II
47
"Search for the Seventh Toa on Cartoon Network" Sweepstakes
September 26, 2003 - October 17, 2003
Platinum Mask of Light
48
"Jolly Rancher/Toonami" Sweepstakes
September 29, 2003 - October 6, 2003
Nokia 3595 GSM Cellular Telephone
49
"Find Your Wheels" Sweepstakes
October 31, 2003 - November 7, 2003
PT Cruiser
50
"Toonami/Dragon Ball Z: Budokai 2" Sweepstakes
December 1-5, 2003
Dragon Ball Z: Budokai 2 & other DBZ prizes
51
2004
"Toonami/Bandai Mobile Suit Gundam SEED" Sweepstakes
August 9-16, 2004
"Perfect Grade" Gundam model kit
52
"NFL Super Bowl XXXIX" Sweepstakes
August 30, 2004 - September 4, 2004
Trip to Super Bowl XXXIX
53
"Toonami/Sly 2: Band of Thieves" Sweepstakes
September 6-18, 2004
A 42" Plasma TV, a DVD Dream System, a Turntable & a limited edition PS2
54
"Toonami/Crash TwinSanity" Sweepstakes
October 25, 2004 - November 1, 2004
Collection of sports equipment and gear
55
2005
"Juicy Drop Pop" Sweepstakes
April 11-25, 2005
Trip to an extreme sports youth camp
56
"Playstation Sly 3" Sweepstakes
September 19-October 1, 2005
$10,000
57
2006
"Toonami - Game Boy Micro" Sweepstakes
January 16-23, 2006
Toonami branded Game Boy Micro & Donkey Kong Country 3
58
"Nintendo DS Lite" Sweepstakes
December 11-16, 2006
Nintendo DS Lite prize pack
59
2007
"NERF Dart Tag" Sweepstakes
February 26-March 3, 2007
NERF Prize Pack
60
"Fantastic Four: Rise of the Silver Surfer" Sweepstakes
May 21-26, 2007
Trip to San Diego & Surf Lessons
61
"Transformers: Choose Your Side" Sweepstakes
June 11-16, 2007
Hasbro Transformers Toys Prize Pack
62
"LEGO Mars Mission" Sweepstakes
August 6-11, 2007
Trip for 4 to Space Camp
63
"Tyco R/C Tri-Clops" Sweepstakes
November 5-10, 2007
Tyco Radio Control Tri-Clops
64
2008
"LEGO Indiana Jones" Sweepstakes
May 5-12, 2008
LEGO Indiana Jones Prize Pack
65
"Mattel Dark Knight" Sweepstakes
July 26, 2008
Batman: Dark Knight Prize Pack
66
2013
Sword Art Online "Watch and Win" Contest
October 20-30, 2013
3D Personal Viewer from Sony
67
Toonami T-shirt Giveaway
December 8-29, 2013
1 of 3 Toonami T-shirt designs
68
2015
Toonami T-Shirt Sweepstakes
July 7-13, 2015
1 Toonami T-shirt
69
2016
Toonami: Pre-Flight 1 Year Anniversary Giveaway
February 5-19, 2016
1 Toonami T-shirt & 1 TOM enamel pin
70
2017
Toonami 20th Anniversary Giveaway
March 18-25, 2017
20th Anniversary T-Shirt,
Limited Edition Trapped Comic Book,
T.O.M. Action Figure,
T.O.M. Enamel Pin,
DB Super Beanie
71
2019
Dragon Ball Z 30th Anniversary Giveaway
April 26-30, 2019
Limited Edition Dragon Ball Prize Pack