Jurassic World: Dominion Dominates Fandom Wikis - The Loop
Play Sound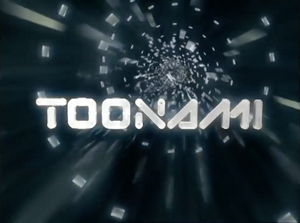 A Total Immersion Event, often shortened to simply T.I.E., is an animated adventure featuring the Toonami hosts TOM and SARA. However, the fourth T.I.E. did not feature them and instead featured a completely original story called IGPX. There were a total of four T.I.E.s during Toonami's original run on Cartoon Network, and 7 more have aired during its current run on Adult Swim. The Toonami Total Immersion Events have all been produced by Williams Street, the producers of Toonami, with animation coming from outside animation studios.
History
Total Immersion Events were created when Cartoon Network launched the "Total Immersion Cartoon initiative" in 2000. The first Total Immersion Cartoon event, Toonami: The Intruder, was a 5-part on-air story that aired during Cartoon Network's afternoon action-adventure block and was augmented by exclusive online content available at Toonami.com. The result was a huge success for Cartoon Network, posting considerable increases from the previous year in several key demographics, including a 50% increase in viewers ages 9-14. Toonami.com's traffic was up 72% from the previous week, with more than 4.5 million page views for the week.[1]
During Toonami's run on Cartoon Network, T.I.E.s were week-long 5-part miniseries with one 2-3 minute episode of the T.I.E. airing on the block each day, Monday through Friday, during a commercial break. The first four T.I.Es followed this model, although The Intruder had two additional episodes that aired at later dates. Additionally, each T.I.E. had a tie-in video game that was playable on toonami.com during the event. Each day viewers could watch the Toonami broadcast, gather game codes and then play the games to further the storyline of the T.I.E.
T.I.E.s returned to Toonami on Adult Swim in 2015 and the format shifted due to the block's new 1-night-a-week format. Instead of airing over one week, T.I.E.s now air over multiple weeks with one episode airing each week during a commercial break. The T.I.E.s aired on Adult Swim are also less interactive for viewers, as no tie-in games have been created for them.
In February 2021, the first non-canonical Toonami Total Immersion Event, Cosmo Samurai was created by Toshiyuki Tsuru and animated by Telecom. Unlike all previous T.I.E.s (except IGPX) which are animated in 3-D using CGI, Cosmo Samurai is animated in 2-D in an anime art style. Cosmo Samurai is non-canonical because the Toonami crew had little to no involvement in its creation. It features the Toonami characters (i.e. TOM and SARA) but does not impact the ongoing Toonami narrative or the characters themselves.
The following year, from February 19-March 12, 2022, Toonami's second non-canonical T.I.E. Cosmo Samurai 2 aired. After the completion of Cosmo Samurai 2, a new canonical T.I.E titled The Return aired in celebration of Toonami's 25th Anniversary from March 19-26, 2022.
List of Total Immersion Events
Adult Swim
No.
Title
Broadcast Dates
Tie-in Comic
Canonical Status
05
The Intruder II
November 7, 2015
November 14, 2015
November 21, 2015
November 28, 2015
December 5, 2015
December 12, 2015
December 19, 2015
Intruder II
Canonical
06
The Intruder III
November 5, 2016
November 12, 2016
November 19, 2016
November 26, 2016
N/A
07
Countdown
November 4, 2017
November 11, 2017
November 18, 2017
November 25, 2017
N/A
08
The Forge
November 9, 2019
November 16, 2019
November 23, 2019
November 30, 2019
December 7, 2019
December 14, 2019
N/A
09
Cosmo Samurai
February 6, 2021
February 13, 2021
February 20, 2021
February 27, 2021
N/A
Non-canonical
10
Cosmo Samurai 2
February 19, 2022
February 26, 2022
March 5, 2022
March 12, 2022
N/A
11
The Return
March 19, 2022
March 26, 2022
N/A
Canonical
Trivia
The name "Total Immersion Event" comes from the immersive nature of the event. Providing viewers with more opportunities to interact with the Toonami characters and affect the lore. Including online content such as Flash games that tied into the storyline of the T.I.E.
The Toonami T.I.E.s usually result in a look overhaul of the Toonami block. Such as TOM and/or SARA getting a new body, a new broadcasting station being introduced, new graphics for promos and bumpers being introduced, etc.
Cartoon Network attempted other non-Toonami Total Immersion Events in 2000 and 2001, such as the "Big Pick" and the "Powerpuff Popularity Contest". However, none were as successful as the Toonami T.I.E.s.
Countdown is the only T.I.E. to be aired more than once on Toonami. It was re-aired in its entirety on April 7, 2018.
Cosmo Samurai and Cosmo Samurai 2 are considered non-canonical because while they feature the two Toonami hosts, TOM and SARA, the Toonami crew had little to no involvement in the creation of the T.I.E.s and have stated that the plots of these T.I.E.s will not impact the ongoing Toonami narrative or the characters themselves.
References