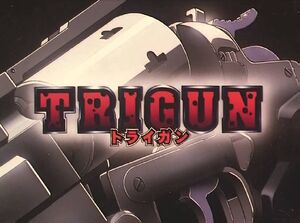 Series Overview
Color
Season
Episodes
U.S. Season Premiere
U.S. Season Finale
1
26
March 31, 2003
May 13, 2003
Movie
01
December 28, 2013
Season 1 (1998)
#

Episode Title

Japanese Airdate

English Airdate

1
"The $$60 Billion Man"
April 1, 1998
March 31, 2003
After another "Humanoid Typhoon" incident, this time in Felnarl, Vash is tracked and captured by a group of thugs looking to collect the $$60 billion bounty on his head. He's also being tracked down by a pair of investigators, Meryl Stryfe and Milly Thompson from the Bernardelli Insurance Society, and by a bounty hunter named Loose Ruth. Due to the inconsistency in rumors surrounding Vash The Stampede, the bounty hunters confuse each other for the Stampede, and Vash, Meryl, and Milly are able to escape. However, Meryl and Milly must go back, as their duty is to watch over Vash and make sure he doesn't cause any more damage that affects their company.
2
"Truth of Mistake"
April 8, 1998
April 1, 2003
Meryl and Milly arrive in a town that has completely dried up. They stop by the Cesar Mansion to ask about the whereabouts of Vash the Stampede, where they discover that Vash is already there, acting as a bodyguard for Cliff Cesar, a man who has monopolozed and sells the water in town. Vash was hired to protect a young lady named Maryann, the granddaughter of a wealthy entrepreneur. After finding out that Cliff is being threatened by a blonde man with a large silver gun, Meryl and Milly decide to stay at the mansion to find out if the man is Vash. During their stay, it quickly becomes apparent that Maryann is not what she seems.
3
"Peace Maker"
April 15, 1998
April 2, 2003
Vash literally bumps into a drunkard named Frank Marlin, who talks Vash into buying him a drink. Frank was once a famous gunsmith who saved the town from a group of bandits, but after a family tragedy, had since turned to drinking. The town, lacking a sheriff, becomes vulnerable to an attack from a group of bandits looking to hijack an armored car.
4
"Love & Peace"
April 22, 1998
April 3, 2003
Meryl and Milly get trapped in a hostage situation inside a saloon, where a young lady named Stephanie Bostock is being held for ransom from her father, by Earl "Grim Reaper" Bostock. Vash inadvertently dances his way inside, while the Sheriff hires a group of ruthless mercenaries (lead by a man claiming to be Vash the Stampede) to deal with the kidnappers.
5
"Hard Puncher"
April 29, 1998
April 7, 2003
Vash finds himself under siege once again while eating at a cafe in Inepril City. After disposing of the bandits who attacked him, the citizens of the city decide solemnly that they need the bounty on his head to save their dying plant. The citizens themselves end up destroying most of the city in pursuit of Vash and even hire the infamous Nebraska Family just to catch him, which only leads to more destruction.
6
"Lost July"
May 6, 1999
April 8, 2003
Vash the Stampede allows Inepril City to turn in the Nebraska Family for the $$700,000 bounty. Meryl is irate that she is now stuck with Vash, while Vash is hailed as a hero throughout the city. Suddenly, a sand steamer arrives, bringing goods, craftsmen, engineers, merchants, and others. This includes the arrival of a beautiful woman named Elizabeth, a plant engineer who seeks out Vash to act as her bodyguard, though her true intentions are related to the incident in the third city of July.
7
"B.D.N. (Brilliant Dynamite Neon)"
May 13, 1998
April 9, 2003
After saving Inepril City once again, the town holds a party in Vash's honor. The next morning, Vash quickly tries to escape the city (to escape Meryl and Milly) on the departing sand steamer. As the sand steamer travels, it is attacked by the Bad Lad Gang with the help of a young stowaway boy, Kaite. While knocked unconscious, Vash dreams of Rem and the gang of thieves storms the sand steamer.
8
"And Between the Wasteland and Sky..."
May 20, 1998
April 10, 2003
The Bad Lad Gang controls the sand steamer, hoping to steer it into the canyon in order to crack open the vault and get to the valuables inside. Vash, with the help of the stowaway Kaite (the son of the man who designed the sand steamer), must act quickly before the Gang steers the steamer and its passengers to their demise.
9
"Murder Machine"
May 27, 1998
April 14, 2003
Travelling across the desert by bus, Vash suddenly spots a man in the distance. This man turns out to be a priest named Nicholas D. Wolfwood, who left his church to raise funds for the orphanage there. Soon enough, the bus and passengers fall under attack by a group of armored droids, remnants of lost technology. In their hurry to escape the attack, a child is left behind in the desert, and both Vash and Wolfwood immediately return to save her. Their rescue attempt seems to be proceeding smoothly until both of them fall through the sand into an alien spaceship hidden beneath the desert.
10
"Quick Draw"
June 10, 1998
April 15, 2003
Vash and the girls find themselves in a peaceful town, finally able to relax for a while. In town, Vash accidentally meets up with Wolfwood again, who convinces Vash to enter a Quick Draw contest to earn the prize money to help a woman whose husband recently left and is deep in debt.
11
"Escape from Pain"
June 17, 1998
April 16, 2003
Wolfwood and Milly run into a young dancing girl, who they help escape from a group of caravan men coming after her. They discover that the girl and a boy (the caravan's leader son), are running away together after the boy discovers that the caraven had been transporting humans as slaves. Meanwhile, it seems as though a rift develops in the group, as Vash accepts an assassination request from the leader of the caravan, asking that Vash stop his runaway son for the good of the caravan.
12
"Diablo"
June 24, 1998
April 17, 2003
While playing in town with Meryl, Milly, and a group of kids, Vash is encountered by Legato Bluesummers. The mysterious man communicates telepathically with him, claiming to be a messenger and telling Vash that he will die very soon. Suddenly, the shoemaker's wife runs into the town square, saying her husband was murdered and Vash was quickly and wrongly arrested for the crime. In jail, Vash comtemplates exactly what Legato's message could mean, though he isn't left alone for long, as that night, Monev the Gale, a member of the Gung-Ho Guns, appears to take Vash's life.
13
"Vash the Stampede"
July 1, 1998
April 21, 2003
Two days after the event with Monev, tension in the city is still high. Meryl writes a report to the Bernardelli Insurance Society, summarizing their journey in contacting and accompanying Vash the Stampede in his travels.
14
"Little Arcadia"
July 8, 1998
April 22, 2003
The group finds themselves in the town of Promontory, where they meet an elderly couple in trouble. After a scuffle on the street, the couple seeks to hire Meryl and Milly as their bodyguards to defend their plot of fertile land until they can turn the deed in to City Hall. Little do they know that the land isn't being coveted by just any thugs, but by Morgan, who hires the female half of the Nebraska family to stake his claim.
15
"Demon's Eye"
July 15, 1998
April 23, 2003
In Jeneora Rock, the Rodrick Theives come in to a saloon looking to start some trouble. Unfortunately, they pick the wrong person to mess with, inciting Legato to make the first man rip out his own heart, and forcing the rest to shoot each other. When the rest of the Rodrick Thieves seek revenge on their fallen brothers, Legato calls in the Gung-Ho guns to handle the situation. After discovering the corpes in the saloon, Vash immediately seeks out Legato, but instead finds himself facing Dominique the Cyclops.
16
"Fifth Moon"
July 22, 1998
April 24, 2003
Vash leaves Meryl and Milly behind in Jenora Rock to seek out Legato, however it is Legato that finds him, telling Vash to meet him in Augusta. Upon arriving in the city, Vash uses his reputation to create a panic and evacuate the city, after which he is approached by E.G. Mine and Rai-Dei the Blade of the Gung-Ho Guns.
17
"Rem Saverem"
July 29, 1998
April 28, 2003
The episode opens on a ship in space, with Rem and the rest of the small crew of the Project SEEDS ship. Vash and Knives are children, currently under Rem's care. As they learn and grow, an obvious schism develops between their world views as Knives rationalizes that the human race doesn't deserve to live and decides that Project SEEDS needs to be stopped.
18
"Goodbye for Now"
August 5, 1998
April 29, 2003
In Kasted City, Vash has been taken in by a girl named Lina and her grandmother, and is living by the name of Erics, hoping to live a quiet, peaceful life after the tragic destruction of Augusta. Meanwhile, a man claiming to be Vash the Stampede has set up camp nearby and is terrorizing the town. In an attempt to save Lina from the man, Erics gets shot and hospitalized. Wolfwood arrives in town and approaches Vash in the hospital to convince him to return to his old life.
19
"Hang Fire"
August 12, 1998
April 30, 2003
Meryl and Milly return to their lives at the Bernardelli Insurance Company until Vash is spotted and they are assigned once again to follow him. Vash and Wolfwood head to New Oregon, where a family feud over a murdered distant cousin is escalating. The Freeze family abducts the sand steamer Meryl and Milly were riding on and hold hostages to get revenge on the leader of the Polo family.
20
"Flying Ship"
August 19, 1998
May 1, 2003
Typhoon Jaqueline hits New Oregon and Vash uses the winds to visit a ship in the sky, a leftover Planet SEEDS ship that didn't quite crash 130 years prior. Wolfwood inadvertently tags along, but finds himself an unwelcome outsider aboard the peaceful people on the ship. This peace is disturbed when Leonof the Puppet-Master, one of the Gung-ho Guns, follows Vash onto the ship and begins to slaughter the people on board.
21
"Out of Time"
August 26, 1998
May 5, 2003
Leonof announces the presence of three demons aboard the ship, who immediately begin killing people and targeting the plants in order to crash the ship. Moving fast to head off Hoppered the Gauntlet, another member of the Gung-ho Guns, at the second engine room, Vash discovers the bodies of his fallen friends, while Wolfwood faces off against Gray the Ninelives at the first plant.
22
"Alternative"
September 2, 1998
May 6, 2003
While trying to get into a highly defended city, the group encounters a young child that accidentally leads them back to a group of orphaned kids living in the desert. The leader of the kids reveals that the children happened to meet there after their parents all entered a trance-like state and wandered away from their villages. The kids' hideout is attacked by the townsfolk, but the attack is interrupted by a group of strangely organized sandworms, who are revealed to be controlled by Zazie the Beast, one of the Gung-ho Guns.
23
"Paradise"
September 9, 1998
May 7, 2003
Wolfwood flashes back to his past after his disagreement with Vash, soon encountering Chapel the Evergreen who reveals that Wolfwood had been working under Knives's orders all along, but instead of his initial orders, which were to bring Vash to Knives alive, Chapel tells him his new orders are to kill Vash. He encounters Vash the following morning, but their confrontation is interrupted by Caine the Longshot of the Gung-ho Guns. Wolfwood tells Vash to deal with Caine, while Wolfwood handles Chapel himself.
24
"Sin"
September 16, 1998
May 8, 2003
Vash leaves Meryl and Milly behind after confessing his entire story to Meryl. He arrives in a new town, but is soon approached by Legato with a message to meet him outside of town. Vash is then ambushed by Midvalley the Hornfreak, before he meets with Legato and is forced to make a difficult choice.
25
"Live Through"
September 23, 1998
May 12, 2003
Ten days later, Vash awakes in a house in a small town, where Meryl and Milly have taken him to care for his wounds. He struggles heavily with the guilt of what Legato forced him to do while he slowly recovers from his injuries. They decide to stay in town, but the citizens quickly recognize Vash for who he is and revolt against him.
26
"Under the Sky So Blue"
September 30, 1998
May 13, 2003
As Vash goes to meet up with Knives, he reflects on their history together, both their time travelling together after crash landing on the planet, and everything Knives has put him through recently. Together at last, Vash and Knives have their final showdown.
Trigun: Badlands Rumble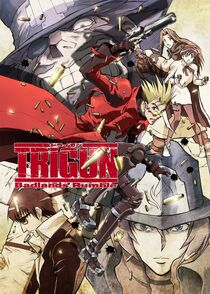 Trigun: Badlands Rumble is a 2010 Japanese animated action comedy film produced by Madhouse, written by Yasuko Kobayashi, and directed by Satoshi Nishimura. the film is based on the Trigun manga, written by Yasuhiro Nightow, as well as the Trigun anime.
The film was shown to an American audience first at the Sakura-Con 2010 in Seattle, Washington on Friday, April 2, 2010. Following the showing, the director held a 15-minute Q&A session before the movie, explaining the reasons it was not dubbed or subbed, and why it was premiered first at the convention, also explaining the new characters.
FUNimation Entertainment announced at Anime Expo along with film producer Shigeru Kitayama that they had licensed the film and plan on releasing it theatrically in the United States. Funimation released the film on DVD and Blu Ray on September 27, 2011.
#

Episode Title

Japanese Release

English Release

Toonami Airdate

1
"Trigun: Badlands Rumble"
April 24, 2010
July 30, 2011
December 28, 2013
20 years after meddling into the bank heist of a notorious robber named Gasback, Vash the Stampede is heading towards Macca City. Rumors say that the legendary thief might appear there causing an enormous influx of bounty hunters in the area who want to collect the $300,000,000 prize for his head.
Toonami Episode Guides
Cartoon Network (1997-2008)
Adult Swim (2012-Present)