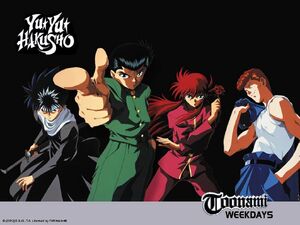 Series Overview
| Color | Season | Episodes | U.S. Season Premiere | U.S. Season Finale |
| --- | --- | --- | --- | --- |
| | 1 | 25 | February 23, 2002 | April 7, 2003 |
| | 2 | 41 | April 8, 2003 | July 24, 2004 |
| | 3 | 28 | July 31, 2004 | November 26, 2005 |
| | 4 | 18 | December 3, 2005 | April 1, 2006 |
Season 1: Spirit Detective Saga (1992-1993)
#

Episode Title

Japanese Airdate

English Airdate

1
"Surprised To Be Dead"
October 10, 1992
February 23, 2002
After what he would consider a normal day of skipping school, Yusuke Urameshi is hit by a car, saving a little boy's life in the process. He has just set into motion a large cycle of events that will set his life into a whirlwind of chaos. Upon meeting the sprightly pink-robed mystical being Botan, who claims she is the Grim Reaper, she makes him an offer to restore himself back to life. Yusuke initially refuses, but after going to his wake, and seeing his few family and friends grieving for him, Yusuke makes the decision to go through with the ordeal.
2
"Koenma Appears"
October 17, 1992
March 2, 2002
Botan brings Yusuke to the Spirit World, and there he meets its ruler: Koenma, a 700-year old ruler contained in the body of a toddler. Koenma presents Yusuke with an opportunity to restore his life. He must incubate and hatch a magical egg that contains a Spirit Beast. This beast will decide his fate.
3
"Kuwabara: A Promise Between Men"
October 24, 1992
March 9, 2002
With Yusuke dead, Kuwabara finds his life falling apart, he is forbidden from fighting for a week, and he must also score over 50% on a test if Okubo, one of his friends, is to keep his after-school job. In order to help restore his life, Yusuke must give him an unseen helping hand.
4
"Requirements for Lovers"
October 31, 1992
March 16, 2002
Spirit World has forgotten an important question; does anyone in his life even want Yusuke brought back? Koenma decides to send an investigator to find out, and Yusuke learns just how much his friends care. A fire breaks out in Yusuke's apartment, threatening to burn his body. Keiko, in desperation, goes inside to try and rescue him, leaving Yusuke with a difficult choice to make.
5
"Yusuke's Back"
November 7, 1992
March 23, 2002
Yusuke has reclaimed his life, but has only one day to be revived by someone's kiss -— And that someone might just be Kuwabara! Back in the flesh, Yusuke finds he can see supernatural creatures hiding in the living world, and quickly hunts down a demon criminal. With this move, he learns his adventure is only beginning, as a spirit detective.
6
"Three Monsters"
November 14, 1992
March 30, 2002
Yusuke gets his first case as a Spirit Detective. Three demons have stolen a few very powerful artifacts, that if used, will cause massive destruction to the human race. Yusuke's objective is to defeat these demons and get back the artifacts.
7
"Gouki and Kurama"
November 21, 1992
April 6, 2002
Yusuke has to deal with not only the soul stealing demon, Gouki, but with the mysterious Kurama as well. While Yusuke faces off against Gouki, who uses the Orb of Baast to steal souls from young children, Kurama's intentions remain unclear. Is he another demon merely seeking to lead Yusuke to his death, or does he have more noble intentions?
8
"The Three Eyes of Hiei"
November 28, 1992
April 13, 2002
With two artifacts under his belt, Yusuke heads for his most dangerous challenge yet – the ruthless demon Hiei. But unbeknownst to Yusuke, Hiei is chasing him, and kidnaps his girlfriend Keiko! Unless Yusuke can retrieve the antidote inside Hiei's Shadow Sword, Keiko will become a brainless, monster slave! Can Yusuke close the case and save Keiko?
9
"The Search Begins"
December 5, 1992
April 20, 2002
Yusuke's three-day weekend is cut short when Botan delivers his next big case. Genkai, an aging psychic, will hold a contest to find a worthy apprentice to her powerful technique: the Spirit Wave. But an evil demon, Rando, plans to steal the technique and use it for mass destruction! Yusuke must go undercover and infiltrate Genkai's compound!
10
"Kuwabara's Spirit Sword"
December 12, 1992
April 27, 2002
n the competition to determine who will become Genkai's apprentice, everyone except for eight fighters have been eliminated. Genkai announces the next part of this competition, a tournament between the remaining candidates. They will have to fight their opponents in a dark room without any light, and rely on their Spirit Energy to see. Soon Kuwabara will have to fight against an opponent who wields a special sword.
11
"Hard Fights for Yusuke"
December 19, 1992
May 4, 2002
Yusuke faces off against Kibano in his first match of the tournament to determine who the renowned psychic, Genkai, will train as her disciple. Unfortunately for Yusuke, he has to fight in a pitch-black arena, where his opponent can see and he cannot. He'll need to overcome this limitation to pull out a victory, and it won't be easy.
12
"Rando Rises, Kuwabara Falls"
December 26, 1992
May 11, 2002
Yusuke, Kuwabara, and Shorin are the only fighters left, with all of the other fighters previously eliminated. The tension mounts as the end of the tournament nears, and still Rando has not been discovered. This leaves only two possibilities; either Rando is disguised as Shorin, or he is hiding somewhere, waiting until the tournament is over to strike. The speculation will soon end, as Kuwabara is pitted against Shorin. Can Kuwabara overcome an opponent who might really be a demon in disguise?
13
"Yusuke vs. Rando: 99 Attacks"
January 9, 1993
May 18, 2002
Kuwabara's body lays broken. Shorin is nowhere to be found. And with Yusuke's energy dwindling every minute, the evil Rando reveals his true and monstrous form. Now, can the injured Yusuke battle the human-hunting demon and close the case? How can he, when Rando has ninety-nine deadly techniques in his arsenal.
14
"The Beasts of Maze Castle"
January 16, 1993
May 25, 2002
Yusuke returns from several months of training with the renowned psychic, Genkai. Unfortunately for him, now isn't the time to relax. Small demons called Makai Insects are invading the city. The beginning of an evil scheme to flood the planet with demons. Yusuke must go to a demon city and defeat the four Saint Beasts in order to save the people of the living world. Luckily, he doesn't have to do it alone, he has Kuwabara by his side, along with a couple unexpected new allies.
15
"Genbu, the Stone Beast"
January 23, 1993
June 8, 2002
Kurama and Hiei, two demons Yusuke beat in his first case, join Yusuke and Kuwabara to battle the Saint Beasts. This awkward alliance must learn to trust each other quickly, as they struggle through the Gate of Betrayal. And waiting just beyond this trap is the first Beast —- a giant made of solid stone!
16
"Byakko, the White Tiger"
January 30, 1993
June 15, 2002
One of Yusuke's teammates has been badly injured, and Kuwabara insists on fighting the next enemy all by himself -— revealing his amazingly improved Spirit Sword! Before the bickering group can disagree, a ferocious roar slices through the castle. Byakko, the second Saint Beast, is waiting!
17
"Byakko's Lair"
February 6, 1993
June 22, 2002
After Kuwabara manages to pull out a victory against the Saint Beast, Byakko, the group continues through the castle, set on saving the human world before too much damage is done. They reach a large chamber filled with lava, and come across an unexpected opponent. Kuwabara's turn to fight is not over yet.
18
"Seiryu, the Blue Dragon"
February 13, 1993
June 29, 2002
With two of the Saint Beasts defeated, the group moves further into Maze Castle. Coming to a room, they meet their next opponent, Seiryu. An unexpected guest arrives, and the group learns how heartless a Saint Beast can be. Hiei decides to take on Seiryu, beginning a battle of speed against ice.
19
"Suzaku, Leader of the Beasts"
February 20, 1993
July 6, 2002
Yusuke finally makes it to the chamber of the final Saint Beast. Unbeknownst to him Suzaku has plans for someone Yusuke loves. Back in the Human World Keiko is being chased by demon-possessed humans. How will this passive teen survive? And how will Yusuke stop the powerful leader of this demented castle?
20
"Seven Ways to Die"
February 27, 1993
July 6, 2002
The battle between Yusuke and Suzaku is heating up. As Yusuke deals with the leader of the Saint Beasts, Kurama, Hiei, and Kuwabara are greatly outnumbered, as they face the vast amounts of zombies. And back in the city, Keiko and Botan must run and hide from the hoards of possessed citizens. How will they all survive?
21
"Yusuke's Sacrifice"
March 6, 1993
July 6, 2002
Yusuke and Suzaku finish their battle.
22
"Lamenting Beauty"
March 13, 1993
April 2, 2003
Yukina is a beautiful ice apparition whose tears transform into priceless jewels. Now a filthy human crime lord, named Tarukane, has kidnapped Yukina, planning to extract her tears through torture to make a fortune! Yusuke, Kuwabara, and Botan must quickly mount a rescue mission to save this innoccent beauty. But why is Hiei not allowed to know?
Note: This was the first episode to premiere on Toonami.
23
"The Toguro Brothers Gang"
March 20, 1993
April 3, 2003
Yusuke's Spirit Detective team continues toward Tarukane's mountain stronghold, facing a small army of grotesque demon guards. It seems an alliance has formed between human criminals and demon mercenaries, with money as the bottom line. Yet Kuwabara plows fearlessly ahead declaring he's in love with Yukina!
24
"The Deadly Triad"
March 27, 1993
April 4, 2003
Struggling their way to the front gates of Tarukane's stronghold, Yusuke, Kuwabara, and Botan now face a much greater challenge: three notorious demon fighters known throughout Spirit World as the Triad! Can the Spirit Detective team fight three outlandish opponents one after another, and save the tortured Yukina?
25
"Kuwabara's Fight of Love"
April 10, 1993
April 7, 2003
One giant battle stands in the way of rescuing Yukina. Yusuke and Kuwabara versus the leaders of the demon mercenaries, the immensely powerful and bizarre - Toguro Brothers! What will it take to defeat the freakish duo in a fight where anything goes? Elsewhere, Kurama races to stop Hiei, who is entering Tarukane's stronghold with his own violent agenda!
Season 2: Dark Tournament Saga (1993-1994)
#

Episode Title

Japanese Airdate

English Airdate

26
"Toguro Returns"
April 17, 1993
April 8, 2003
Having rescued Yukina and defeated Toguro, Yusuke is spending some time with Keiko in the city. However, when a huge chunk of building is blown up, Yusuke sees Toguro, and they have a little chat. Turns out that Yusuke and Kuwabara really didn't defeat the Toguro brothers, as they were faking and working for Sakyo, and now Toguro wants Yusuke to enter a competition called the "Dark Tournament". Compiled of a group of greedy mafia warlords, Toguro convinces Yusuke, as Yusuke gathers Kurama, Hiei, and Kuwabara for his team, the gang sets out to compete in the tournament.
27
"The Dark Tournament Begins"
April 24, 1993
April 9, 2003
Team Urameshi meets at a ship that will take them to Hanging Neck Island, where the Dark Tournament is going to be held. Yusuke introduces the rest of the team to their new fighter, a mysterious figure known simply as "The Masked Fighter." Once the team gets on board the ship, Yusuke decides to sleep. The captain of the ship soon announces that a preliminary round will decide which team will actually be going to the Dark Tournament. With Yusuke still fast asleep, the masked fighter walks up to fight. The masked fighter wins, knocking out the demons with a familiar technique, which causes a riot against Team Urameshi on the ship. The team easily beats all the remaining demons, while they arrive at Hanging Neck Island, and are declared the team to compete in the tournament. When they reach their hotel room, they are greeted by two mysterious fighters from Team Rokuyukai, the team they are to face in the first round of the tournament. What does this mean for the new team?
28
"First Fight"
May 1, 1993
April 10, 2003
The Dark Tournament begins. First up: Team Urameshi vs Team Rokuyukai, with Kuwabara facing Rinku, a boy with surprising talent, unabashed ruthlessness, and some very unusual weapons.
29
"Flowers of Blood"
May 8, 1993
April 11, 2003
Kuwabara struggles to finish the fight against Rinku's Serpent Yo-yo attacks. After Kuwabara's fight, The next round, Kurama vs. Roto, looks like it will be over quickly, because Roto is far out-matched by his opponent. Roto reveals a dirty trick and takes control of the battle, leaving Kurama to try to think of a way out of the situation. How will Kurama win the fight, when so much is at stake?
30
"Dragon of the Darkness Flame"
May 15, 1993
April 14, 2003[1]
The first round of the tournament is well underway. Now it seems that Team Rokuyukai's leader, Zeru, is ready to fight. Hiei decides to take this match, pitting fire against fire. Zeru starts by trying to scare Hiei, with a display of his power. Hiei just shrugs off the attacks, and gets ready to use his own ultimate technique, The Dragon of the Darkness Flame. How will this match end? What will the consequences of it be? And who is the new mysterious fighter from the Rokuyukai team?
31
"Stumbling Warrior"
May 22, 1993
April 15, 2003[1]
Yusuke is now fighting the leader of Team Rikkuyukai, the powerful Chu. Chu, however, has a very different style of fighting then anything Yusuke has ever experienced, drunken fighting. Chu derives his power from very powerful and potent alcohol. These two fighters seem very evenly matched, and their spirit blasts even cancel each other out. Finally, when both have exhausted all their spirit energy, Chu asks Yusuke to participate in a Knife-Edge Deathmatch. What is this new brutal twist to the match, and who will come out on top?
32
"Knife Edge Death-Match"
May 29, 1993
April 16, 2003[1]
With their spirit energies depleted, Yusuke and Chu agree to settle things in a knife-edge death match, an in-your-face, bare-knuckled slugfest where a naked back heel is kept poised before a knife planted in the ground. The first one to lose ground and step back loses the match.
33
"A Day in Waiting"
June 5, 1993
April 17, 2003[1]
As the tournament moves on with other fighters, Team Urameshi gets a break and separates - Yusuke to wonder why his spirit gun hasn't returned, Hiei to work through the disuse of one burned out arm, Kurama to scope out the other fighters, and Kuwabara to wonder who their masked fifth team member is. Meanwhile Younger Toguro gets to impress the crowd.
34
"Percentage of Victory"
June 12, 1993
April 18, 2003[1]
The battle begins between the Dr. Ichigaki Team and the Urameshi Team. The two demon fighters of Team Ichigaki keep Hiei and Kurama busy beyond the arena, leaving Yusuke, Kuwabara and the Masked Fighter to accept a 3 on 3 battle after the team owner of Team Ichigaki strikes an odd bargain with Yusuke for his body.
35
"Glimpse Beneath the Mask"
June 19, 1993
April 21, 2003[1]
Yusuke and Kuwabara feel sorry for the three human fighters of Team Ichigaki, who're totally controlled against their will, but sympathies for the opponents' plight may get Team Urameshi killed. Meanwhile, a disguise rips open and everyone gets a glimpse of the mysterious masked fighter for the first time, which ends up only deepening the mystery.
36
"Ambition Destroyed: A Trail of Light"
June 26, 1993
April 22, 2003[1]
With Kuwabara seriously hurt, Dr. Ichigaki's control over his three human fighters is finally put to an absolute end, but the doctor has one more trick up his wicked sleeve to exact a personal victory over Yusuke and his team.
37
"Master of Disguise"
July 3, 1993
April 23, 2003[1]
With three fighters down and no recovery time, Team Urameshi faces Team Macho, who are soon revealed as the Shinobi, mercenaries of Spirit World. Kurama decides to take on Gama, whose make-up brushes prove to be a much greater weapon than they would seem.
38
"Kurama's Stand"
July 10, 1993
April 24, 2003[1]
Paralyzed by Gama's dying curse, Kurama is entrapped to fight Touya, the ice master, in the next match. Not only is Touya a fit and determined fighter, he's also Kurama's intellectual equal as well, which may make pulling off a victory against him impossible.
39
"Crushing Revenge"
July 17, 1993
April 25, 2003[1]
Yusuke faces Bakken, a cruel giant who uses his sweat glands to create blinding mists within which he can strike unseen; then, Jin, the wind master, is ready to have a jolly go at Yusuke.
40
"Jin, the Wind Master"
July 24, 1993
April 28, 2003[1]
Yusuke finds a like-minded rival in the joyful apparition Jin, against whom he must continue to fight and try to beat. Both relish a good scrap firsthand and hold nothing back in trying to pound and impress the snot out of each other.
41
"Reverse Decisions"
July 31, 1993
April 29, 2003[1]
The epic climax to the fight between Yusuke and Jin. Jin is poised to attack with his two Tornado Fists, and Yusuke is ready to counter using his new attack, the Spirit Wave. As the fight ends, Team Masho's owner thinks of another way to complicate things. How will his cheating change matters? And what does this mean for Team Urameshi?
42
"A Matter of Love and Death"
August 7, 1993
April 30, 2003[1]
Mr. Butajiri's endless machinations of the Dark Tournament have almost guaranteed a loss for Team Urameshi. Their last option is the severely injured but noble Kuwabara stepping into the next match against Risho, cold-hearted leader of Team Masho and master of earth. It's a decision none of Kuwabara's teammates endorse.
43
"The Masked Fighter Revealed"
August 14, 1993
May 1, 2003[1]
After feeding off Yusuke's soul energy for a year, his spirit beast finally hatches, and the result catches everybody by surprise. Soon thereafter, the mysterious masked fighter is finally ready to reveal herself to Yusuke.
44
"Yusuke's Final Test"
August 21, 1993
May 2, 2003[1]
Genkai's ready to transfer her powers to Yusuke, but they final requirement may be more than Yusuke can handle. Meanwhile, semi-finals of the Dark Tournament commence in a new stadium. Even with two fighters MIA, Team Urameshi's up first against Team Uratogi.
45
"Hiei Battles On"
August 28, 1993
May 5, 2003[1]
Hiei faces Kuro Momotaro, who uses steaming spheres to apply beast armor, granting him virtual invincibility. Back in the cave, the transfer of power isn't working and Genkai must remove the Spirit Wave Orb before it rips Yusuke apart.
46
"Many Faces, Many Forms"
September 4, 1993
May 6, 2003[1]
The Hiei-Kuro Momotaro fight concludes to the satisfaction of Team Uratogi. Kurama gets the next match against a foe who uses a mystical weapon that produces a greatly unexpected result. Meanwhile, Yusuke is still writhing in the cave, being eaten alive from the inside out.
47
"Legendary Bandit: Yoko Kurama"
September 11, 1993
May 7, 2003[1]
Uraurashima has confined the ring with a peripheral space made of his fishing line; he unleashes smoke that makes everyone age reverse, thereby growing younger. However, this only transforms Kurama to his original and possibly stronger form, which is the fox demon, Yoko Kurama. Uraurashima finds himself in big trouble as Kurama calls forth a Death Tree and tries to find the real motivations for Uraurashima's team's participation in the tournament. Meanwhile, Yusuke continues to struggle with the absorption of the Spirit Wave Orb.
48
"The Cape of No Return"
September 18, 1993
May 8, 2003[1]
Team Urameshi suffers its first loss to Team Uratogi, and when Genkai returns as the Masked Fighter, an outcry of "foul" arises when her mask's removed and her appearance is not like before, threatening the team with disqualification.
49
"Genkai's Strength"
September 25, 1993
May 9, 2003[1]
Shishiwakamaru and the now unmasked fighter, Genkai, square off. Shishiwakamaru's main reason for fighting in the tournament is to gain fame, and he is very excited about his chance to defeat Genkai. Shishiwakamaru uses a few special tricks and eventually surrounds himself and Genkai in a cage of energy. Genkai uses one of her many techniques against Shishiwakamaru, using his own energy against him. Will this be enough to defeat her new challenge?
50
"Suzuka's Challenge"
October 2, 1993
May 12, 2003
Only Onji remains to fight for Team Uratogi, but Genkai, formerly known to all as The Masked Fighter, sees that Onji is the real masked fighter of this tournament. Outed, Onji drops his disguise and Suzuka, a narcissistic demon in clown make-up, makes his grand appearance. Meanwhile, Yusuke recovers from the torturous absorption of Genkai's Spirit Wave Orb, which promises to give him unfathomable power. Yusuke's team has claimed their spot in the Dark Tournament's final round. Now Team Toguro must try to do the same.
51
"Arch-Rivals"
October 9, 1993
May 13, 2003
It's the last of the semi-finals: Team Toguro vs. Team Gorenja. The confident Gorenja team is so easily defeated that it makes the upcoming pairing of the Toguro team against Yusuke's seem like a battle of college senior men taking on junior high boys. However, before the day of the finals can arrive, a pair of former lovers between the two final teams meet in private one last time.
52
"The Death of Genkai"
October 16, 1993
May 14, 2003
One last meeting between former lovers and teammates, Genkai and Toguro, before they try to kill each other. Will Yusuke be able to save his teacher or is it already too late?
53
"Overcoming Grief"
October 23, 1993
May 15, 2003
Shortly before the final round of the Dark Tournament, Yusuke's mentor Genkai was killed, leaving him with all of the Spirit Power she possessed. Since then Yusuke and his crew have been rigorously training for the upcoming battle. Suzuka, a member of the recently beaten Team Uraotogi, has helped by offering two very powerful, yet unstable weapons, hoping that Team Toguro will finally taste defeat.
54
"The Beginning of the End"
October 30, 1993
May 16, 2003
The tournament finals are set to begin. But the rules state that each team must have five members to compete. With each team having only four fighters, two competitors step up to join with each team no matter what the consequences. Who are the two new fighters and what could they possibly bring to the team?
55
"The Beast Within"
November 6, 1993
May 8, 2004
The Dark Tournament finals have finally started, the first fight places Kurama against Karasu. Kurama, believing that the only chance for him to win is to transform into Yoko Kurama, starts trying to stall for time. Meanwhile, Karasu has every intention to mercilessly enjoy this fight, leaving Kurama to try to think of a way to stay alive long enough to transform.
56
"Yoko's Magic"
November 13, 1993
May 15, 2004
Karasu is able to overcome and counter all of Yoko Kurama's attacks. He's set to take the win unless Kurama can find some way to take him down. Will Kurama have to sacrifice his own life to kill Karasu?
57
"Beneath Bui's Armor"
November 20, 1993
May 22, 2004
The battle between Kurama and Karasu has come to an end, and an unexpected verdict is made. Soon, Hiei gets in the ring, eager to take on his opponent. Bui, a mysterious fighter, with an immense power hidden beneath his armor.
58
"Wielder of the Dragon"
November 27, 1993
May 29, 2004
Hiei unleashes his most powerful attack, the Dragon of the Darkness Flame! But Bui is able to turn the Dragon against his master. Will Hiei be swallowed and destroyed by his own power?
59
"The Shadow of Elder Toguro"
December 4, 1993
June 5, 2004
During his match with Toguro, Kuwabara is told of Genkai's death. With extreme rage Kuwabara strikes Toguro with the Trial Sword splitting the demon in half! The arena watches in horror as the evil Toguro rises from the arena floor unharmed.
60
"Sakyo's Proposal"
December 11, 1993
June 12, 2004
Kuwabara's fight with the elder Toguro brother comes to a smashing conclusion, leading into Yusuke's grudge match with the younger Toguro. But before that bout can begin, intrigue at Team Toguro culminates in a shocking proposal from Sakyo and an even more shocking response from Koenma!
61
"Yusuke vs. Toguro"
December 18, 1993
June 19, 2004
The ultimate showdown between Yusuke and Toguro finally begins, and everyone is on the edge of their seats -- at least everyone that hasn't been melted into their seats by Toguro's intense Spirit Energy. Yusuke reveals the power he inherited from Genkai with a colossal blast of his Spirit Gun, but is it enough to bring down Toguro once and for all?
62
"Toguro's Full Power"
December 25, 1993
June 26, 2004
Yusuke reveals to Toguro that he has not been fighting at full power and removes the Spirit Cuffs, which reduce his power. Finally, a fully powered Yusuke launches an attack at his nemesis. But Toguro too has powered up to his top level and stares down Yusuke's most powerful Spirit Blast.
63
"Yusuke's Despair"
January 8, 1994
July 3, 2004
As Yusuke lies beaten on the arena floor, Toguro taunts the Spirit Detective. Toguro begins to suck the souls of the spectators in order to enrage Yusuke to once again bring out his full power. But Toguro soon learns that the best way to provoke Yusuke is to kill one of his friends!
64
"Toguro's Desire"
January 15, 1994
July 10, 2004
As one of his friends lies on the arena floor, Yusuke powers up to the same level as Toguro. To defend himself, Toguro must power up to 120% of his capacity. Can either fighter, each completely devoid of any remaining energy, survive to claim the prize?
65
"Out With a Bang"
January 22, 1994
July 17, 2004
With the Dark Tournament at an end, Yusuke must beign to cope with the loss of his best friend at the hands of Toguro. After Sakyo asks Koenma to take his life, the evil billionaire unveils his final evil plan to destroy the entire stadium with everyone still inside!
66
"Toguro's Wish"
January 29, 1994
July 24, 2004
Team Urameshi prepares to depart Hanging Neck Island the victor of the sinister Dark Tournament to return to the world of the living leaving their fallen mentor and friend behind. But somewhere far away a chance encounter between two former allies seems to hint at what is to come as the most unlikely of people reveals a most shocking secret.
Season 3: Chapter Black Saga (1994)
#

Episode Title

Japanese Airdate

English Airdate

67
"Return to the Living World"
February 5, 1994
July 31, 2004
Despite his stunning victory at the Dark Tournament, Yusuke Urameshi learns firsthand that there are others wishing to challenge him. Yusuke makes the first mistake by underestimating the strengths of these new adversaries. With his best friend kidnapped, Kuwabara must round up the old gang in order to stage a rescue attempt...or suffer the consequences!
68
"Setting the Trap"
February 12, 1994
August 7, 2004
After much convincing, Hiei joins Kuwabara's crusade to save his kidnapped comrade. Upon reaching the mysterious Rokurokubi Estates, the three discover Kaito, who quickly explains the rules of his territory. Can Kuwabara, Kurama, and Hiei be of any use in a place where any form of violence is strictly prohibited.
69
"The Power of Taboo"
February 19, 1994
August 14, 2004
The stakes are higher as Hiei, Botan, and Kuwabara all fall prey to the mysterious powers of Taboo. Kurama, trying to end the game as soon as possible, issues a challenge. With his own soul on the line, Kurama begins a battle of wits with the genius, Kaitou.
70
"Genkai's Ruse"
February 26, 1994
August 21, 2004
Kuwabara and the gang finally reach the room where Yusuke is being held captive. But Kido has one final game to play with the Spirit Detective. One of his friends is in fact an imposter, and Yusuke has only minutes to determine which one it is! With his decision made, Yusuke attacks!
71
"The Tunnel"
March 5, 1994
August 28, 2004
A tunnel is being carved between the Living World and the Demon World that if completed would usher in such darkness and chaos that the world might never recover. In a bold move, the despicable Sensui begins his search for the person that will finally allow him to complete the tunnel.
72
"The Reader"
March 12, 1994
September 4, 2004
The Spirit Detective's best chance to uncover the truth behind the tunnel lies with the mind reader, Murota. But mere hours after entering Mushiyori City, Yusuke and team find themselves being hunted by an unseen evil. Just who are Black Angel, Gate Keeper, Sniper, Gourmet, Game Master, Doctor, and Sea Man? And what could their connection be to the tunnel to demon World?
73
"The Doctor's Disease"
March 19, 1994
September 11, 2004
Somewhere in Mushiyori City, a psychic is forging a tunnel between the Demon and Human worlds. Yusuke has recruited Murota, a mind-reading human. But while trying to weed out the enemies by their thoughts, Murota was shot and the criminal mastermind made his introduction. The heroes have taken Murota to the hospital, where new danger awaits.
74
"Sleep, Doctor, Sleep"
March 26, 1994
September 18, 2004
Searching Mushiyori City, Yusuke's team was quickly steered to the hospital, where a trap awaited. There they encounter the Doctor, a human with immense psychic powers, super strength, feels no pain, and has infected the entire hospital with a deadly virus. The Doctor pushes Yusuke toward the decision of making him his first human kill, and with people dying throughout the hospital from the Doctor's disease it looks like Yusuke has little choice but to comply.
75
"Caught in the Rain"
April 2, 1994
October 2, 2004
As Sensui's plan continues, Kuwabara, still devoid of spirit power, enjoys one last night out with his gang. They are ambushed by Sensui's next minion: Seaman, a person with the ability to create monsters out of water. With his friends held hostage, Kuwabara must battle Seaman alone to save them.
76
"Kuwabara: Awakening"
April 9, 1994
October 9, 2004
Seaman, master of water, targets Kuwabara and his gang, easily gaining the upper hand, but what no one except Genkai realizes is that Kurabara's spirit energy hasn't vacated him. It's busy transforming into something greater. Now, if only Kuwabara can live long enough through its dormancy to enjoy the benefits.
77
"Sensui's Fall"
April 16, 1994
October 16, 2004
Koenma comes to Earth to provide the background info on former Spirit Detective Sensui Shinobu and reveal what's lead to his becoming their current enemy and mankind's greatest threat, but before they can utilize any of this belated intel, Sensui pays them a surprise visit.
78
"Divide and Conquer"
April 23, 1994
October 23, 2004
Sensui requires Kuwabara's help, with or without his consent, so he keeps everyone busy in order to catch the unwary lad apart from the group.
79
"The Human Race"
April 30, 1994
October 30, 2004
With Kuwabara successfully kidnapped and whisked out of town, the rest are left to regroup, all except Yusuke who's in hot pursuit of the kidnappers - on a kid's bicycle no less.
80
"Moving Target"
May 7, 1994
November 6, 2004
Inside Sniper's territory, Yusuke is literally targeted for death, dodging various and unexpected kinds of ammunition that relentlessly seeks him out. A former acquaintance appears, but it's unclear whether it's to rescue Yusuke.
81
"Let the Games Begin"
May 14, 1994
November 13, 2004
Game Master awaits Yusuke's group in Demon's Door Cave, bringing to life an arcade game called Goblin City in which seven warriors must battle the Goblin King, the master of all other games, and who must be defeated four out of seven times to be vanquished.
82
"If You Could Play Forever"
May 21, 1994
November 20, 2004
Yusuke's team has won the first round, but they'll need to win three more to defeat the Game Master and move on to Sensui's lair. The hole to the Demon World is rapidly expanding. Can they make it there in time to prevent the end of the world?
83
"Game Over"
May 28, 1994
November 27, 2004
Only two hours remain before the tunnel opens unleashing a horde of hungry demons upon the world of the living. Kurama steps forth to battle Gamemaster for the right to move on to Sensui's lair and Yusuke senses that one of them will not make it out alive.
84
"Kurama's Anger, Gourmet's Guest"
June 4, 1994
December 4, 2004
With thirty minutes to go before the tunnel opens, Yusuke and his entourage have made it to Sensui's lair, but their battle to save the human race is just beginning. The opening to the Demon World is widening rapidly and shows no signs of slowing down. What's more, an old nemesis reveals his own master plan. His target, Kurama!
85
"Spirit Detective Showdown"
June 11, 1994
December 11, 2004
Kurama's anger has sentenced Toguro to an eternity of suffering, forever chasing his foiled revenge. But the tunnel to Demon World is opening. With his team trapped and unable to help, can Yusuke still save the human race? Only a dramatic showdown between the past and present Spirit Detectives will decide.
86
"The Difference Maker"
June 18, 1994
December 18, 2004
As the epic battle between Yusuke and Sensui continues, Yusuke learns that he is no match for the former Spirit Detective. As Sensui prepares the finishing blow, aid comes in a most unexpected package. And what is the truth behind Sensui's unique personalities?
87
"Power Between the Teeth"
June 25, 1994
January 1, 2005
Shinobu Sensui reveals he is only one of seven split-personalities, each with their own fighting capabilities. As Yusuke's bullet-ridden body is just about to be finished off by Kazuya, Koenma finally arrives and prepares to use his most powerful weapon: his pacifier! It can create a barrier that would stop the demons from flooding Living World. Koenma knows that Sensui must be stopped or his evil plan will come to fruition dooming the entire human race!
88
"The True Face of Sensui"
July 2, 1994
January 8, 2005
Koenma's tactics have saved Yusuke for now. But mysteriously Yusuke won't allow the Prince of Spirit World to use his pacifier. While they discuss their next move, the terrible gateway between Demon World and Living World opens. Meanwhile, Shinobu unveils power above either Spirit Energy or Demon Energy - Sacred Energy.
89
"Death of a Spirit Detective"
July 9, 1994
October 22, 2005
Yusuke comes to terms with the fact that he cannot defeat Sensui. Watching but unable to help, Kuwabara fights off emotion with rage as he remembers all the good times and bad he's had with his best friend. Kuwabara manages to free Kurama and Hiei, but it's too late. Yusuke Urameshi has been destroyed.
90
"Attempting Revenge"
July 16, 1994
October 29, 2005
Too late to save their friend's life, Kuwabara, Kurama, and Hiei unleash their most devastating attacks on Sensui, who retreats within the tunnel. While the three follow him, King Yama reveals a dark secret to Botan. What news would cause her to tremble in terror? What does King Yama know about Yusuke that the others do not?
91
"Waking the Lost"
July 23, 1994
November 5, 2005
While Hiei, Kurama and Kuwabara fight a determined but losing battle in Demon World against Shinobu Sensui, King Yama sends his Spirit World Special Defense Force on an emergency mission to Earth. Their agenda: secondarily to close and guard the tunnel but primarily to destroy the body of Yusuke Urameshi - a mission which confuses and appalls Koenma in equal measure.
92
"The Proof"
July 30, 1994
November 12, 2005
After being saved in the nick of time by Puu, Yusuke revels in his new power and resumes his battle with Sensui. Although Yusuke's skill and strength have increased, he is still clumsy with his new abilities. But there is no time to practice as Sensui bears down for the final confrontation. Meanwhile the SDF, fearing both fighters equally, regroups to focus collectively on the tunnel, committed toward sealing both Yusuke and Shinobu inside Demon World forever.
93
"Sensui's End"
August 6, 1994
November 19, 2005
Yusuke's body has undergone an intense transformation as his dormant demon blood takes hold. As the battle against Sensui concludes, Koenma tells Yusuke that he must choose between Demon World and Living World. Withouth hesitation, Yusuke makes his decision!
94
"Topside"
August 13, 1994
November 26, 2005
Everyone who was involved with Sensui, either with him or against him, now eases back into normal, everyday life to varying degrees, making choices that effect their long-term futures. For many it's a parting of the ways.
Season 4: Three Kings Saga (1994)
#

Episode Title

Japanese Airdate

English Airdate

95
"Yusuke's Destiny"
August 20, 1994
December 3, 2005
Yusuke Urameshi is informed that Koenma is hiding from the Spirit World for disobeying the direct order of having Yusuke erased in existence. Desperate to find a solution to his situation, Yusuke later visits Genkai, who advises him to go to the home of a former spirit detective named Kuroko, getting to know her children and husband as well as their talents. He is approached by three men, who offer an invitation for Yusuke to travel back to the Demon World.
96
"Three Strangers, Three Kings"
August 27, 1994
December 10, 2005
The three men reveal they are present on the behalf of Raizen, one of the three kings of the Demon World. These three kings has been on a debate concerning the feasting of human bodies for over half a millennium long. Yusuke tests his strength and agility against one of the men, Hokushin, who has the ability of elasticity. Upon defeat, Yusuke punches him back for not telling the whole story about the three kings.
97
"Departing Living World"
September 3, 1994
December 17, 2005
After the three men leave, Kuroko tells Yusuke to leave as well. Kurama and Hiei have received invitations from the other two kings, Yomi and Mukuro, respectively. As Yusuke ponders on whether to accept Raizen's invitation, he says his final farewell to Keiko Yukimura.
98
"Return to Demon World"
September 10, 1994
December 24, 2005
Kazuma Kuwabara receives the news that Yusuke, Kurama, and Hiei are on their way toward the Demon World. The three men escort Yusuke into the fortress of Raizen. Yusuke, incensed at Raizen's interference in his fight with Shinobu "Black Angel" Sensui, encounters and attacks him, but is easily defeated. Raizen then begins to train Yusuke as his successor.
99
"Haunted by the Past"
September 17, 1994
December 31, 2005
Hiei undergoes the harsh training of Mukuro, being pushed to his limits. He recounts to when he was born, sent into exile for being a curse to his village as a fire demon. Mukuro later brings Shigure, the surgeon that implanted the Jagan eye, to fight Hiei, for the reward of seeing Mukuro unmasked.
100
"The Secret of the Jagan"
September 24, 1994
January 7, 2006
Hiei ponders his past of how he was raised by a group of bandits after being exiled. He recalls when Shigure implanted the Jagan eye on his forehead as well as when he trained with Shigure. Back in the present, he and Shigure simultaneously deal fatal blows to each other. Hiei thinks back to when he returned to the village in learning the aftermath of his banishment. Mukuro heals Hiei and reveals her true form as her sign of trust in him.
101
"Reunion of the Bandits"
October 1, 1994
January 14, 2006
Kurama travels to the territory of Yomi, Kurama's former second-in-command. Yomi tells of when the two were close friends a millennium ago, recalling their lives as bandits. He further remembers about when he was first struck by blindness. However, he finds out that Kurama was responsible for this, as he had hired an assassin for obvious reasons. Consequently, Yomi forces Kurama to serve him under threat of killing his human mother.
102
"Torn Between Identities"
October 8, 1994
January 21, 2006
As Kurama mulls over Yomi's offer, he goes back to the Living World to gather allies for Yomi, those who survived the Dark Tournament. After Sachi, one of Yomi's subordinates, attacks him, Kurama transforms into Yoko Kurama, with his demon side seemingly dominating his personality.
103
"Inheritance"
October 15, 1994
January 28, 2006
As Raizen is on death's doorstep, he tells Yusuke the story of his lineage, falling in love with a female human who treated his wounds. After making love with this woman, he vowed never to eat another human again, understanding that the two came from opposite backgrounds. Raizen dies, and Yusuke is left to find a way to stop total war from taking place in the Demon World.
104
"Every Demon For Himself"
October 22, 1994
February 4, 2006
Due to Raizen's demise, Mukuro intends to attack Yomi with full force. To avert the situation, Yusuke offers an alternative to war, a tournament whose winner will be crowned the king of the Demon World. Many of Raizen's friends visit his tombstone, all preparing to fight in the upcoming tournament in his honor.
105
"The Preliminaries"
October 29, 1994
February 11, 2006
Yusuke arrives for the competition, meeting Kurama, Hiei, Yomi, Mukuro, and a host of former competitors from the Dark Tournament. In the preliminary matches, the aforementioned combatants easily advance.
106
"The Battle of Father and Son"
November 5, 1994
February 18, 2006
Yomi battles his son Shura in the preliminaries, and his overwhelming power coerces Shura to eventually concede. Yusuke announces that the tournament should be held every few years, much like a presidential election, to promote fair rule of the Demon World.
107
"The Demon World Tournament Begins"
November 12, 1994
February 25, 2006
The initial matches continue, with many of the Dark Tournament combatants finding their match in Raizen's S-class demon friends that joined the tournament.
108
"Farewell, Kurama"
November 19, 1994
March 4, 2006
Kurama battles Shigure, and is torn over his conflicting identities. Finally determining that he will live as a human, Kurama dispatches Shigure with his full power.
109
"Love and War"
November 26, 1994
March 11, 2006
Hiei and Mukuro battle, each questioning the chains that each others' pasts have left on them. As the battle concludes, Hiei is defeated, but manages to shatter Mukuro's shackles in the process.
110
"A Reason to Fight"
December 3, 1994
March 18, 2006
Yusuke battles Yomi, who is incensed that Yusuke suddenly finds no reason for fighting. Realizing that he must fight for the sake of his friends, Yusuke calls upon all his power to battle Yomi.
111
"Closure"
December 10, 1994
March 25, 2006
As the two combatants release all their power, they simultaneously hit each other, with Yusuke being rendered unconscious and Yomi barely remaining standing. Ultimately, a weakened Yomi proves unable to win the tournament, and Enki, one of Raizen's friends, becomes the ruler of the Demon World, and institutes an era of peace for three years. Yusuke prepares to leave for the Living World, hoping to come back to the Demon World sometime soon.
112
"To the Future"
December 17, 1994
April 1, 2006
Two years after the tournament, the protagonists have found peace in their lives. Kuwabara, Kurama, Keiko, and Shizuru Kuwabara pass by Genkai, meeting with Yukina, Botan, and Koenma as well. Genkai tells the group to protect her estate after she dies. They all decide to go to the beach, where Keiko yells for Yusuke at the beach. Yusuke suddenly appears, and is tackled by Keiko, who kisses him. Soon, the gang is seen splashing water at each other while the rest of the cast is shown before the end of the series.
References
Toonami Episode Guides
Cartoon Network (1997-2008)
Adult Swim (2012-Present)