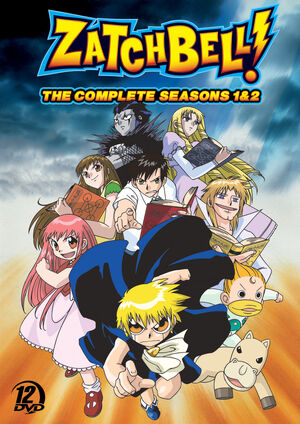 Series Overview
Color
Season
Episodes
U.S. Season Premiere
U.S. Season Finale
1
50
March 5, 2005
March 11, 2006
2
50
April 1, 2006
November 1, 2008
3
50
Unaired
Specials
02
Movies
02
Season 1 (2003-2004)
The first season of the Zatch Bell! anime adapts the 1st through 11th volumes of the manga over fifty episodes. The plot follows Kiyo Takamine and his Mamodo partner Zatch Bell's adventures in a tournament that will decide the ruler of the Mamodo world.
#

Episode Title

Japanese Airdate

English Airdate

01
"The Lightning Boy from Another World!"
April 6, 2003
March 5, 2005
Kiyo, a genius but introverted middle school student, hates going to school and has trouble making friends until one day Zatch comes crashing through his window! Zatch is a present from Kiyo's father, who saved the little tot on an archeological dig.
02
"A Freezing Spell"
April 13, 2003
March 12, 2005
A news report comes in - a bank is being robbed, and Kiyo's only friend from school, Suzy, is one of the hostages! Kiyo thinks he has just the plan to take down the ice-spell wielding bank robber, Hosokawa. It's going to be an icy hot battle!
03
"The Second Spell!"
April 20, 2003
March 19, 2005
Kiyo is beginning to think that Zatch, who shoots lightning from his mouth, is way too much trouble to bring to school. On the way home, Kiyo and Zatch run into Hosokawa and Reycom. Hosokawa says "I'm not after you, Kiyo, just that kid Zatch" and reveals that he wants to use Zatch's powers for his own gain.
04
"The Great Mamodo Battle"
April 27, 2003
March 26, 2005
Since the duel with Hosokawa and Reycom, Zatch has learned that he has special powers. Eager to show off, Zatch heads to the park to demonstrate his lightning powers to the kids there.
05
"The Dark Mamodo"
May 4, 2003
April 2, 2005
While Sherry and Brago try to wrench the red spell book from Kiyo, a hooded intruder steps across the threshold of the house, and into the hallway where Zatch stands listening!
06
"The Mystery Of The Missing Red Book"
May 11, 2003
April 9 2005
Kiyo is in the hospital recovering from his duel with Sherry and Brago, and of course, who is there with him but his tirelessly faithful friend Zatch! In the same recovery room is another kid named Yuta, who has been hospitalized longer than usual for a broken leg. When Kiyo tells Yuuta he will not heal if he does not eat, Yuuta steals Kiyo's book and threatens to burn it.
07
"Botanical Madness"
May 25, 2003
April 16, 2005
t's Sunday. Zatch begged and begged, so finally Kiyo agreed to take him and Suzy to the botanical garden. Zatch and Suzy are happily romping about, when they meet Ivy, the woman who manages the botanical garden..
08
"A Kind Mamodo, Kolulu"
May 25, 2003
April 23, 2005
One rainy day, a schoolgirl named Lori finds a cute little girl named Kolulu, who is crying. Lori asks Kolulu where her parents are but Kolulu doesn't answer so she invites Kolulu back to her house and takes her on as a little sister.
09
"The Third Spell"
June 1, 2003
April 30, 2005
One morning, Kiyo wakes to find that he can suddenly read a third spell from the Red Spell Book! Zatch, frustrated that he is thus far still small and relatively powerless, is eager to find out if the new spell will make him stronger!
10
"The Elite Mamodo"
June 8, 2003
May 7, 2005
Naomi, Zatch's bully, is tormenting Zatch in the park as usual, when suddenly a giant Frankenstein-like man scares Naomi away and saves Zatch!! Kiyo and Zatch decide to keep a careful watch on this big mamodo named Shin and his companion Eshros.
11
"The Invincible Folgore"
June 15, 2003
May 21, 2005
One day, Zatch comes home and notices that Kiyo seems a bit different than usual, but he is somehow kinder and friendlier so Zatch happily accepts him!
12
"Sherry's Rhapsody Of Life"
June 22, 2003
May 28, 2005
Sherry and Brago are in a forest searching for a Mamodo and its partner. While there, Sherry reminisces about the past. When Sherry was a little girl, she had a best friend named Koko. The two of them were both raised in unhappy circumstances and vowed to break free of their tunnel of darkness and find happiness in life.
13
"The Rematch: Zatch and Hyde Meet Again"
July 13, 2003
June 4, 2005
Eito and Hyde coincidently find Kiyo and Zatch and wanting revenge, decide to follow them to school. Eito reminisces about how he found Hyde's book and remembers how he wanted power after being bullied. Zatch finds the pair when he smells Eito's Yellowtail burger and a battle ensues.
14
"The Tomboy and the Pop Star"
July 13, 2003
June 11, 2005
Suzy invites Kiyo to his first music concert, but he leaves Zatch behind. Zatch tries sneaking into the concert by hiding in a duffel bag, but he can't get in the front entrance so he goes searching for a back door into the auditorium. Once inside, he meets Tia the mamodo of the pop singer Megumi.
15
"A New Pledge Between Zatch and Tia"
July 20, 2003
June 18, 2005
Outside the concert hall, Zatch faces Maruss. Standing by, Tia is still in shock - How did Zatch become so strong, and why is he protecting her?
16
"The Invulnerable Robnos"
July 27, 2003
June 25, 2005
Kiyo comes home and finds a notice demanding that Kiyo and Zatch go to a warehouse in exchange for Suzy's life. Kiyo and Zatch arrive and meet the enemy Mamodo Robnos, and his book keeper and a battle ensues.
17
"Kiyo's Curry Camping Trip"
August 3, 2003
July 2, 2005
Summer Break has begun for Kiyo but he has to fulfill promises he made to people; the promise to help perfect an invisible pitch, catch 500 fish, hunt for a dinosaur, and helping create contact with aliens.
18
"London Calling"
August 10, 2003
July 9, 2005
During summer vacation, Zatch and Kiyo arrive in London to see Kiyo's father, a college professor. Another purpose for this trip is to find out more about Zatch, who still can't remember how he arrived in the human world.
19
"The Dark Lord of the Cursed Castle"
August 17, 2003
July 16, 2005
In England, Kiyo has his bag stolen. Zatch desperately chases down the culprit and captures him. The culprit's name is Kory. For some reason, Zatch and Kory become friends. The group then discovers that the dark lord has kidnapped his father.
20
"The Flowers of Evil"
August 24, 2003
July 23, 2005
Kiyo and Zatch have found out about Baltro's flowers. But before they know it, Folgore and Kanchome have been taken hostage! Steng, Baltro's human partner, tells them that to save Folgore and Kanchome they must hand over the Red Spell Book.
21
"Another Zatch"
August 31, 2003
July 30, 2005
A party is being held to celebrate the village having been saved from the hands of the Steng and his mamodo Baltro. During the party, Kiyo fills his father in on the situation to date.
22
"The Dancing Mamodo"
September 7, 2003
August 6 2005
On a picnic at the beach with Suzy, Kiyo and Zatch are practicing the fourth spell when suddenly they hear someone singing a song in the distance. Approaching the voice, they find a little boy named Yopopo in a green outfit dancing to the song.
23
"Go For It, Ponygon!"
September 14, 2003
August 13, 2005
The day has come when Zatch and Kiyo leave England, so they say goodbye to Kiyo's Father, Kory, Djem, and the others.
24
"Apollo, the Free Traveler"
September 21, 2003
August 20, 2005
At the beginning of the new semester, Kiyo has gone shopping to repair the gate that Zatch broke. On the way back, Suzy is about to be run over by a car. A cute mamodo in the form of what looks like a ladybug saves her in the nick of time.
25
"Apollo, the Free Traveler Part 2"
September 28, 2003
August 27, 2005
The battle between Kiyo & Zatch and Apollo & Rops continues. Zatch repels back with Rashield rocks that Rops hurls. However, Apollo nimbly dodges as if having known of the spell. It seems that Apollo possesses a special kind of intuition.
26
"A Day With Zatch"
October 5, 2003
September 3, 2005
One day, Zatch does not follow Kiyo to school but goes off to play by himself. After helping out Ivy at the botanical garden, Zatch decides to have lunch on a hilltop with a nice view, but he cannot find his box lunch!
27
"Danny Boy"
October 12, 2003
September 10, 2005
The Shemira statue was carved a great 18th Century master and is coming to Japan. Zatch hears from Kiyo that he can experience 100 times the excitement of yellowtail. Zatch decides to go to the museum to see the statue.
28
"Tia and Megumi's Excellent Adventure"
October 19, 2003
September 17, 2005
Zatch and Kiyo are going to hang out with Megumi and Tia.. The girls had invited Kiyo and Zatch to the amusement park. On the train, Tia is excited to get on the roller coaster with Kiyo.
29
"Amusement Park Battle"
October 26, 2003
September 24, 2005
Kiyo and Zatch arrive at the amusement park much earlier than the time that they were supposed to meet Megumi and Tia. They decide to go inside and take a look around.
30
"Zatch and Tia: A Fierce Combination"
November 2, 2003
October 1, 2005
At the amusement park, Kiyo and Zatch battle against the enemy tag team of Lupa and Purio and Hige and Zoboron, then Megumi and Tia arrive on the scene and it becomes a battle of 4 against 4.
31
"The Cute Transfer Student"
November 9, 2003
October 8, 2005
One day, Zatch is chasing a yellowtail in the ocean, when he finds a fragment of a broken mirror. Zatch takes a fancy to the shiny object and brings it home with him.
32
"Shion's Secret"
November 16, 2003
October 15, 2005
Shion begs Zatch to give her the fragment of the mysterious Mirror, but Zatch tells her it's his treasure and is not willing to give it up.
33
"The Joining of the Three"
November 23, 2003
October 29, 2005
Being given the final piece of the Mirror from Zatch, Shion takes them to Grisor, who has the remaining piece. Kiyo and Zatch, want to learn more about the Mirror, so they tag along. Grisor greets them humbly in his small, ramshackle apartment.
34
"Sunset Soaked in Tears"
November 30, 2003
November 5, 2005
Kiyo and Zatch, with Shion and Nya go after Grisor who had stolen the restored Magic Mirror. Dr. Hakase leads Grisor with a wireless radio and draws them into a trap that they had prepared beforehand.
35
"The Final Mirror Battle"
December 7, 2003
November 12, 2005
Kiyo and Zatch charge Grisor who had increased its strength with the power of the magic mirror. They try to look for a chance to attack with their teamwork, but instead they are shot down by the horrifying destructive powers of Grisor's flame magic.
36
"Collision: Zatch vs. Naomi"
December 14 2003
November 26 2005
After a scary nightmare where Naomi tortures Zatch, he leaves the house with unusual zeal, thinking that he will finally beat Naomi in a series of challenges and make her stop bullying him.
37
"Battle in Hong Kong"
December 21, 2003
December 3, 2005
One day as Kiyo is looking at his spell book and walking with Zatch, a girl wearing Chinese clothing suddenly appears, grabs his book, and flees. When the two follow her, the girl, who is ready and waiting, bows her head.
38
"Battle in Hong Kong Part 2"
December 28, 2003
December 10, 2005
Zatch, Lien, and Kiyo go to rescue Wonrei, and are attacked by the mamodo, Zabas and the owner of his book, Galliont. Zatch and Kiyo fight back, but are unable to penetrate Zabas' wings.
39
"The Invisible Hunter"
January 11, 2004
December 17, 2005
The Takamine Family goes to a hot spring inn in the mountains. When Zatch and Kiyo come back to their room after enjoying the springs, there is a map to a secret spring nearby in their room.
40
"Big Brother Kanchome"
January 18, 2004
January 7, 2006
One day, Kanchome carelessly climbs into a traveling circus troop's truck after seeing some candy and is taken away from Folgore again The town of Monte Frio in Spain - The clumsy Kanchome keeps failing at his circus act and longs to reunite with Folgore.
41
"Invincible Kanchome"
January 25, 2004
January 14, 2006
To get back Rushka's sheep, Folgore and Kanchome challenge Bago and his book's owner Fredo to a battle. With their transformation magic, Kanchome appears strong but his powers remain weak.
42
"Coldhearted Foes"
February 1, 2004
January 21, 2006
Zatch catches a cold, and is left alone at home, so he rides Ponygon to Kiyo's school only to cause a ruckus. Amidst that hullabaloo, Zatch collapses due to his fever. Kiyo takes Zatch to the nurse's room, when Apollo appears.
43
"Praying Mantis Joe: The Hero of Justice"
February 8, 2004
January 28, 2006
Zatch wants to go to a Praying Mantis Joe show at a department store, but has to be accompanied by an adult to get in. Kiyo won't go with him, so Zatch takes Ponygon. They meet up with Suzy and the teacher's Wife, who are also going to the department store.
44
"Invitation to a Duel"
February 15, 2004
February 4, 2006
Bari, a powerful mamodo, feels unsatisfied with the level of his competitors and seeks a challenge. His book owner, Gustav, tells him about Zatch, so they set off to find him.
45
"Zatch vs. Bari"
February 22, 2004
February 11, 2006
At the abandoned factory, the seemingly endless battle between Zatch and Bari continues. Bari evades every one of Zatch's moves and the battle rages until he destroys the entire building.
46
"Ponygon's Close Call"
February 29, 2004
February 18, 2006
Defeated by Bari, Zatch and Kiyo are wounded both physically and mentally. Ponygon starts to feel badly for having never battled. So Ponygon decides to leave and go on a journey with his spell book to look for a human partner!
47
"Rumble in the Snow"
March 7 2004
February 25, 2006
Brago and Sherry are searching for mamodo in the mountains, when Brago senses trouble nearby. The two rush over and find a giant grizzly about to attack an old man and a young boy named Jeff.
48
"The Mystery of the Stone Tablets"
March 14, 2004
March 4, 2006
Zatch and Tia are playing with the Volcan 300. Tia asks Zatch how many mamodos he has fought thus far. Zatch remembers the numerous enemies he narrowly defeated, as well as the gentle-hearted mamodo who became their friends.
49
"Dr. Riddles and the Majestic Twelve"
March 21, 2004
March 11, 2006
The stone tablet has disappeared and, without it, Kiyo and Zatch wonder how they will ever get strong enough to become king. To do so, they must uncover the mysteries of the spell book.
50
"The Sixth Spell"
March 28, 2004
March 11, 2006
During their fight against Dr. Riddles, Kiyo and Zatch launch their Sixth Spell, but they can not identify its powers. Finally, the spell subsides and Dr. Riddles casts his own spell, which causes multiple Mini-Kidos to emerge and attack Kiyo and Zatch.
Season 2 (2004-2005)
The second season of the Zatch Bell! anime adapts the 11th through 18th volumes of the manga. The plot follows Kiyo Takamine and his Mamodo partner Zatch Bell in their battle against the Mamodo Zofis and his army of thousand-year Mamodos. The dubbed episodes of the second season of Zatch Bell! discontinued airing after episode seventy-seven on Cartoon Network on January 20, 2007. However, the Canadian YTV station aired the entire season.
#

Episode Title

Japanese Airdate

English Airdate

51
"The Masked Mamodo"
April 4, 2004
April 1, 2006
Suzy comes to visit Zatch and Kiyo, but seems to be under a hypnotic spell. She brings an invitation to a party from a mysterious stranger named Milordo-Z. Kiyo deduces that the invitation is a trick to get them into battle.
52
"My Beloved Zatch"
April 11, 2004
April 8, 2006
Kane, Yamanaka and Iwashima challenge Kiyo to a series of physical contests, wagering sumptuous side dishes from the school lunch on each event. Meanwhile, Penny, a cute girl mamodo, and Uri, her Book's owner, arrive, looking for Zatch.
53
"So Giaku, The Water Dragon of Rage!"
April 18, 2004
May 27, 2006
Penny's persistent water spells are relentless and Zatch and Kiyo are suffering terribly, while Penny delights in their misfortune. Observant Kiyo realizes that the reason Penny is filled rage is because Zatch doesn't remember her from the mamodo world.
54
"Battle at the Park! Zatch vs. Kiyo!?"
April 25, 2004
June 3, 2006
Zatch and Kiyo finally have a day to play! Zatch is especially happy because he gets Kiyo all to himself! On the other hand, an over-zealous Zatch is dragging around Kiyo! Eventually the whole gang joins in the fun!
55
"Penny's Revenge! Assassins on the Loose!"
May 2, 2004
June 10, 2006
Penny has brought 3 ancient mamodo warriors from a thousand years ago to help her defeat Zatch. Kiyo notices that the mamodo's partners seem odd. Penny explains to them that Milordo-Z has erased their emotions making them the ultimate fighting machines!
56
"The Light of Hope, Saifogeo!"
May 9, 2004
June 24, 2006
Tia and Megumi help defeat Penny's mamodo warriors with their new spells, Giga La Seoshi, an enhanced shield and Saifogeo, an amazing spell of recovery that helps Kiyo regain his strength from within!
57
"Battle on the Sands: Brago vs. The Silent Rulers!"
May 16, 2004
July 1, 2006
Zatch, Kiyo, Tia and Megumi chase off Penny and her remaining mamodo warriors. Meanwhile in an African savannah, Brago and Sherry battle the "Silent Rulers," three infamous mamodo feared a thousand years ago for their devastating synchronized attack.
58
"Defeat Milordo-Z! Each Person's Resolve!"
May 23, 2004
July 8, 2006
Kiyo is immersing himself in his father's archaeology texts and is closing in on the location of Milordo-Z's whereabouts. Megumi and Tia also help, but Megumi is feeling the pressure of her busy life as a high school student and pop star.
59
"Charge into the Ruins! Kanchomé's Strategy!"
May 30, 2004
July 22, 2006
In the midst of their journey to the ruins, Zatch, Kiyo, Megumi, Tia, and Ponygon run into Kanchome and Folgore, who were also convinced by Dr. Riddles to join in the quest to defeat Milordo-Z.
60
"The Labyrinth's Angry Torrent"
June 6, 2004
July 29, 2006
Gantz, another thousand year-old mamodo suddenly appears behind Kanchome and Folgore! Zatch and Kiyo overwhelm Alm with their synchronized movements but surprisingly, Alm rebounds to bark commands at his partner.
61
"Spell of Sorrow"
June 13, 2004
August 5, 2006
Kiyo and Zatch engage in a fierce battle with Alm and Gelios. They counter Alm's strongest spell with Bao Zakeruga and eventually overpower the ancient mamodo duo with the help of Tia and Megumi.
62
"Impact of the V! Very Melon!"
June 20, 2004
August 12, 2006
Zatch and company proceed through the Devolo Ruins. They stop in a large hall to rest and regain their power from within. As they enjoy a melony snack a new ancient mamodo appears!
63
"Burrah! Victoream's Anger!"
June 27, 2004
August 19, 2006
With their strength seriously weakened, everyone must work as a team to maximize their few chances to attack Victoream. Kiyo crafts a tricky plan to take him down but will Victoream catch on before they can pull the wool over his eyes?
64
"The Fierce Attack of Dalmos! The Battle on Top of the
Sand!"
July 4, 2004
August 26, 2006
Through teamwork, Victoream is successfully defeated. The team decides to withdraw, but two more ancient mamodo, Dalmos and Laila stop them in their tracks! Kiyo tells everyone else to escape and entrusts Zatch's spell book with Tia.
65
"Ponygon's Lightning Speed!"
July 11, 2004
September 2, 2006
Ponygon has returned with his partner Kafk Sunbeam to help Zatch and Kiyo! Kafk reads the first spell "Shudoruk," and Ponygon morphs, armor-clad and battle-ready.
66
"The Red Spell Book of Promise!"
July 18, 2004
September 9, 2006
In their short time together Ponygon and Kafk unlock their second spell and win their first battle! Exhausted and relieved, they collapse. Laila brings back a fragment of the Stone of Moonlight to help restore their strength.
67
"The Wonderful Majestic Twelve Return"
August 1, 2004
September 16, 2006
The Ancient mamodo begin their attack on Apollo and the others. Zatch, Kiyo, Sunbeam, and Ponygon arrive just in time to help Tia. A showdown is about to happen when Dr. Riddles quickly summons his twelve super-powered friends!
68
"Tia's Plan to Confess!"
August 8, 2004
September 23, 2006
Back at base, Dr. Riddles talks about meeting Sherry and Brago. All the other mamodo are shocked to hear that Zatch and Kiyo have battled Brago and lived!
69
"Zofis' Evil Desires"
August 15, 2004
October 7, 2006
The team leave their base and head toward the ruins. They are able to proceed smoothly into the ruin but are stopped by Zofis on a precarious stairway that spans over a lake of lava. After a heated exchange, Zofis proceeds to demolish the stairway!
70
"The Four Supreme Mamodo!"
August 22, 2004
November 4, 2006
The stairway collapses and the team is scattered but they manage to split up into three groups and escape into separate paths into the ruin. Little do they know that each path will lead to a powerful Ancient mamodo lying in wait for them!
71
"The Roar of Rao Diboren!"
August 29, 2004
November 25, 2006
Everyone is having a hard time trying to defeat their respective "Supreme Mamodo." Zatch's team is trying to figure out the location of their hidden mamodo. Belgim E.O is terrorizing Dr. Riddles' team!
72
"Sing for Your Lives! The Terrible Belgim E.O."
September 5, 2004
December 9, 2006
Belgim E.O. is very bored after being imprisoned in stone for a thousand years. He orders Dr. Riddles' team to perform for him, if they impress him, he says he will them pass through an entryway, if they bore him, he will destroy them!
73
"Dr. Riddles, You'll Always Be My King!"
September 12, 2004
December 9, 2006
Dr. Riddles' new strategy seems to baffle Belgim, and the team uses this to their advantage. But a surprising miscalculation ends up injuring Dr. Riddles.
74
"Pamoon, the Celestial Warrior"
September 19, 2004
December 16, 2006
Kido has returned to the mamodo world. Dr. Riddles quickly picks himself up and leads the way further into the ruin. Kiyo's team finally encounters the powerful hidden mamodo who has been controlling the deadly stars.
75
"Free Yourself from a Thousand Years of Pain!"
September 26, 2004
December 16, 2006
Pamoon laughs off Zatch and Ponygon's attacks. He dismisses them as naïve. As Pamoon fires off countless attacks, Zatch counters each blow, determined to stop a battle that's waged out of fear and intimidation.
76
"No Escape! The Wicked Zofis Returns!"
October 3, 2004
December 23, 2006
The team realizes that Zofis has been using the fear of being imprisoned in stone to manipulate the Ancient mamodo. Zatch begs Pamoon to stop fighting and offers his friendship.
77
"The Return of Sherry and Brago!"
October 10, 2004
January 20, 2007
Zofis summons his Ancient mamodo army to take down Zatch and his team. Weak and out of strength from within, the team finds themselves in a tight spot.
78
"I Won't Go Back! Laila's Dark Solitude"
October 17, 2004
July 20, 2007
The reunited team agree to leave Zofis to Sherry and Brago. Laila and Albert return. Kiyo and Zatch are happy to see her, but she sends a spell toward them. Kiyo knows that Laila is betraying them out of fear, so he attempts to regain her trust!
79
"The Last of the Supreme Mamodo"
October 24, 2004
September 14, 2007
Laila tries to remember the secret passage to the room with the Moonstone. After remembering Zofis' song, she remembers that the door is behind the rightmost statue. Megumi's team meanwhile end up in a room with three statue heads.
80
"The Crazed Warrior: Berzerker!"
October 31, 2004
September 21, 2007
Kiyo and company stand unable to move while they face Demolt, the last of the Supreme Mamodo. Laila, who has cast off Zofis' control, teams up with Kiyo and the others, she notices that there's a change in Demolt's attacks.
81
"Victory At Any Cost!"
November 7, 2004
September 28, 2007
Vile's mind is not being controlled and it seems he supports Zofis and defeats mamodo just for fun. Zatch and the others are outraged at his self-indulgent and arrogant attitude.
82
"Selfish Penny's Goodbye"
November 14, 2004
October 5, 2007
Penny & Uri and Byonko & Alvin save Zatch and the others from a tight spot! At First they participated in the battle as Zofis' underlings, but now they see the error in their ways.
83
"Zagurzem, the 7th Spell!"
November 21, 2004
May 30, 2008
Zofis had attained infinite power with a mask linked to the Stone of Moonlight in Demolt's chamber but loses his impregnable shield after the Stone of Moonlight is destroyed.
84
"The Final Battle with Demolt!"
November 28, 2004
June 6, 2008
Zatch's Seventh Spell Zagurzem appears in his spell book! Kiyo realizes it is a powerful spell that charges up electricity and directs Zatch's successive spells to the spot initially hit.
85
"Sherry and Koko: The Bond that Can't Be Broken!"
December 5, 2004
June 13, 2008
Sherry has lost her power from within and is unable to use spells. She has also lost all will to fight. Brago forsakes her and attempts to confront Zofis just with brute strength. However, nothing is accomplished and Brago just gets hurt.
86
"Zofis Strikes Back: The Final Showdown of Friendship!"
December 12, 2004
June 27, 2008
Sherry resolves once again to rescue Koko from Zofis' mind control. She crushes one of Zofis' arms with a gravity spell and sets things in motion for a counterattack!
87
"Save Koko! Sherry's Dioga Gravidon!"
December 19, 2004
July 4, 2008
Working together with Laila, Dr. Riddles and the rest, the combined forces of Kiyo and the others overpower Zofis with teamwork. Kiyo and Zatch mercilessly launch an attack on Zofis and Kiyo attempts to land the finishing blow.
88
"A New Departure!"
December 26, 2004
July 19, 2008
Zofis no longer has the upperhand and attempts to distract Sherry by tossing Koko down a cliff. However, Sherry anticipates this and catches Koko in midair averting a tragedy.
89
"A New Year's Special: The Magnificent Victoream
Returns!"
January 9, 2005
July 26, 2008
Kiyo and Zatch have at last returned from the fierce battle in the ruins. They are spending a peaceful New Years Day together with Ponygon when Folgore and Kanchomé visit them. Kiyo shrinks back, and grudgingly invites them in.
90
"The Hurricane Test Battle!"
January 16, 2005
August 2, 2008
Kiyo heads to school, and Zatch tries to follow. Zatch accidentally gets his toy Vulcan stuck on a truck that drives away and chases after it. Suzy tries to tell Kiyo "Welcome back" but is constantly interrupted by Kiyo's friends.
91
"Naomi's Evil Plot"
January 23, 2005
August 9, 2008
After Kiyo goes to school, Zatch volunteers to do the shopping for Kiyo's mother. Ponygon accompanies him, and on the way, he notices that the park has become a mess. One of the playground children notices Zatch and tells him it is his fault.
92
"Dr. Riddles' Renewed Vow"
January 30, 2005
August 16, 2008
Zatch is making a new Vulcan 300 when Tia comes over. Elsewhere, Dr. Riddles is depressed over the loss of Kido. Folgore and Kanchome, while in America, decide to visit Dr. Riddles. Once there, the Majestic Twelve ask Folgore to help cheer up Dr. Riddles.
93
"A Voice From Another World!"
February 6, 2005
September 6, 2008
In a mysterious place, a Mamodo stands above the symbol of a book and announces a message, to the contestants of the Mamodo battle, to assemble at the light.
94
"The Door to a Different World! Brago vs. Zatch"
February 13, 2005
September 13, 2008
Sherry reveals that Nicholas and Majirou attacked first. In a flashback, Brago calls Nicholas and Majirou weak and leaves, but counters when they attempt to attack him. Zatch angered by Brago, begins their battle.
95
"Attack of the Iron Army!"
February 20, 2005
September 20, 2008
Maestro tells his servant to call Brago in to talk. He tells Brago how in the In-between World, Mamodos with spell books are able to cast spells without their human partners. He then asks Brago to join him.
96
"The Battle With Brago - Without Sherry!"
February 27, 2005
September 27, 2008
In the Human World, Dr. Riddles, Sunbeam, Folgore and Kanchome are at the structures, investigating them. In the In-between World, Kiyo, Zatch, and Ponygon arrive at the castle.
97
"Maestro's Revenge on the Mamodo World!"
March 6, 2005
October 11, 2008
Kiyo, Zatch, and Brago battle Maestro. Kiyo realizes that Maestro's power involves magnetism and that he is using the coils at the side of the battlefield to increase the powers of his spells.
98
"The Decisive Battle in the In-Between World!"
March 13, 2005
October 18, 2008
Sherry and Brago continue their attack on Maestro's barrier in order to test the limits of the coil. They find out "Ion Gravirei" is the limit which the coils can handle.
99
"Miss Wriggle's Class is Now in Session"
March 20, 2005
October 25, 2008
Kiyo after managing to lose Zatch and Ponygon goes to school. Once there, the teacher Touyama tries to give Kiyo a failing grade by asking him what is his cat's name.
100
"The Bagpipes of Sadness!"
March 27, 2005
November 1, 2008
Nicolas is upset about Majirou's book becoming burnt. When he plays his depression through his bagpipes, it causes anyone who hears it to become sad too. Folgore volunteers to bring Nicholas to Italy to rid him of his sadness.
Season 3 (2005-2006)
The third season of the Zatch Bell! anime adapts the 18th through 22nd volumes of the manga and begins to follow an original storyline. The plot follows Kiyo Takamine and his Mamodo partner Zatch Bell's journey to stop a giant Mamodo named Faudo from being released.
#

Episode Title

Japanese Airdate

English Airdate

101
"A New Menace: The Boy that Speaks to the Wind!"
April 3, 2005
November 15, 2008
In a deserted area, a large structure rises from the ground. Elsewhere, a Mamodo named Ted and his partner Jido arrive in town, Ted searching for a job to pay for lodging. Ted wanders into a park, after failing to find a job, finds a box that he plans to lodge in. When he looks inside it, however, he finds Zatch.
102
"The Beginning of a Friendship, and the End of a Spell?"
April 10, 2005
November 22, 2008
The battle between Ted and Arth continues with Arth gaining the advantage. Kiyo realizes that Arth's sword absorbs energy which explains Zatch's exhaustion from the battle.
103
"Ted's Blues: The Girl in the Wind"
April 17, 2005
November 29, 2008
As Ted and Jido prepare to leave, Jido's motorcycle breaks down and he orders Ted to go buy a new spark plug. While searching for the bike store with Zatch, Ted smells Cherish's fragrance and spots a girl with long brown hair wearing a hat. After losing sight of the girl, the two attempt to search for Cherish.
104
"The Idol vs. the Schoolgirl!"
April 24, 2005
December 6, 2008
Kiyo receives a letter from Kafk Sunbeam who tells him that he has bought and moved into a home near Kiyo's house. Kiyo decides to go buy Sunbeam a house-warming gift at the department store and Zatch decides to invite some friends to the department store.
105
"Koral-Q's Attack Transformation"
May 1, 2005
N/A
Kiyo continues his research on the strange structure but to no avail. Elsewhere, a young man named Gurab and his Mamodo Koral-Q reveal their target to be Kiyo and Zatch.
106
"Koral-Q's Counterattack on Every Spell!?"
May 8, 2005
N/A
Ast the battle with Koral-Q begins, he reveals that no one in Japan will be able to defeat him and that he shall defeat Tia and Ponygon after Zatch.
107
"The Chain Evolution to a new Bao"
May 15, 2005
N/A
Kiyo and Zatch's battle with Koral-Q and Gurab continues as Koral-Q reveals that he knew about Zofis and the thousand year Mamodos and calls Kiyo and Zatch fools for attempting to fight Zofis.
108
"Homesick!? Hana and Mother. Wanderlust Zatch"
May 22, 2005
N/A
After have fun around town, Zatch finds a manga titled "Ka-chan Tazunete Sanzenri", a parody of 3000 Leagues in Search of Mother. Zatch inspired by the story, decides to go to town and search for motherly people to see if he can regain his memory of his mother.
109
"Duel in the Northern Country. Fated Rival. Ponygon
Frozen!!"
May 29, 2005
N/A
Sunbeam is told that he must go to Hokkaidō for a week of training so he leaves his Mamodo Ponygon with Kiyo and Zatch. Zatch seeing how badly Ponygon wanted to go with Sunbeam helps Ponygon sneak aboard a plane to follow Sunbeam.
110
"Karudio's Fierce Attack! Fighters Who Burn Up the Snow
Field. Ponygon's New Flame"
June 5, 2005
N/A
Ponygon's battle with Kardio continues as he is overwhelmed by Kardio's attacks. After Kardio freezes Sunbeam's legs to prevent him from moving. Ponygon's determination to save his friend reveals a new spell.
111
"Dance! Burst Open! Swing! Huge Airport"
June 12, 2005
N/A
Dr. Riddles and Big Boing arrive at Kiyo's house to share information about the weird structure. After Big Boing shows Kiyo a dance, they head to the airport to pick up Megumi and Tia; Folgore and Kanchome; and Li-en and Wonrei.
112
"Spin! Spin! Fall! Fall! Explosive Ice Skating!!"
June 19, 2005
N/A
Kiyo and Zatch see their friends off at the airport. Suzy after seeing a couple ice-skate on television asks Kiyo if he would like to go ice skating. Kiyo's classmate overhears this and decide to come also in order to defeat Kiyo in ice skating. Kiyo invites Zatch, Ponygon, and Sunbeam to go as well.
113
"A Letter From a Friend. Burn the Book!! Rein's True
Identity"
June 26, 2005
N/A
Zatch receives a letter addressed to him from one of his friends from the Mamodo world, Rein, who asks Zatch to burn his book. Kiyo and Zatch decide to take a plane to Southern Asia to meet Rein and his book owner and discover the reason for this serious request.
114
"Weakling Kyle. Papipurio's Mustache. Rodeux's Trap"
July 3, 2005
N/A
Before deciding to burn Rein's book or not, Kiyo and Zatch decide to train Kyle to be more courageous so he may oppress Jill, the woman who took over his home and inheritance.
115
"Rodeux's Fierce Attack. Dying Rein. Awaken, Kyle"
July 10, 2005
N/A
Zatch and Kiyo are overwhelmed by Rodeux, his partner Chita, Purio and Lupa. Rein seeing Zatch courageously battle reminds him of the first time he met Zatch.
116
"Ultimate Spell Explosion! Garubadosu Aborodio. Rein's
Dream"
July 17, 2005
N/A
As the battle with Rodeux continues, Kyle casts a spell which creates giant claws that push Rodeux back. Rodeux attempts to attack Kyle but is intercepted by Zatch's "Zakeruga". Kyle then casts Reins strongest spell and defeats Rodeux.
117
"Kung Fu of Passion. Wonrei's Tragedy. Last Chapter of a
Love Song"
July 24, 2005
N/A
Wonrei acts strangely one day so Li-en follows him. She follows him to a store with a tv and presumes he wants to buy a television. She continues to follow him and sees him with a woman and assumes he is cheating on her.
118
"Kidnapped Zatch! Trap Over the Sea. Sinking Dartagnan"
August 7, 2005
N/A
A professor named Dartangan visits Kiyo and tells him he has taken Kiyo's research experiment before jumping out the window. Megumi and Sunbeam arrive and ask Kiyo if he has seen Tia or Ponygon. They decide to investigate the park and find a message left by Dartangan that tells Kiyo if he wants to see the children again, he must go to the pier and board Dartangan's boat.
119
"Tia's Spirit. The One And Only Partner. When Wounds
Heal"
August 14, 2005
N/A
Megumi leaves Tia in the care of Kiyo while she travels around the world on a concert tour. After playing with Zatch and Ponygon, they head to sleep. While sleeping, Zatch asks Tia why she is so spirited and she starts to tell Zatch what her life was like when she first arrived in the world.
120
"It was Seen? Oyoyo~ Prospering Momon. Tia's Gigantic
Explosion!"
August 21, 2005
N/A
Zatch, Ponygon, and Tia are living in harmony. While playing at the park, they are approached by a woman named Elle Chivas searching for a child that looks like a rabbit and monkey.
121
"Awaken, Jealousy. The Angered Goddess. Chaajiru Saifodon"
August 28, 2005
N/A
The battle between Tia and Momon continues as Tia tries to hit Momon with "Saisu" but he dodges it. Elle reads Momon's spells, with no knowledge of their effects, which Momon uses to flip Tia's skirt and stare at her panties. Tia's anger causes her to learn a new spell.
122
"Legend of Kaguya. Zatch's Summer Festival. Girl Who
Returned to the Moon"
September 4, 2005
N/A
Zatch and Ponygon are taken to a festival by Kiyo's mother. Once there, Zatch separates from them and meets up with a rich girl named Natsuko who snuck away from her bodyguards in order to enjoy the festival.
123
"Roar of Pride. Bari vs. Ted. Which Will Disappear?"
September 11, 2005
N/A
Kiyo invites Megumi and Tia to talk about the mysterious structure and a group that is recruiting Mamodos for unknown reasons. Elsewhere, Jido and Ted run into Bari and Gustav and they quickly become enemies.
124
"Premonition of Separation. Suzume's Confession. Hiking
of Love and Youth"
September 18, 2005
N/A
Kiyo's classmates invite him to go on a hiking trip, which he accepts. The next day, Zatch and Ponygon follow Kiyo on the hiking trip and Suzy reveals she stayed up late making a present for Kiyo.
125
"Heartless Riou. The Cursed Demons. Now, to Faudo"
September 25, 2005
N/A
Kiyo contacts his allies to come with him to investigate the weird structure. However, Kiyo receives a phone call from Dr. Riddles revealing that Li-en and Wonrei are missing. He receives a picture that reveals the last people that visited the pair were Rodeux and Chita.
126
"Journey From Which You Cannot Return. Wavering
Determination. Faudo's True Form!"
October 2, 2005
N/A
Momon refuses to show the team where Faudo is located. Meanwhile, the plane Folgore and Kanchome are on starts to experience technical difficulty and is unable to release its front wheels to land.
127
"Arrival at Faudo! Desperate Assault. Assassins That
Awaited"
October 9, 2005
N/A
The team is discouraged after realizing Faudo is a giant Mamodo. Elsewhere, Dufort and Zeno while on their way to Faudo, reveal that Faudo can be controlled and that is why people are after its power. Riou, informed that eight Mamodos are heading to Faudo's location orders two Mamodos named Keith and Buzarai to deal with the intruders.
128
"Keith, Buzarai. Symphony of Death. Goodbye, Kanchome"
October 16, 2005
N/A
Zatch and Kanchome battle Keith and Buzarai but Zatch is overpowered by the pair. Zatch manages to land a "Zagurzem" on Keith but Folgore is injured in the process. Kanchome takes Folgore and flees while Kiyo and Zatch continue the battle. After hiding Folgore behind a bush Kanchome returns to the battlefield determined not to lose another comrade due to his powerlessness.
129
"Miraculous New Spell. Dima Buruku. I am not a Weakling!"
October 23, 2005
N/A
The Kanchome that disappeared was revealed to be Kanchome's clone created by the spell "Dima Buruk". Kiyo realizes the clones have a physical body and are much stronger than Kanchome. Elsewhere, Megumi's group is attacked by a Mamodo and her partner.
130
"Buzarai's Fierce Attack. Dioga VS Baou. Reversal chain"
October 30, 2005
N/A
With both sides running out of energy to cast spells, they realize the victor will be the one who uses their final spells effectively. Buzarai uses his strongest spell and Kiyo realizes "Bao Zakeruga" can not defeat it unless powered by at least one "Zagurzem". Elsewhere, Megumi's group battles the Mamodo Cherish and her partner Nicole.
131
"Determination of the King. Friends? The World? Zatch's
Decision"
November 6, 2005
N/A
The team regroups and have their wounds healed by Tia. Megumi and Tia tell Kiyo they saw Wonrei and Kiyo realizes Wonrei has failed to find a way to lift Li-en's curse and has resorted to obeying Riou. Then a man named Aleshie and his Mamodo Riya reveal themselves.
132
"Test Within the Stomach. Break Through Difficult
Questions. Tintin Chance"
November 13, 2005
N/A
They enter the structure until they come upon Faudo. They enter through his mouth and proceed to the stomach where the guardian Unko Tintin awaits. He reveals that all must answer his questions before they can move on, but if anyone answers incorrectly, they shall all fall into the stomachs acid and be used as nutrients for Faudo.
133
"Cool-Headed Zaruchim. The Truth of the Curse. Stand
Up! Alishie"
November 20, 2005
N/A
The team is chased through Faudo's intestines by a giant drill while also dodging tentacles that melt anything they touch. Kiyo realizes there are holes on the walls of the small intestine that will lead them to the liver but they only open when near the drill.
134
"Fighting For Whom? Wonrei and Alishie. Decision of
Suffering"
November 27, 2005
N/A
Zarchim sends Wonrei to battle them and the team is hesitant to fight their former ally. Elsewhere, Li-en reminisces about the time she received Riou's curse.
135
"Faudo: Deadly Zone. The Demon That Beats the Heart.
Momon's Tears"
December 4, 2005
N/A
The team consisting of Kiyo, Zatch, Sunbeam, Ponygon, Elle, and Momon, continues through the blood vessel maze and end up in a room where many different paths present themselves. They follow Momon's directions and end up at Faudo's heart. Faudo's guardian of the heart reveals a room in the spinal cord that will give them a detailed map of Faudo's body.
136
"Faudo's Revival Draws Near. Return Device Activated.
Rivals Stand in the Way"
December 11, 2005
N/A
The enemy Mamodo in the room are revealed to be Kardio, his partner Sauza, and Arth. Kardio aims an ice wave at the sleeping book keepers but is intercepted by Momon and Elle. Kiyo and Sunbeam awaken and they also join the battle against the pair.
137
"The Curse's Time Limit. Crush the Seal! Reach, Zatch's
Feelings"
December 18, 2005
N/A
Kiyo masters the demonic language in under an hour and searches for the hidden functions in the device. Elsewhere, Sunbeam asks why Sauza is working with Ellie and Arth and he reveals that seeing Ellie reminded him of his sister.
138
"Demonic soldier Faudo. Light in the middle of despair.
Kiyomaro's secret plan"
December 25, 2005
N/A
Riou takes control of Faudo and announces that those who serve under him will be spared from Faudo's wrath. Everyone obliges except for the team consisting of; Kiyo, Zatch, Megumi, Tia, Folgore, Kanchome, Sunbeam, Ponygon, Alishie, Riya, Ellie, Arth, Elle, Momon, Sauza, and Kardio. Kiyo reveals that they must survive for five minutes.
139
"Aim for the brain! Roaring Faudo. Desperate re-entry"
January 8, 2006
N/A
The team enter Faudo through his mouth with the help of Ponygon and Karudio. They follow a blood vessel to the spinal cord where they take an elevator and arrive in a room where multiple paths present themselves. The team then splits into two, Kiyo's team consists of Kiyo, Zatch, Li-en, Wonrei, Megumi, Tia, Alishie, and Riya while Arth's team consists of Arth, Ellie, Sauza, Kardio, Sunbeam, Ponygon, Folgore, Kanchome, Elle, and Momon. Elsewhere, Zeno and Dufort in an unknown location of Faudo's, watches the teams infiltration of Faudo.
140
"Those who won't become King. Do or die! Wonrei.
Final fist"
January 15, 2006
N/A
Wonrei completely overwhelms Rodeux in battle and Rodeux realizes he must use Faudo's power to win against Wonrei. Elsewhere, Arth's team meets two Mamodo minions of Riou, Jedon and Fango. Sunbeam and Sauza volunteer to battle them which leads to argument between the two.
141
"Burning Ponygon. Freezing Karudio. Run to Victory!!"
January 22, 2006
N/A
Ponygon and Kardio begin their battle against Jedon and Fango. Ponygon's and Kardio's attacks of fire and ice cancel each other out and they are quickly overwhelmed. Fango tells Riou to turn on Faudo's support system which encases the four Mamodo and their respective partners in a glass tube forcing them to battle. Elsewhere, Apollo and Dr. Riddles attempt to find a way to launch an unknown person into Faudo's mouth as he swims.
142
"Sealed room. Aleshie's fight. Destiny once more!"
January 29, 2006
N/A
Kiyo's group continue on and run into Faudo's minions, the Mamodo Gyaron and his book owner Harry. Aleshie and Riya volunteer to battle them while allowing the others to rest and recover their energy.
143
"Burn Up Life. Warrior Alishie. The Conclusion!?
Zaruchimu"
February 5, 2006
N/A
Aleshie and Riya battle against Zarchim as he looks back at the time he recruited Aleshie and the embarrassment that he caused him.
144
"We are Kings. Kanchomé and Momon. Defeat Keith!"
February 12, 2006
N/A
Arth's team runs into Keith. Folgore manages to distract Keith to allow Arth and Ellie to continue on without being stopped. Folgore realizes Sunbeam and Sauzaa are out of energy to cast spells and tries to distract Keith while they recover before fighting.
145
"Screams that won't reach. Ted vs. Cherish. Things more
important than King."
February 19, 2006
N/A
Kiyo's team runs into Cherish and her partner Nicole. Ted tells the group to let him handle Cherish. Cherish reveals that Ted betrayed the kindness that her family gave to him. Ted reminisces about the kindness Cherish and her parents gave to him even though he was always getting in trouble. Cherish tells Ted she will defeat him in revenge for her parent's death.
146
"Faudo's safeguards. From Arth to Zatch. Trusted future"
February 26, 2006
N/A
Arth and Ellie reach the room before the control room where they are confronted by Riou. Riou uses a nearby control panel and seals the entrance to the room off so the rest of the team are not able to assist him. Elsewhere, Keith and Bari battle.
147
"Reversed future. Thunder emperor Zeno. Prelude to ruin"
March 5, 2006
N/A
The team is able to overpower Riou. Riou tells his book owner Bankis to come out and fight. Bankis is revealed to have been hiding inside Riou and once out, tells them that the timing to cast spells will be easier now. As Riou overpowers the team, Dufort and Zeno arrive shortly after revealing they have burned Zarchim's book and prepare to battle Riou.
148
"Raging Zeno! Two fates. Zatch's secret"
March 12, 2006
N/A
As the team thinks of a way to break through the door to the control room, Kiyo and Zatch are teleported inside. Zeno reveals he is Zatch's twin brother. Kiyo asks Dufort, now in control of Faudo, to stop Faudo or the world will be destroyed. Dufort replies he wants to see it destroyed as the current world holds no values.
149
"The inheritor of Baou. Zatch vs. Zeno. Jigadirasu's
thunder"
March 26, 2006
N/A
Tia's new spell "Chajir Seshirdon" blocks Zeno's attack, saving the group, but Megumi and Tia lose consciousness shortly after. Dufort asks Kiyo why he wants to protect a world which had shunned him for his ability. Kiyo asks Dufort why he does not know if he read his mind. Dufort replies he does not understand Kiyo's heart. They continue to battle and Zeno overwhelms them still.
150
"Decisive battle against Faudo! The golden radiance.
The kind king"
March 26, 2006
N/A
"Bao Zakeruga" defeats Zeno and causes his book to burn. Before he disappears, Zeno destroys the gem which controls Faudo and tells Zatch if he deserves Bao, he should be able to stop Faudo. Kiyo teleports everyone out of Faudo excluding himself and Zatch using Faudo's system. As Japan nears Faudo's sight, Kiyo plans to use the teleportation device and teleport in front of Faudo and defeat him with "Bao Zakeruga."
Specials
#

Episode Title

English Airdate

01
"Zatch and Kiyo's Odyssey"
September 3, 2005
A one-hour English-only special reviewing the events from episodes one to twenty-six. Zatch and Kiyo reminisce about their past battles.
02
"Friends Getting Stronger"
May 20, 2006
A one-hour English-only special reviewing the events from episodes twenty-seven to fifty-two. Zatch and Kiyo talk about how their friends have improved.
Movies
#

Episode Title

Japanese Release

01
"Konjiki no Gash Bell!! Movie 1: Unlisted Demon 101"
July 8, 2004
The movie tells the story of a mamodo named Wiseman who steals a mysterious white spell book in order to participate in the Mamodo battles in order to become the Mamodo King. Realizing his evil intentions if he becomes King, Kiyo, Zatch, and their comrades begun their battle against Wiseman.
02
"Konjiki no Gash Bell!! Movie 2: Attack of the Mecha-Vulcan"
August 6, 2005
The movie tells the story of Dr. M2 who travels from the future mamodo world to the human world with his army of mechanical Vulcan 300 look-alikes.
Toonami Episode Guides
Cartoon Network (1997-2008)
Adult Swim (2012-Present)